Secrets Of A 3-Michelin-Star: Georges Blanc Of Vonnas, France
Chef Georges Blanc needs no introduction
A legacy spanning more than 100 years, when Georges Blanc's grandparents started their humble Auberge in Vonnas, France – the story and reign of this great chef has continued under the helm of Chef Blanc and now to his own son. Michelle Tchea's Chefs Collective jumped in her car, drove out to the very small village of Vonnas in France and asked the chef why he loves to cook, where his inspiration comes from and how he has maintained his 40 year 3-Michelin star status as one of the greats.
For more inspiration – Keep In Touch with Michelle Tchea's Chefs Collective
Budding Chefs – Learn how to cook like Georges Blanc – stay tuned for his famous Poulet de Bresse a la Creme
"Without Passion, No Elevation" – Georges Blanc
What is your fondest memory of being in the kitchen? When I was child, around 8 years old, I made a Caramel Flan. While the saucepan was on the gas stove with melt sugar inside, I put my finger. My love of food costed me a huge burn and taught me a very good lesson.
What is your favourite recipe your mum made? Bresse chicken in a creamy sauce. Sauce are very important in my cuisine. My mum and my grandmother taught me sauces are very important to raise dishes' finesse.
What is your advice for young chefs? Make the kitchen as a place to master your craft. Doing their job with passion is the most important.
What is your secret to maintaining 3-Michelin stars for more than 40 years? 
Keep passionate and always give example. I am in love with illuminating sentences and two of them (among a lot) sum up my thinking. "Without passion, no elevation" and "nothing is more contagious than example". I trained my team who is around me and they know how to cook with my culinary sensitivity.
What do you think of modern day 3- Michelin star (World Best Restaurants) List? Each 3 Michelin star restaurant as its own culinary sensitivity. Chefs are (music) conductor and composer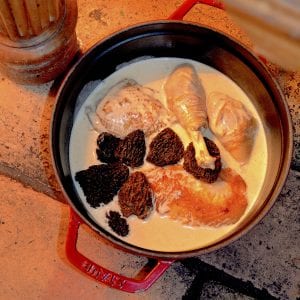 Michelle Tchea
Michelle Tchea is a 4-time bestselling author. Her books include, Building a Perfect Meal, My Little SoHo Kitchen, Signature Dishes (Australia's Best) and Chefs Collective. Her work can be found in other leading luxury travel and food magazines including Travel+Leisure Asia, SMILE, NUVO Magazine and The Telegraph