Seared Salmon and Pea Puree with Yogurt and Mint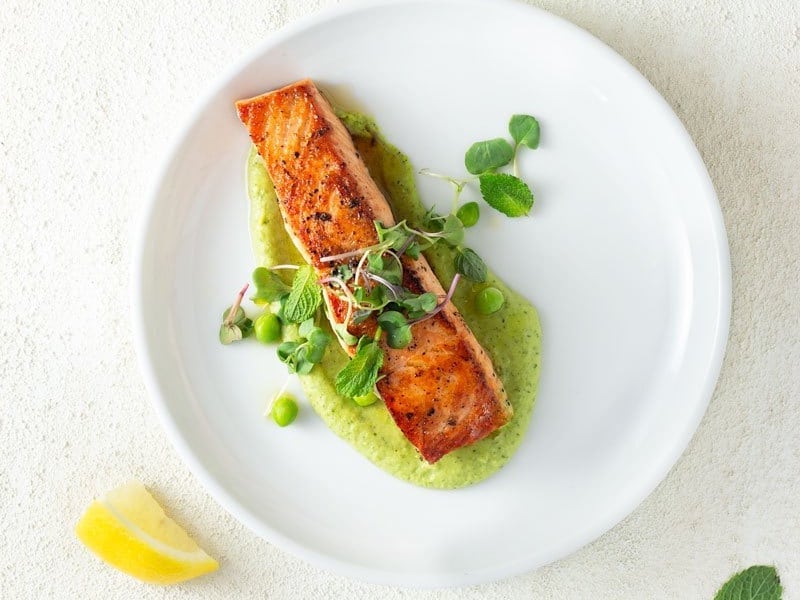 Salmon and peas are a classic combination. In this dish, I brought things up a notch with perfectly seared salmon and an addictive pea puree made with sweet caramelized onions, fresh peas, mint and yogurt.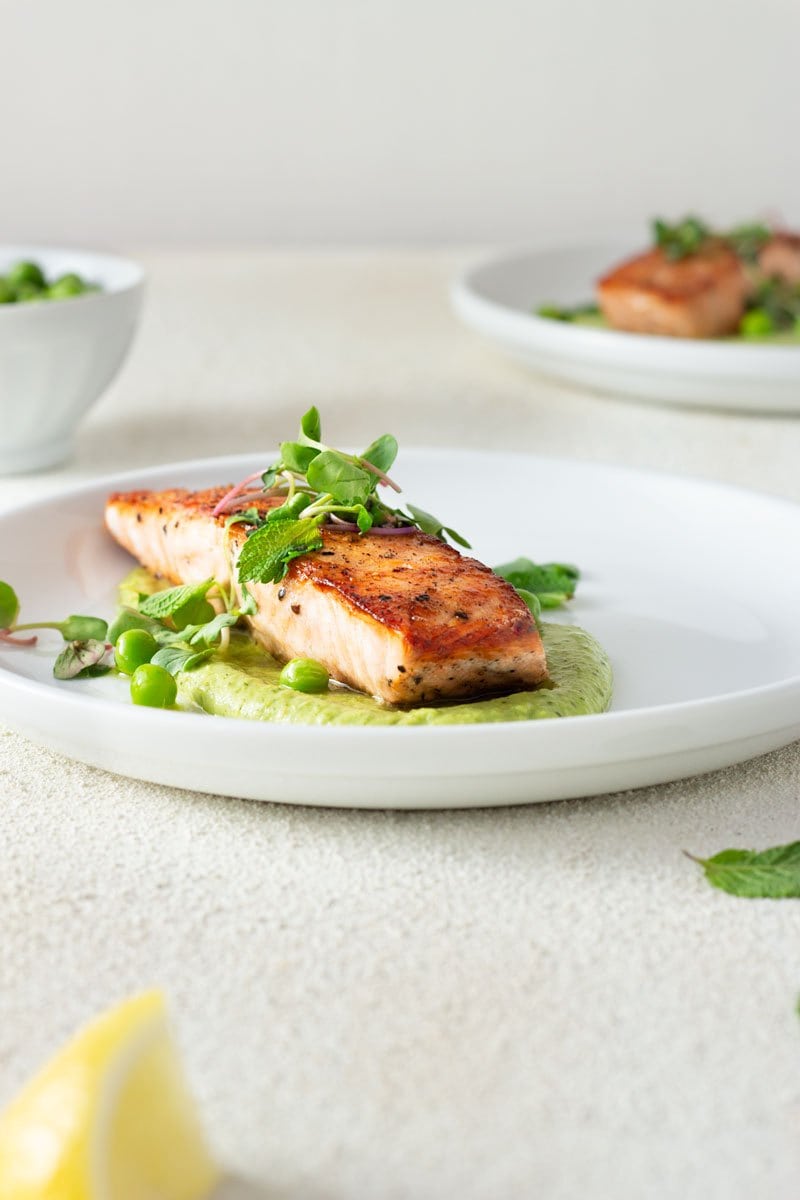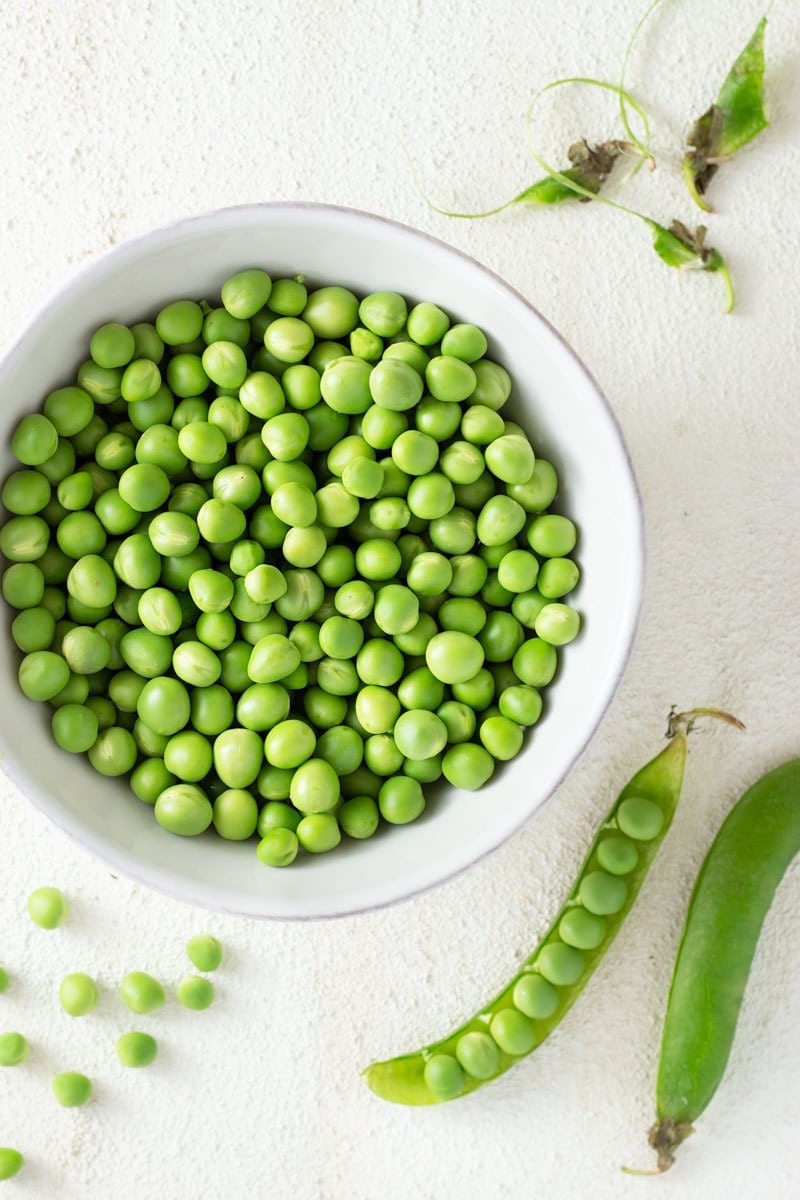 Now, salmon and pea puree might not sound the most appetizing to the masses, but do you see how beautiful this dish is! And when I said addictive pea puree, I meant it. I spent a good amount of time slowly caramelizing onions (but keeping them on the lightly colored side) to add tons of flavor to this puree. Mint, yogurt and lemon juice make this sauce dynamic and well-balanced.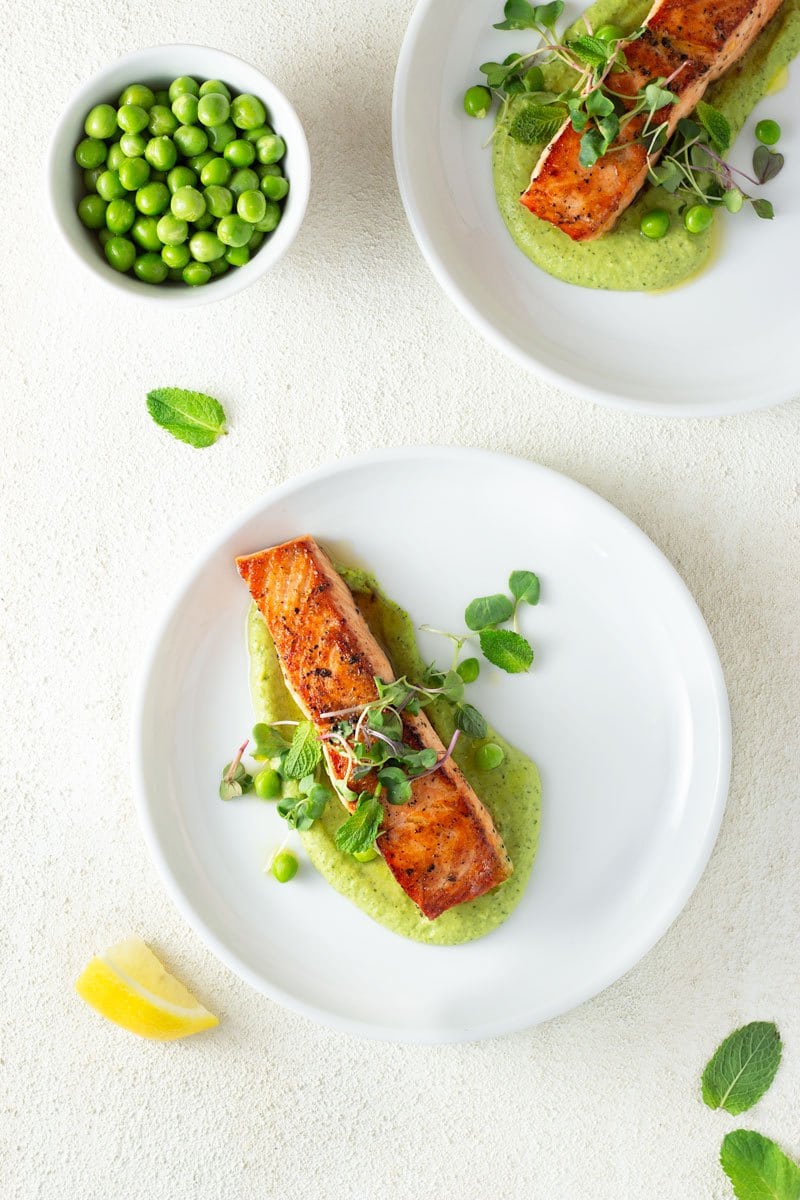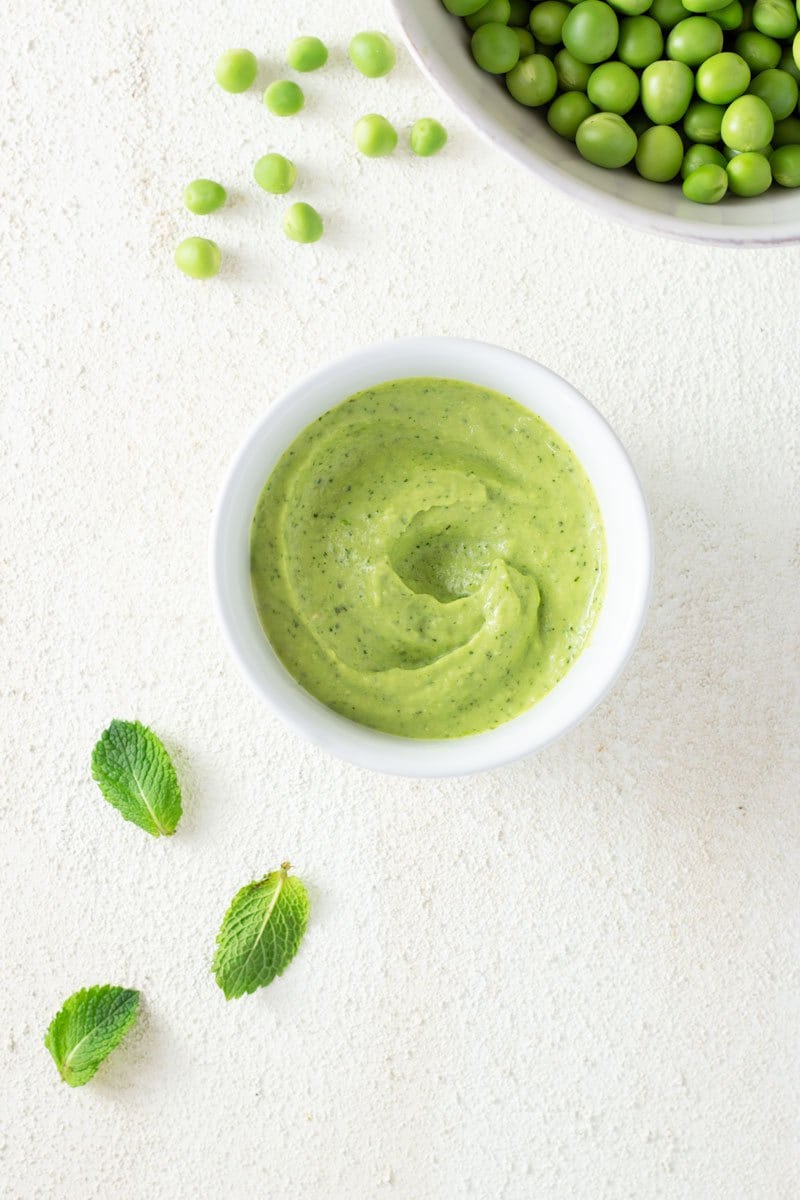 Since it's really all about the sauce, I kept the salmon very simple. Salt and pepper. Seared in olive oil and butter. Served with a lemon wedge. That's really all you need, but I decided to add in some texture too. Seeing as the salmon and pea puree are both fairly soft, I dressed up some raw peas and sprinkled over microgreens to finish off this dish. Whether it's dinner with your significant other, a family affair or a dinner party, this simple salmon dish is sure to make a lasting impression.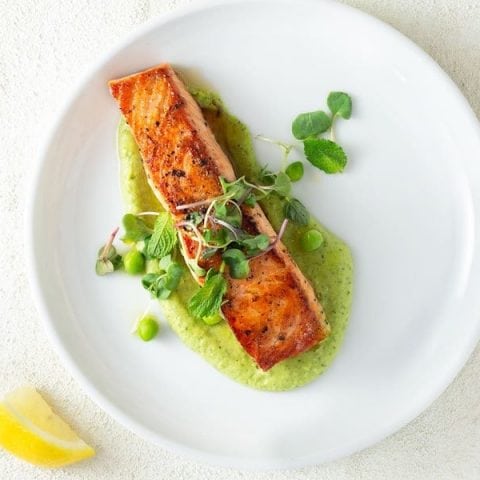 Seared Salmon and Pea Puree with Yogurt & Mint
Sabrina Russo
Perfectly seared salmon and an addictive pea puree made with sweet caramelized onions, fresh peas, mint and yogurt.
Ingredients
2, 6

oz

skinless salmon fillets

2

tbsp

extra virgin olive oil

divided, plus more as needed

2

tbsp

butter

divided

½

medium onion

chopped

1

cup

fresh

shelled English peas, divided (or frozen, defrosted peas)

¼

cup

loosely packed mint

roughly chopped, plus whole small leaves for garnish

1 ½

tbsp

plain yogurt

1 ½

tsp

fresh lemon juice

Kosher salt and fresh cracked pepper

Microgreens for garnish

optional

Lemon wedges

for serving
Instructions
Sauté onions and peas: Warm a small nonstick pan over medium heat. Add 1 tablespoon each of oil and butter to the pan. Add onions and season with salt. Cook for a total of about 25-30 minutes or until sweet and caramelized without taking on much color. Adjust heat to low when needed to avoid browning. Add ¾ cup of peas, season with salt and spoon in 1 tablespoon of water. Increase heat back to medium and simmer peas for 3-5 minutes or until just cooked through.

Puree peas: Add onion/pea mixture and mint to a food processor or blender. Plus until coarsely blended. Add 1 tablespoon of water, or as needed, and continue to blend until smooth. Push through a sieve into to a bowl to remove any lumps. Stir in yogurt and lemon juice. Taste and adjust seasoning, if needed. Allow to cool to room temperature.

Cook salmon: Heat a medium sized nonstick pan over medium to medium-high heat. Pat salmon dry and season with salt and pepper. Add 1 tablespoon of oil to the pan. Place salmon fillets in pan. Cook until browned on first side, about 4-5 minutes. Flip and add 1 tablespoon of butter to pan. Continue to cook to desired doneness, basting with butter, for about 2-3 minutes for medium. Remove from pan.

Season peas: Toss remaining ¼ cup of raw peas with just enough oil to coat, and season with salt. If using frozen defrosted peas, add to sauté pan with oil and salt and cook until just warmed through.

Plate: Spoon about half of pea puree onto plate and swoosh to spread. Place salmon over puree. Drizzle over some of cooking oil from pan if desired. Top with microgreens and raw peas, and serve with lemon wedges. Enjoy.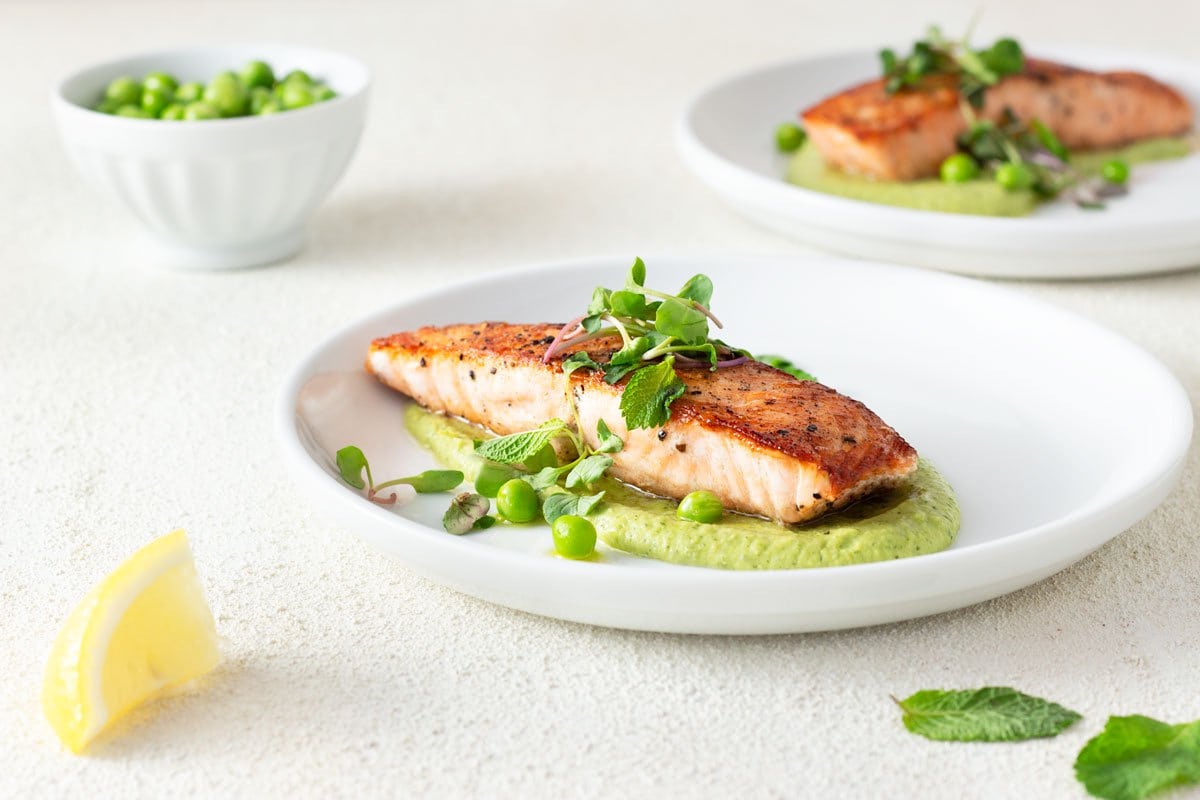 Sabrina Russo
My Three Seasons represents the 3 key factors that are most important to me in cooking. #1 Seasonal ingredients #2 Proper Seasoning (don't skimp on that salt!) #3 Cooking like a Seasoned chef (technique is everything). My name's Sabrina. I live in NYC. I'm a registered dietitian with professional cooking and food styling experience. Come cook with me.