SPONSORED POST: From Dijon Originale mustard to Cornichons, Maille has a rich heritage starting in 1747 that honors tradition. Check out these easy recipes that pack great flavor, thanks to Maille. BONUS: Maille is giving away a one year's supply of their delicious products! Be sure to enter below.
This beet tart recipe with goat cheese and orange mustard vinaigrette is a perfect vegetarian entrée. Whole grain olive oil crust filled with tangy goat cheese and sweet sliced beets marinated in orange mustard vinaigrette make for a perfectly balanced and flavorful dish.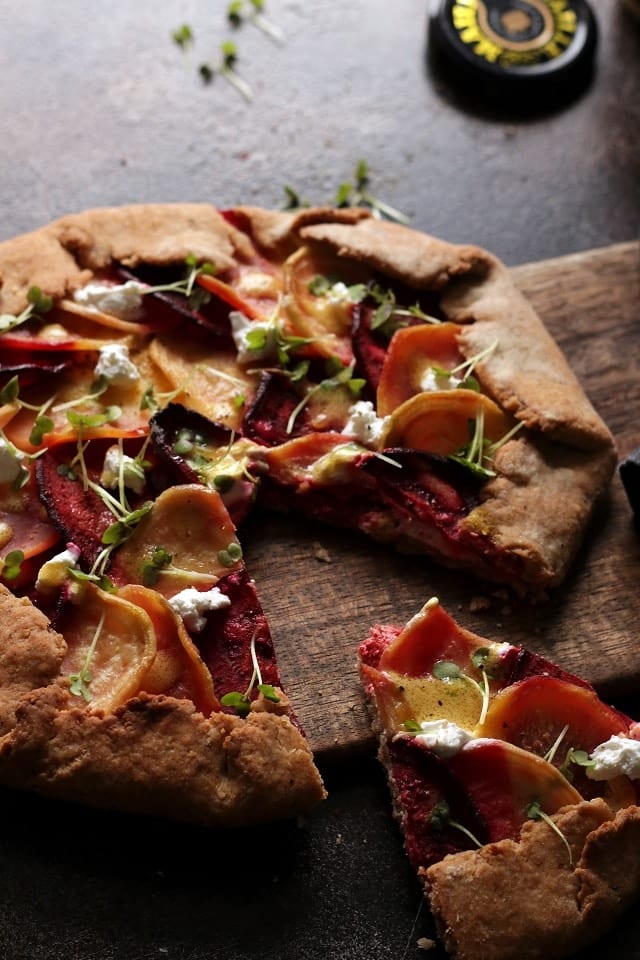 Year's Supply of Maille Giveaway!

This beet galette was inspired by my recent farmer's market haul where I got these stunning-looking three-colored beets.
Combined with goat cheese and orange mustard vinaigrette, made with Maille Dijon Originale, this galette has a perfectly balanced and festive taste.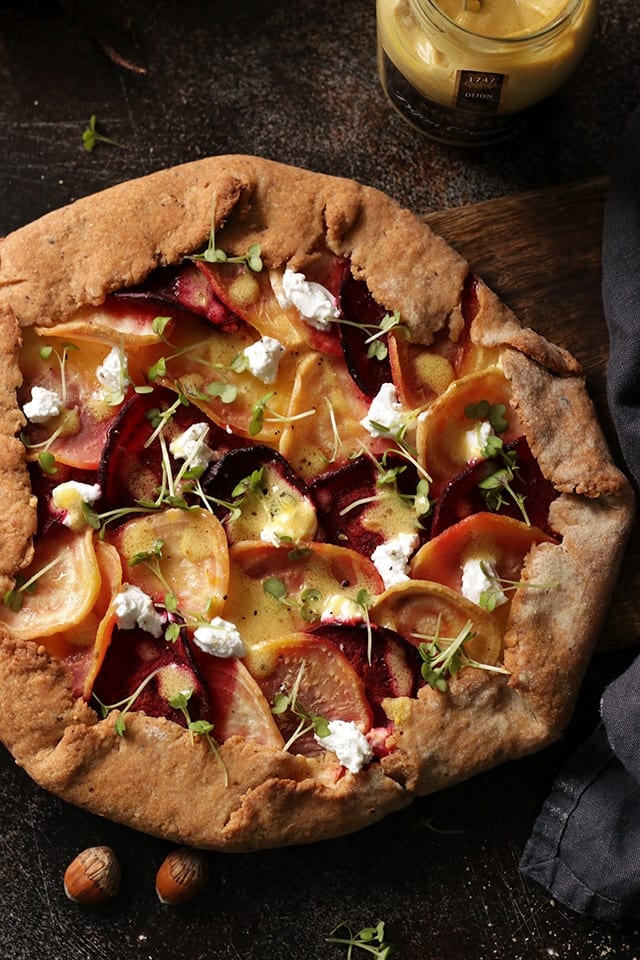 The orange mustard vinaigrette, used to marinate the beets and to add a final drizzle to the baked galette, enhances the sweet taste of beets and the tartness of goat cheese, tying it all together. I can't think of anything else to add to this perfect flavor combo.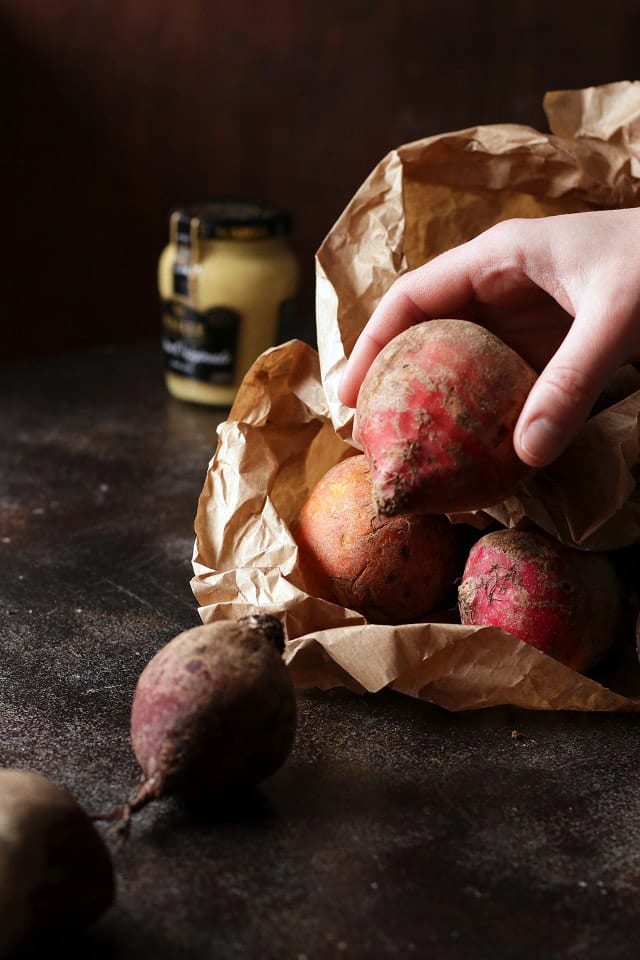 This beet galette is super easy to make. Make the crust, roll it out, spread the filling, fold the edges, and bake. While developing this recipe, I wanted to create a simple, delicious and healthy galette and I think I nailed it!
If you've ever tried whole grain pie crust, you know how savory and lightly nutty it tastes. To make the taste even more nutty, I added ground hazelnuts to the dough which came out to be just the right thing to add.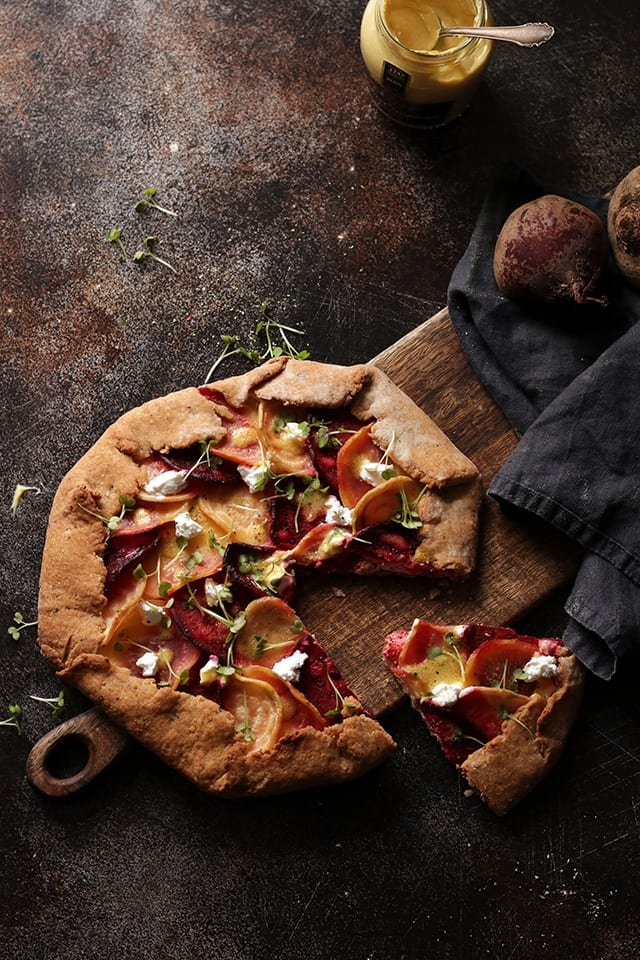 Whole grain flour is perfect for galettes as it gives them a rustic and charming look while being nutritious and so flavorful! I added a mixture of olive oil and Greek yogurt instead of traditional butter and eggs to make this beet galette lighter and healthier.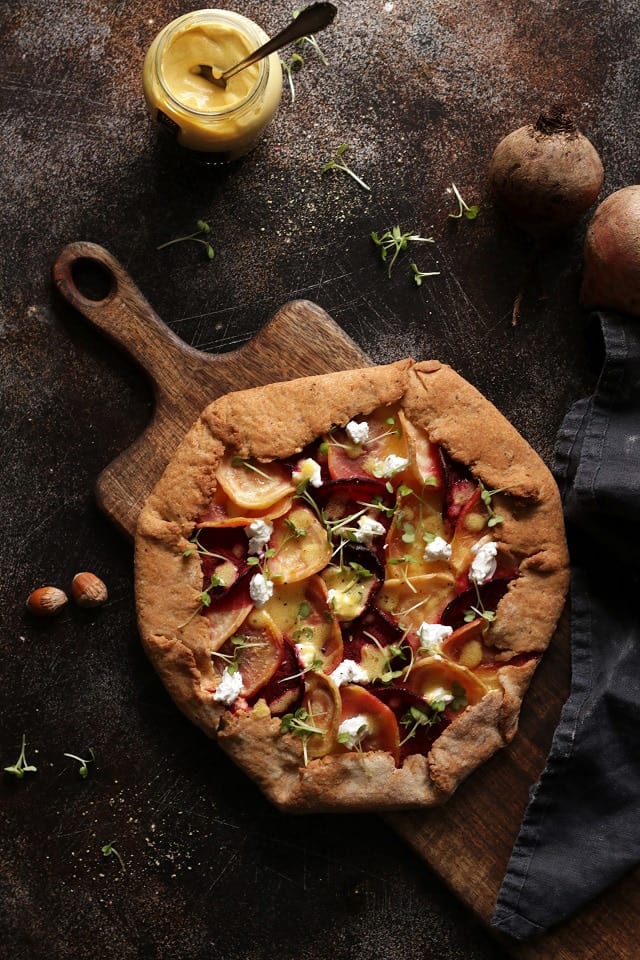 The crust comes together is just a few minutes. Combine all the dry ingredients, then add the olive oil Greek yogurt mixture and blend together. Form a ball, wrap in plastic foil and chill for 20 minutes.
For a gluten-free option, use this buckwheat flour galette crust recipe.
Sweet beets and tangy goat cheese are perfect together. To add a little zesty note to this combo, I marinated the beets in orange mustard vinaigrette. I also drizzled it over the baked galette to add even more flavor.
Orange mustard vinaigrette is a great accompaniment to both beets and goat cheese. It is so simple to enhance the taste of this beet galette with just a few spoons of it! Maille Dijon Original makes the beet goat cheese filling even more special with just the right amount of pungency to intensify the taste.
For this galette you can use any beets you have on hand. Red, golden, white or Chioggia beets are great in any combination. I recommend you to par-boil or steam the beets beforehand to make sure they are done at the same time as the crust.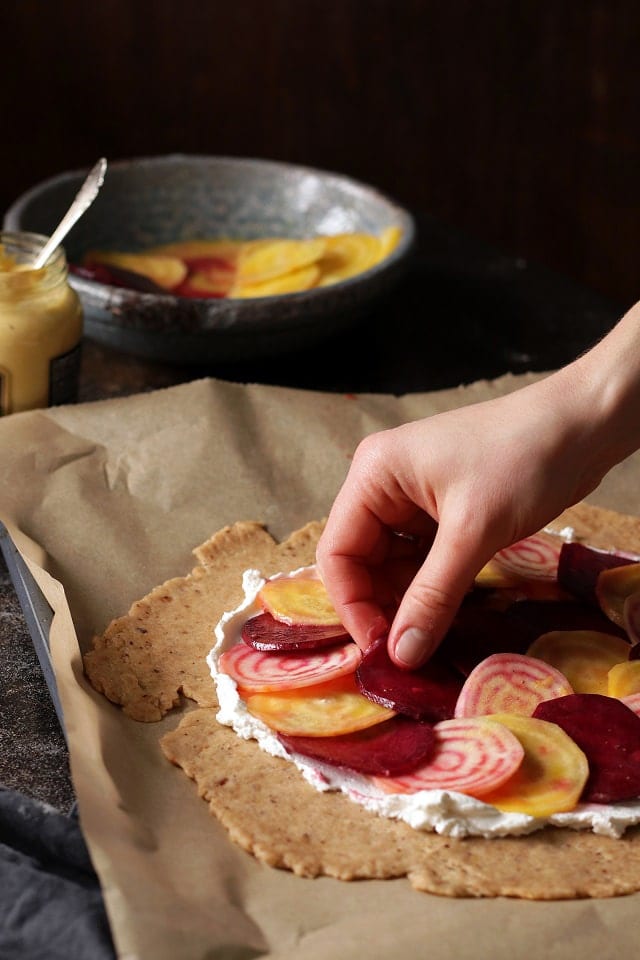 Savory Goat Cheese and Beet Tart
Serves:
2 servings as a main dish
Ingredients
For the crust:
1 cup whole grain wheat flour or all-purpose flour
¼ cup ground hazelnuts
½ teaspoon sea salt
¼ cup extra virgin olive oil + 1 tablespoon to brush on galette before baking
¼ cup Greek yogurt
1 tablespoon apple cider vinegar
1-2 tablespoons water
For the filling:
2-3 medium-sized beets can be any color
1 tablespoon white wine vinegar
2 tablespoons orange juice
1 tablespoon Maille Dijon Originale
1 tablespoon extra virgin olive oil
Salt and black pepper to taste
3.5 oz or 100 g soft goat cheese
Micro greens to garnish
Instructions
Start by adding unpeeled beets and white wine vinegar in a pot of hot water to simmer for about 20 minutes over medium heat. While the beets are cooking, make the crust. Combine flour, ground hazelnuts and sea salt in a bowl of a food processor. In a separate bowl, mix together extra virgin olive oil, Greek yogurt and apple cider vinegar until combined. Add the mixture to the bowl of the food processor and blend together using a dough attachment, adding water 1 teaspoon at a time, until the pastry just begins to come together.
Transfer the dough to a lightly floured surface to form it into a ball. Wrap the dough in plastic wrap and place in the fridge to chill for at least 20 minutes.
Peel and thinly slice the beets, best using a mandoline slicer. Make the orange-mustard vinaigrette. In a small jar, combine orange juice, Maille Dijon Originale, extra virgin olive oil and taste for seasoning. Add salt and pepper to taste and give it a good shake. Reserve 2 tablespoons of the vinaigrette and combine the rest with the beets. Gently toss until all the beets are coated with the vinaigrette. Set aside.
Preheat the oven to 400 F or 200 C. When the dough is ready, roll it out on a lightly floured surface using a rolling pin, rotating it every few rolls, to about 12 inches or 30 cm in diameter. Transfer to a prepared baking sheet.
Spoon in the goat cheese in the center of the crust and spread evenly, leaving about 1.5 inch or 4 cm edge all around. Layer the beet slices over the goat cheese, working in a circular pattern, slightly overlapping them. Fold in the edges of the crust. No need for neat edges, keep them craggy and torn for extra charm. Brush the edges with olive oil before baking.
Bake for around 17-22 minutes, until the crust is golden brown. Let the galette cool for a few minutes and sprinkle with goat cheese and micro greens to garnish. Drizzle with the reserved vinaigrette before cutting and serving. Enjoy!
Notes
Make sure to double the batch if you want to make one galette per serving.