A tender pastry crust topped with sweet roasted onions and just a hint of herbs make this a onion tart a favorite appetizer.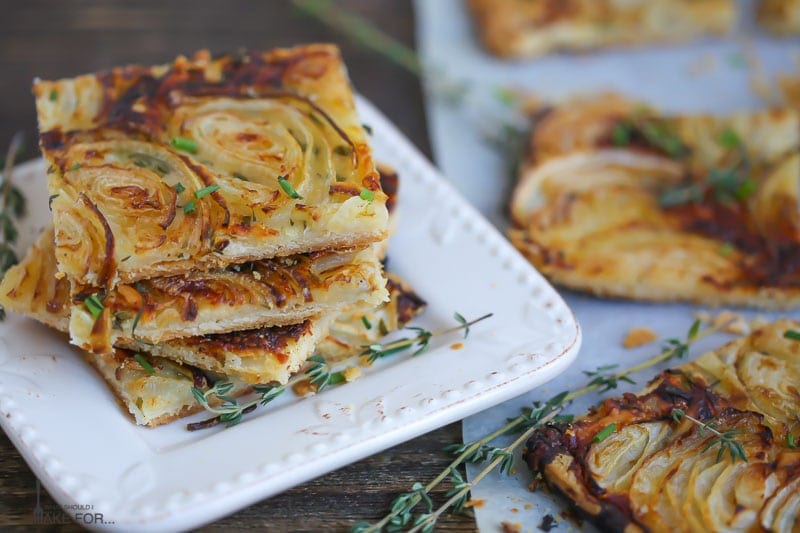 Okay, so when you think party food I'm guessing your first thought isn't onions. Right? That was until now. See this French onion tart is absolutely party-worthy and I promise that it will be the first thing that disappears at your next get-together.
One thing most of our parties have in common is plenty of food (or maybe too much if I'm being honest), plenty to drink and some good music. And unless I'm hosting a dinner party, another common factor is serving food that can be easily picked up and eaten. That means no utensils if I can help it, appetizer plates only, and crafting a menu that can be enjoyed with just a napkin in hand.
Serving finger food not only keeps the dishes to a minimum and streamlines clean up, it also keeps the party moving. Guests aren't trying to slice through a piece of chicken while balancing a plate on their lap with a drink in hand. Instead, they're mingling, nibbling, chatting and depending on the hour and cocktail consumption, dancing.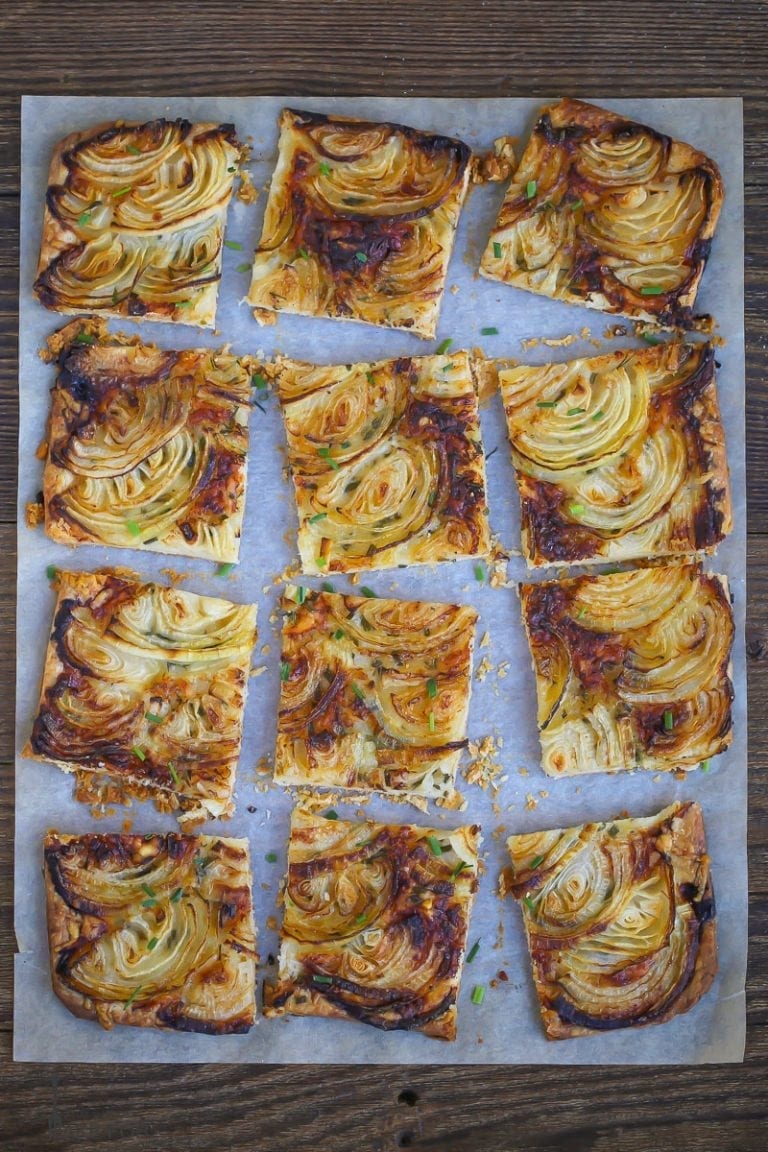 Tips for success
The dough comes together in minutes in your food processor and can be made well in advance and frozen until you're ready to use it.
There's no pre-cooking of the onions on the stove like many onion tarts require. They're simply sliced thin and arranged over a sprinkling of grated cheese and herbs and baked until golden brown and caramelized.
The tart can be sliced into squares, strips, or wedges, but no matter how you slice it (yes I went there), it's just plain delicious.
Tart can be served right out of the oven or at room temperature, which makes it ideal for parties.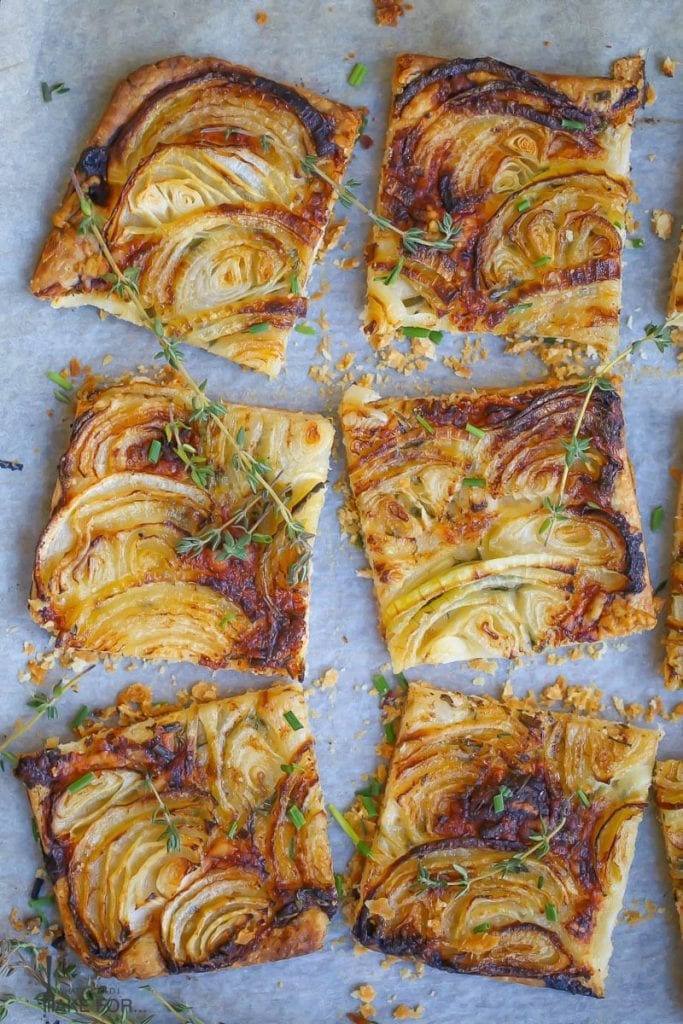 Click HERE for the pastry crust dough recipe.

Savory French Onion Tart
Recipe Type:
Tart, Appetizer
Ingredients
Pastry Crust
Click the link above for the recipe.
Onion Topping
1 cup gruyere cheese, shredded (4 oz)
1½ tsp fresh thyme, minced
2 tsp fresh chives, minced
1¼ lbs sweet onions (such as Vidalia), peeled, halved, and very thinly sliced into half moons (keep the moons intact) (about 3 medium onions)
1 Tbsp heavy cream
3 Tbsp unsalted butter, diced
1 tsp kosher salt
Instructions
Pastry Crust
Click the link above for the recipe.
Prepare the Tart
Preheat the oven to 400 degrees and line a sheet pan with parchment paper.
Roll the dough between two sheets of lightly floured wax paper, slightly larger than 10 x 14 inches. Using a ruler and a small knife, trim the edges. Place the dough on the prepared sheet pan and refrigerate while you prepare the onions.
Sprinkle the rolled pastry with the cheese right to the edges.
Sprinkle with thyme and chives.
Place the onion half moons on the pastry in diagonal lines, just barely overlapping and brush lightly with cream.
Dot with the butter and sprinkle with salt.
Bake for 40 mins or until the tart is golden and browned. Cover the edges with foil if the tart is getting too brown during baking.
Let cool slightly and cut into squares to serve. Serve warm or at room temperature.
Notes
The dough comes together in minutes in your food processor and can be made well in advance and frozen until you're ready to use it.
There's no pre-cooking of the onions on the stove like many onion tarts require. They're simply sliced thin and arranged over a sprinkling of grated cheese and herbs and baked until golden brown and caramelized.
The tart can be sliced into squares, strips, or wedges, but no matter how you slice it (yes I went there), it's just plain delicious.
Tart can be served right out of the oven or at room temperature, which makes it ideal for parties.
*Adapted from The Barefoot Constessa's French Apple Tart