The Korean taco craze may have started in Los Angeles, but it has now made its way, appropriately, to Seoul.
By Meagan Mastriani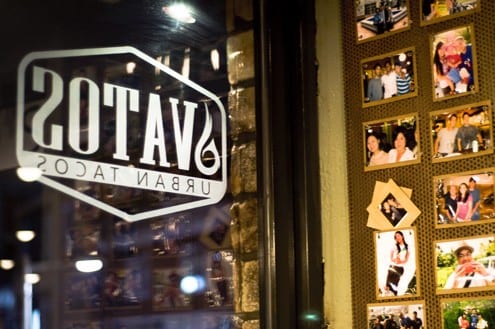 The Korean fusion food trend seems to be popping up all over the world, and what better place to try it than Korea itself. A great place to start is the wildly popular Vatos Urban Tacos, nestled in an alley of the foreigner district, Itaewon.
Vatos hasn't been around for long — the Grand Opening was only in November. But in the past three months, they have managed to develop somewhat of a cult following. New blog posts on the restaurant are popping up daily, and their facebook and Twitter feeds are buzzing with rave reviews. When I stopped in the restaurant for a Thursday night dinner, they actually asked if I had a reservation. At first, I was shocked — reservations on a weeknight, at a taco place? But after just a few minutes in Vatos, I understood the hype.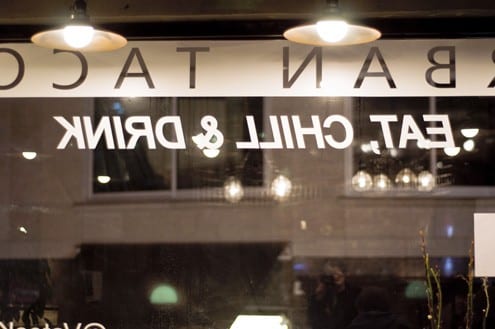 Before I even tasted the food, what sold me on Vatos was the wonderful staff. Despite the lack of reservation, they managed to find me and a friend comfortable seats right away. And within moments of sitting down, at least three servers had come to check on us and ask if we needed help ordering. When I pulled out my camera, Kenny (or Kenneth Park, the L.A. native who opened the restaurant) offered to help stage photos and invited me back to the kitchen to get a better look at the food.

What struck me most of all was that the attention didn't feel special. What I mean to say is, the staff at Vatos treat all their customers this way. And they're not just trying to ingratiate themselves — they're genuinely friendly people who want to help you have the best experience possible. The invitation to "Eat, drink and chill" on their window is fitting. (This kind of customer service would be laudable anywhere, but it's especially noteworthy in Korea, where servers are typically aloof and must be called with a shout.)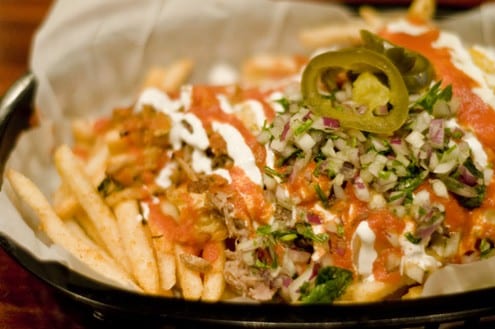 Of course, even the best service wouldn't get a restaurant so much attention. The real story behind Vatos' explosive acclaim is the food. The menu is short but not lacking. There are a few select appetizers, quesadillas, tacos, and desserts all equally mouthwatering. The longer I stared at the menu, the more I understood why the staff kept asking if I needed help. It was pretty hard deciding what to order there.
For those in a similar predicament, let me save you some trouble: order the kimchi carnitas fries (pictured above). These seasoned fries topped with melted cheese, kimchi, tender carnitas, sour cream, onions, cilantro, peppers, and hot sauce were my hands-down favorite dish at Vatos. I liked it more and more with every bite — the longer the flavors marinated and mingled, the better it got.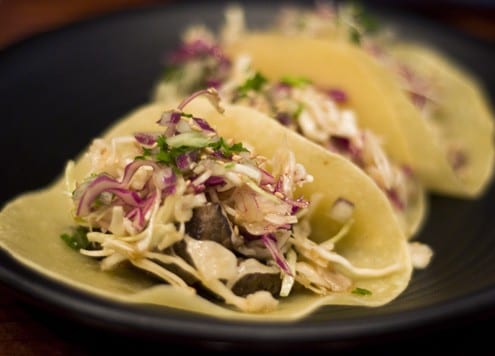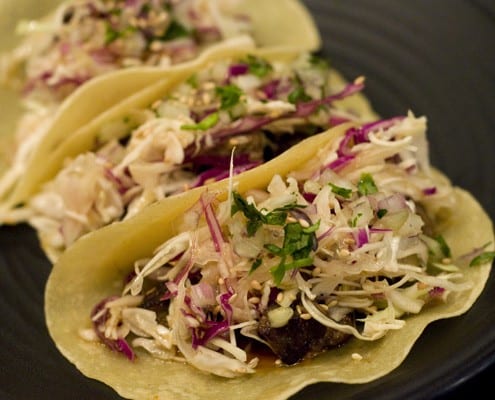 And the tacos are impressive, too. Above are the galbi tacos, with marinated short ribs and all the fixings wrapped in a delicious handmade tortilla. On top of being beautiful, they are tasty, not to mention well-crafted. Nothing ruins a good taco like poor construction, but the tacos at Vatos don't fall apart. They're ideal in size and stuffing.
The galbi taco is one of the most heavily Korean-influenced tacos at Vatos (along with the pork belly variety). The sweet meat tastes just like the kind you would find at a quality BBQ restaurant, with the added flavors of Mexican toppings and a tortilla. Korean BBQ fans will love this taco.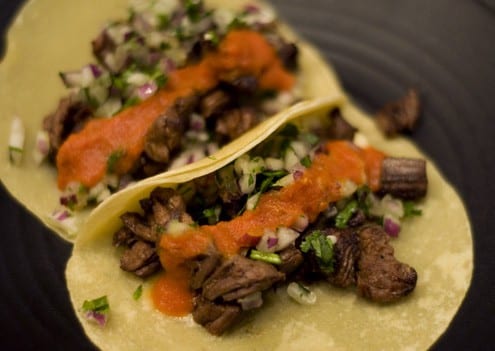 Vatos also has more classically Mexican dishes, like these carne asada tacos. Though the presentation is modern and stylized, the hearty flavors in the taco are time-honored. The braised carnitas and fish tacos (a special item) also appeal to those who prefer their Korean-Mexican fusion heavy on the Mexican.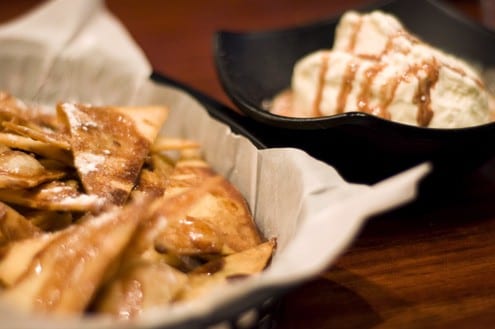 For dessert, Vatos offers Nutella nachos complete with vanilla ice cream for dipping. These nachos are a bit of a misnomer, since the Nutella was just one of many ingredients, rather than the star of the dish. What they more closely resemble are churros in nacho form. Still, the sticky, sugar-drizzled chips are very, very good. It's a dessert you want to gobble up (and the melting ice cream is your excuse to pig out — gotta eat it fast!). Just make sure you have a nice supply of napkins ready before you dig into this messy bowl of chocolatey goodness.
For the thirsty, Vatos' drink menu boasts the necessary Mexican beers and classic margaritas, as well as some inventive fusion creations. Their fruity Makgeollitas, for example, are made with makgeolli, traditional Korean rice wine. Vatos also stocks local and craft beers.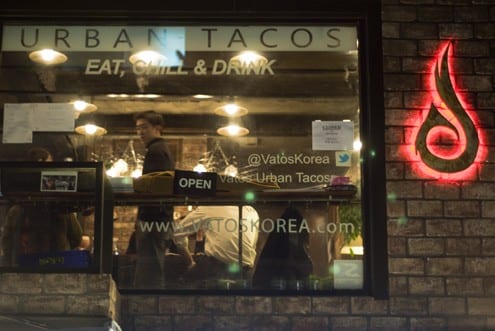 As a pioneer of an exciting new trend, Vatos Urban Tacos has generated a lot of hype around Seoul. Fusion foods are so hot now that foodies are eager to try any new combination. But Vatos doesn't just coast along on its hipness factor (though it is very hip, as the name alone suggests) — there's real substance there. The friendly, laid-back staff and the quality dishes make Vatos a place I'll want to visit even after I've heard "fusion" one too many times.