Savoring Seoul: Insadong's Bird Flying Tea Shop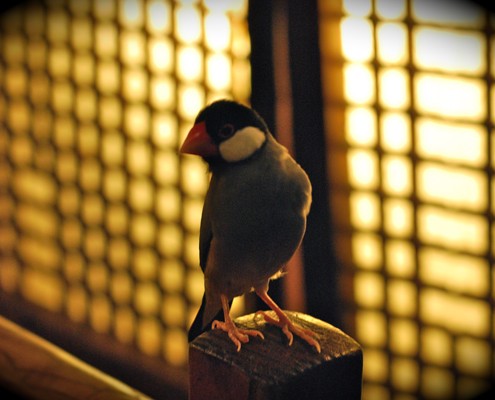 In Seoul's curious tradition of dog and cat cafés, Meagan Mastriani finds an alternative that actually serves a decent cup of tea.
By Meagan Mastriani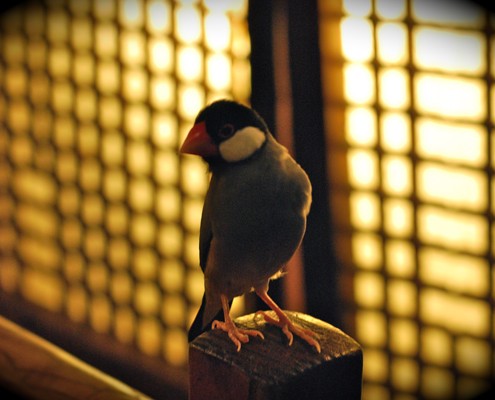 Any expat who has spent enough time in Seoul knows all about the famed dog and cat cafes throughout the city. Yes, dog and cat cafes. Places where you can pay for a mediocre cup of tea or coffee in exchange for half an hour of playtime with furry friends. People say petting a cat or dog for a few minutes a day reduces stress — not at these cafes. Snobby animals roam freely in search of treats as pet-starved, studio-dwelling Seoulites beg for their affection. The staff follow the quadrupeds around with mops and wet wipes, spending more time as janitors than baristas. Seoul's dog and cat cafes are frenzied, touristy, and honestly a little disappointing. Sure, they're wacky places everyone has to check off their list in Korea. But if you've been once, you've been enough.
Naturally, when I heard about the Bird Flying Tea Shop in Insadong, I assumed it would be the same story. I imagined another fluorescent-lit, linoleum-tiled zoo full of squawking parrots and dancing cockatoos. I saw foreigners holding out tiny cups of sugar water in hopes that a parakeet might rest for a moment on their arm. I assumed it would be terrible (of course, I still wanted to go anyway). I assumed wrong.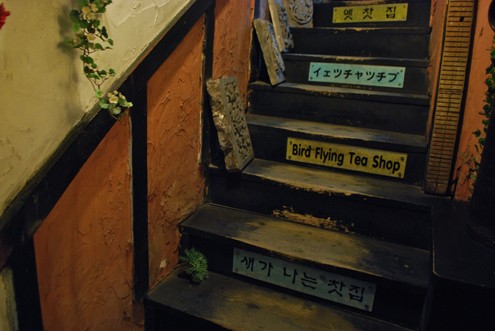 The Bird Flying Tea Shop is tucked away in a cozy alley just off the main Insadong strip. It's near the tourist area, but it's so discreet and secluded that it's actually a bit difficult to find at first. It's not overrun with visitors — go on a weeknight, and you might even have the place to yourself. Even when it's busy, it's the kind of place that doesn't feel busy.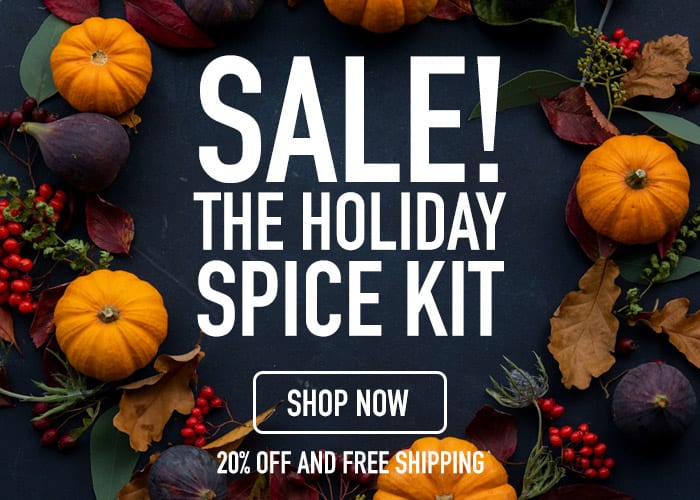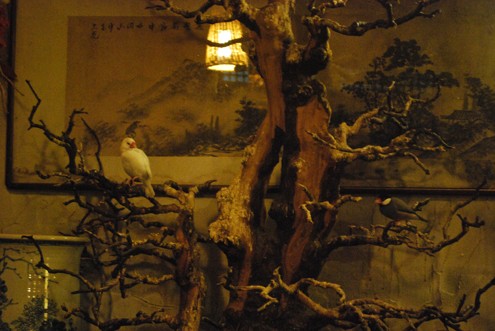 Fluorescent lights and linoleum floors are nowhere to be seen in the Bird Flying Tea Shop. Instead, it's a very warm, calm atmosphere with dim paper lanterns, tranquil traditional music, and the smell of herbal teas. There are shelves full of pottery and other lovingly placed curios. It makes you feel as though you've stepped into your Korean grandmother's living room, filled with all the odds and ends she has collected throughout the years.
And when you walk in, you may not even see or hear the birds for several minutes. It's so surprisingly quiet and peaceful that it doesn't seem like any animals are around at all. Then, just as you've taken off your shoes and settled onto one of the many mismatched floormats, you start to hear their soft singing. You'll probably hear the handful of small songbirds before you start to see them peeking their heads out to get a look at your rice cakes. It's not chaotic or loud there. It's soothing, the kind of place where you want to stretch your arms and say "ahhh".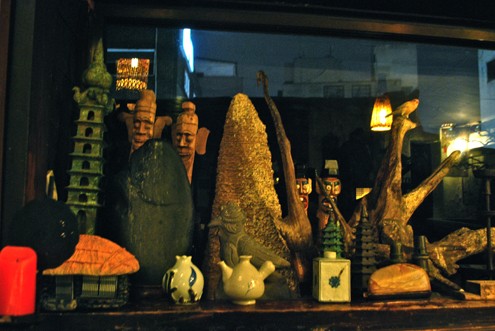 And the tea! I first went to the Bird Flying Tea Shop for the feathered friends. But every successive trip has been entirely for the tea. The menu is an impressive list of traditional herbal and medicinal Korean teas, claimed to help with everything from nausea and headaches to hypertension and even cancer. While I can't attest to their healing properties, I can assure you that these teas are supremely delicious and that I do feel great after drinking them. My favorite flavors are the plum (for digestion), jujube (for stress relief), and citron (to fight sickness). Pictured above is the "double harmony" tea, famous throughout Korea for it's cold-fighting power. It contains a powerful blend of dried roots, ginger, ginseng, cinnamon bark, and other medicinal ingredients, so it makes sense that Koreans think of it as a tonic. It can be bitter, but it's still an enjoyable remedy for the sniffles.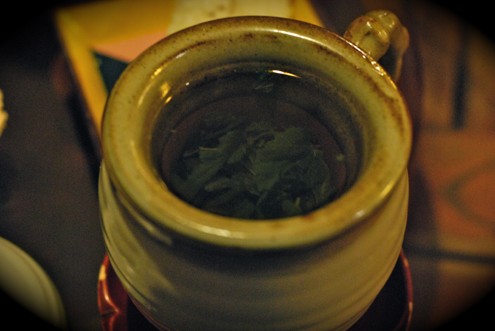 Not only are the teas tasty and healthful, but they are also beautiful. Leaves, seeds, bits of roots, and petals float and sink in the mugs. It's clear that much care is taken in the preparation of these drinks, and the focus of the Bird Flying Tea Shop is really on serving fantastic teas rather than running a petting zoo. You'll never be served a mediocre drink here. The teas are so good, in fact, that they are sold at two shops — the Bird Flying Tea Shop upstairs and the Old Tea Shop downstairs (where the songbirds are caged). You can even buy the syrups and mixes to make the tea yourself at home. Though, if you did make the teas at home, you'd miss the chance to share your glutinous rice cakes with some cheeky feathered friends. And the birds might be, after all, why you came in the first place.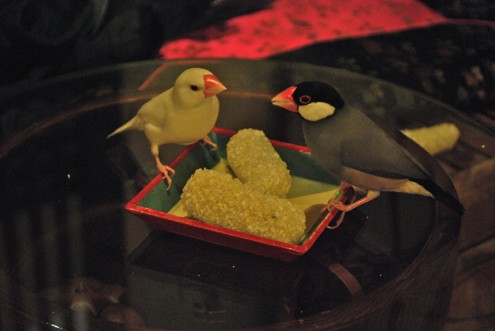 Overall, Insadong's Bird Flying Tea Shop breaks the mold for Seoul's animal-inhabited cafes. It's clear that here the emphasis is on providing a calming atmosphere to soothe body and mind. And the animals, rather than detracting from the quality of that experience, actually add to the enjoyment of superbly blended medicinal teas. The dog and cat cafes are for the birds. The birds, however, are for people who love a good cup of tea and a good atmosphere for drinking it.
Meagan Mastriani
Meagan Mastriani is a culinary photoblogger living in Seoul, South Korea. As a lover of the city's flourishing independent cafe scene, she spends much of her time exploring backstreets to find hidden treasures. With an eye for art and design, she is usually attracted to places that are both visually and gustatorily pleasing. She invites friends and fellow food enthusiasts to join in her adventures as she discovers the best that local eateries have to offer and hopes to entice you to visit her beloved city.