SPONSORED POST: From Dijon Originale mustard to Cornichons, Maille has a rich heritage starting in 1747 that honors tradition. Check out these easy one-pan brunch recipes that pack great flavor, thanks to Maille. PLUS, be sure to enter for a chance to win their epic brunch makeover giveaway.
Not only do the veggies pop right out at you (in a good way), but the bold flavors of Italian sausage, Gruyere and Dijon take this whole entire dish to an incredible next-level.
Maille Brunch Makeover Giveaway!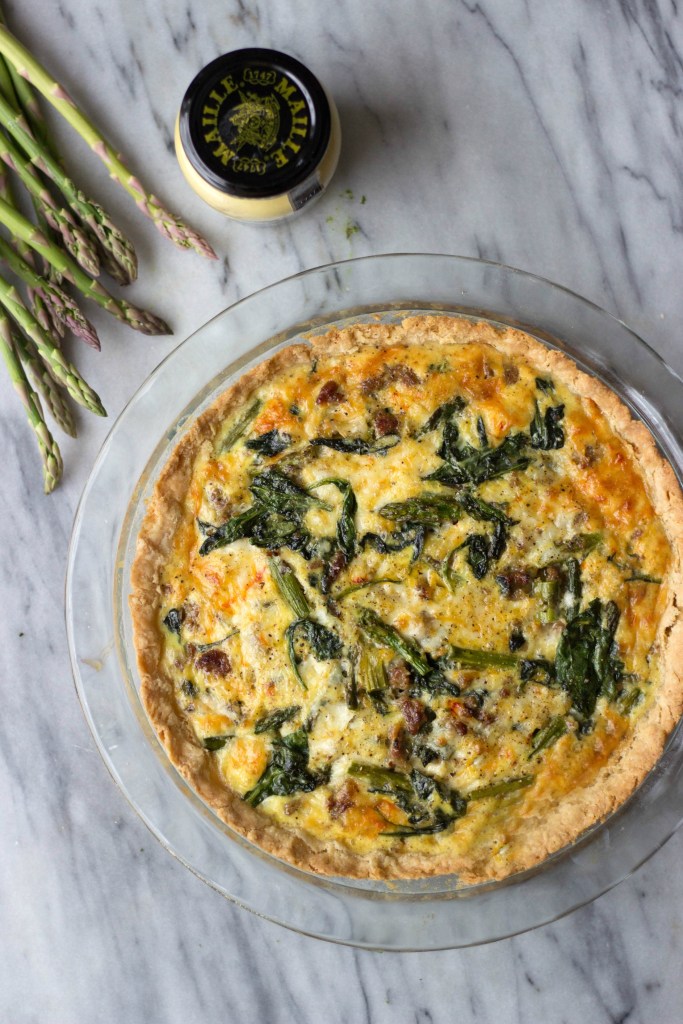 Nothing screams spring quite like crisp, bright green asparagus.
And boy have we been waiting for spring for a longggggg time. I swear this winter has been approximately 6 months long, and there is still a bit of snow on the ground. But, the good news is I think we are seeing the end of winter and can actually celebrate the beginning of spring without cursing ourselves (fingers crossed). I even noticed some perennials popping up in my front yard, which is an incredibly good sign.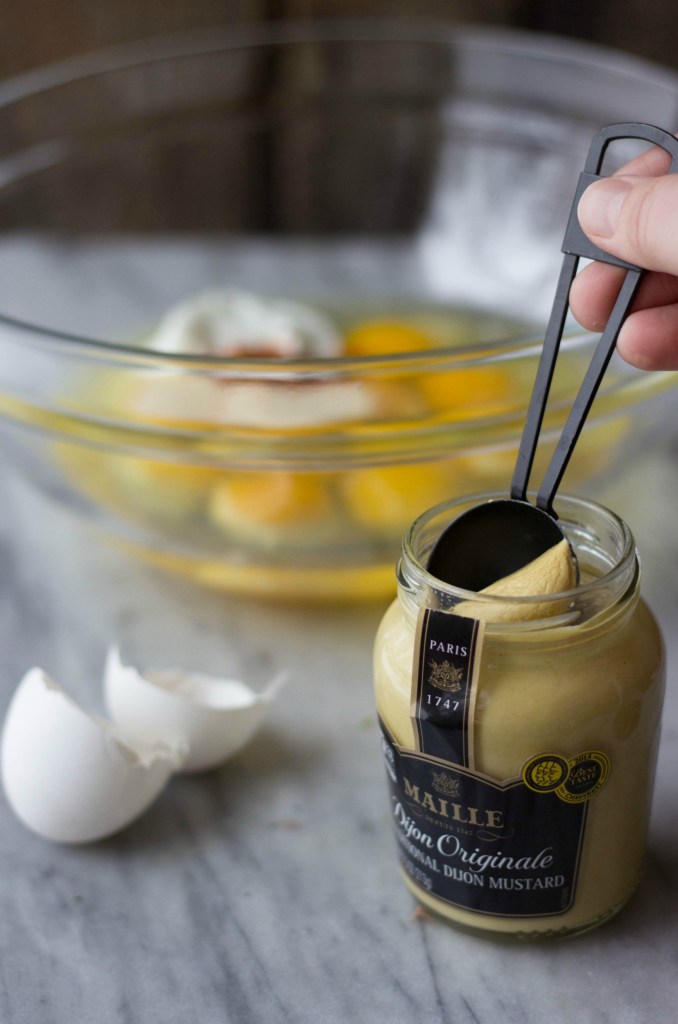 So we have lots of amazing produce on the horizon, including that bright, crisp green asparagus (with those insanely gorgeous purple hues) and handfuls of dark green spinach, both of which are featured in my quiche recipe.
I'm quite proud of how delightful the quiche filling is. Not only do the veggies pop right out at you (in a good way), but the bold flavors of Italian sausage, Gruyere and Dijon take this whole entire dish to an incredible next-level.
I use Maille Dijon Originale Mustard in so many recipes, and in unexpected ways. I've found that it provides a depth of flavor that cannot be achieved otherwise, and it also provides moisture to meatballs, meatloaf, soups, salad dressings and casseroles like this one. I find myself adding a giant dollop to almost anything these days because I've become accustomed to that next-level flavor.
Maille is especially good because they've been around since 1747 and have a wide variety of mustards, so they really know their stuff (they also have a line of cornichons and horseradish). When I taste their mustards next to other brands, there is really no comparison (seriously… try it for yourself).
I'm also over-the-moon about the crust on this quiche. Seriously, the flaky layers are insane. I am totally an all-butter pie crust girl (I know some of you shortening and lard pie crust-lovers want to come at me right now…) but the flavor of butter is just irreplaceable.
I like to bake the crust for about 10 minutes before adding the filling (be sure to poke some fork holes in the dough before baking to avoid bubbles), so be sure the final product comes out extra crispy.
By now I have you sold on this entire quiche (and the mustard), so go put the quiche on all your spring brunch menus, and the mustard on your grocery list! You're going to fall for both.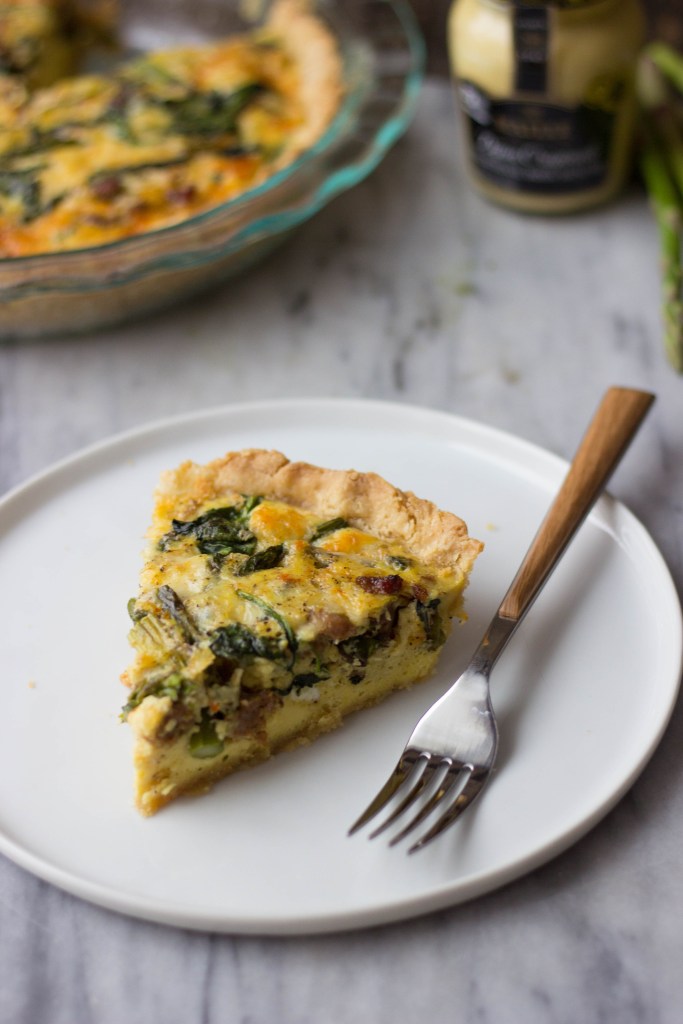 Maille Brunch Makeover Giveaway!


Sausage and Asparagus Quiche
Recipe Type:
Main, Brunch, Quiche
Ingredients
Crust:
1¼ cups whole wheat pastry or all-purpose flour
¼ tsp. coarse salt
8 Tbsp. (1 stick) cold butter, cut into cubes
4–5 Tbsp. ice water
Filling:
2 Tbsp. olive oil
⅓ lb. ground Italian turkey or pork sausage
½ lb. asparagus, cut into 1-inch pieces
2 cups fresh baby spinach
8 large eggs
¼ cup plain Greek yogurt
2 Tbsp. Maille Dijon Originale
1 ½ tsp. onion powder
1 ½ tsp. garlic powder
1¼ tsp. coarse salt
½ tsp. ground black pepper
¼ tsp. crushed red pepper flakes
½ cup shredded muenster or Gruyere
Instructions
Place flour, salt and cold butter cubes in the bowl of a food processor. Pulse a few times, drizzling the water through the vegetable shoot, until pea-sized granules form. Transfer to a flat surface that is dusted with flour. Work the dough with your hands until it forms into a ball (do not overwork; you should see small chunks of butter throughout the dough). Wrap the dough in plastic wrap and refrigerate 30 minutes or freeze 15 minutes.
In the meantime, heat oil in a large skillet to medium. Add the sausage and as it cooks, break it into small pieces with a wooden spoon. When it starts to brown, add the asparagus and spinach. Sauté, stirring frequently, until sausage is fully cooked, asparagus is slightly tender and spinach is wilted. Remove from the heat.
In a large bowl, whisk together the eggs, Greek yogurt, Dijon, onion powder, garlic powder, salt, black pepper and red pepper flakes. Add the sausage and vegetable mixture to the egg mixture and fold until well-combined. Set aside.
Preheat the oven to 425 degrees.
Remove the dough from the plastic wrap and place it on the floured surface. Use a rolling pin to roll it out into a circle, about an inch larger than a 9-inch deep dish pie plate. Transfer the dough to the pie plate and press it down evenly into the plate. Fold the edges over and use your thumbs or the back of a fork to secure the edges against the plate. Poke several holes into the bottom of the dough with a fork. Bake for 10 minutes. Let slightly cool.
Pour the egg mixture into the pie plate and use a spatula to evenly disperse the fillings. Top with the shredded cheese. Bake for 10 minutes, then reduce the heat to 350 degrees. Bake another 20-30 minutes or until the filling is set.
Let slightly cool before slicing and serving.
Notes
*Quiche is best reheated in the oven at 350 degrees.

*Substitute sausage with a ½ pound cooked bacon, if desired.

*Depending on whether you use salted or unsalted butter, you can adjust the amount of salt you add to the recipe.