Similar to couscous, this Sardinian specialty makes a rich and filling salad when mixed with red peppers, olives, and a blend of herbs and spices.
Originating from the south side of Sardinia, in Italy, fregola has often been compared to Israeli couscous. Sardinians will often prepare it with fresh clams and tomatoes. Thanks to its wonderful versatility and some very creative chefs, it can make an appearance in soups, as a side dish, or in salads.
I've read that it is surprisingly easy to make your own fregola at home. The procedure basically consists of combining some coarse and fine semolina with a sprinkle of salted water. You then have to rub the mixture with your hands until the tiny beads are formed. Toast in the oven and there you have it: homemade fregola.
As you can see, fregola look like tiny beads. These tiny beads have a wonderful nutty taste because they've been lightly toasted.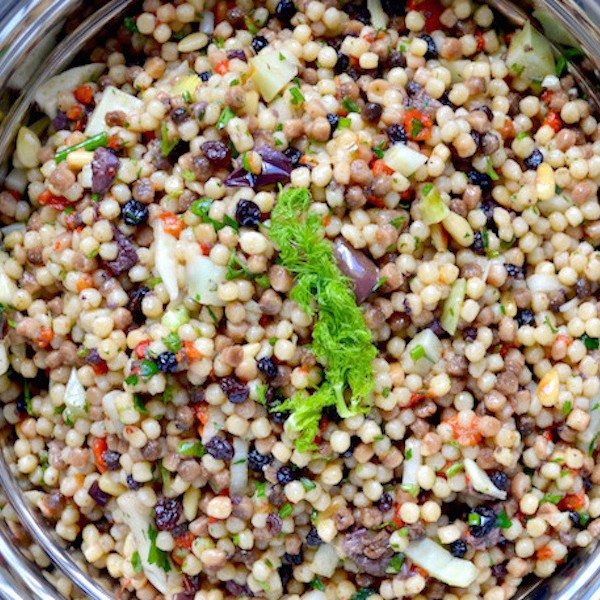 Maria Vee, Adapted from The Gazette
Cuisine
Italian, Sardinian
Ingredients
1-500

gram

18 ounces package of fregola

½

cup

Corinthian raisins

½

cup

extra virgin olive oil

1/4

cup

red wine vinegar

1/2

cup

pitted oil-cured black olives

chopped

1

medium fennel

diced

3

tablespoons

chives

chopped

3

tablespoons

parsley

chopped

1

tablespoon

basil

chopped

salt and pepper to taste

? cup pine nuts

toasted

? cup roasted red pepper

chopped
Instructions
Bring a large pot of salted water to boil and add the fregola.

Stir and cook for approximately 15 minutes or until al dente.

Add the raisins during the last minute of cooking.

Drain and set aside.

In a large mixing bowl, whisk together olive oil and vinegar.

Add the fregola, olives, fennel and herbs. Combine.

Season with salt and pepper.

Gently combine the pine nuts and the roasted red pepper.

Cover with plastic wrap until ready to serve.
Maria Vee
Hello! My name is Maria, Canadian-born and Italian-raised. By day, I work in a health institution, but by night, I cook, bake, and blog. I guess I get it from my mom, who I truly believe spent most of her adult life in the kitchen (and loved every second of it)! Recently it became important to me to fix up, document, and post some of her treasured recipes; I wanted my own kids to get a taste for the legacy she left behind and to continue to honour the traditions she set up when she was alive. I crave the simple things in life, most of all enjoying some good food with my beloved family and friends.