SPONSORED POST: From Dijon Originale mustard to Cornichons, Maille has a rich heritage starting in 1747 that honors tradition. Check out these easy one-pan brunch recipes that pack great flavor, thanks to Maille. PLUS, be sure to enter for a chance to win their epic brunch makeover giveaway.
Grab some puff pastry and make this asparagus vol au vent filled with pesto-mustard-cream cheese and topped with salmon flakes. It is light but still indulgent and buttery. Just before serving, finish with a lemon mustard glaze.
Maille Brunch Makeover Giveaway!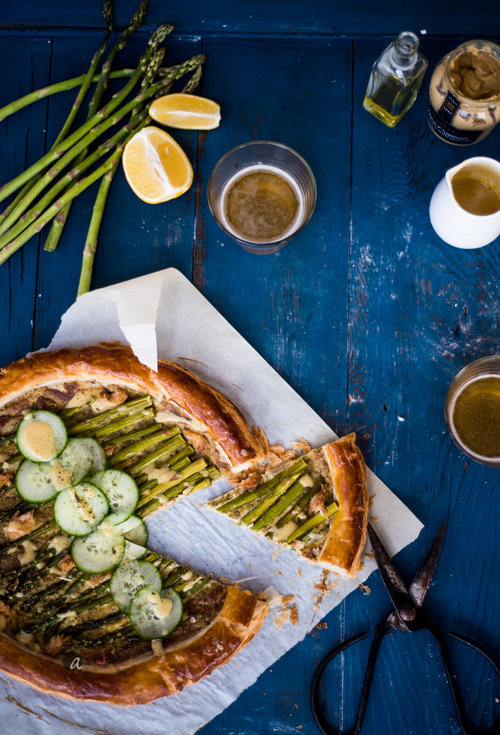 Spring has arrived! Blooming daffodils bright yellow, crocuses in their rich purple hues dot the generally brown landscape, and bring a smile to my face every single day. My personal joy is that in a yard that looks like a disaster zone, these bulbs have bravely surfaced and bloomed, letting me know that there is a reason to love life! Honestly, amidst the random rocks we dug out and the generally sadly scarred landscape (we cleared the overgrown brush and extra trees last year but did not get around to doing anything after, even grass!), the bursts of yellow is a genuine harbinger of hope. And along with that I see other plants – hostas, and yes, grass, peeking out! And, with them come the birds – singing their unique melody all day! Oh joy! Today I spotted a blue jay, which, has always been the true marker of spring. The Cardinals brighten a winter landscape and the blue dashes with spring's riot of green!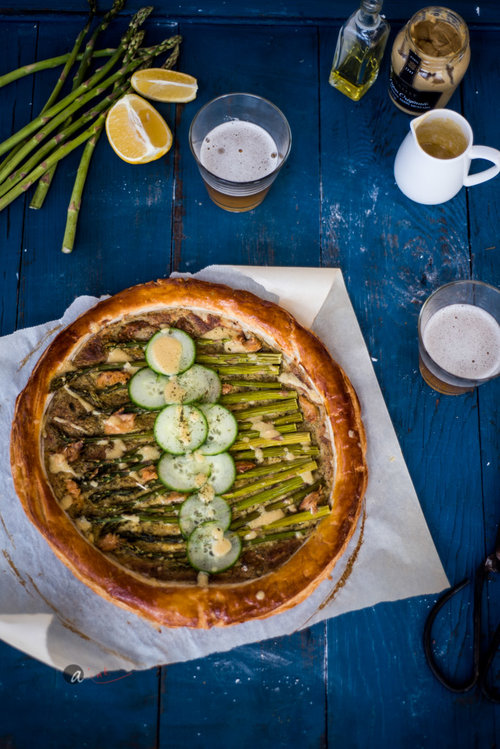 And with that, it is almost binary switch in my kitchen. I want more green on my plate, more vegetables and more fresh looking and tasting stuff. I am not sure how much I can garden this year, as last year's patch has been completely razed and no longer viable. So, I am definitely focusing on being more mindful of getting produce that is in-season in the local environs (North East for me and ignoring California!). I am also angling towards quicker meals that allow me more time with family and yet bring a touch of special, because I want Tiny Feet to fall in love with food! I want to world of flavors to be a welcoming journey!
Recently, I found a lovely bunch of asparagus at my store. A staple for me is to simply sauté it in olive oil, sprinkle sea salt over and drizzle a mustard vinaigrette. Its perfect with salmon (we have been cooking it sous vide to divine results!) and some new potatoes. This time though, I wanted a similar flavor profile but something that was more finger-food friendly a.k.a. for new eaters. So, I decided to make a tart. Voilá!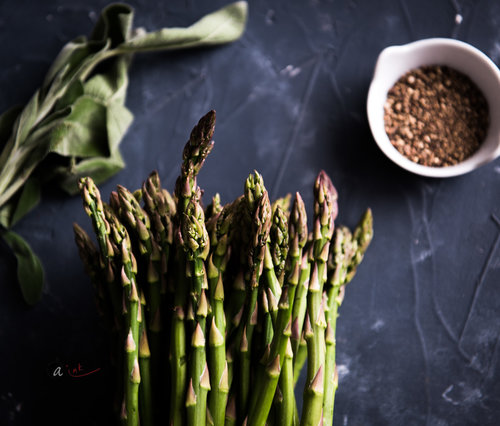 I always have Maille Dijon Originale Mustard in my pantry as well as puff pastry. So, I made a tart size vol au vent, filled with pesto-mustard-cream cheese, topped with trimmed asparagus and salmon flakes. It is light but still indulgent, the butter helps! Just before serving, a lemon mustard glaze was a perfect way to bring a burst of spring back into the dish with that tangy note of mustard and lemon!
Maille Brunch Makeover Giveaway!


Salmon and Asparagus Vol Au Vent with a Mustard Glaze
Recipe Type:
Brunch, Tart
Serves:
2 for main, 6 as shared appetizer
Ingredients
2 puff pastry sheets, thawed (I used a round one but you can also use the standard rectangles)
3 T fresh pesto
¼ cup whipped cream cheese
handful of asparagus, bottoms trimmed, and stems peeled
2-3 T flaked salmon or more if desired (you can also use smoked salmon)
1 egg yolk + 1T water for brushing the pastry
For the glaze
juice of ½ lemon
1 tsp Maille Dijon Originale Mustard
¼ cup olive oil
salt and finely ground pepper to taste
Instructions
On a floured surface, roll out the thawed pastry sheets. Use a whole sheet as the base and transfer to baking tray. With the other make a cut out of about 1 inch thickness from the outside. Reserve the remainder of the second sheet for a different use.
Beat the yolk with water and using a pastry brush, paint a thin layer of 1 inch thickness along the edges of the base pastry. Place the second pastry cut out on top, aligning the edges as best as you can. Gently press to seal and create the wall of the pastry shell.
Using a fork lightly poke the insides of the base. This will ensure that this part does not puff up too much.
Whip together the cream cheese and fresh pesto and spread a thick even layer on the base. Arrange the asparagus and salmon on top, gently pressing them into the filling.
Bake the pastry per package instructions; Typically, at 425F for 20-25 minutes. While the tart bakes, vigorously shakes the glaze ingredients together until emulsified.
Remove the tart from the oven and serve immediately generously drizzled with the mustard glaze. Add a salad if desired. You can toss the salad in the same glaze!