Hélène Darroze's third restaurant is scheduled to open in Moscow at the end of October this year. Reena Pastakia squeezed into her busy schedule to find out more about her new venture.
By Reena Pastakia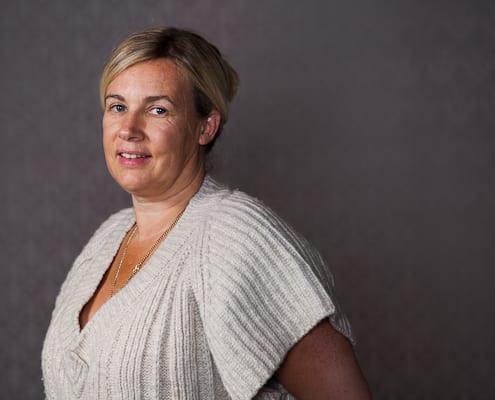 I felt an unexpected sense of meditative calm when I entered the kitchen at the Connaught Hotel in the heart of London's Mayfair.  It wasn't that the kitchen was empty – in fact our interview was at 6.30 pm, just before the evening service – but that everyone was at their stations quietly preparing for the night ahead.  There was a low murmur of chatter but none of the stress and adrenaline usually associated with restaurant kitchens.  In fact, chefs starting work in Hélène's kitchens often comment on the ambience and are even more surprised when she does not allow her employees to call her "Chef", preferring them to use her first name.  Hélène suspects that the atmosphere is a result of her ethos that "It is much better to explain than to shout and to put stress [on people].  It comes from me and is very personal. It is a question of respecting people".  She initially suggests that this may be a feminine trait but then reflects that she knows many female chefs who don't have this attitude.
Hélène herself is direct and focused.  When I ask her how she manages to run two restaurants in two countries as well as looking after her adopted children, she attributes it to having a strong team in each location as well as her own organization and lots of passion.  She currently divides her time between London and Paris but with a third restaurant scheduled to open at the end of October in Moscow I wonder if this may be a step too far. 
Hélène has no such qualms however and intends on only spending three or four days every two months in Moscow. Instead of worrying about the extra workload she is clearly excited "It is a special restaurant – a combination between a jewellery shop and a restaurant in a special house in a historic area of Moscow".  Having returned from Moscow just the day before, she looks a little tired but her enthusiasm is infectious "It is a big adventure because Moscow is a crazy city and it's very exciting and I love the experience"  Despite the unusual location of the restaurant the food itself will be fine dining in the same spirit as in Hélène's existing restaurants.
Given that she splits her time between London and Paris she is in the unusual position of being able to compare the two with the inside knowledge of a resident.  Whilst she acknowledges their differences she talks passionately about both "– London is eccentric with a lot of energy.  Paris is classic, stable, sometimes a little pessimistic you can say also.  It is very difficult to say which I prefer. I like London because I can come back to Paris often but also I love these escapes to London every two weeks".  
Hélène believes that the personalities of the cities are reflected in the cuisine "London is more eclectic, more fun, a lot of concept, very high level of cuisine in world cuisine – the Japanese restaurants are amazing.  If you take the best Japanese restaurants in London and Paris there is a huge difference and the same for Chinese.  But Paris remains the leader and the top for gastronomic cuisine". 
When she lists her favourite places to eat in London it is Japanese food that features more than any other cuisine.  Umu, Hakkasan and Zuma are all mentioned but then, just as I'm about to suggest that she tries some of the Indian food for which London is renowned, she adds Benares and Amaya to her list. She obviously enjoys fine dining but I'm suddenly curious about whether her daughters enjoy food this sophisticated. "…they love food. They love eating, they love having experiences around food and that's the main thing."  However she does admit that they also enjoy casual dining and that "Sometimes – not very often – but just to please them we will go to McDonalds".
Then, all too quickly, she rushes away to have her photograph taken while I am left behind in her office to observe the paradox of a quiet and calm hotel kitchen in the centre of London.
Reena Pastakia
Reena grew up thinking Indian cooking was a dark art where the quantities of spices required in each dish were innately known to a chosen few. It was only after she married an Englishman with a voracious appetite for Indian food that she started phoning home for cooking tips. She started her blog (coconutraita.com) in an attempt to document her family's recipes and make Indian cooking accessible to all.