Royal Copenhagen – The Royal Danish porcelain company known throughout the world for their exclusive tableware, just launched their latest service "Blue Elements".
By Kalle Bergman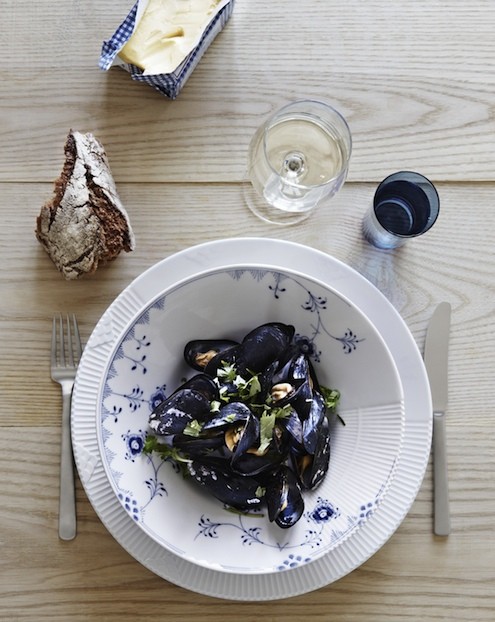 Blue Elements is a further development of the Elements series (designed by Louise Campbell) launched a few years back. With a selection of fun colors and a play on the traditional Royal Copenhagen patterns, the series quickly became a hit with younger audiences who carried memories of dinners at Grandma's with them but wanted a more contemporary style porcelain in their own kitchens.
The Blue Elements series takes the play on traditional design a step further, going back to the cobalt blue colors that have become more or less synonymous with classic Royal Copenhagen style.

The design of the Blue Elements series, behind the pattern, is contemporary. The lines are clean, and without the pattern they become almost minimalist in expression. But with the blue hand painted pattern on top, they immediately turn unmistakably Royal Copenhagen.
At Honest Cooking, we love companies that stick to their guns and fight to keep artisan traditions alive. Royal Copenhagen, with traditions ranging 300 years back still hand paint all their porcelain in the Danish capital Copenhagen, making these (expensive) services a beautiful bridge between current and historical.
For more info:
www.royalcopenhagen.com