This Ropa Vieja made in a slow cooker is comforting, rich and an absolute breeze to make. Packed with bold, hearty flavor, this classic Cuban dish of shredded beef slow cooked in a tomato-based sauce with onions and peppers is sure to become a favorite.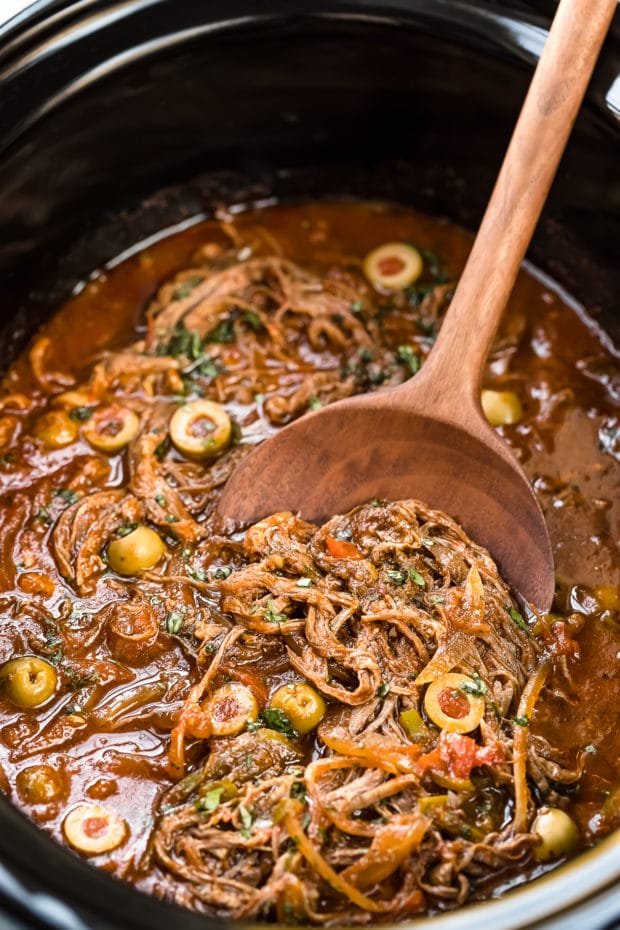 If you are a fan of Cuban food, you are definitely in for a treat!
Today's recipe is an epic, hearty classic with a convenient, crock pot twist that I know you are going to love.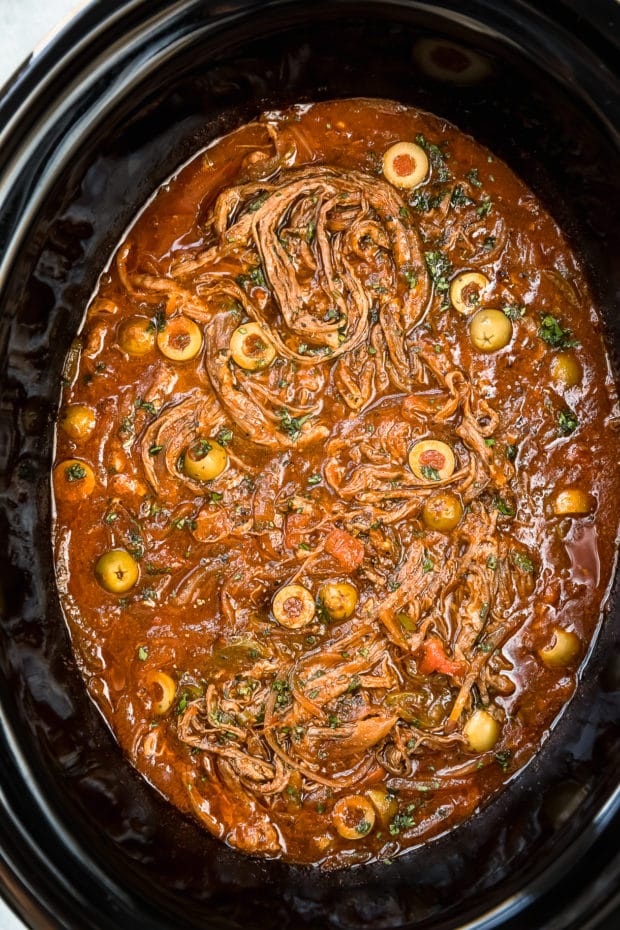 Rich and full of bold flavors, this robust, stew-like Cuban shredded beef is 100% comforting and perfect when you need some cozy food love!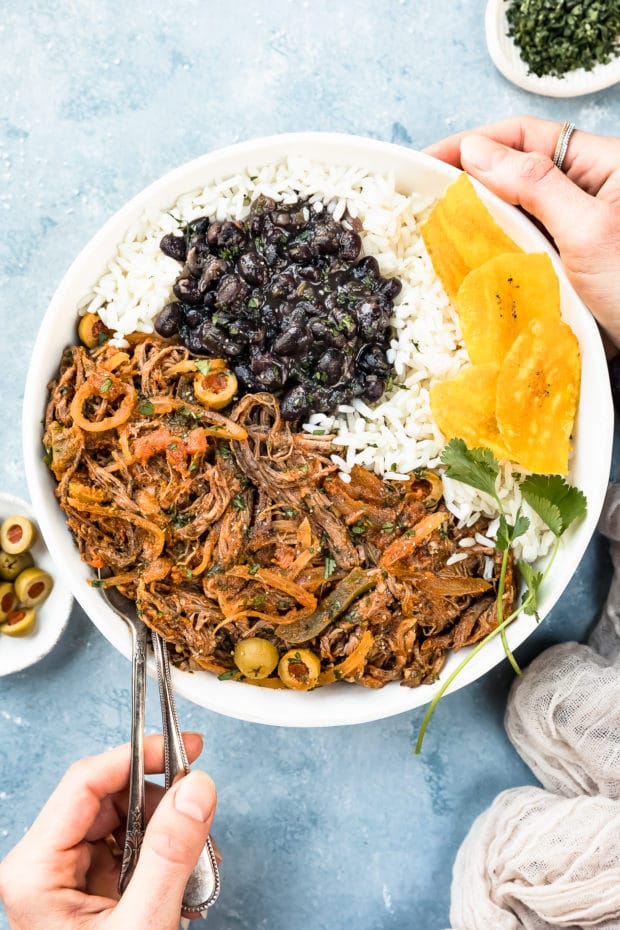 Melt-in-your-mouth tender, succulent shredded flank steak swimming in a flavorful tomato-based sauce packed with pungent onions, sweet peppers, fragrant garlic and briny olives.
Finished with a generous sprinkle of fresh cilantro and a healthy squeeze of acidic lime, this Cuban beef is packed with bold, comforting flavor!
However, this dish isn't just ultimate in the taste department, it's also an absolute cinch to make and requires minimal effort! Thanks to the trusty slow cooker this ropa vieja is basically a dump and go meal!
Honestly, the hardest part of this recipe will be waiting for this crock pot beef to finish cooking while the amazing aromas waft through your house! (It's definitely a form of strange and unusual culinary torture.)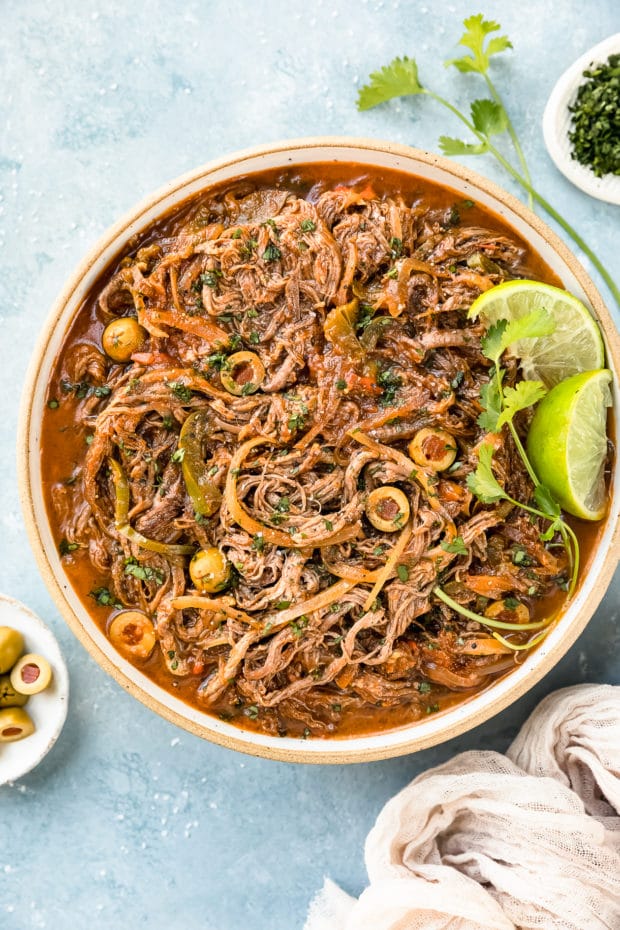 Ropa vieja is a popular Cuban dish, however it is also common in other areas such as Puerto Rico and Panama.
Ropa vieja, pronounced row-pa bie-ha, is a rustic dish consisting of shredded beef stewed in a tomato-based sauce with onions and peppers.
In Spanish, ropa vieja literally translates to "old clothes". It is said that that the dish got its name because it resembles a heap of old rags.
However, I've also heard this dish got its name because an old, penniless man who couldn't afford food for his family once shredded and cooked his own clothes. While praying over the bubbling clothes a miracle happened and the shredded clothing turned into a rich meat stew.
Whether you believe the first or the second explanation is up to you, all I know is this Cuban shredded beef is absolutely delicious!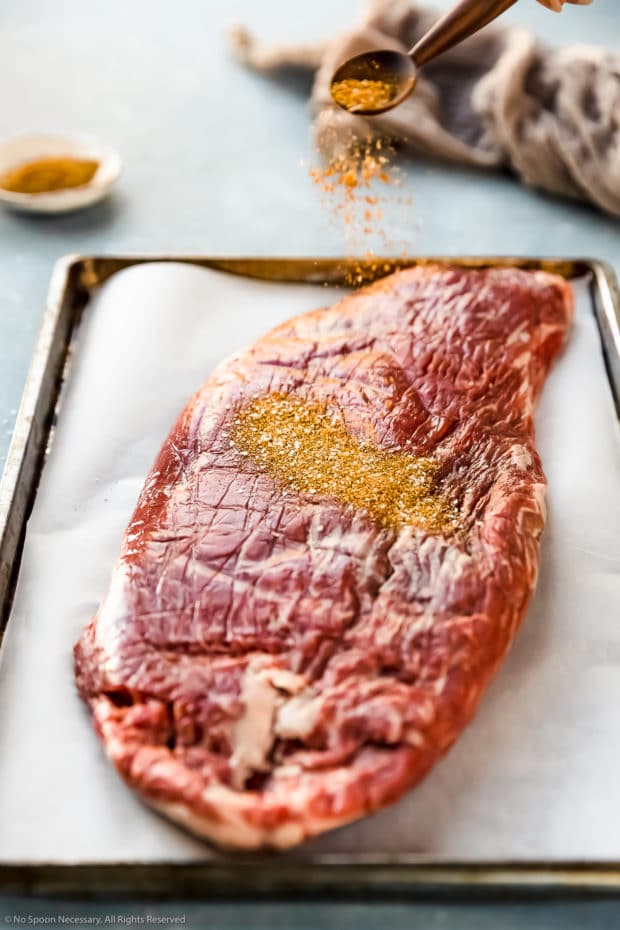 See Also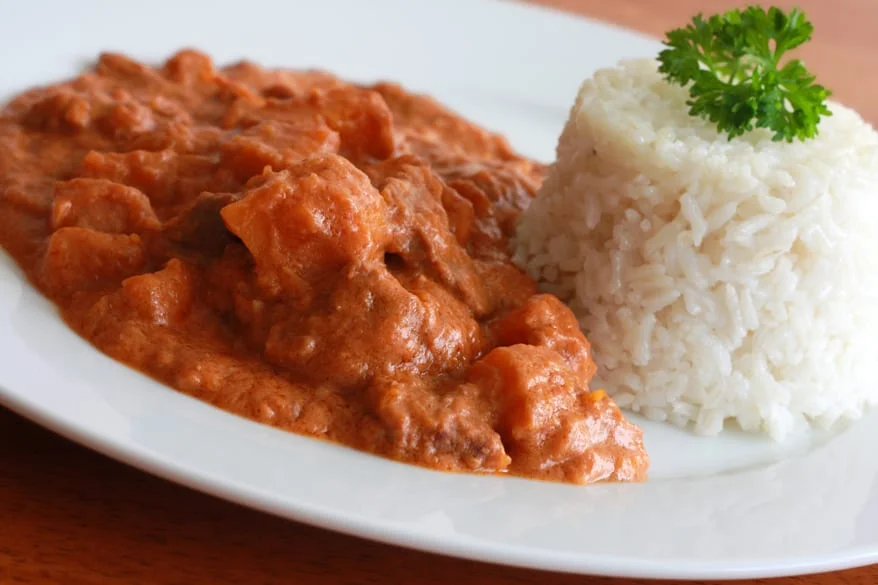 Ropa vieja is usually made with flank steak – an extremely flavorful cut of beef that requires low and slow cooking.
While flank steak is undeniably the best (and most used) cut of beef for this dish, I have seen recipes utilize different cuts of meat. If you are in a pinch and can't find flank steak, you can also use skirt steak or brisket, since they have long muscle fibers similar to flank.
With that said, if you are looking to completely switch it up and turn this Cuban braised beef into something decidedly un-authentic, I have seen ropa vieja recipes use beef chuck, boneless short ribs and even chicken.
Is ropa vieja healthy?
Made with lean flank steak, a cut of beef from the cow's abdominal muscle, it is one of the healthiest beef cuts. Flank steak has fewer calories and more protein than a ribeye or porterhouse steak.
The recipe for this crockpot ropa vieja also uses low-sodium beef stock, which limits the amount of sodium yet still contains plenty of nutrients, collagen and minerals.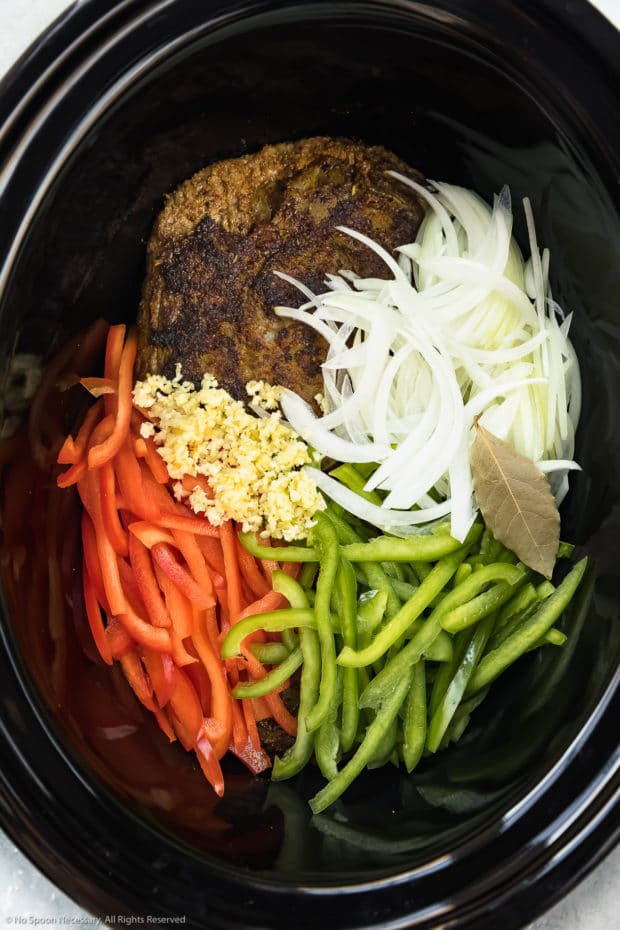 Traditionally, ropa vieja is served with rice. However there are some versions of this classic dish that serve potatoes, mixed and cooked right in, with the beef.
Click HERE for the recipe.
Cheyanne Holzworth
Hi there! My name is Cheyanne. I am an avid foodie, culinary school graduate, recipe developer and newbie blogger. I find peace and joy being in the kitchen and am obsessed with feeding anyone who has an appetite. I am also a lover of food porn. I picked up a camera one day and fell in love with food photography. Then I got a wack-a-me-me idea to start a food blog and the rest is history. No Spoon Necessary is a place where I share my passion for food and photography with all who care to join me. I also rant, ramble on and share my life a little. In a world filled with so many talented food bloggers, I am simply trying to carve my space in www dot com land, take you all with me on the crazy ride and cook 'n eat some delicious food along the way! So, strap on that apron and work some culinary magic with me. Cheers!