If you're not familiar with sunchokes (aka Jerusalem artichokes), they're essentially a cross between a potato and an artichoke. They have a potato-like texture and appearance, with an artichoke-like flavor. If you haven't tried them before and happen to spot them in your local grocery store, I certainly recommend snatching them up. On the other hand, if you're already familiar and approving of the sunchoke, I have a pretty awesome recipe for you here.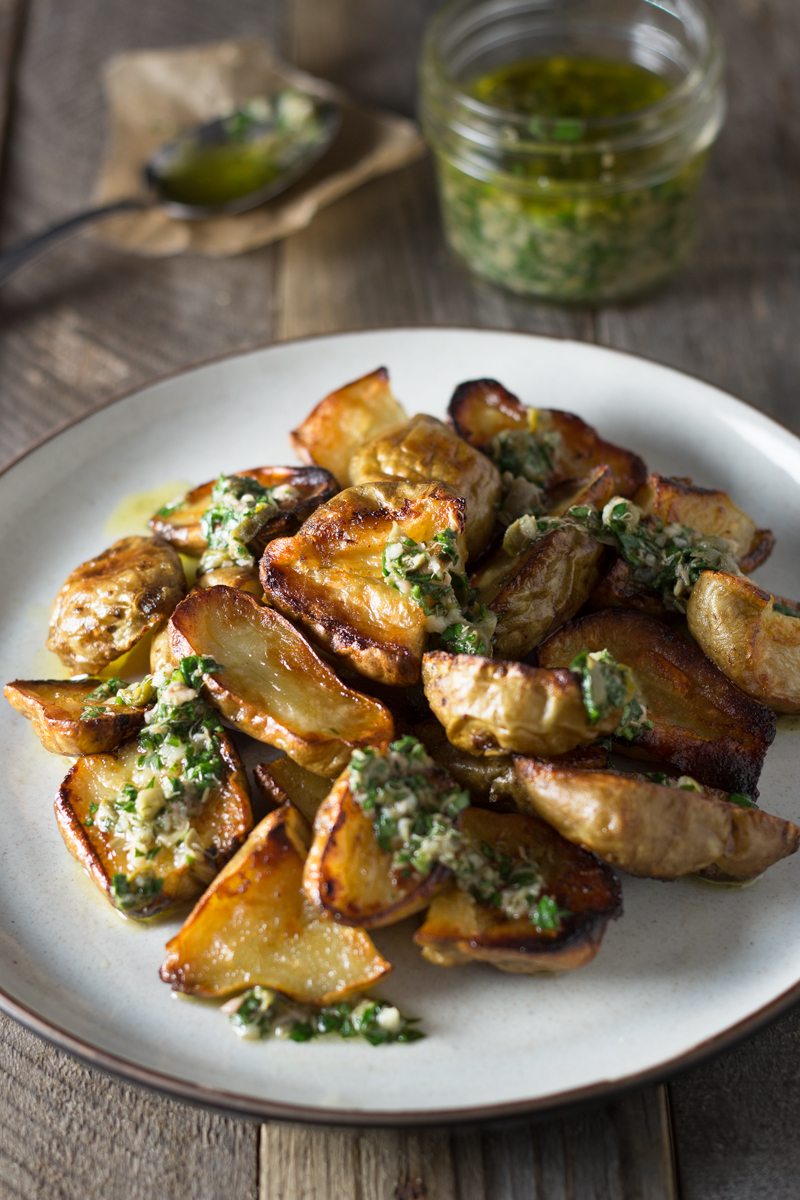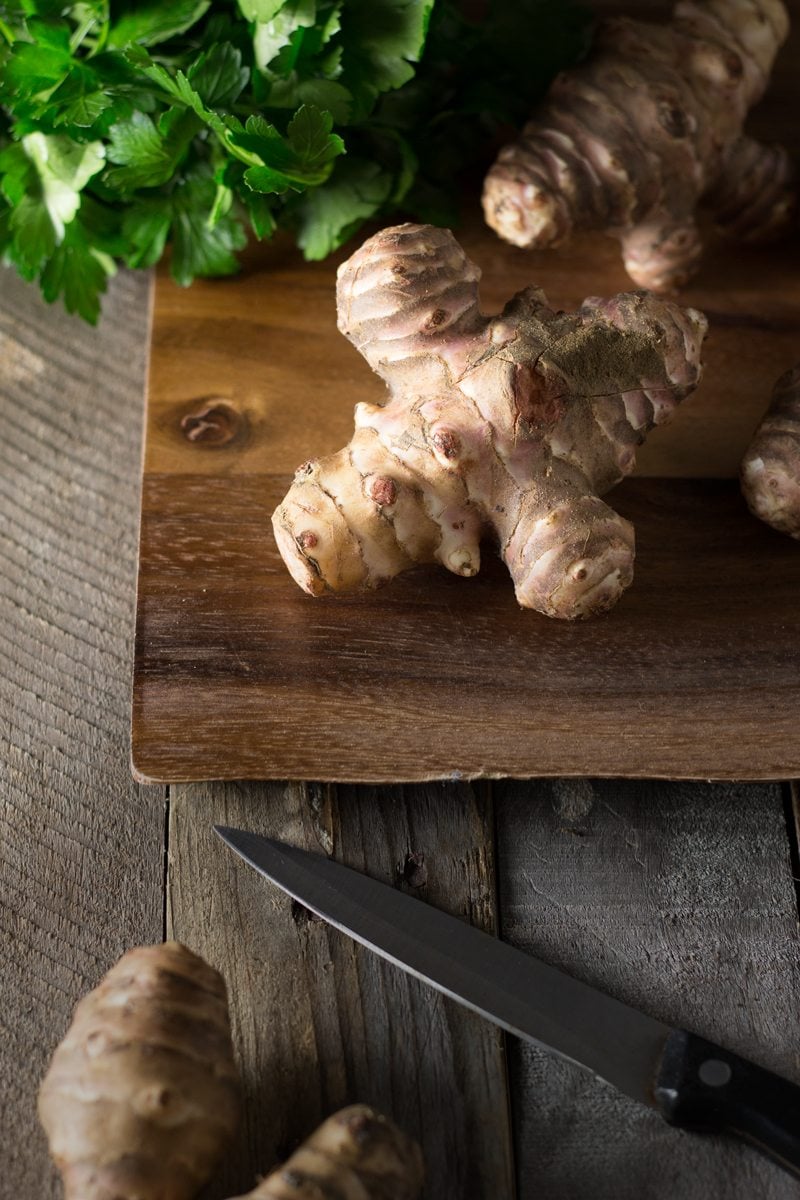 The first step is to roast the sunchokes in a hot oven until they're browned and crispy on the outside, and creamy in the center. I notice varying results in my own oven depending on the size of the batch and the sheet tray I use, so the recipe details several methods to achieve optimal browning.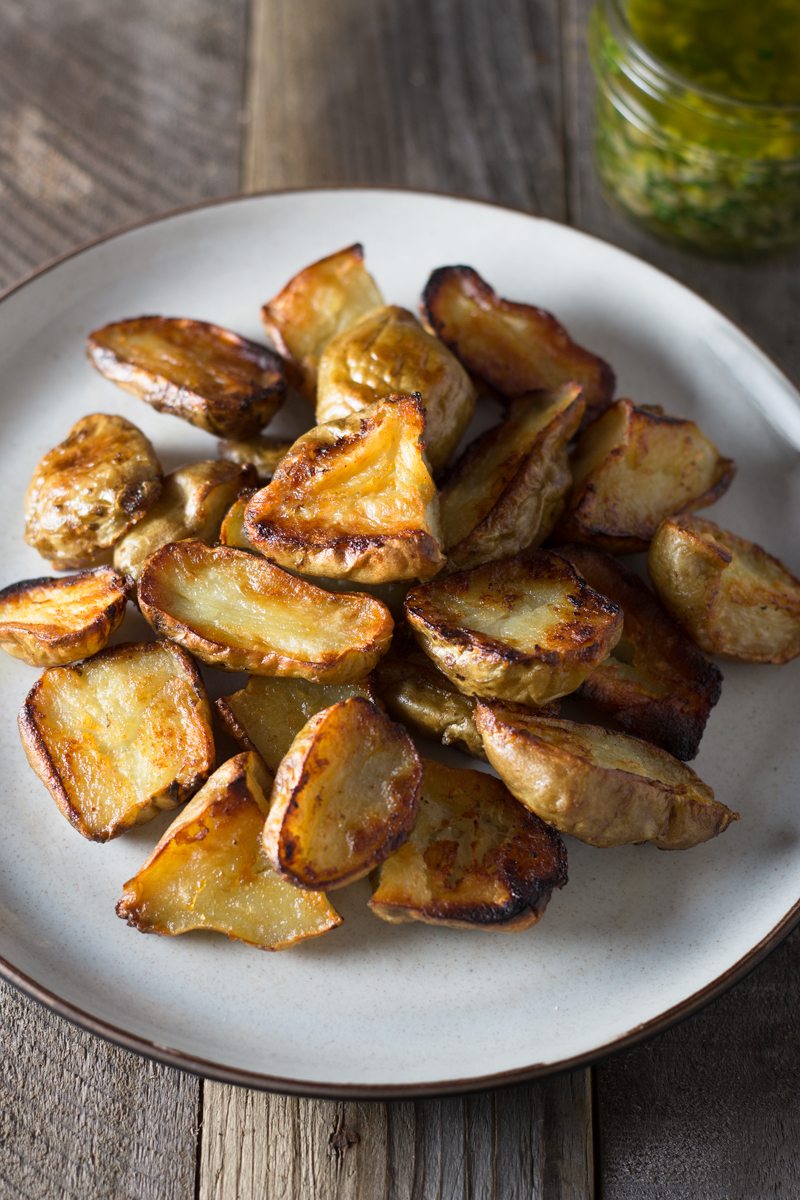 Roasted Sunchokes with Salsa Verde
Ingredients
2lb sunchokes (aka Jerusalem artichokes), scrubbed, sliced in half lengthwise, cut into 1 inch pieces
3T extra virgin olive oil, or enough to coat
3 anchovies
1 large garlic clove, crushed in garlic press
1 ½ T capers, roughly chopped
⅓ C parsley, finely chopped
3T extra virgin olive oil
1 ½ T lemon
Kosher salt
Instructions
Preheat oven to 450°F.
Place sunchokes on a baking sheet. Season with oil and salt, and toss to coat. Arrange flesh-side down.
Place on the center rack of the oven.
After 10 minutes, check for browning. Flip all well-browned pieces. This may take another 5-10 minutes.
Roast for a total of 25-30 minutes, or until all pieces are well-browned and creamy in the center.
If the sunchokes aren't as browned as desired before they're cooked through, turn them flesh-side up and place under the broiler until you reach desired color. You can also brown them flesh-side down in a hot pan on the stove top.
While the sunchokes roast, prepare the salsa verde. Using a mortar and pestle, combine the anchovies and garlic to a paste-like texture. You can also achieve this using a small food processor, or a knife and cutting board.
In a bowl, combine the anchovy mixture, capers and parsley. Stir in oil and lemon. Season with salt, to taste.
Serve the sunchokes with the salsa verde, and enjoy.