Roasted Sunchokes with Salsa Verde
If you're not familiar with sunchokes (aka Jerusalem artichokes), they're essentially a cross between a potato and an artichoke. They have a potato-like texture and appearance, with an artichoke-like flavor. If you haven't tried them before and happen to spot them in your local grocery store, I certainly recommend snatching them up. On the other hand, if you're already familiar and approving of the sunchoke, I have a pretty awesome recipe for you here.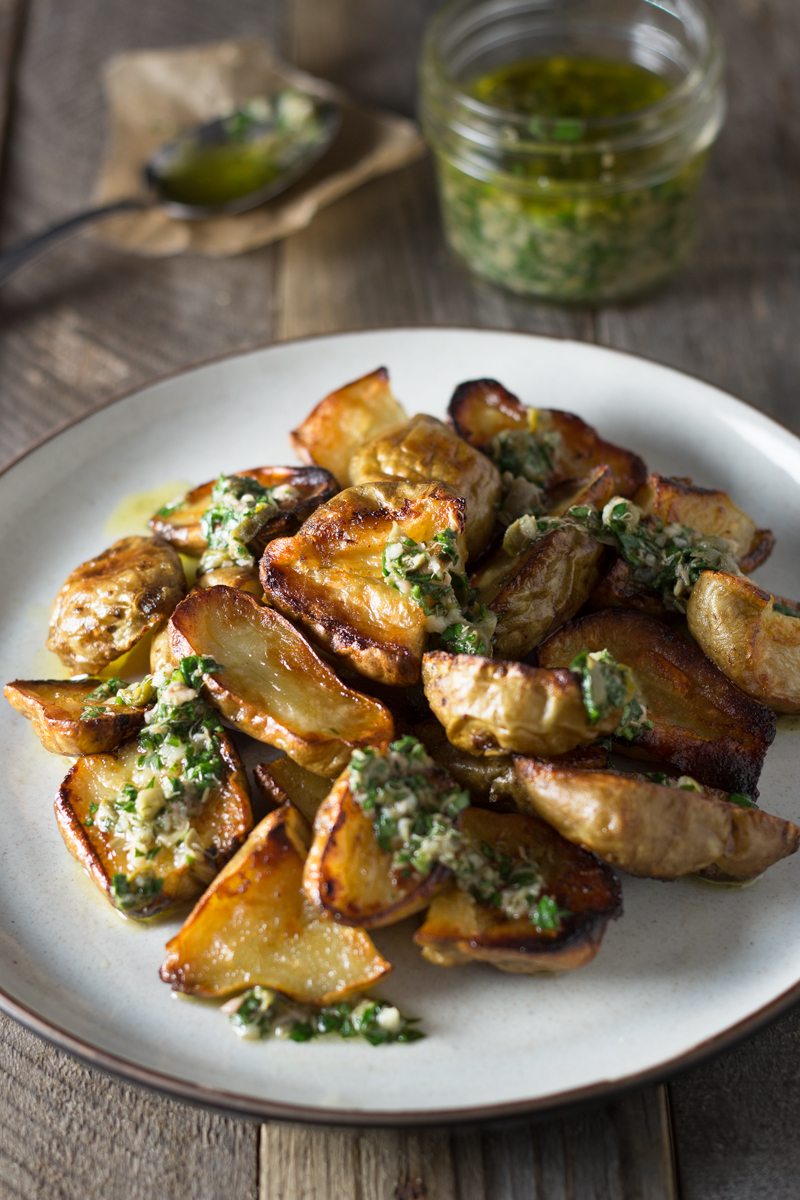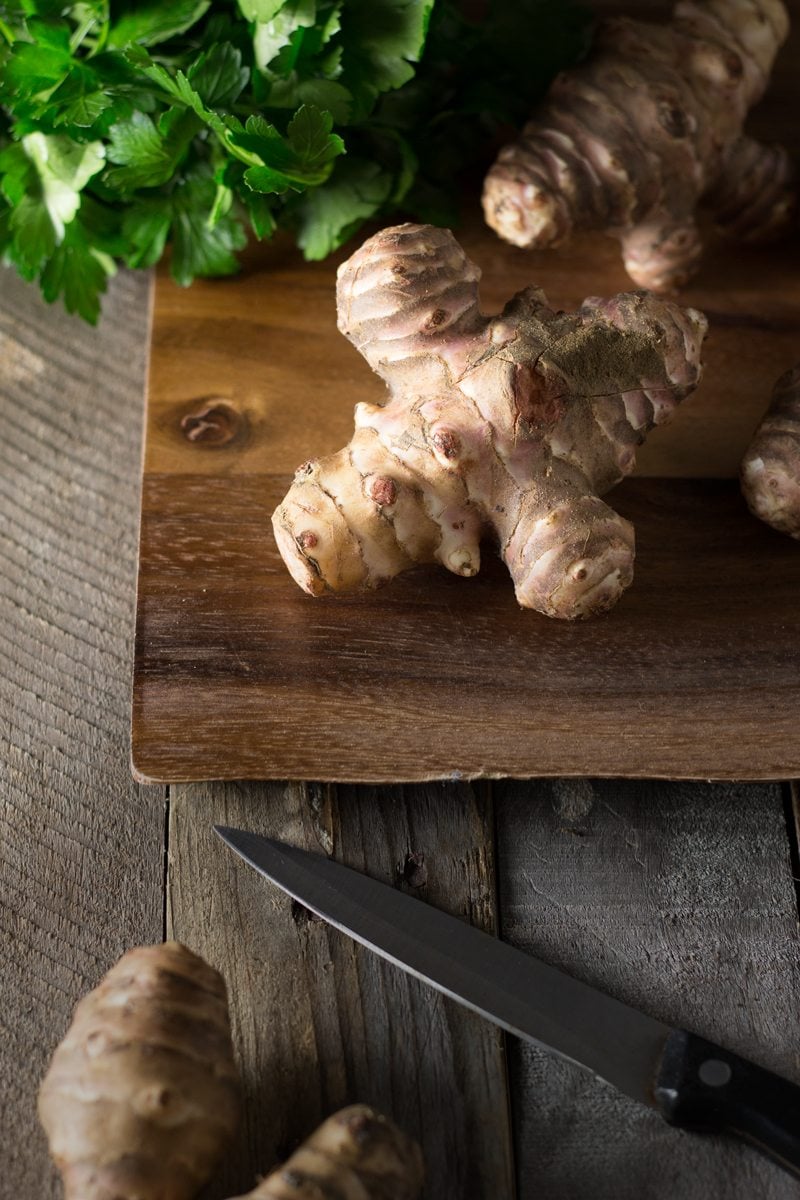 The first step is to roast the sunchokes in a hot oven until they're browned and crispy on the outside, and creamy in the center. I notice varying results in my own oven depending on the size of the batch and the sheet tray I use, so the recipe details several methods to achieve optimal browning.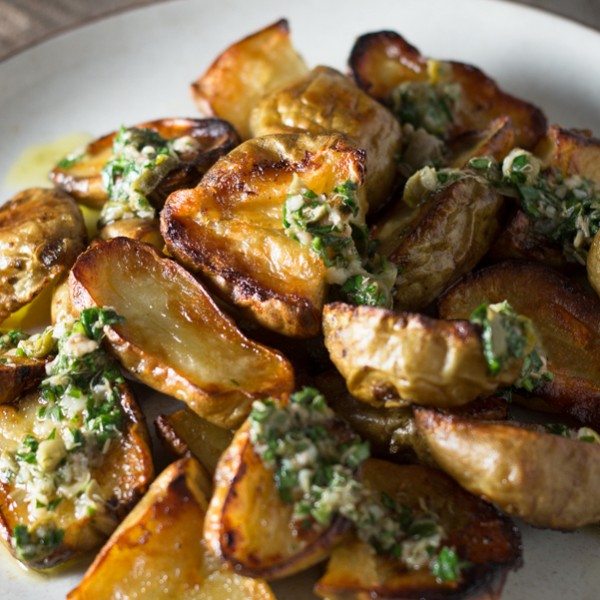 Roasted Sunchokes with Salsa Verde
Sabrina Russo
Ingredients
2

lb

sunchokes

aka Jerusalem artichokes, scrubbed, sliced in half lengthwise, cut into 1 inch pieces

3

T

extra virgin olive oil

or enough to coat

3

anchovies

1

large garlic clove

crushed in garlic press

1 ½

T

capers

roughly chopped

1/3

C

parsley

finely chopped

3

T

extra virgin olive oil

1 ½

T

lemon

Kosher salt
Instructions
Preheat oven to 450°F.

Place sunchokes on a baking sheet. Season with oil and salt, and toss to coat. Arrange flesh-side down.

Place on the center rack of the oven.

After 10 minutes, check for browning. Flip all well-browned pieces. This may take another 5-10 minutes.

Roast for a total of 25-30 minutes, or until all pieces are well-browned and creamy in the center.

If the sunchokes aren't as browned as desired before they're cooked through, turn them flesh-side up and place under the broiler until you reach desired color. You can also brown them flesh-side down in a hot pan on the stove top.

While the sunchokes roast, prepare the salsa verde. Using a mortar and pestle, combine the anchovies and garlic to a paste-like texture. You can also achieve this using a small food processor, or a knife and cutting board.

In a bowl, combine the anchovy mixture, capers and parsley. Stir in oil and lemon. Season with salt, to taste.

Serve the sunchokes with the salsa verde, and enjoy.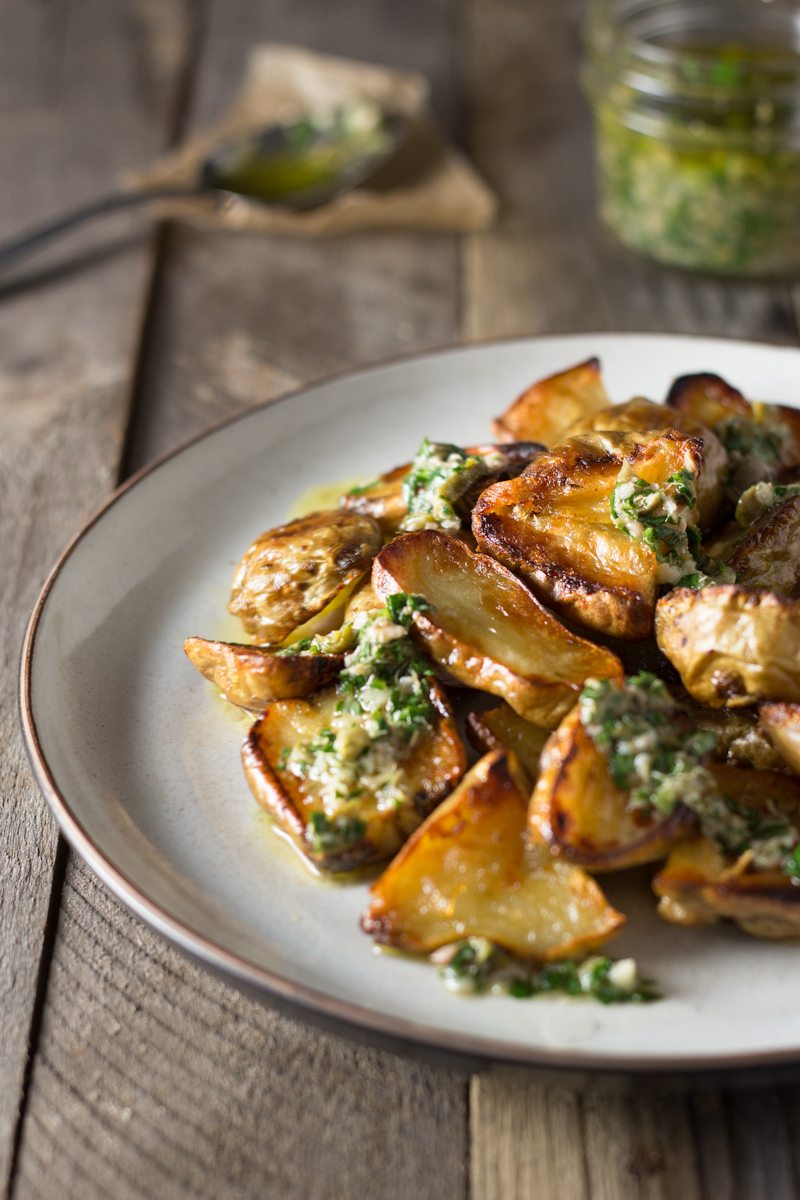 Sabrina Russo
My Three Seasons represents the 3 key factors that are most important to me in cooking. #1 Seasonal ingredients #2 Proper Seasoning (don't skimp on that salt!) #3 Cooking like a Seasoned chef (technique is everything). My name's Sabrina. I live in NYC. I'm a registered dietitian with professional cooking and food styling experience. Come cook with me.