Toasty, caramelized cauliflower with jammy roasted grapes are the ultimate side dish topped with a tangy yogurt sauce.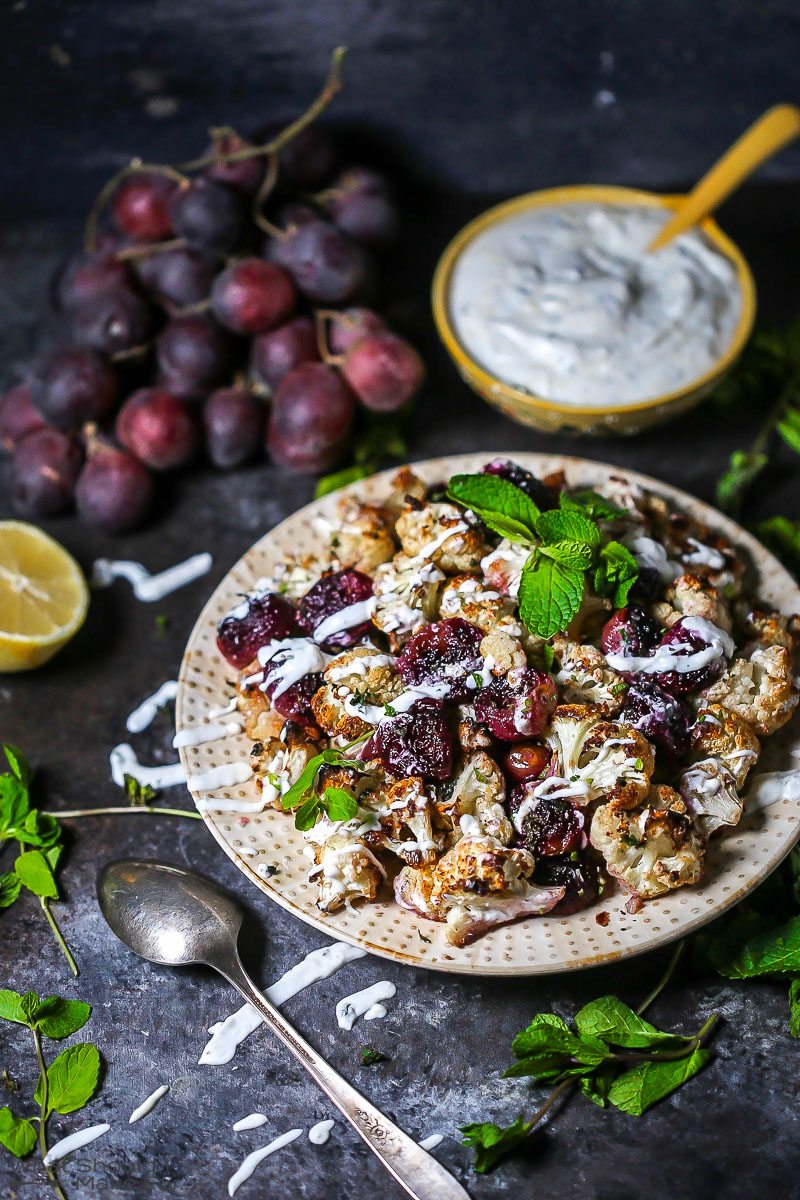 My tastebuds are thinking spring. I'm craving lighter, brighter, vegetable forward dishes like risotto with spring peas, colorful salads, and asparagus soup topped with lemon creme fraiche. Today's recipe for roasted cauliflower has toasty spices, sweet grapes and a drizzle of lemony yogurt sauce. The caramelized cauliflower makes this a hearty enough side dish to stand up on a colder spring day and that tangy sauce wakes up the palate and makes me think of the warmer spring days ahead.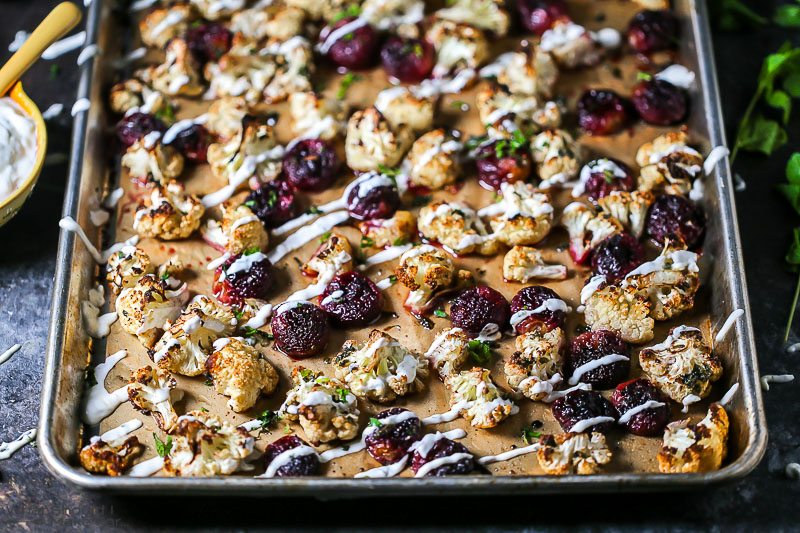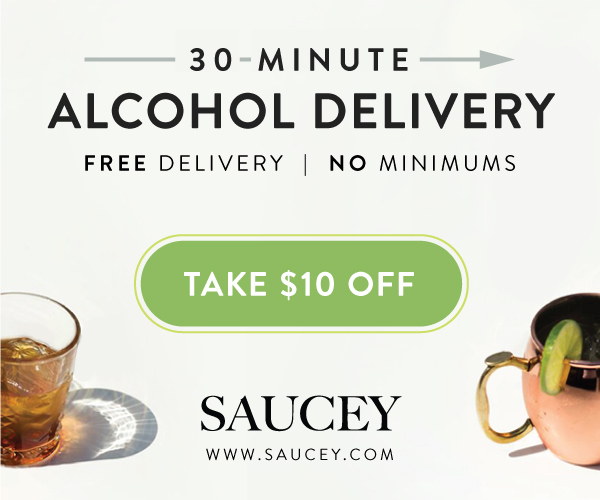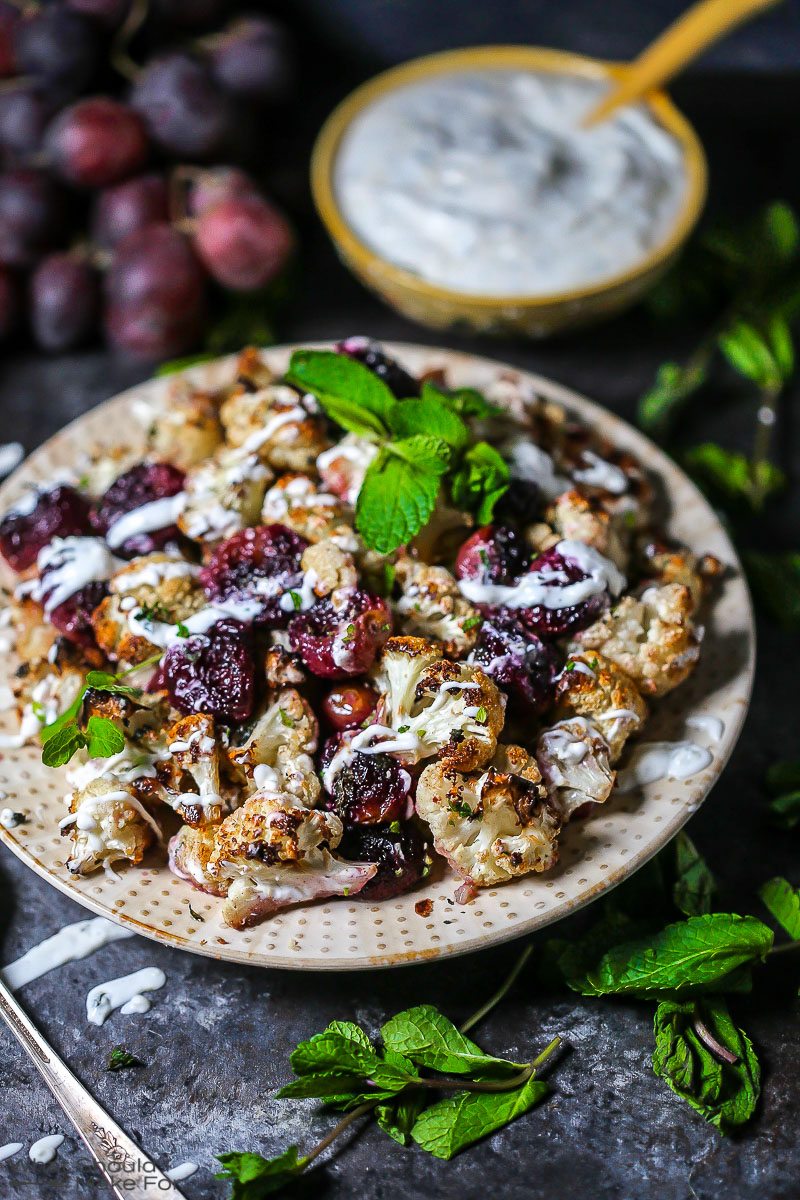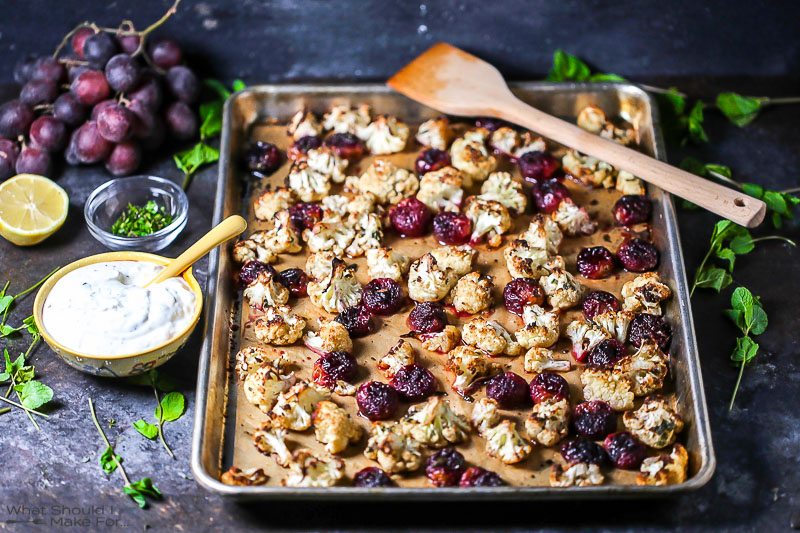 Click here for the yogurt sauce recipe.

Roasted Grapes and Cauliflower with Yogurt Sauce
Ingredients
1 head of cauliflower cut into florets
1 lb seedless red grapes
⅓ cup extra virgin olive oil
1 tsp kosher salt
⅛ tsp freshly ground black pepper
½ tsp ground cumin
¼ tsp cinnamon
1 tsp fresh mint, minced + 1 tsp fresh mint, minced for garnish
Yogurt Sauce
Click the link above for the recipe.
Instructions
Preheat the oven to 450 degrees and line a sheet pan with parchment.
Place the cauliflower florets and grapes in a large bowl. In a small bowl, whisk together the olive oil, seasonings and mint.
Pour the olive oil mixture over the cauliflower and grapes and toss well to coat. Spread on the prepared sheet pan and roast in the oven for 25 - 30 mins until browned and the grapes have burst.
Yogurt Sauce: Whisk all of the ingredients together until smooth.
To serve: Drizzle the roasted cauliflower and grapes with the yogurt sauce and sprinkle with fresh mint if desired.