Make the mouth-watering Cantonese of roasted char siew pork glazed with a sticky blend of sauces and spices.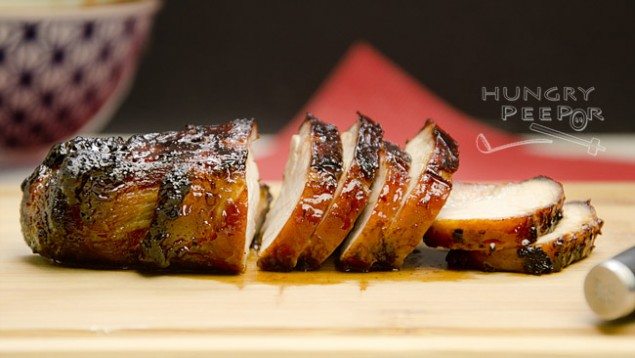 Char siew is the term we give to a long strip of pork shoulder butt, pork loin or pork belly that has been roasted in a marinade typically consisting of maltose (or honey), fermented bean curd, hoisin sauce and Chinese spices. This is a Cantonese dish that is typically found in many local food stalls, such as those selling chicken rice, roast duck and meat and wanton noodles. It is often made into a filling for buns or breads that are sold at the bakeries too. Not just that, the gravy sauce from the char siew is what people love to request for to have together with their plate of plain rice, especially if it's char siew rice you've ordered.
I love eating char siew; I have been eating it my whole life. Personally, I feel that the nice ones are the ones that have been roasted with a bit of fat in it, such that the meat becomes very tender and juicy after it gets roasted because of the trapped oil within it. I especially love the two charred ends of the whole strip of roasted loin. It's got this burnt taste that comes from the charring of the meat and the maltose – that's what makes for an especially crispy and yummy char siew. Every time char siew is being served on the dining table, I would always quickly reach out for these charred bits of char siew and snatch them away before anyone else could.
I recently came across some recipes for char siew and saw that it is actually not too complicated to roast this at home in my mini oven and decided to give it a try. Here it is, tried and tested. Yummy and tender.
See Also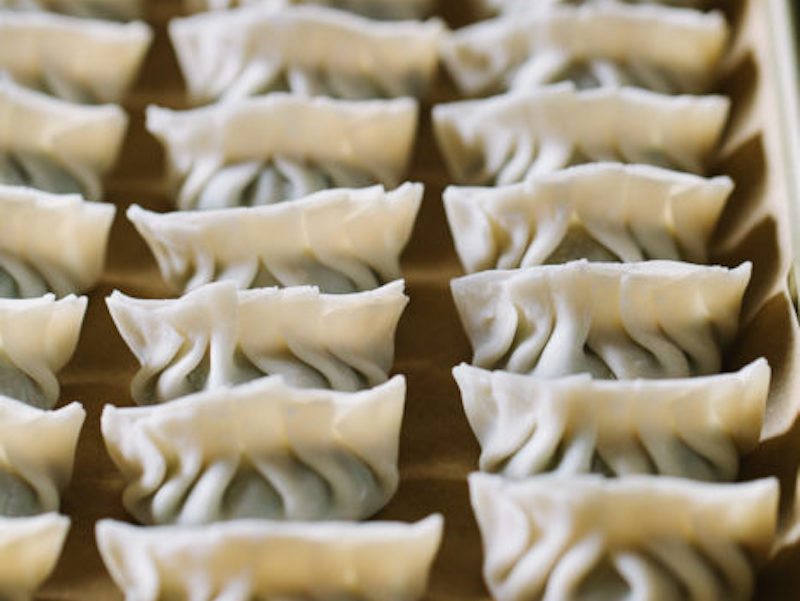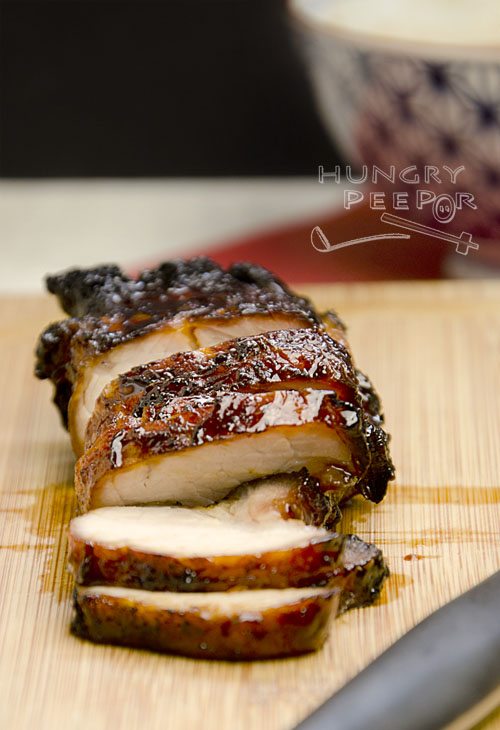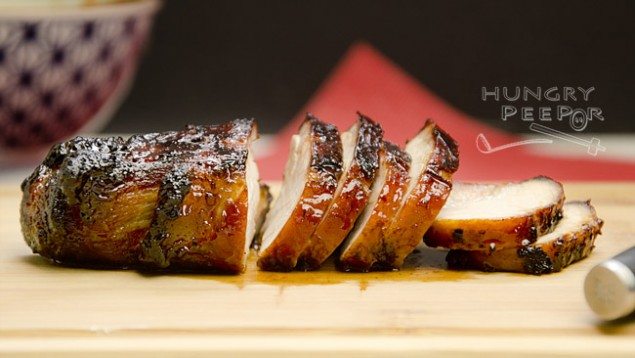 Roasted Char Siew Pork
Audrey Ling
Make the mouth-watering Cantonese of roasted char siew pork glazed with a sticky blend of sauces and spices.
Ingredients
Salt: 1 tsp

Sugar: 1 tbsp

Hoisin sauce: 1 tbsp

Light soya sauce: 3 tbsp

Shaoxing wine: 1 tbsp

Garlic: 2

finely chopped

Maltose: 125g

Sesame oil: 1 tbsp

5-

spice powder: 1/2 tsp

Red colouring: 3 drops

Fermented tofu

Nam Yue: 2 cubes, mashed

Pork shoulder butt: 500g

cut into one long strip
Instructions
Combine salt, sugar, hoisin sauce, light soya sauce, shaoxing wine, garlic, maltose, sesame oil, 5-spice powder, red colouring and fermented tofu together in a pot.

Heat pot and bring sauce mixture to a simmer to combine. Switch off heat and leave to cool.

Place pork in a resealable bag. Pour marinade into bag. Press air out and seal. Leave to marinate in fridge overnight.

Preheat oven at 230 degrees.

Place pork onto grill rack, with bottom of oven covered with aluminium foil to catch the drippings. Bake 15min.

Turn pork around. Bake for another 15min.

In the meantime, place remaining marinade sauce into another pot. Bring to a boil and then lower heat to simmer and reduce the sauce until it is thickened.

Brush reduced marinade over pork after 30min of baking.

Continue baking for 4 min at 200 degrees Celsius.

Turn pork over and brush with marinade. Continue baking for another 4min.

Remove from oven and rest 15min before slicing to serve.
Notes
You can make a bit more of the sauce as a gravy for the rice for serving. Just add about 1 cup of water to the remaining marinade after it's being reduced for the glaze, simmer for 5min and it's ready to serve!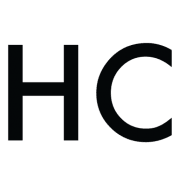 Audrey Ling
The whole process of toiling in the kitchen and later taking pictures of what comes of it is a symbiosis of my hobbies – a perfectly crafted deal for me. All of these hobbies allow me to learn something new every day. When it comes to food and cooking, I love trying out a bit of everything (that's my style) – from learning how to cook and plate in Michelin style to attempting local Singaporean dishes at home; from replicating remote flavours and delights to retaining family legacies and traditional essences. I hope to share my passion and joy with the larger community of food and photography bloggers and enthusiasts out there.