SPONSORED POST: From Dijon Originale mustard to Cornichons, Maille has a rich heritage starting in 1747 that honors tradition. Check out these easy recipes that pack great flavor, thanks to Maille. BONUS: Maille is giving away a one year's supply of their delicious products! Be sure to enter below.
Dig into this hearty side dish that is perfect to brighten up a cold winter day. Made with roasted rainbow carrots and a flavorful maple-mustard vinaigrette, this farro salad is far from boring.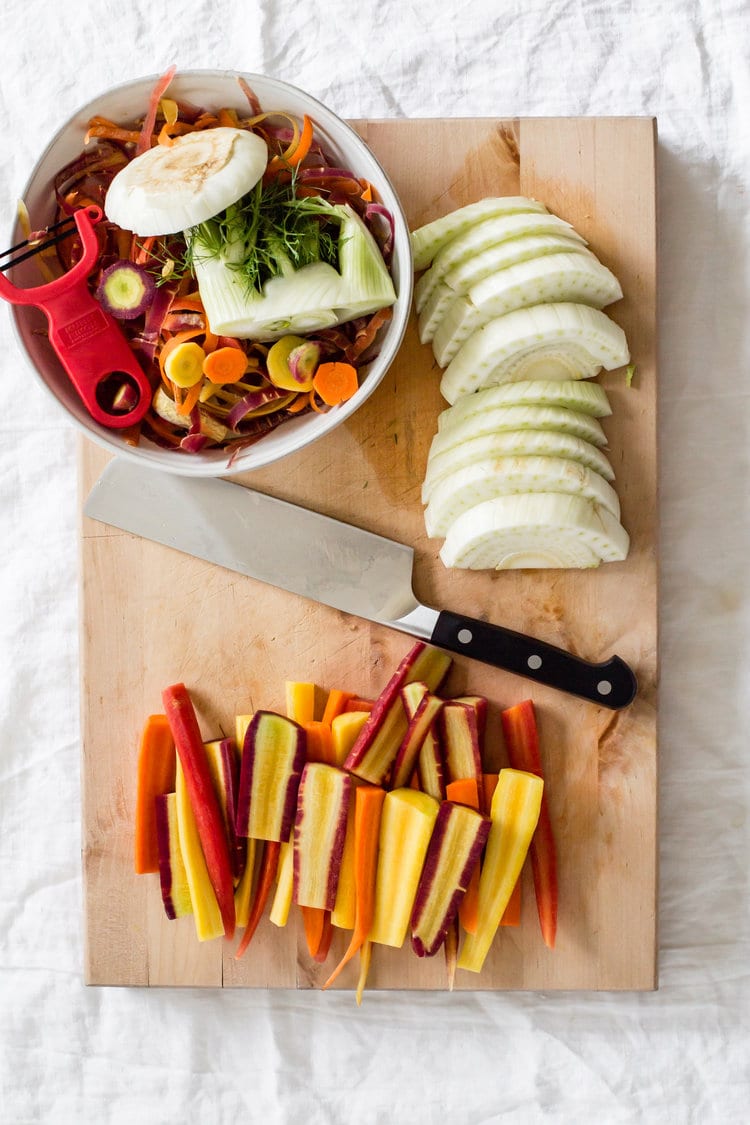 Year's Supply of Maille Giveaway!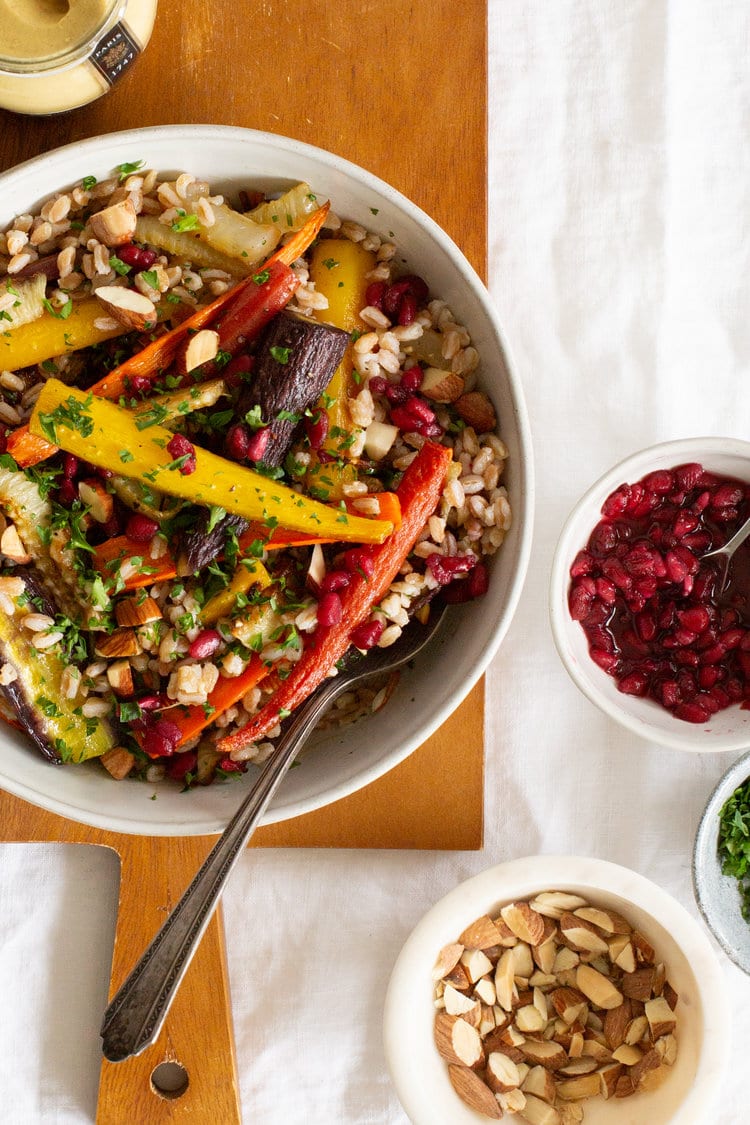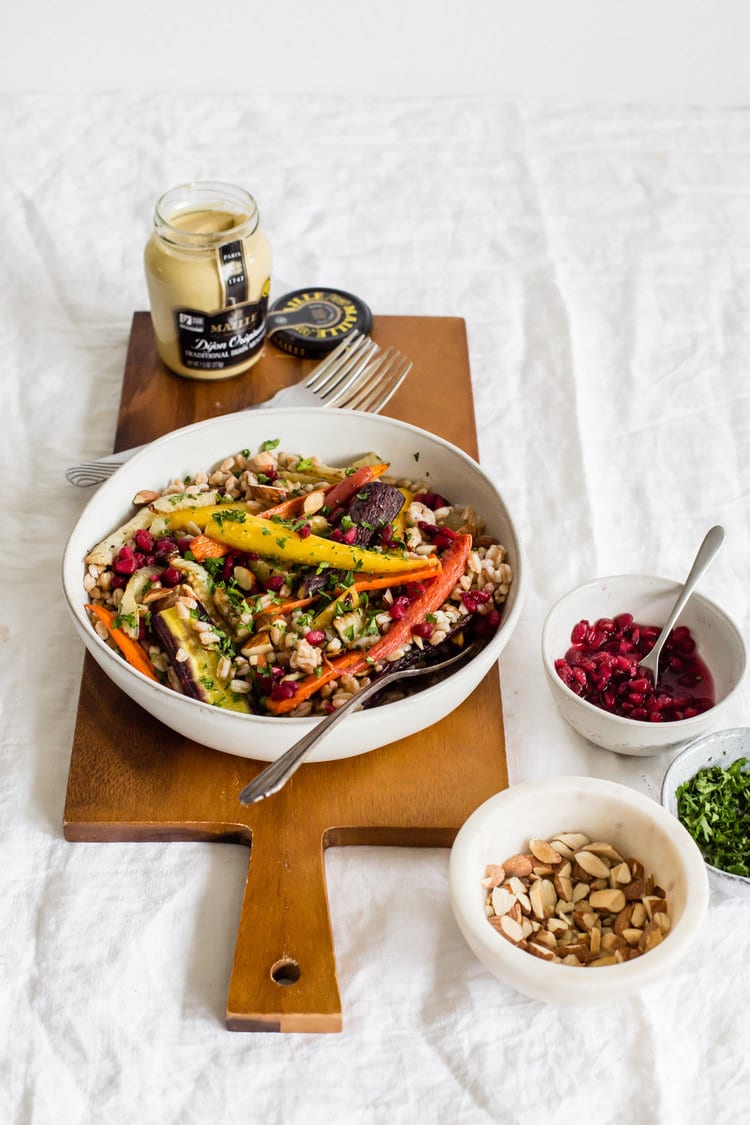 When people have asked me if I have had any pregnancy cravings, I haven't been sure how to answer them besides "food that doesn't have a strong smell". I did crave cereal for a while and throughout pregnancy have wanted fruit constantly (I think because they are sweet!), but I've also really craved salads!! I think this is because it fits in the "foods without strong smell" category. Lucky for our little baby, this is a good-for-mama-and-baby pregnancy craving!
Winter is such a great time to get in all the vegetables and salads, even though it seems like the opposite time to want salads (cold weather generally equals comfort food – I get it!). But there is no reason you can't roast up as many vegetables as you can and toss them with a grain and call it a salad. There is a such thing as warm, grain-filled salads, and these are some of my favorite kinds of salads, because they don't actually feel like a salad!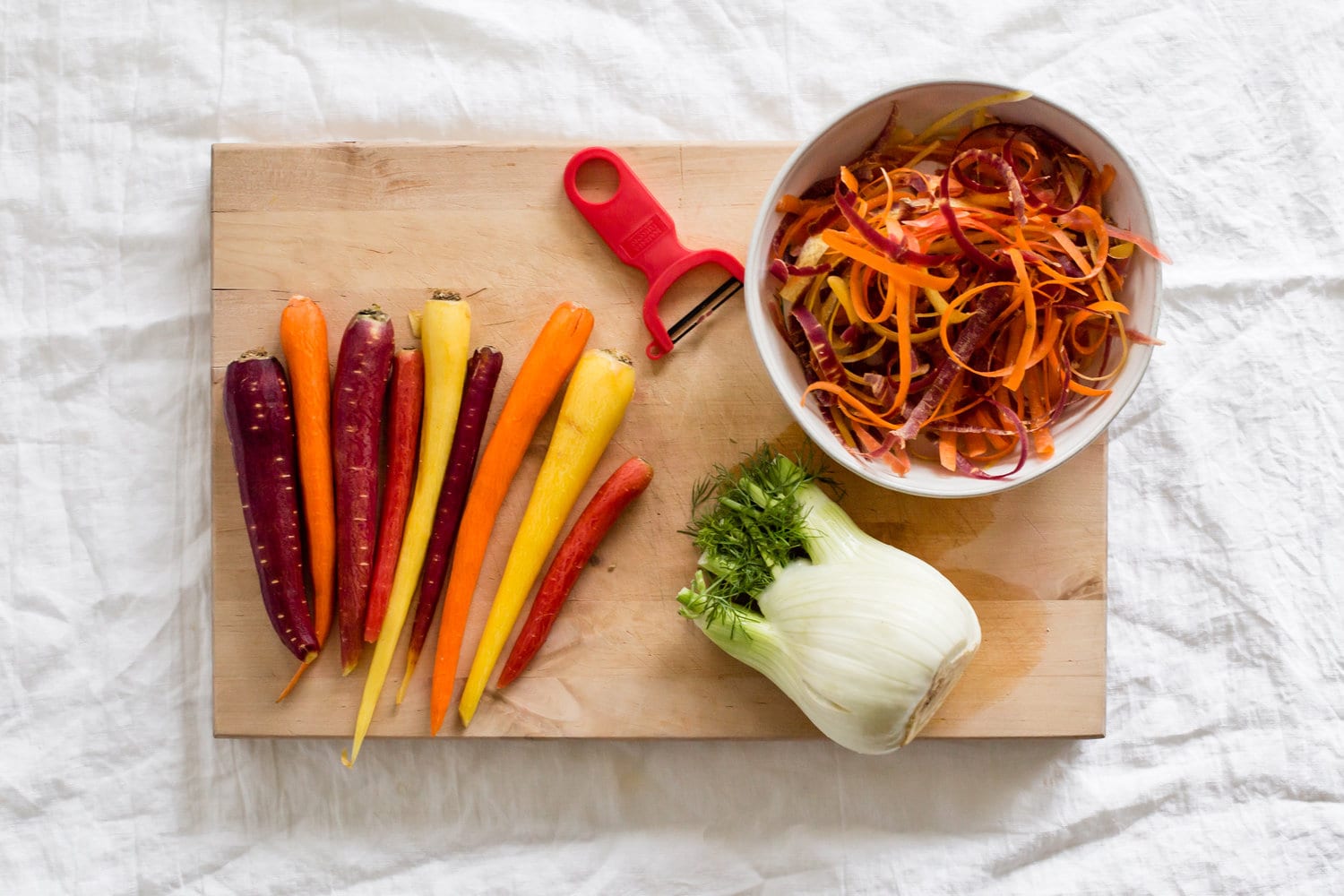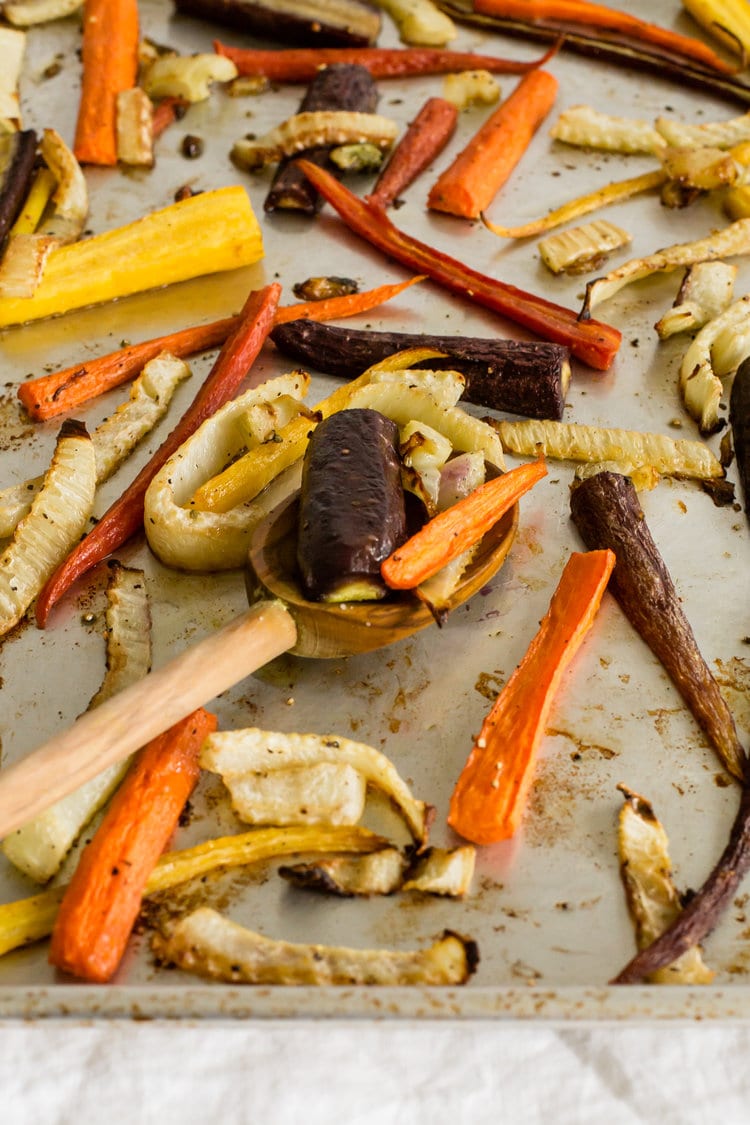 What I love about this dish is all of the colors. We eat with our eyes first, and the colors from the carrots, fresh parsley, and pomegranate seeds just make me want to paint a still life of it. I served it with a basic favorite vinaigrette recipe but amped up the flavor with Maille Dijon Originale mustard. I love their mustards and how easy they are to add to any dish. They instantly transform and elevate a basic salad dressing!
This farro salad is great because you can make it ahead of time and then package it up for lunches throughout the week. I prefer to eat this warm or at room temperature, so just reheat before serving!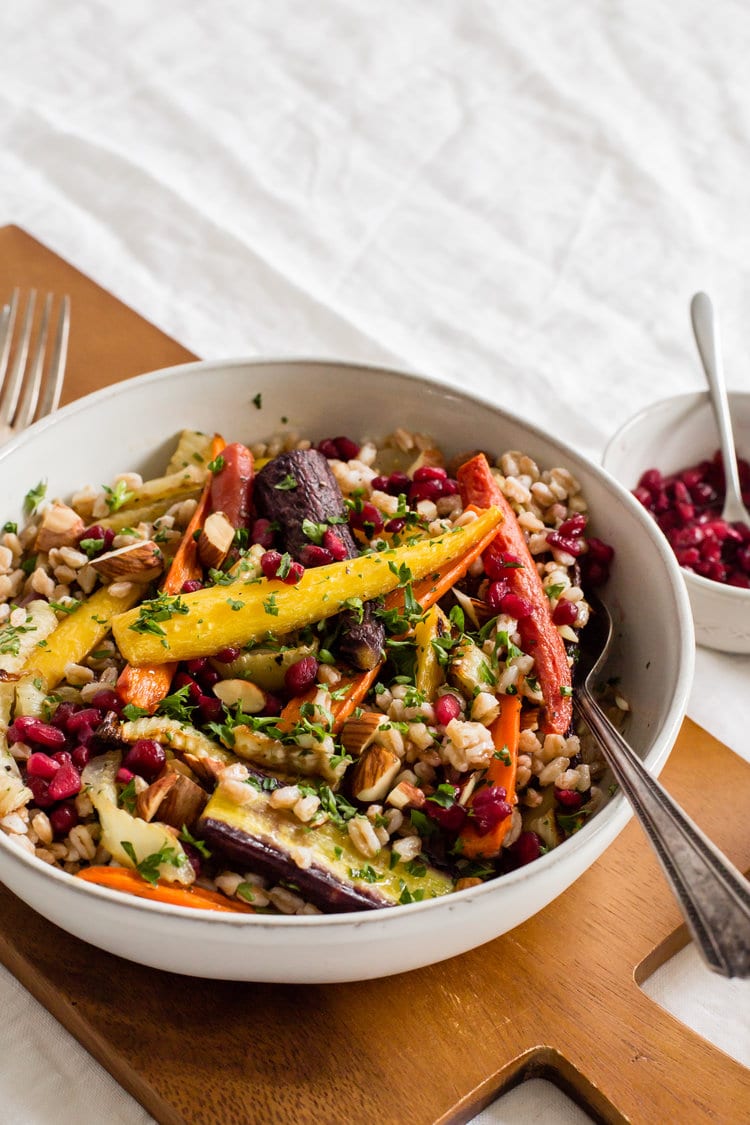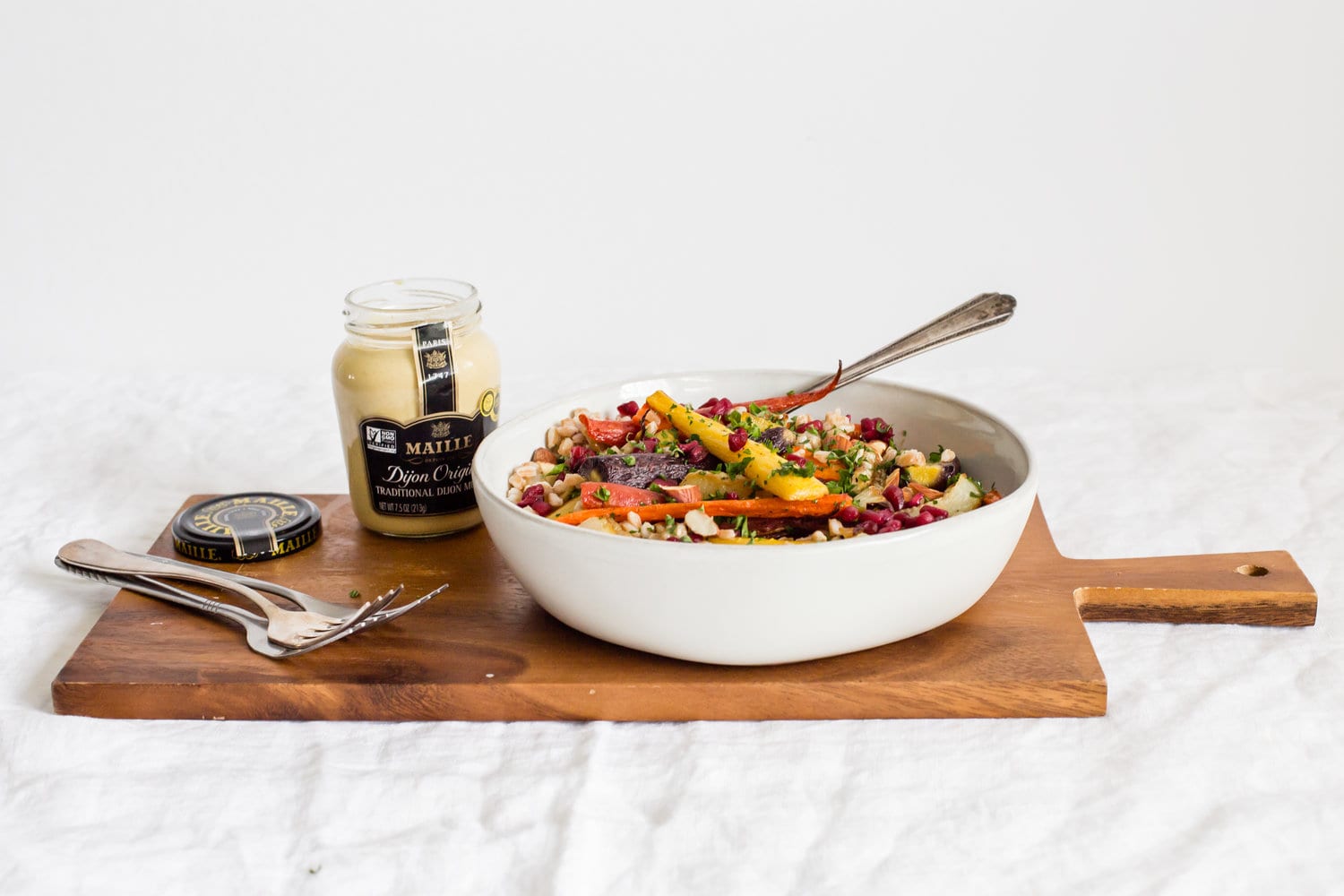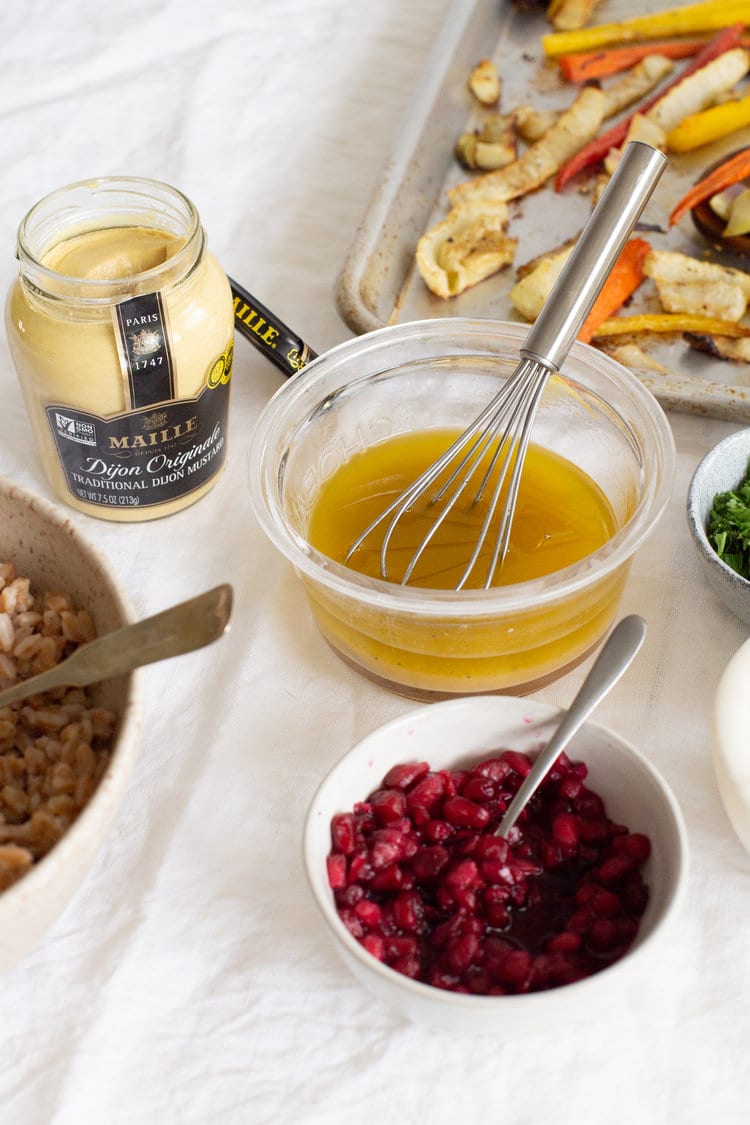 Roasted Carrot Farro Salad with Maple-Mustard Vinaigrette
Ingredients
5 cups water
1 cup farro
1 large fennel bulb, sliced across into ½ inch pieces
1 pound carrots (rainbow or orange), shaved, sliced in half lengthwise, and then sliced into 4 inch pieces
¼ cup olive oil, plus more for roasting vegetables
2 tbl maple syrup
2 tbl apple cider vinegar
2 tsp Maille Dijon Originale
Kosher salt and pepper to taste
Handful of fresh parsley, chopped
½ cup pomegranate seeds
¼ cup chopped almonds
Instructions
In a medium saucepan, bring the water to a boil over high heat. Stir in the farro, and reduce heat to simmer. Cover and cook for 20 minutes or until farro is soft and chewy. Drain excess water and set aside in a large bowl.
Preheat oven to 450°F. On a large baking sheet, toss the fennel with a couple of tablespoons of olive oil, and plenty of salt and pepper. Roast in the preheated oven for 12 minutes.
Remove baking sheet with fennel from the oven, and add the carrots. Toss with the fennel and olive oil, adding a little more oil if needed. Season with more salt and pepper. Return sheet pan to oven and roast for an additional 22-25 minutes or until vegetables are caramelized and tender, tossing halfway through.
While vegetables are roasting, make the vinaigrette. In a mason jar with lid or in a small bowl, shake/whisk together the ¼ cup olive oil, maple syrup, apple cider vinegar, Maille Dijon Originale, and salt and pepper until combined.
In the large bowl with the farro, add half of the dressing, the roasted vegetables, fresh parsley, pomegranate seeds, and almonds. Toss to combine, adding more vinaigrette as necessary. Taste and season with more salt and pepper if necessary. Serve!