Northern Spy is one of the "farm-to-table" restaurants in New York City, and it was one of the first New York restaurant with a compelling locavore perspective. With a new chef in the kitchen, Carly DeFilippo explores the new and the solid favorites on the menu.
By Carly DeFilippo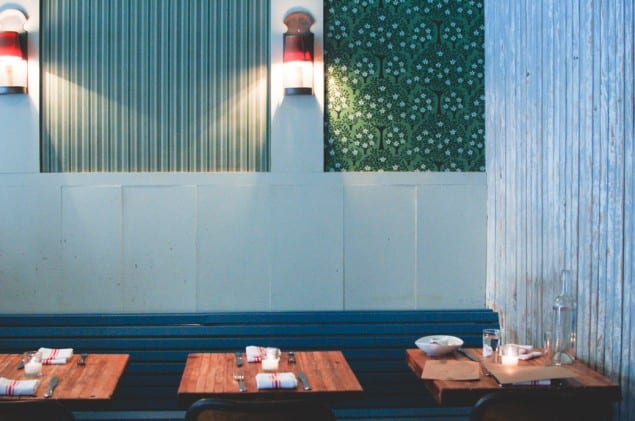 In the typical lifecycle of a restaurant, the vast majority of reviews happen within the first year. Restaurateurs are lucky if reviewers even allow the necessary window to iron out the kinks that come with opening a new location or swapping out the staff. In fact, due to the increased pressure of "getting the scoop" before everyone else, the most buzzworthy restaurants will see the vast majority of reviews published within their first two months of business.
But even if the most respected critics still give chefs extra time to steady their sea legs, the number of restaurants that are ever reviewed two, three or even ten years into their lifespan is few. Save for the systematic reevaluations of top tier fine-dining establishments (see: Le Bernadin, Le Cirque or Restaurant Daniel) that happen every few years, we see very few journalists that speak to the evolution of a restaurant over time—a progression that only the "regulars" and the staff tend to witness.
It may be a stretch to call me a "regular" at Northern Spy Food Co., but of all the restaurants I have frequented during my time in New York City, it is one of the few places where I need two hands to count the number of times I have visited. I can confidently name Northern Spy among my favorite "farm-to-table" restaurants in the city, and it was certainly the first New York restaurant where I personally witnessed a compelling locavore perspective. So it was with no lack of curiosity that I learned Pete Lipson had taken over the kitchen from Hadley Schmitt, and it was an exceptional opportunity to revisit a restaurant whose style I know quite well.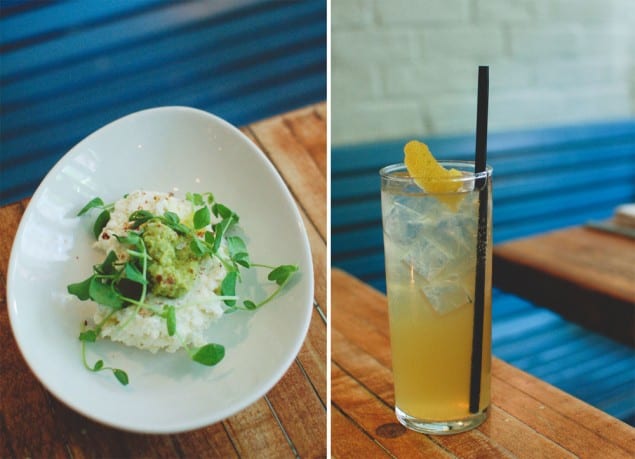 While Lipson has wisely left some of the Schmitt's well-loved favorites on the menu (like the trend-inspiring kale salad), the stars of the show are clearly the newer additions to the menu. Take for example Lipson's "snack" of smoked ricotta with mushy peas and grilled pita. The flavors here are a bit more exotic, the smoke subtle and somewhat similar to the perfume of a good kielbasa. The addictive, naan-like pita offers a rough-around-the-edges char, balanced by the mellow sweetness of the peas. It's an artfully rustic dish—one that could be overlooked by less analytical eaters as simply delicious, which is an integral part of its appeal.
The appetizers are where Lipson shines most brightly, in particular with his fried artichokes. Easily the best artichoke dish I've ever tasted this side of the Atlantic, these golden, crunchy 'chokes are batter-free, focusing on their own inherent flavor. They're coupled with refreshing mandarin slices and pickled cippolini onions, a mellow fennel purée, fresh majoram and crispy sheets of dehydrated black garlic (which my dining companion and I mistook for darkly-hued caramel). With so many competing elements, the dish is a carefully calibrated masterpiece, the kind of plate that reminds diners that farm-to-table can be complex, rather than simply a better version of home-cooked fare.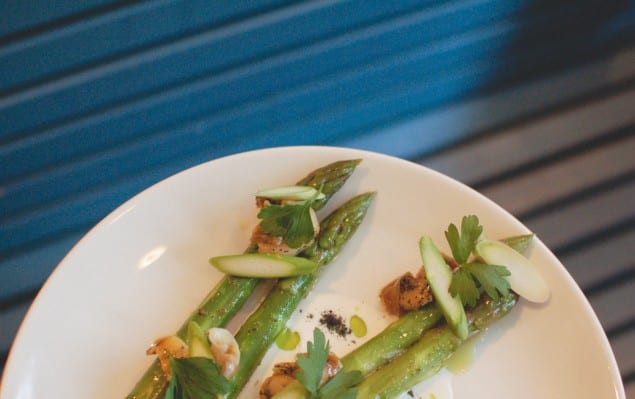 Of equal elegance is the spring asparagus, quickly blanched and plated with tender, black truffle-speckled whelks and horseradish. My favorite element of the dish was the slanted shards of asparagus, used almost like shaved almonds to garnish the full-size fronds. They reveal what is so often quoted (but rarely proven) by chefs: vegetables taste different depending how you cut them. And, of course, the whelks are an intriguing delicacy all their own.
The main courses are, again, more complex than they seem on paper. Spinach cavatelli arrives spicy, cooled by a runny egg and small pools of smoked creme fraiche. It's a robust vegetarian dish, with tender fingerling potatoes gently reminding us of their dual presence in the pasta dough. The pork shoulder is served as a sort of reconstituted steak of rillettes—crunchy and complemented by pickled and roasted rhubarb, along with an apple compote. Both are more conceptually rigorous than your average main, and while they may lack the finesse of the appetizers, they suggest the depth of Lipson's promise as an innovative chef.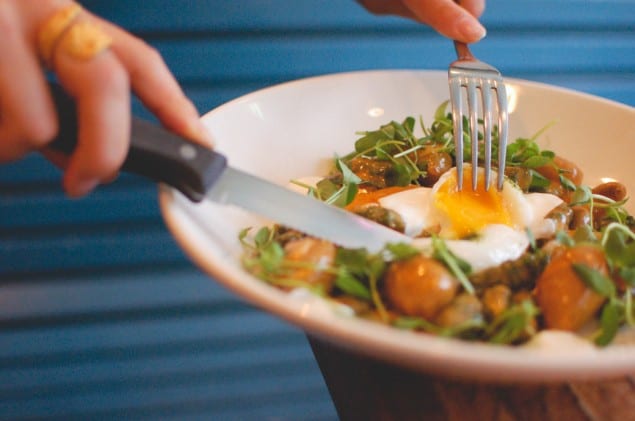 On the pastry side, Chef Amy Poweski has been replaced by Rebecca Newman, but the desserts still ring true, balancing more adventurous options with reimagined classics. We opted for the s'mores, a candy bar-like creation of pillowy marshmallow and graham cracker covered with chocolate. A smear of salted caramel is the ideal bridge to an inspired scoop of graham cracker ice cream and crumbs. On the whole, it was a dish that could have easily skewed too sweet, but remained perfectly balanced—and just messy enough to evoke the crumbling crackers of a true campfire s'more.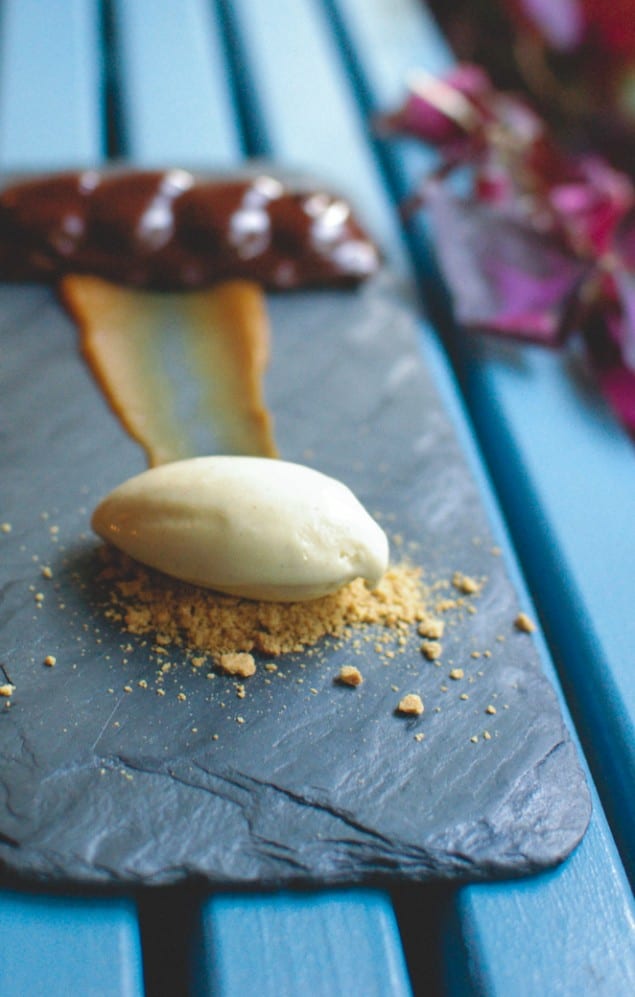 If Northern Spy has turned to the next chapter in its culinary history, newcomers and regulars certainly have much to look forward to. A wider range of ethnic flavors make for a more adventurous meal, while still remaining true to the mission of celebrating local products. And though the reviews may once again come in one fell swoop (to ring in the new reign of Chef Lipson), I can say with confidence that this is one kitchen that is only going to get more praise-worthy with time.
For prior coverage of Northern Spy on Honest Cooking, click here.