Riccardo Costa checked out the 2012 Queens Taste Festival and came back with this short report.
By Riccardo Costa
I had the pleasure of attending the 2012 Queens Taste festival, to discover how many restaurants and titillating "joys of the palate" are in that neighborhood.  One could organize culinary tours and taste unique flavors, but also enjoy innovative reinvented classics that are not to be found in Manhattan. The Queens' cuisine, as it was widely and wisely represented at the festival, is mostly in family-run establishments. The dishes  belong to the gastronomic traditions of diverse foreign countries but also strictly American cuisine as well. The Austin Steak and Ale House, for example, created a great gumbo with spices, celery, chorizo ??sausages, shrimp accompanied by corn bread. The right mix of spices created a piquant dish with zing without overwhelming the individual flavors and the sweetness of the corn bread even  highlighted a traditional interpretation of that recipe.
Lamb is often a difficult meat to prepare; sometimes it tastes too wild, and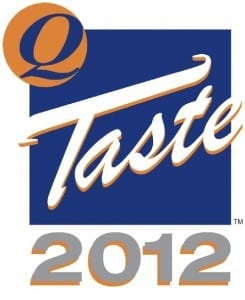 sometimes it is stringy and hard to chew. Also because in the States, lamb comes from Australia. At Christos Steak House, I came across mini lamb-burgers with chopped vegetables, which were spectacular. First of all, the quality of the meat was top notch. The lamb was skillfully and slowly cooked until it was tender and juicy melting in the mouth. That delicate lamb combined with the sweet taste of the soft bread and the garden taste of celery made for memorable tastes.
Part of the festival consists also of unique competitions judged by a team of local foodies and media types. Magna Ristorante of Flushing won the Best Entrée award for two dishes:  its Penne alla Siciliana which featured sautéed eggplant and long, tubular pasta in a marinara-style sauce and for its Pollo alla Romana which included a lightly sautéed chicken breast with specially prepared artichokes in a tomato-and-cream sauce.
This summer make a visit to Queens and discover new restaurants and types of food to stimulate your palate and culinary knowledge.