Prohibition Bakery – The Proof is in the Frosting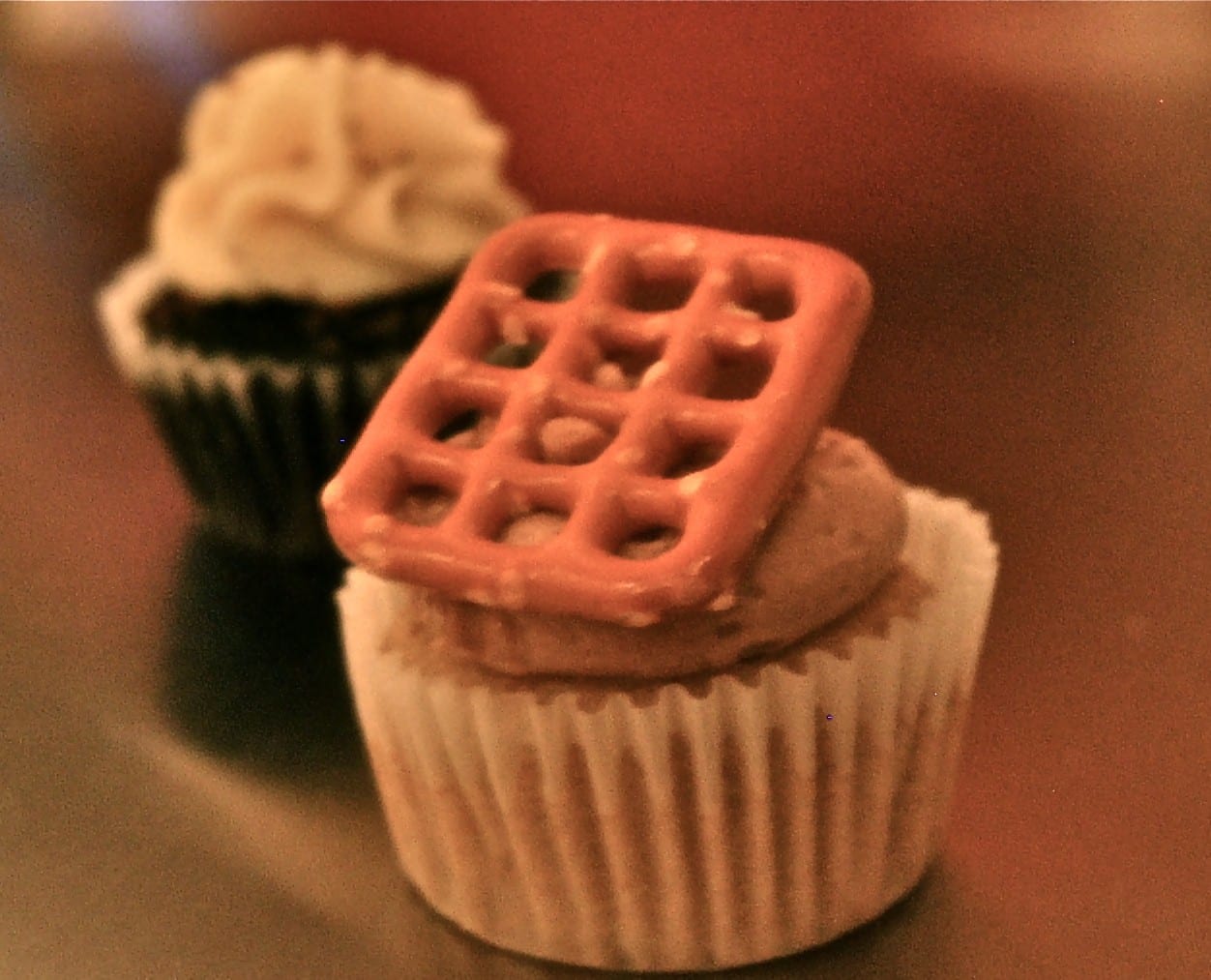 Prohibition Bakery Brings Booze to the Battlefield of NYC's Cupcake Wars.
By James Houston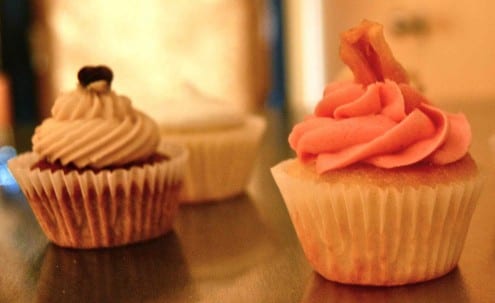 Leslie Feinberg is explaining to me how alcohol affects the baking chemistry of a cupcake when her attention is yanked across the room, where two thickset men in A-shirts and cotton gloves are struggling to lift a just-delivered Moffat oven. Leslie, an ex-bartender and lifelong baking fanatic who "didn't even know cake mix existed until high school", cringes as the worker who almost lost his grip on the 400+ pound cube steadies himself, biceps quivering.
Brooke Siem, a former ballerina and a classically-trained chef whose resume includes a stint in the mad scientist kitchen of wd~50 plus a winemaking internship at Long Island's Bedell Cellars, watches the spectacle wearily with a young entrepreneur's tenacious, sleep-starved eyes.
"This is our second oven," Leslie tells me. "The first one didn't fit through the door."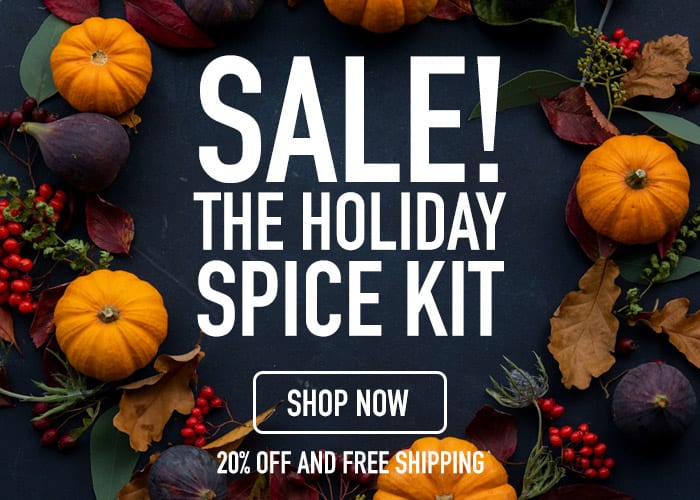 And so a bakery is born. Leslie and Brooke, friends since meeting on a January 2011 Birthright Israel trip, started Prohibition Bakery last August. Without a permanent retail location, the pair's bite-sized, booze-infused cupcakes have so far been limited to NYC's catering circuit and open-air markets.
This changes shortly, when the door of 9 Clinton Street opens to pedestrian traffic. By staking their confectionery claim on the same block as Cocoa Bar and Clinton Street Baking Co., Leslie and Brooke are–intentionally or not–betting that Prohibition Bakery's adult treats will stand out in the city's decadently crowded dessert scene.
After tasting the wares, good luck not believing in them.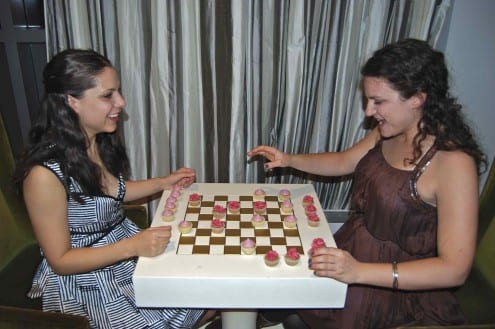 I begin a cupcake "flight" with Prohibition Bakery's Sangria, a faithful nod to the fruits typically in the summer drink: Orange cake, pear brandy frosting, and an apple chip garnish. Its major success is the oozing Cabernet Sauvignon core that somehow preserves the wine's complex flavor profile.
Next comes Salted Margarita. After bartending at West Village stalwart Tortilla Flats, Leslie "conservatively" estimates she has made over 8,000 margaritas. The cupcake and its bulls-eye balance of salty, tangy, sweet, and a warm finish from doses of tequila and triple sec, testifies to her battle-tested expertise.
The best part of the White Russian is the dark, brooding, bitter espresso cake. As I swallow it, Brooke reads my mind and notes that her culinary training was primarily in savory, so full-throttle sugar assaults are rarely–if ever–her style. Here, the rich and gently sweet Kahlua frosting is a pitch-perfect counterpoint to the cake.
Pretzels and Beer wins the "concept" prize, with a waffle pretzel nesting on a cloud of Nutella frosting, which covers a Bass Ale-infused pretzel cake. The beer's malt is accentuated by the baking, and the mild hops echo on the palate long after the cupcake is gone. Even more impressive is that this is a "virgin" offering, with the ale's easily-evaporating alcohol left behind in the oven.
We conclude with an Irish Car Bomb, which may deter Prohibition Bakery's potential Fenian clientele, but is an amazing cupcake no matter what you call it. Packing the bar-brawl triumvirate of Guinness, Bailey's and Irish whiskey, it is lush and deep and exactly what you want at the end of a long night on the Lower East Side.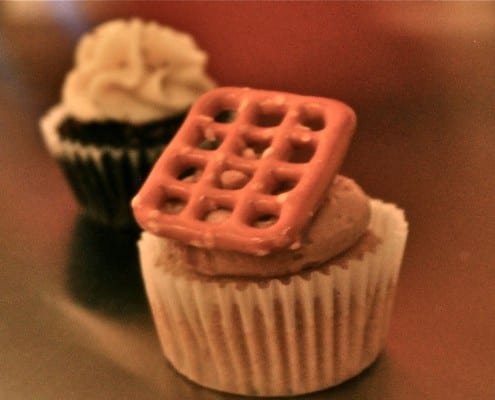 How much hooch is actually in these innovative cupcakes? There are no official recipes yet, but I left Prohibition Bakery and spilled onto Clinton with a familiar feeling:
I could drive right now, but I'm glad I don't have to.
For more information on the bakery and plans for its grand opening, visit www.prohibitionbakery.com

James Houston
James Houston spent the better part of the last four years in the wine industry, paying his dues in sales before training as a winemaker at wineries in France, New Zealand, South Africa and the North Fork of Long Island in New York. Now a full-time nomad, he is writing this from his hometown of Brooklyn, New York but does not plan to stay long. Check out more of his writing at blog.jamesbhouston.com and doubledecanted.blogspot.com.