Maeve Gately tells us about the Hell's Kitchen establishment, Print.
By Maeve Gately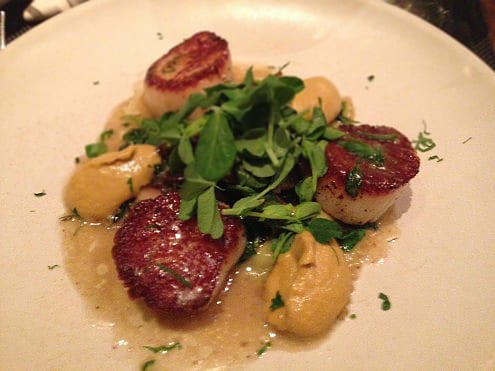 At the very top of a short list of foods which I did not eat are scallops. Ask me for the first twenty-three years of my life what they tasted like and I would reply with descriptions of a rubbery, flabby mass, halfway between pure fat and salty nothing. Scallops had a strange texture and a cloying taste, I would hold, and I wanted nothing to do with their faint, circular existence.
On Wednesday evening, in one of those moments of pure, spellbinding delight, I was proven totally and utterly wrong. Forced by a friend whose visit to the city had prompted the outing, I ever-so reluctantly lifted a fork full of seared scallop swathed in mustardy romesco to my lips, and gasped in shock. What I bit into was neither tasteless nor fatty, but perfectly crisp and delightfully smooth. A crunchy, seared exterior gave way to a soft, creamy substance that was like butter, bound up in a smokey exterior and kissed by seawater. It was like a piece of the ocean, like exhaling that brisk gasp of air when you come up from the first wave in early June, fresh and crisp and rugged. I took in a short, sharp breath, and stared at my fork in wonder. "I hate scallops," I told my friend, half-sincere and half already lying. She smiled, and cut off another bite, "try them again."
I bit in to the second morsel and was convinced: Print, an unobtrusive, elegant restaurant attached to a hotel in west Hell's Kitchen, is the kind of place that can change your mind.

The restaurant, which gets its name from the printing press whose renovated interior it occupies (it is located in the Ink48 hotel, and the rooftop bar is called Press), serves Farm-to-Table cuisine in an elegant, dark interior. Small potted succulents sit atop dark wood tables, and a long, high table in the left center of the room has communal-style dining with barstools set under suspended glass globes with dimmed lightbulb filaments. The walls of the restaurant are entirely glass. Espousing neither the hearty, thick tables of many restaurants with similar menus, nor the white tablecloths of more upscale establishment, Print feels comfortably aloof.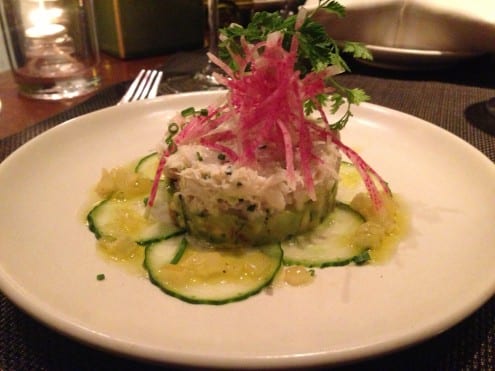 We started out our meals with small plates. The menu is divided into two sections: appetizers and entrees, and a choice of one of each and a shared dessert proved the perfect amount of food for two very hungry girls. My friend ordered the chicken livers, cooked slowly in a red wine sauce with grapes and mushrooms, and again forced me to try her dish (as the best of dining partners always should). Though I did not like the spongy texture of the organ meat, the flavor was dense and smokey, perfumed grapes in the dark, sweet sauce that usually accompanies steak or stew. I ordered the crab salad, a sweet, rock variety from Maine, served in a compact disk atop avocados, cucumbers, and preserved lemons (an ingredient that seems to be turning up more and more in restaurants and recipes this winter). The combination was tart and tangy, the creamy sweetness of the crab mixing with the soft green of avocado, and finishing in the textural bite of the lemon pieces. Glasses of riesling and sauvignon blanc rounded out the course perfectly.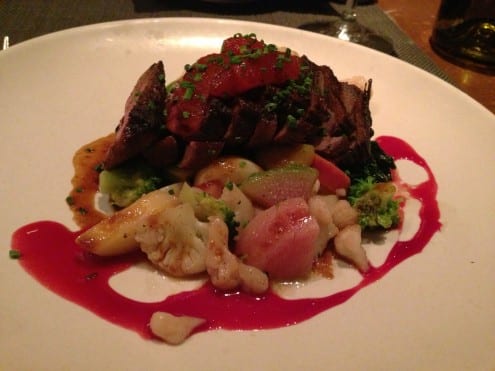 For our mains, my friend got the aforementioned scallops, and I ordered the crispy duck breast, slivers of medium-rare meat atop a bed of brussels sprouts, cauliflower, and watermelon radishes. It was served with a blood orange glaze, a sweet, zesty complement to the richness of the duck. Though the end pieces were a bit more well-done than I would have liked, it was easily one of the best renditions of the bird I have ever tasted.
Dessert came in the form of a dish of ricotta crème brulée, topped (surprisingly) by a dollop of Meyer lemon sorbet and candied chestnuts. This unusual combination proves once again delightful, the lemon cutting through the richness of the cream, accented in perfect denseness by the addition of ricotta. The chestnuts add a toothiness that works in tandem with the hard crunch of the custard shell. Never before have smooth and sharp married in such conjugal bliss.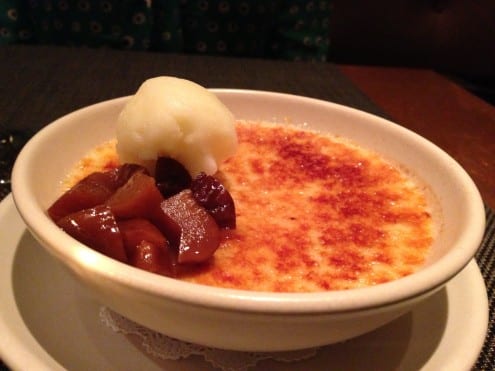 The food at Print is all about contrasts—zest with cream, a hint of tanginess in a dark, rich meat, crisp glasses of homemade limoncello that finished off the meal. But it is also about great ingredients whose clever but simple presentation allow their best features to come through. Duck tastes slightly like the field the birds were allowed to roam in, chestnuts like the soil in which they lay. And those scallops, well, those scallops taste like a whole new beginning.
Print
653 11th Ave New York
NY 10036
Reservations, call: 212.757.2224
http://printrestaurant.com/