As wine fraud has become a growing problem for the big industry names, Tim Elliott checks out the latest gadget that can help you make sure you really get what you pay for.
By Tim Elliott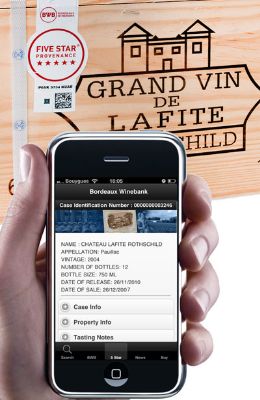 Along with wine, I have a passion for technology and gadgets. So when the two intersect, it gets my attention. Not too long ago I received an email pitch from Bordeaux Winebank announcing a new iPhone app that works with their "Five Star Provenance" program. The app reads a QR code affixed to the case of wine which has a unique identification number. The app then goes to the internet and checks the number with the Bordeaux Winebank database confirming the provenance of the wine. The app also contains useful information including a review of the wine by critic Robert Parker.
Wine fraud is a growing problem and top Bordeaux producers such as Château Lafite Rothschild are turning to technology to help prevent it. Other First Growth Bordeaux producers are adopting similar high-tech solutions including Château Margaux who are using Prooftag. This system uses a unique identifier on each bottle that is affixed between the bottle and the capsule. The buyer can see a broken seal that would indicate potential fraud but can also scan the QR code with their mobile phone to verify the wine's provenance.
Other less high-tech methods are also used like individual numbered bottles, custom bottles each vintage and special label ink but it's good to see these new developments to prevent counterfeit wine. As China and the rest of Asia continue to grow in the fine wine market, it is important for the most collectible wines to maintain their elite status. And iPhones just might help them reach their goals.
Tim Elliott
Tim Elliott is a marketer, blogger, and podcaster based in the Twin Cities. In 2004 he created Winecast, the first wine podcast, which is also a wine blog. He has also written about wine for Minneapolis City Pages and Vineyard & Winery Management Magazine.