PARTNER POST: October is National Seafood Month, reinvent your recipes with new ideas on how to feature potatoes and seafood in one dish.
Pesto and thin slices of potatoes envelope salmon fillets for a quick, elegant seafood entree.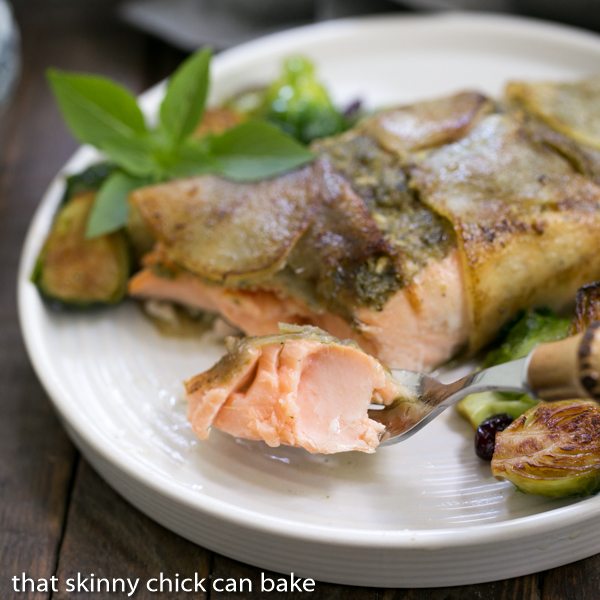 After years of marriage, I've finally weaned the hubby off of canned tuna casserole and salmon loaf (for the most part) and showed him the wonders of glorious, fresh seafood. Potatoes are another story. He loves potatoes. He'd marry a potato. Fried, mashed, roasted or baked, there is nary a complaint when they're on the menu. So I combined these two in-vogue ingredients and whipped up an easy and gourmet Potato-Wrapped Salmon.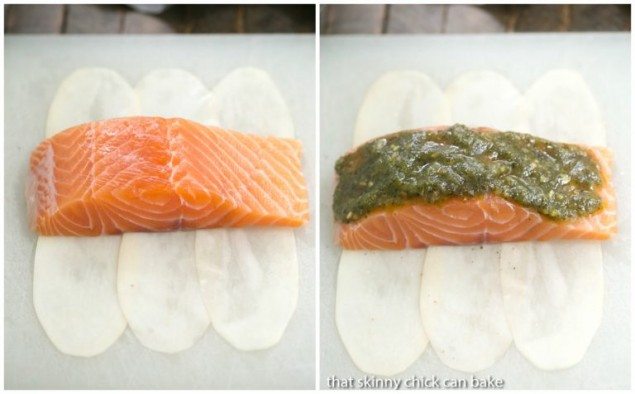 This is a super simple recipe. You can count the number of ingredients on one hand. Love that. The key is to slice your potatoes wafer thin. So thin you can practically see through the slices. This will help the potatoes adhere to each other. I suggest you dig out your mandolin or benriner to do the deed. Then lay out the slices as wide as your salmon, overlapping slightly, and deep enough to wrap over the salmon. I brushed the slices with oil, then seasoned the salmon before adding the pesto and folding the potatoes over the top. You will want the potato seams on the top and on the bottom. Brush the exposed potatoes with oil and season the exterior. A good nonstick pan is also essential in order to brown the potato wrap into deliciousness without losing any to the pan!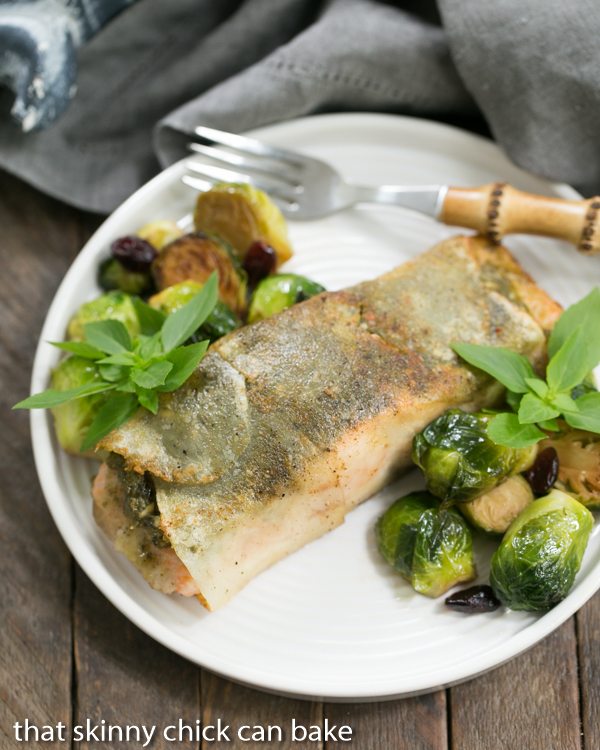 See Also
Click here for the Potato Farl recipe.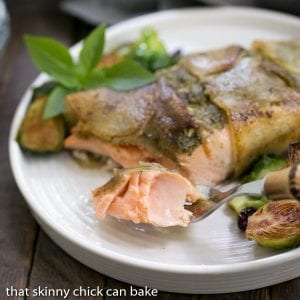 Liz Berg
Ingredients
4 8-

ounce

fillets of salmon

skin removed

1-2

medium russet potatoes

2-3

tablespoons

olive oil

6

tablespoons

basil pesto

Kosher salt

to taste
Instructions
Peel potatoes.Thinly slice using a mandolin or benriner (the slices should be paper thin).

Lay out potatoes in a rectangle for each fillet. The slices should overlap and the rectangle should be equal to the length of the salmon fillets and wide enough to wrap over the salmon with a slight overlap.

Brush the potatoes with a light coat of olive oil and top with a piece of salmon. Season the salmon with salt and pepper, then cover with about 1½ tablespoons pesto. Fold the potato slices over the salmon and brush with olive oil. Sprinkle with salt and pepper to taste.

Heat a tablespoon of olive oil in a nonstick skillet. When heated to medium- medium high, place as many wrapped salmon fillets as will fit in the pan without overcrowding. Cook until bottom potatoes are golden brown, then carefully flip to brown the tops and finally the sides. Depending on the thickness of your fillets, the salmon should be cooked after about 10-15 minutes in the skillet.

Serve immediately.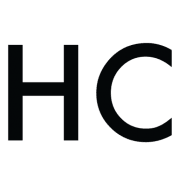 Liz Berg
My mom was an amazing cook, but she wasn't much of a baker. When my sisters and I yearned for a sweet treat, I turned to our trusty BH&G cookbook and zeroed in on the dessert tabs. My love of baking began in my childhood kitchen. I married a chocoholic and together we had 3 children with plenty of sweet teeth. I started my blog in 2010 to chronicle my baking journey.