Postpartum Powerhouse Salad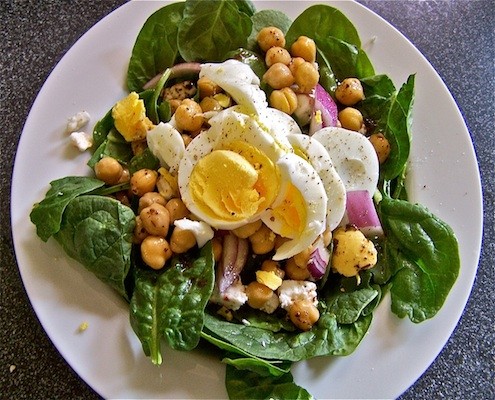 Jerri Green serves a protein packed salad to give new moms the energy they need.
By Jerri Green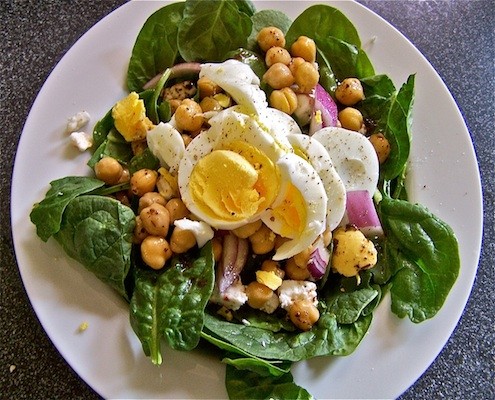 Well, I have some good news to share – this vegetarian and her carnivore now have their a brand new little omnivore (well, since I am nursing she technically is also a vegetarian for the time being). Our little family of four is still in recovery mode, but we are handling the juggling act better than expected. Part of the way we do this is by making sure we eat well. This is especially important for mom. This salad is great for me. By packing in lots of vitamins, iron, and protein I actually have more energy to take care of all the family and myself. So, here it is my first postpartum post is a powerhouse salad.
Postpartum Powerhouse Salad
a protein packed salad to give new moms the energy they need
Ingredients
spinach leaves
chickpeas
red onion
goat cheese crumbles
egg
salt and pepper
olive oil
balsamic vinaigrette
Instructions
Start by boiling an egg.
Once ready peel and set aside.
Layer a large bowl with cleaned spinach leaves.
Drain and rinse the chickpeas.
Toss with salt, pepper, and olive oil.
Add in a few slices of red onion.
Let mixture sit in the fridge until egg is ready, then place on top of spinach.
Crumble goat cheese over chickpeas.
Slice the egg and scatter on top.
Finish with balsamic dressing and more salt and pepper.
The baby spinach which gives me lots iron and fiber. The chickpeas are a fantastic source of folate.  I keep them in a container in the fridge marinating in a bit of olive oil, salt, and pepper with sliced of red onion so they are always ready to go. The goat cheese crumbles are a good source of calcium. Finally, the boiled egg sliced on top is a wonderful  punch of protein. (A tip for new moms: boil enough eggs for the whole week at once, peel them and keep in the fridge so that this salad comes together even faster). Drizzle on a bit of balsamic vinaigrette and dig in – fast – the baby might wake up!
Jerri Green
Jerri Green is a vegetarian that lives with and loves a self-proclaimed carnivore. She makes meals work for everyone while juggling the mounting demands of motherhood. Nothing fancy but always fresh, she draws on her southern heritage to bring satisfying food to the table each and everyday.