Places We Love – Zabb Elee, East Village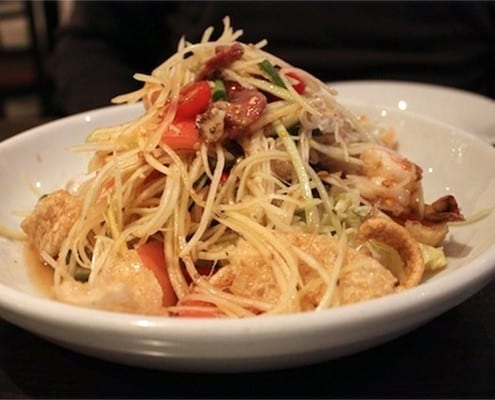 Elspeth Velten falls in love with Zabb Elee – an authentic Isaan Thai restaurant in the East Village of New York City.
By Elspeth Velten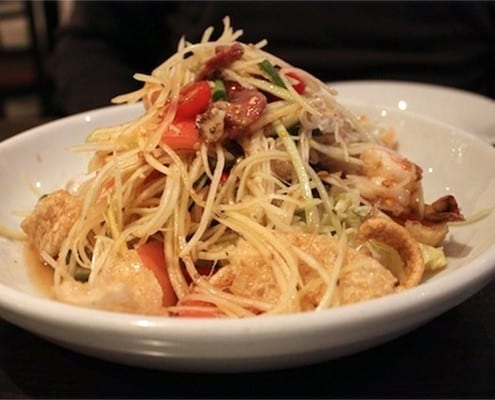 Zabb Elee is an authentic Isaan Thai restaurant in the East Village of New York City. The Isaan region of Thailand is in the northeast and borders Laos, and although I did not visit this region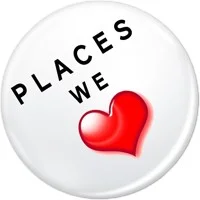 while traveling Thailand, I am familiar with some of the flavors from my time in Laos. Almost everything at Zabb Elee is super spicy, and you won't find your typical pad thai or curries on the menu. 
We wanted to start with som tum (above,) which I had read was one of the best dishes here. We went with the Som Tum Muazuar. The shredded papaya salad was supplemented with rice noodles, pork, shrimp, tomatoes, pork rinds, and garlic and drowned in lime and fish sauce. It was sweet and refreshing and lip-numbingly spicy. So good. The portion was huge and we kept returning to it throughout our meal for a sweet break from even more heat that was to come.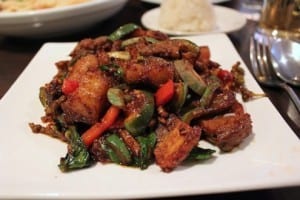 A friend ordered the Pad Ped Moo Korb — Crispy pork, thai eggplant, pepper, basil, wild ginger and spicy curry. He ordered it with medium heat and it was like bliss on a plate. The fatty pork had a thin crispy layer lining the sweet and juicy meat. The eggplants were sliced thinly and cooked only briefly to retain a raw consistency. The dish was sweet and salty and even hotter than the papaya salad. All of the veg seemed very fresh and there were little stalks of green peppercorns strewn throughout.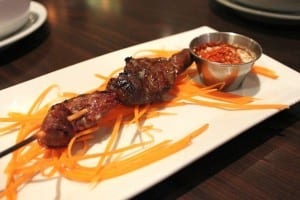 We shared one Tub Hua Jai Kuen skewer of chicken heart, liver and gizzard. The small heart was plump and juicy and the liver tender and soft. This was my first gizzard experience and I didn't really love the fatty consistency.
I ordered the Toam Zabb Kra Dook Moo, a spicy lemongrass soup with pork spare ribs, mushrooms, cabbage, long beans, basil, galangal and chili powder. The soup had a shocking sour flavor that opposed the rest of our sweet dishes.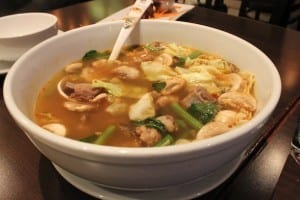 The spare rib meat was falling off the bone and the broth was full of lime and fish sauce. Neither of us enjoyed this dish fully because it was just so hard to go from sweet to sour. It was like taste bud sensory overload. Everything was so spicy and flavorful that my little buds were working so hard! I would try a different dish over this one next time.
The restaurant was not overcrowded at 7:00 pm on a Thursday night, but I have read that there can be a long line and disorganized service. We didn't experience bad service though; in fact we felt like we almost had too much attention. We enjoyed ordering Beer Lao here, it was a nice authentic touch. Our meal came to around $60 but we definitely ordered too much food and could have made it on one less dish. Everything was huge and most dishes on the menu were at or under $10. I can't wait to go back to Zabb and explore the menu further. This is definitely a stand-out in the plethora of NYC Thai restaurants.
Elspeth Velten
Elspeth is a contributing writer at Honest Cooking. She is based in New York, but her love for food and travel continues to lead to adventures all around the globe. Elspeth regularly shares her experiences on her food blog, To Stay or to Go? Her happy place is among green curries and fruit smoothies in Thailand.