If you're looking for somewhere great to sit and dine, have coffee and study, or meet a group of friends for board games, s'Nice is one of your best choices in the West Village.
By Katherine Ingui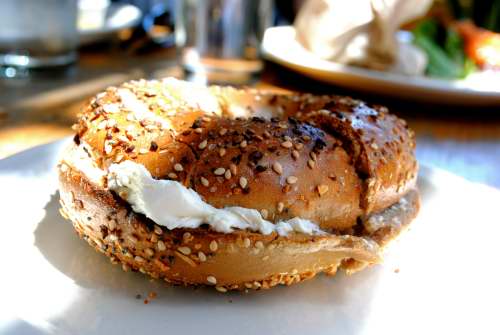 There's something refreshing about finding a restaurant that is both welcoming and  charming, and full of very, very healthy options. There's something even more wonderful about finding this sort of place when you're traveling in a large city. While trying to vacation and indulge in a culture of food that offers essentially anything and everything, I like to save my money (at times) and eat healthy (at times).
It's important; I want to have good energy and I want to have memorable culinary experiences. Traveling and tracking down good eats in New York City can be daunting, exciting, and awarding. I have found that one has limitless options when it comes to eating in such a city, which encourages trying new things and branching out. which is exactly what I did a few months back when I fell pleasantly upon s'Nice. As I took shelter from the city (and gave my feet a break), this vegetarian cafe provided good food, good service, and a memorable experience.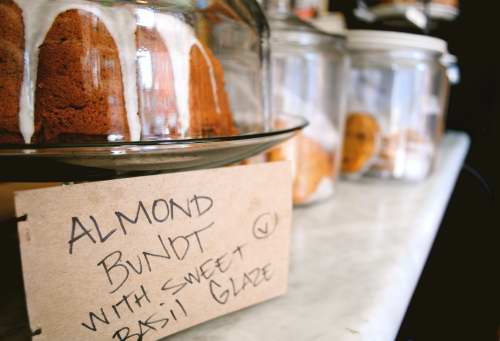 The first time I visited 'sNice was on a chilly afternoon in March. I came upon a little orange sign that  welcomed me to what would soon be one of the best restaurant experiences of that trip. Friends and I sampled fresh vegetables, tried new tofu combinations, and warmed up to the thought of an all-vegetarian restaurant. Well, not me. I love vegetables. Any kind, served any way. However, when traveling with tired and hungry boys, a burger joint is usually the go-to (it's 'easier' aka less of a risk, usually cheaper). But no complaints were said that day about 'sNice.
Homemade granola-have some there, or have it to go.
So naturally, on a more recent trip to NYC, 'sNice was among the few "must-haves" for a food-inspired trip. I went for lunch one day, had it delivered for dinner the next, and ate there for breakfast the following morning. The little vegetarian cafe, located at 45 8th Avenue, offers so many options that it was easy to return and try something new off of their menu each time. The atmosphere itself beckons locals to turn into regulars. Healthy options, nice people, communal seating, free Wi-Fi, and delicious iced coffee? Who can resist that?
The employees were so kind and helpful, a trait in a restaurant that is essentially as important (if not more so) as the food on the menu or the daily special. I'm from the south where good hospitality is a must, so needless to say, I appreciated a touch of kindness.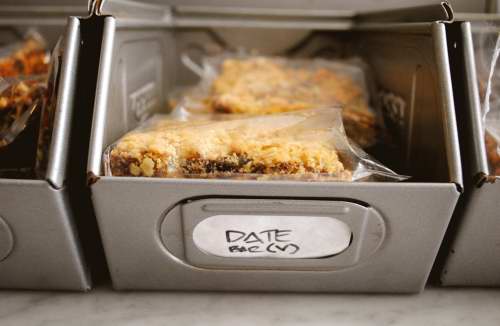 If you're in the mood for breakfast, give the everything bagel ($3) a try, always with a generous helping of cream cheese (you can have tofu, veggie, or regular) and a bowl of yogurt, topped with fresh fruit and s'Nice's homemade granola ($5.50).For lunch or dinner, try one of their many sandwich or salad combinations (both $8.75).
My favorite sandwich was the hummus with roasted red peppers, mixed greens, and sprouts on double-decker whole wheat. Since I had it delivered, I decided to add a little bit of goat cheese that I had purchased earlier that day at the Bedford Cheese Shop in Brooklyn to the sandwich-and what a good decision that was (an example of my shameless love of combining local food initiatives).
Also, try the brie, pear, and arugula with raspberry mustard; the vegan panini with smoked tofu, basil pesto, and sun-dried tomatoes; or the arugula, radicchio and endive salad with shaved parmesan and balsamic vinaigrette. Ask what their side of the day is- it changes day to day (their broccoli and quinoa dishes are fantastic-and only $4 a helping).
Serving up some coffee at s'Nice.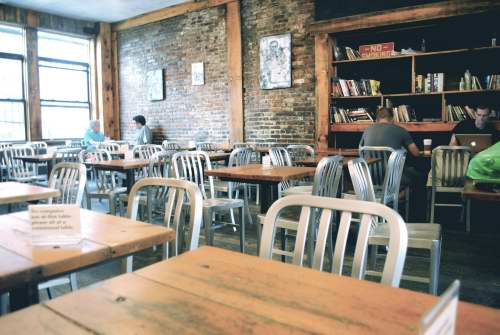 If you're looking for somewhere great to sit and dine, have coffee and study, or meet a group of friends for board games, s'Nice is your best choice. If you're traveling through the West Village, stop in and grab a bite by the big front windows. That's my spot. Well, it is about twice a year. And it will be every time I go back.
45 Eighth Ave., New York, NY 10014
at 4th St.
212-645-0310
Katherine Ingui
Katherine Ingui is a photographer, an art educator, and a lover of healthy and adventurous food, in her home or on the road. A devout supporter of creativity in the everyday, she appreciates the glorification of what we all essentially crave: food.