Places We Love – Fougaz in Copenhagen, Danish Produce with a Spanish Twist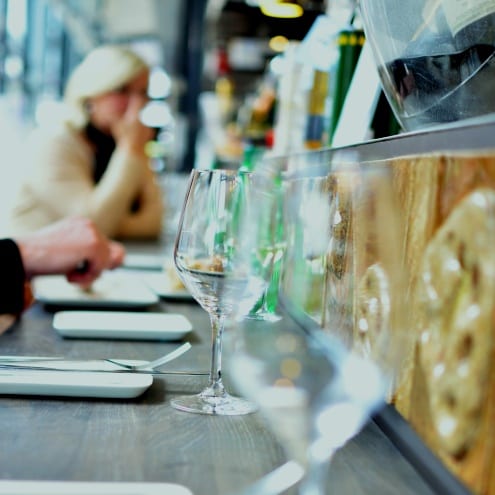 In a remote corner of the big foodmarket in Copenhagen, there is always a cosy atmosphere and cooled glass of Gramona Cava available.
By Mia Irene Kristensen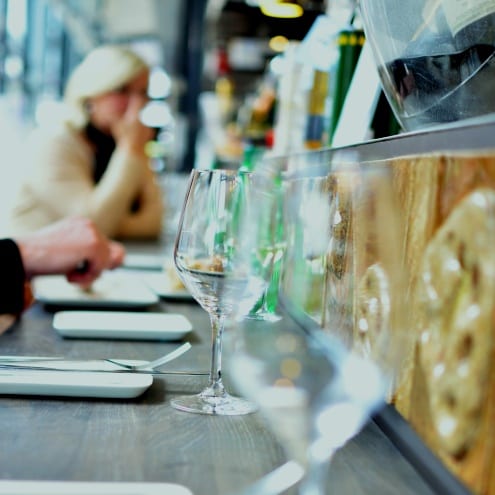 Fougaz has created a small oasis for food lovers. In this remote corner of the big foodmarket in Copenhagen, there is always a cosy atmosphere and cooled glass of Gramona Cava available.
You are seated at eye level with products and the producers, giving the close experience that makes Fougaz outstanding.
The owner Per Bruun and the staff are all passionate and relaxed at Fougaz. They often engage in a light chat and you will always have a smile accompanying anything from a Cafe Latte or Iberico ham. Every serving on the menu is on order, any time of day – always with a creative twists from the chef.
Organic bread made from freshly ground flour
Fougaz is not only for meals or coffee breaks. Bread and cakes "to-go", are baked daily from freshly ground flour made in the adjoining tiny stall. The bread is made of Danish whole wheat from Viskingegård on Sealand – adding nothing more than water and sea salt. Finally it is then left to cold-rise slowly and baked all through the day.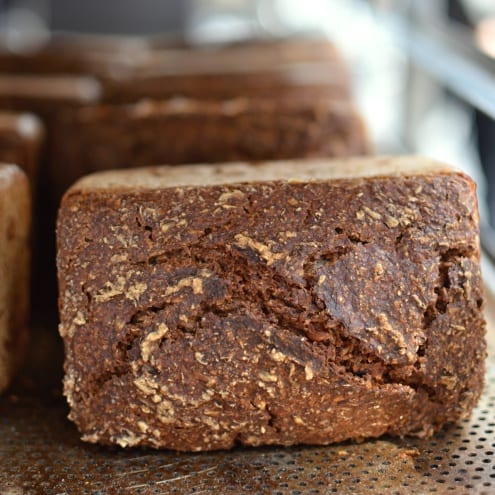 The producers are friends of Fougaz
Per has, through the previous 20 years, visited a number of producers and by now the selection is primarily comprised of products from friends of Fougaz. This provides Per with a "guarantee" regarding the quality of the product, which is of utmost importance for Per. Every day, these south European ingredients are mixed with fish, fruit and vegetables of the season, all found in Torvehallerne.
My recommendations
Pintos is the Fougaz edition of oversized canapés. Taste-intense and delicate and with a multitude of creative variations, changing daily. Try a couple, either as a simple light lunch or go for the 6-course menu, when time and appetite allows you.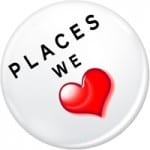 I also love Per's "bake-yourself" naturally fermented dough – exactly the same dough as that used in the bread from the bakery. The box contains enough dough for 4-6 buns, 1 bread or a couple of pizzas.  All you have to do is carefully place it in a very hot oven and bake until golden and crisp.
Fougaz Torvehallerne,
Hal 2 (Israels Plads, just by Nørreport)
Copenhagen, Denmark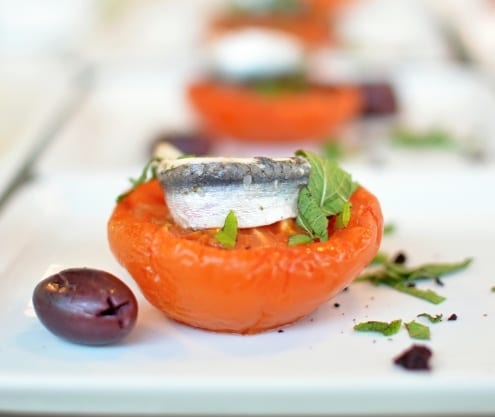 Mia Irene Kristensen
Mia Irene Kristensen is a passionate food blogger, creative recipe developer and Master Student in Food Science and Technology. When not braising and baking, she runs the companies CPH Good Food and TASTE CPH. This keeps her in touch with her creative side and passion for cooking, as she is constantly working on new projects, developing recipes, hosting cooking classes and food walks, and lastly trying to teach the public a tiny bit of the science that goes on in their pot and pans.