Maybe there's something about pizza that inspires unconventional loyalty. Or maybe Co. is just that damn good. Either way, Carly DeFilippo is now a regular.
By Carly DeFilippo – Photos by Lauren DeFilippo
Living in New York City, I'm somewhat shocked when people tell me they have one "favorite" restaurant or eat at the same place every week. Inundated with a constant stream of new openings and enthusiastic recommendations, I doubt I'll ever be able to reach the end of my edible NYC to-do list.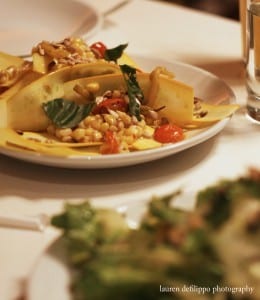 And yet. Sometimes you discover a restaurant that crawls under your skin. It starts with the complementary contrast of innovative comfort food or elevated peasant cuisine – something that will never leave you bored but still satisfies your most primal, childlike cravings. It sneaks up on you, and then suddenly, a few days or weeks later, you are salivating, dying to return, just to have a bite of that one specific dish.
My voracious curiosity for all-things-edible has made me more or less impervious to this condition. I can count the number of Manhattan restaurants I've been to more than twice (writer's research aside) on one hand. And I certainly wasn't expecting a pizza joint to win me over. (My family is Italian and I grew up right outside New Haven, CT – home to the infamous Pepe's clam pizza. Combined with a few recent trips to Italy, it's safe to call me a pizza snob.)

My first visit to Co. was on a date with a chef. He told me it was not only his favorite pizza place, but one of his top restaurants in general. Relieved he hadn't pointed me in the direction of the oft-praised John's pizza, and intrigued by owner Jim Lahey's Sullivan Street Bakery connection, I went along with a more-or-less open mind.
What immediately won me over was the space. Clean lines, warm woods, and a low-key, hip-but-not-trendy vibe. The staff wasn't stressed, the patrons weren't high maintenance, and everything moved at a distinctly un-NYC pace.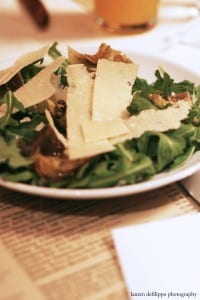 My first thing I tasted at Co. was the radicchio salad with taleggio cheese and shiitake mushrooms. A sucker for anything bitter, this has quickly become one of my favorite salads in the city. On a more recent visit (my fourth, and the first time I've returned to intentionally review the place), I sampled the yellow salad special – summer squash served mild to the point of being almost underdressed, and sprinkled with crunchy peanuts. It was one of the few yellow squash dishes I've ever had that let the vegetable just be. Another addictive standard is the tender, poached artichoke salad with just-salty-enough capers and shavings of parmesan cheese.
As for the pies – the crust is nearly perfect. Thin as you could ever want it, without turning into a droopy mess. Crispy, bubbled, yet still doughy and al dente. Only a Chicago deep-dish craver or shameless Domino's devotee could do anything but rave.
But what is best about Lahey's pies is not just the crust – but also his versatile and uniformly delicious toppings. Many places (see: the aforementioned Pepe's) haveone must-have pie. Lahey has several, and keeps 'em coming with new seasonal specials. On the top of my list?
Corn Pie at Co.

the Popeye – a blackened spinach pie with pecorino, gruyère, mozzarella, black pepper & garlic. The crunchy, fire-blasted spinach evokes all that is great about grilling, while the cheese balances the char.

Mushroom & Jalapeño Pie – spice, umami and cheese collide in jalapeño, seasonal mushrooms, béchamel, pecorino, gruyère, garlic confit, and fresh dill. I thought I would find the béchamel too rich – but the mix of creamy, funky and hot is an addictive winner, every time.
The summer special, Corn Pie – a carb-y pie that I much prefer to the now-ubiquitous potato. Corn puree, mozzarella, parmesan, sungold tomatoes, kale, basil, Aleppo pepper and garlic. The bursts of bright tomato coupled with herbaceous greens and sweet, creamy corn hit on all flavor cylinders. It's worth racing over to Co. before summer's end to see if they'll serve it again.
I can't speak to the wine or beer list at Co., which has become only a vague (but positive) memory. I'm hooked on their alcohol-free artisanal sodas – which change regularly. If they have it, the blood orange is better than incredible.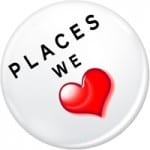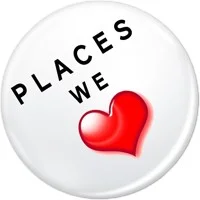 Maybe there's something about pizza that inspires unconventional loyalty. Or maybe Co. is just that damn good. Either way, I'm happy to have found a spot worth a regular rerun – whether I'm craving the classics or scoping out the seasonal specials.
Co Pane
230 9th Avenue
(212) 243-1105