Brother Hubbard on Dublin's revived Capel Street, is a welcome addition to Dublin's growing restaurant and café scene.
By Jess Lacey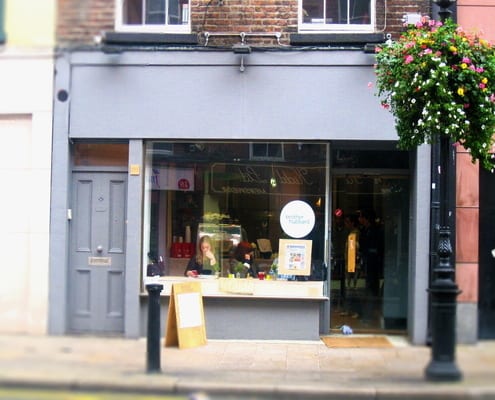 Brother Hubbard, on Dublin's revived Capel Street is a welcome addition to Dublin's growing restaurant and café scene. I had heard about it on the grapevine long before I returned to Dublin from London, and was desperate to try it after every review in sight name-dropped Chef du Jour Yottam Ottolenghi as a key influence. I repeatedly scheduled lunches with friends in the area, dropping in the name every time in the hopes of someone taking the bait and agreeing to join me.
Eventually, I managed to round up two friends working nearby for a brisk work lunch to celebrate the end of my law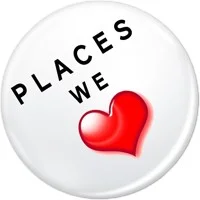 exams. When we get there, I think every person in the place had probably suffered through the same exams at one point. Judges sit cheek to jowl on the bleached wooden stools avoiding eye contact with the barristers sitting across the way. Half of the Four Courts seem to have invaded the place. This is not however your typical dark, smoky, expensive barristers haunt. The room is light and breezy, the seating plan designed for sharing tables and personal space with strangers, and the staff are relaxed but attentive. Outside there is a semi-covered courtyard which is being transformed into an edible garden for the café. The music is thought out and curated, a nice touch in a city plagued with great restaurants playing M People and the Lighthouse Family on constant rotation (it's been 15 years, why are they still doing this?).
We somehow manage to find the one lunchtime without the frequently warned of queues and land a table. As we browse the menu my friend's eyes light up and it becomes clear this place is a vegetarian's dream, providing actual options (rare enough in Dublin). The menu consists of soups, sandwiches and salads, all of which are tempting, with unexpected ingredients and combinations. The salads are indeed Ottolenghi inspired, and I happily wolf down my ample plate of pearl barley, pomegranate and fennel salad, carrot and celeriac slaw, and lightly pickled cucumber with red chilli, black and white sesame seeds. It comes with a slice of fresh chewy sourdough from the fantastic Arun bakery, and a small pot of beetroot hummus. At €7.50, this is probably one of the best and healthiest bargains in Dublin right now.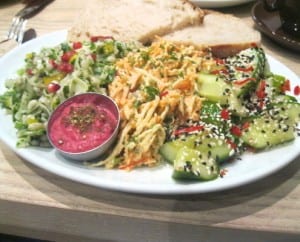 The sandwiches are priced at 6.90 and range from twists on the traditional (cheddar and ham comes with roast tomato paste and rocket) to inventive (globe artichoke with pepper, lemon and cheddar). These also come with a side salad and make for an ample lunch. I'm not a coffee fan, but by all accounts this is the place to have it, they work closely with the award winning 3fe and provide lengthy discussion of the coffee options available and the reasons why on their blog.
Going up to the till to pay at the end proves the dangerous part as my friends rush back to their desks. Baked goods of all descriptions line the counter to the till. My eyes eventually come to rest on the walnut and cinnamon scroll (€2.10), and I greedily add one to my bill to comfort me on the long train journey home. Come early to try them as their scrolls and scones frequently sell out.
Brother Hubbard is open from 8am to 5:30pm on weekdays and 10am to 5pm on weekends. They are also hosting a series of monthly supperclubs kicking off with a Scandinavian themed event last month.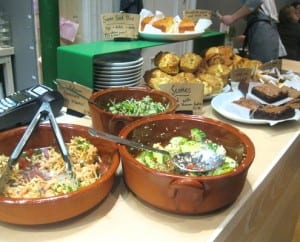 Brother Hubbard
153 Capel St, Dublin 1.
Ireland
Website
Jess Lacey
Jess Lacey is an Irish food blogger and soon to be lawyer. She has found a home in London, Dublin, Leiden, Melbourne and Aarhus. After a brief foray into the world of Michelin starred cooking, she decided to keep cooking and food as relationships based purely on passion rather than income. She travels frequently, and justifies this by writing about it. More of her musings and recipes are available on her blog, Canal Cook.