Some Mexican places serve bland and boring food, but Barrio Chino serves well composed dishes and a varied, authentic menu.
By Elspeth Velten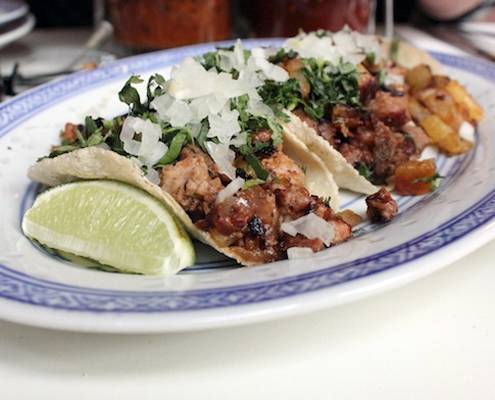 I've been past Barrio Chino a few times and although there is no obvious sign outside denoting what lies behind the facade, you get the feeling by peering through the window that anyone who is anyone is in there and knows the secret. I read stellar reviews of the margaritas and tacos, so when a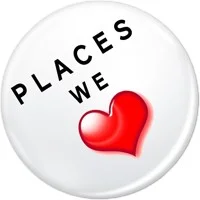 friend said he wanted Mexican, I knew this was the place. We arrived out front around 6:30 which seemed early but our only table choice was a large, high communal table in the middle of the restaurant with a one hour time limit, or a small middle table in the window between two other parties. We went with the middle table and happily slid over when the corner table left a few minutes after we sat down. Corner window banquet secured — check. After hearing that the habanero grapefruit marg was VERY spicy, I went with a plain grapefruit. My friend ordered a Pacifico beer.
We started with an order of Al Pastor tacos to share. Three baby-sized corn tortillas were overflowing with marinated grilled pork, pineapple, cilantro and white onion glowing with the hue of moonlight. Pineapple added a subtle sweetness to the salty, and crispy but meaty pork. To me the cilantro didn't have the bright green shade of fresh stalks, but the taste was there and welcomed. It was probably chopped earlier in the day and stored for that night's service.
I had Enchiladas Verdes with shredded chicken, melted oaxacan cheese, black beans and queso fresco. The dish was topped with fresh avocados, red onions and exactly three tortilla chips, and drizzled furiously with crema. The enchiladas and sauce were cooked on the plate, as evidenced by the crusted brown halo around the edge. I relished every bite of soft tortilla and chicken with fresh tasting tomatillo salsa. The cream, cheese and avocado were a nice cut to the mild acidity of the tomatillos.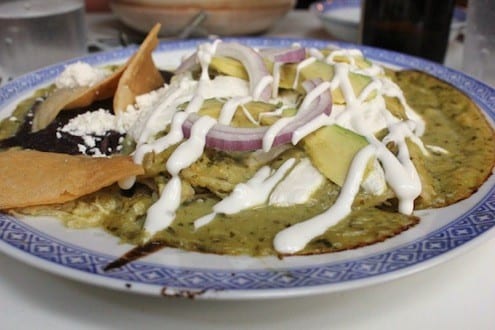 My friend went with the Barbacoa: shredded lamb with a pasilla chile salsa served with rice, pickled habanero onions and tortillas. His lamb had a heavy, spiced taste, and he enjoyed it. Both of our portion sizes were just right and we had room to split an order of coconut flan. I ALWAYS have room for flan.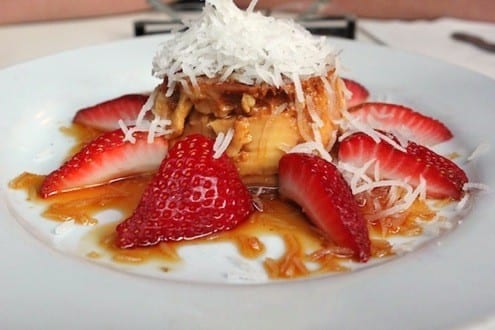 Sometimes Mexican places serve food that's really bland and lacking in depth, but Barrio Chino had really well composed dishes and a varied, authentic menu. The prices are generally mid-level and I think the quality of food is worth what they charge. The margarita was like $11 which seemed like a lot but it might have been top-shelf, I can't remember. I can recommend Barrio Chino as a delicious and high energy Mexican place in the LES neighborhood.