Sometimes, relationships grow over time. Sometimes, it's love at first sight. Celeste Wong's relationship with Adelaide is definitely of the former, rather than the latter, and Bar 9 in Glen Osmond was definitely one of the reasons for that relationship with Adelaide to grow favourably.
By Celeste Wong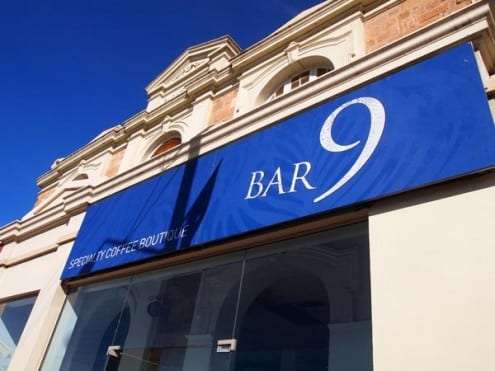 Breakfast is one of those meals that I tend to skip. I know it's not exactly the healthiest thing to be doing, nor something I really should be all that proud of (I'm not!). But between sleep and breakfast, I tend to vote sleep. During weekends and holidays though, that's a different thing. I love having breakfast and it usually starts my day on an incredibly positive note if I have a breakfast that I'm happy with.
On that particular morning, I sat in Bar 9 with the boy and Sherry. We had trekked to the other side of the city for breakfast because Sherry had highly recommended the place. She was nervous, she said, of recommending places to me. Nervous that I wouldn't like the place. I didn't think she needed worry as her favourite breakfast place didn't disappoint, Bar 9 was really quite superb!
The decor of Bar 9 is that of a quirky nature. With their mirrors painted over with images of cups and coffee machines, I couldn't help but relax into the easy going atmosphere. It really reminded me of Melbourne and its easy going breakfast cafes and I felt right at home instantly. Already in love with this place even before the food and the coffee, this can only mean better things are yet to come, right?
And come it did.
House Cured Ocean Trout – served on creme fraiche and dill on rye – $16 was Sherry's dish. I couldn't help feeling a pang of jealousy when the waitress popped this dish in front of her, it looked spectacular! Luckily, my table of friends seem to have adopted the unspoken rule of breakfast sharing and I managed to get a share of this absolutely beautiful breakfast as well. And just as well I did, as the freshness and cleansing feeling the dish contains needs to be tried to be believe. Incredibly refreshing, this is a breakfast dish that is destined to wake anybody up with a burst of sunshine in the mouth with just the nice touch of sea breeze to give you that extra morning kick.
Creamy Truffled Mushroom Ragu – on toast with poached eggs and finished with truffled honey. $17. Nothing screams indulgence more than truffles, and definitely nothing is more rich in the mouth than this creamy truffled mushroom ragu. I was rolling about in my ecstasy and couldn't stop bragging about how amazing my breakfast dish was to my companions. Not that I really had anything to brag about, since their breakfasts were equally as good and I was going to have to share my breakfast with them anyways. But for that first few minutes, I must admit to a tinge of: "Ha Ha, this is awesome and you have none!"
Runcimans Breakfast – breakfast of champions: bacon, eggs, tomatoes and swiss brown mushrooms $17. This is the boy's standard breakfast fare. If there's a big breakfast of sorts on the menu, he's bound to get it. Perfect really, that way he gets to gauge a cafe on a standard that is found in almost every breakfast cafe. This big breakfast was quite nice. It wasn't spectacular, but it was definitely right up there with one of the best big breakfasts. Yummy bacon with juicy mushrooms, can't get any better than that really.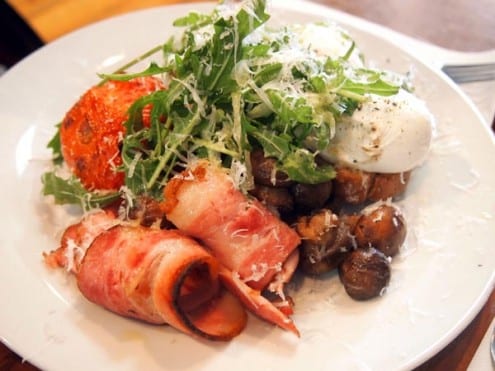 Bar 9 definitely has something special going on. Even though it's on the other side of the city to where I live, I'd still happily trek over on a weekend and indulge in some incredible food. Yum.
Bar 9
08 8373 1108
96 Glen Osmond Rd
Parkside, SA 5063
Website