In the city where pizza is religion, Mitch Weinstein dares to pick a personal favorite.
By Mitch Weinstein
Pick your favorite pizza place. And then watch the fun start. One friend says: "You're crazy!"  Another says: "What are you, nuts?".  Your mother calls. Your brother disowns you. Fisticuffs fly. And on and on.
Then, pick your favorite pizza place… in New York City.  Take all the above and multiply it by a hundred. Or maybe even a thousand.  Because if there's anything New Yorkers are crazy about, it's their pizza.
Now don't forget the "style."  Is it Neapolitan? Sicilian? Deep dish or Chicago style?  Maybe it's New York style?  Is it cooked in a wood burning oven?  Or a coal burner? Perhaps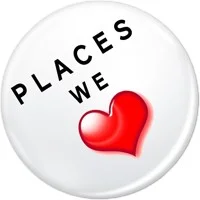 it's a good old-fashioned gas or electric "deck" oven. What if it's grilled? Does the place you love sell slices? Or only whole pies? Are they individual pies or meant to be shared? Oy vey – you get the picture – the possibilities are seemingly endless, and no one style or slice or pie is going to make everyone happy all the time.
Trust me – as a dyed-in-the-wool New Yorker, I have my favorites. And since there has been a virtual explosion in high-quality pizza over the last few years, I guess my favorite pizza depends on what kind of mood Significant Eater and I are in. Or even what neighborhood.
Just last weekend, I decided to take a nice walk "downtown." Downtown to me means the financial district, Wall St. – that general area.  I usually head off in that direction by walking right along the East River, because almost the entire waterfront has a lovely new promenade for walkers and the views are stupendous.

Downtown is one of the oldest parts of Manhattan; it's where it all started. There are some buildings that are 250 – 300 years old; Fraunces Tavern is the oldest and I think George Washington might have gotten drunk there! Of course if you live in Rome or Paris or London, or almost anywhere but the United States, those buildings are merely babies – but hey, it's all we've got, so…
Nestled among all the old streets, old buildings and new skyscrapers sits old Stone Street, perhaps the first paved street in New York City. Part of Stone Street is a throwback – a mere alley with no vehicular traffic, cobblestones, lined with restaurants and taverns; the street is filled with tables for people to sit and eat and watch the world go by.
And there sits one of my favorite pizza places – Adrienne's Pizzabar.  Adrienne's makes two styles of pizza – a 10" round pie and what they call their "Old Fashioned Pizza."  That's the one I like, a large rectangular pie that's sort of a cross between New York style and  Sicilian. It's not all thick and doughy – it's actually light and airy, meaning two people can almost polish off a whole pie – especially if the two people are Sig Eater and me! And last weekend, we did just that to a half pepperoni, half plain "Old Fashioned Pizza," from one of our favorite pizza places. Oh –  you gotta have your vegetables and the sautéed broccoli rabe (sic) wasn't bad either!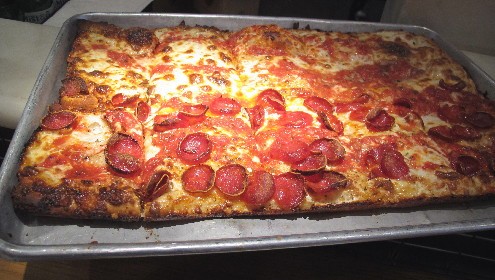 Mitch Weinstein
Mitch Weinstein is an avid seeker of good food, culinary school grad and writer of the blog Tasty Travails. When not cooking at home, he is on the hunt for that next delicious restaurant meal, great market or maybe even a cocktail. He regularly contributes to the food and drink forums on mouthfulsfood.com, eGullet.org, Chowhound.com and others.