Pizza at La Bicyclette, Carmel, CA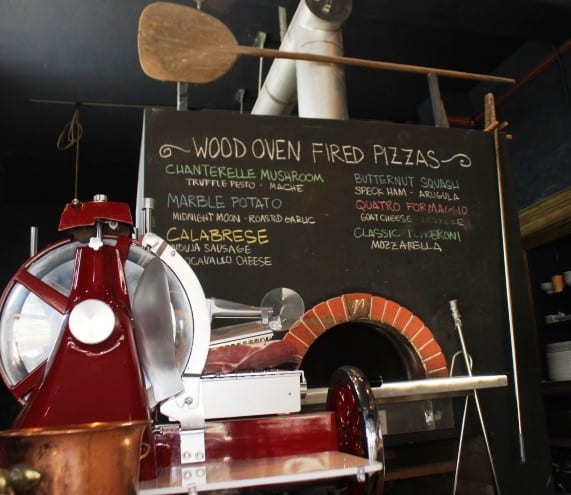 Ambra Meda checks out the pizzas at La Bicyclette in Carmel, California.

By Ambra Meda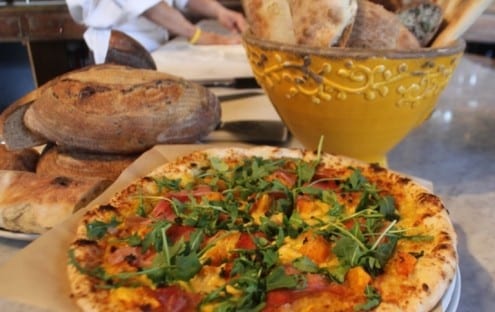 We walk by La Bicyclette, in Carmel, on a Saturday evening. An old fashioned sign with a bicycle outlined in wrought iron captures our attention. We stop and take a peek into the vast arched window. Nice!
It seems just the place we were searching for: charming but not stuffy, mellow but not dull. It's packed. There's no way we're getting a seat, but it seems worth waiting for.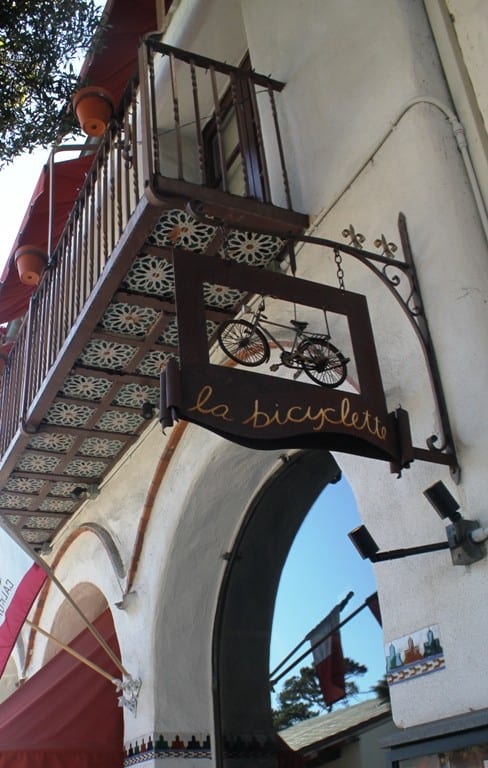 As we sneak in, bypassing the line that waits at the maitre's desk, we suddenly see it.
Like an apparition, it stands in front of us. A majestic wooden fired oven lights the room. Three bustling pizza makers move deftly among clouds of flour. Staring at them while they're cooking is too appealing. We have to come back.
Twelve hours later, we sit right across the marble board, talking to the chef and savoring some warm homemade Olive Bread. While kneading the dough from scratch, he praises our choice. We've ordered a Butternut Squash Pizza with Speck.
"This South Tyrol ham is not that common in the US…", "but in Northern Italy it is and we love it!", we interrupt. Its lightly smoked flavor, with its pronounced juniper and herbs zest, should be a perfect match for the mellowness of the squash.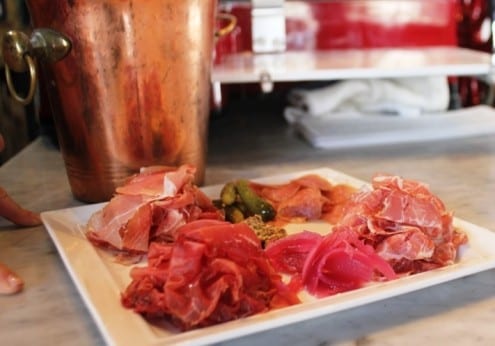 Looking at him bustling around savory ingredients is mouthwatering enough. When we see him taking our pizza out of the oven and sprinkling some fresh arugula and crunchy sage on top, we are overcome. When we first bite its thin crust, topped with melted Gruyère, Speck and butternut squash purée, we are literally in Heaven.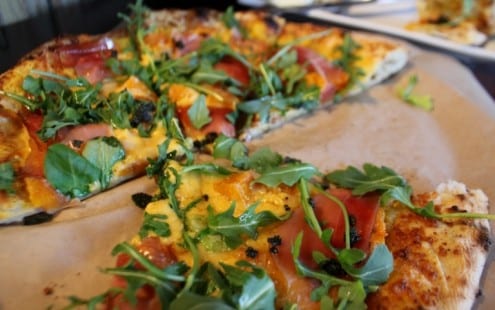 "Where did you learn to make a pizza so authentic?" we ask him, expecting as an answer a long list of culinary abroad classes. "Oh, …here I guess" he says blushing. We gaze at him. Speechless. Without the shadow of a doubt, this is the best pizza we've had in the US.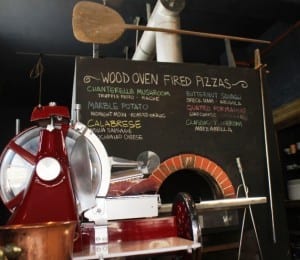 After having picked up every bristle from our dish, we are tempted to order again.
The Truffle "Pesto" Pizza, with chanterelle mushrooms, Parmesan and Mache (a kind of salad green also called corn lettuce) is too inviting.
We debate our decision for a while.
He keeps on flouring, kneading, spreading. We end up staring, lost in wonder.
After all, feeding our eyes is almost as enjoyable.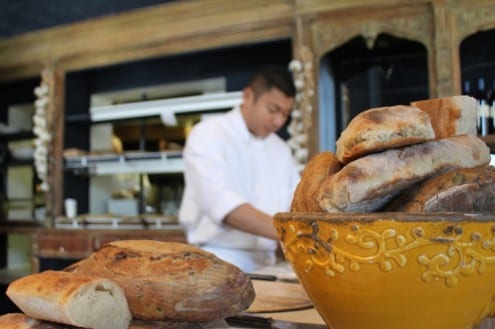 La Bicyclette, Dolores Street at 7th, Carmel, CA
www.labicycletterestaurant.com
Ambra Meda
It is often said that Italians don't eat to live, but live to eat. And to Ambra, philosophizing about food is no different than discussing art. She grew up as a devoted lover of all things Italian, from pumpkin gnocchi to pistachio gelato. After moving to the United States she discovered the pleasures of a new world of food. She eats, travels and writes for Still Served Warm.