This dish, commonly served right in a pineapple in Thailand, is a great mix of sweet and savory with a hint of spicy chilies to liven up the fresh shrimp side dish.
By Audrey Ling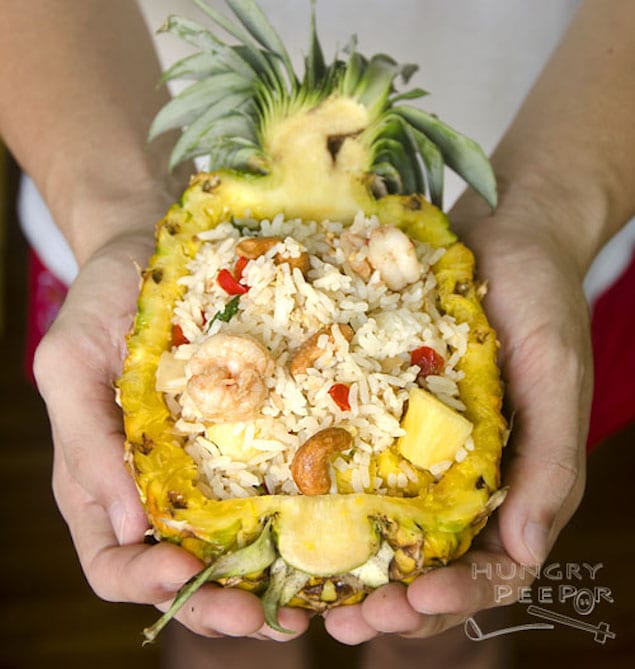 Thai pineapple fried rice is probably one of the most famed dishes that comes to mind when the topic of food in Thailand comes to mind. This dish is popularly served within the husk of the pineapple fruit, usually with the country's freshest pineapples and shrimps as well.
Interestingly, in Singapore, Thai pineapple fried rice is also a common choice for many when it comes to ordering buffets for special occasions or formal events. It is a dish that is both sweet and savoury in taste – its sweetness derived from the fresh pineapple fruit and its savoury tastes from the shrimp paste and fish sauce, thus enabling it to appeal to the taste buds of many. It is also one of the best rice dishes to cook that fully utilizes the local ingredients found within the Southeast Asian regions.
Try it today to get a taste of Thailand and Southeast Asia!
See Also
Find more recipes for flavorful Thai dishes here.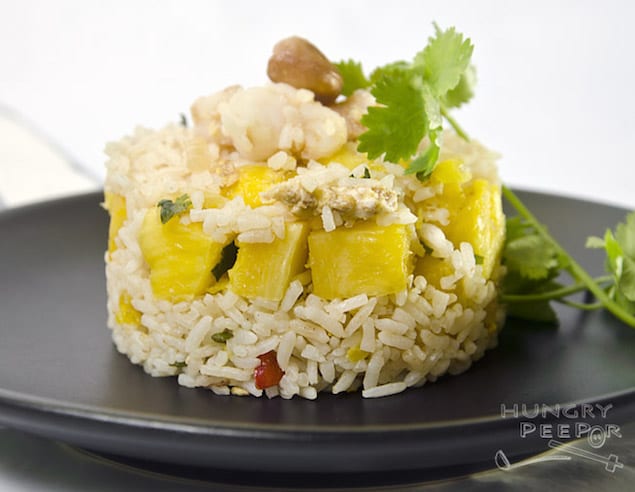 Pineapple Fried Rice
This dish, commonly right in a pineapple in Thailand, is a great mix of sweet and savory with a hint of chilies to liven up the fresh shrimp dish.
Ingredients
Oil: 2 tbsp + 1 tbsp
Garlic: 2 cloves, finely chopped
Fresh red chilli: 2, chopped
Shrimp paste: 2 tsp
Onion: 1, finely chopped
Small prawns: 10, outer shells removed
Egg: 2
Cooked rice: using 4 cups of uncooked rice
Fish sauce: 2 tbsp
Cashew nut: ½ cup
Pineapple: 1 (small), diced + 2 tbsp fresh pineapple juice
Coriander: 1 stalk, chopped
Instructions
Heat 2 tbsp oil in wok.
Add garlic, chillies, shrimp paste and onion. Fry till fragrant.
Add prawns. Fry till just cooked.
Push fried prawn mixture to one side of wok. Add 1 tbsp oil on the other side of wok.
Add eggs to the oil. Fry till set and mix in with the rest of the fried prawn mixture.
Stir in rice, fish sauce and cashew nuts. Fry for 1 min.
Stir in pineapples, pineapple juice and coriander. Fry for another min.
Garnish with remaining coriander to serve.
Notes
Sprinkle some chicken or shredded pork over the rice to serve. This is how pineapple fried rice is being served in many of the local eateries and restaurants in Singapore, though I'm not sure if this is also the case in the place of origin as well.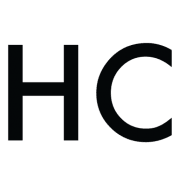 Audrey Ling
The whole process of toiling in the kitchen and later taking pictures of what comes of it is a symbiosis of my hobbies – a perfectly crafted deal for me. All of these hobbies allow me to learn something new every day. When it comes to food and cooking, I love trying out a bit of everything (that's my style) – from learning how to cook and plate in Michelin style to attempting local Singaporean dishes at home; from replicating remote flavours and delights to retaining family legacies and traditional essences. I hope to share my passion and joy with the larger community of food and photography bloggers and enthusiasts out there.