A flaky croissant pastry, filled with almond paste and drizzled with creamy almond frosting takes time to prepare, but the result is more than worth it.
By Nicky Corbishley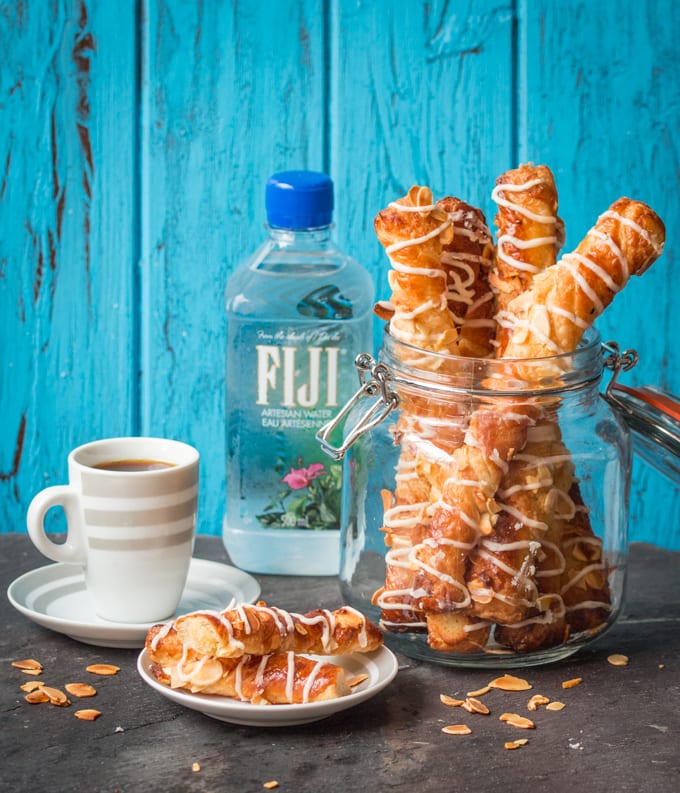 Partnering with Fiji Water – we present you with 'Perfection takes time' – a recipe for buttery, flaky almond croissant twists.  Filled with almond frangipane and drizzled with creamy almond frosting, they're the perfect accompaniment to your morning cup of coffee.
I'm going to start off by admitting that this is no quick, short-cut recipe.  These beautiful golden twists require time and patience to prepare.  The recipe itself is simple, and I find the process of making the pastry dough is actually very therapeutic.
First let me talk a little bit about Fiji water: Originating as tropical rain water, the water is purified and filtered as it slowly trickles down through layers of volcanic rock, all the time gathering minerals and electrolytes. The water is collected and bottled at source, and is untouched by human hands at any point until you unscrew the bottle.  Pretty cool hey?
Doing some research into this made me think of how those minerals could help to enhance a recipe – over and above the use of normal tap water.
Smoothies, jellies and slow cooked meats all require water and may well benefit from bottled water over tap water, but I was looking for more.
Then I hit on it.
Bread.
Often tricky to get a good rise and a perfect texture, perhaps the water could play a part in this?
Doing a little research, I found that the minerals in hard water and bottled mineral water can aid the growth of the yeast and improve the gluten structure of bread dough.  Soft water has the opposite effect.   You certainly can use tap water for this recipe, but you may find that bottled water aids your bread making – particulary in soft water areas.
So what could be better than whipping up a batch of flaky, delicate almond croissant twists over the weekend!  They're made with an enriched dough that that develops in flavour and texture during the long resting stage.
You'll begin by mixing and then kneading the dough ingredients in a mixer.  Ok, that part isn't particularly therapeutic, but this is a sticky dough, that would be quite messy to work by hand.  After chilling the dough for an hour in the fridge, the fun begins.
Get the full recipe and many other Perfection Takes Time Recipes on fijiwater.com
This post is part of "Perfection Takes Time", a partnership between Honest Cooking and FIJI Water