Sponsored Post: Whether you are hosting a wine party or looking for the perfect pairing for your dinner party menu, we've teamed up with Sonoma-Cutrer to provide wine inspiration for your next gathering.
These sheet pan Greek nachos are a perfect bite for your next party or at home happy hour. Plus, they pair well with a Sonoma-Cutrer red or white wine.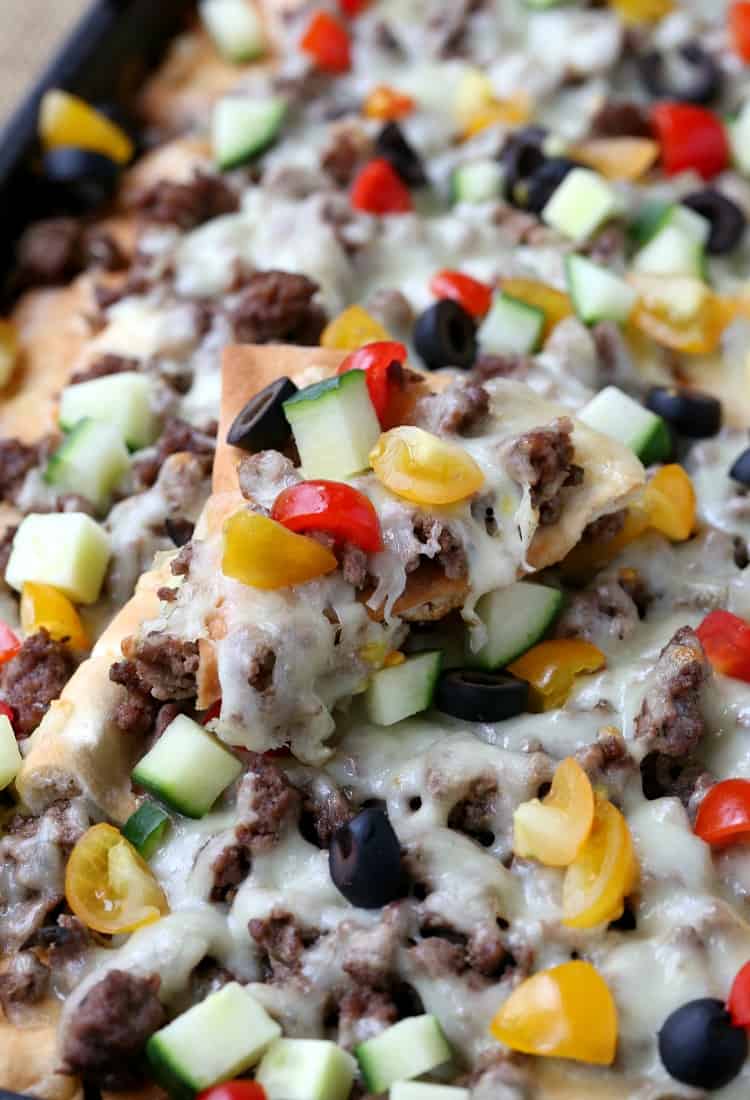 We're breaking out the wine tonight for happy hour at home! Specifically these Sonoma-Cutrer bottles of chardonnay and Pinot Noir.
We need a bottle of red and a bottle of white. Just like the song…
Tonight we're getting together and making it easy – and I mean easy. No need to get special plates or break your back in the kitchen cooking.
We're making Sheet Pan Greek Nachos and serving them up right on the pan. Pour a few glasses of Sonoma-Cutrer wine and it's a party.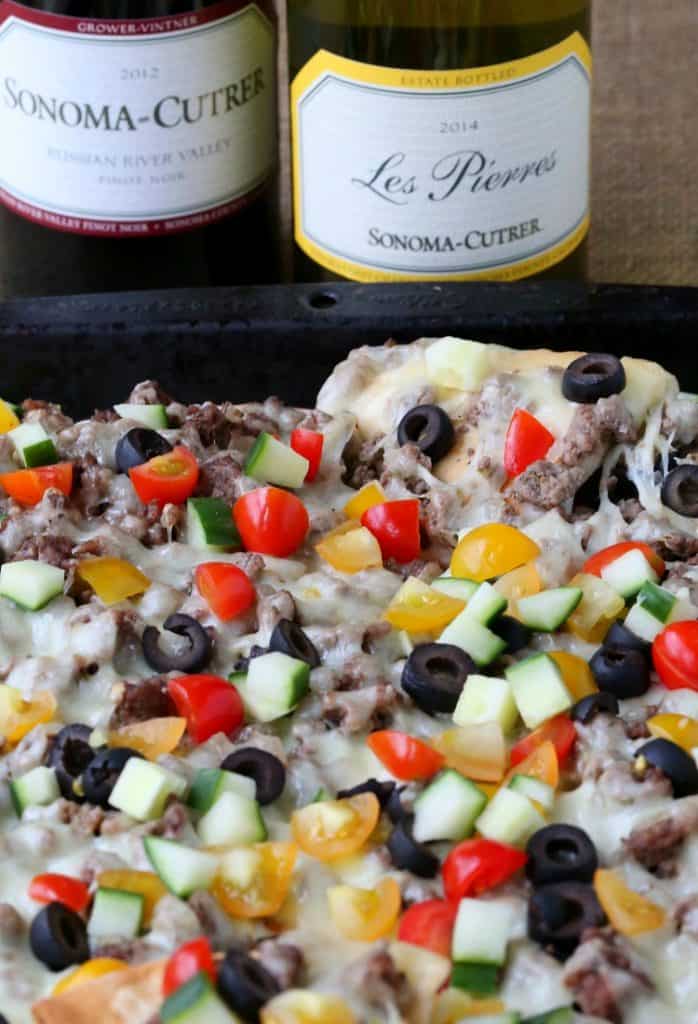 Sonoma-Cutrer can be found at most liquor stores, but if you have a hard time locating it – no sweat. Just hop online and get it sent right to your house.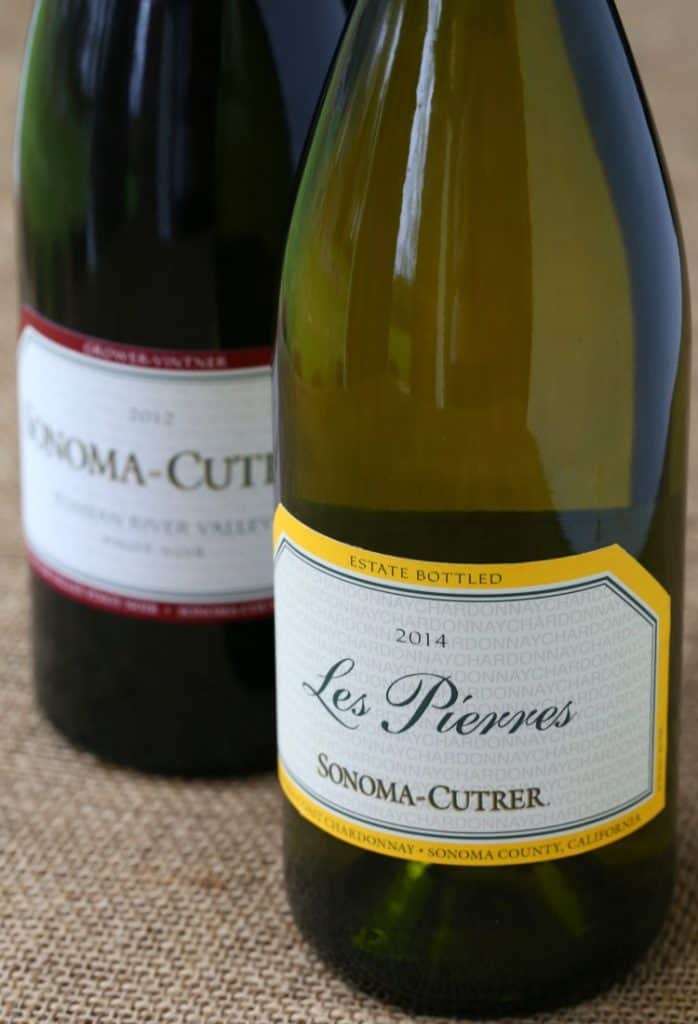 It doesn't get much easier than that!
This Les Pierres Chardonnay is definitely special. Just reading about how the grapes are harvested with the rocks on the ancient riverbed absorbing the sunlight then releasing the heat into the vines…makes me want to be there at the vineyards right about now.
You can taste flavors of citrus and peach, and also some mineral notes from that riverbed. The flavor of this wine cuts through the richness of these Sheet Pan Greek Nachos perfectly.
But what if you're a red wine drinker you ask?
I've got you covered there too. Grab a bottle of this Sonoma-Cutrer Pinot Noir. This Russian River Valley Pinot Noir has an intense blackberry flavor at first, followed by vanilla and tobacco flavors (that smokey flavor you taste in many pinot noir wines) finished up with a sweet barrel spice.
Also going to go extremely well with these crazy good, cheesy Sheet Pan Greek Nachos.
All of the ingredients for these nachos can be prepped ahead of time, which is the key to throwing any type of party. As much as possible should be done before your guests arrive so you're not in the kitchen all night while they're out having your party.
Because that's zero fun and also – it makes your guests uncomfortable. Right? This has happened to me before plenty of times and I admit, sometimes I'm the one doing it and it's just no good.
When your guests arrive all that will be left to do is put the pan of nachos in the oven, pour the wine and enjoy.
So brown up the beef ahead of time, I flavored the ground beef with seasonings and a big stir in of tzatziki sauce.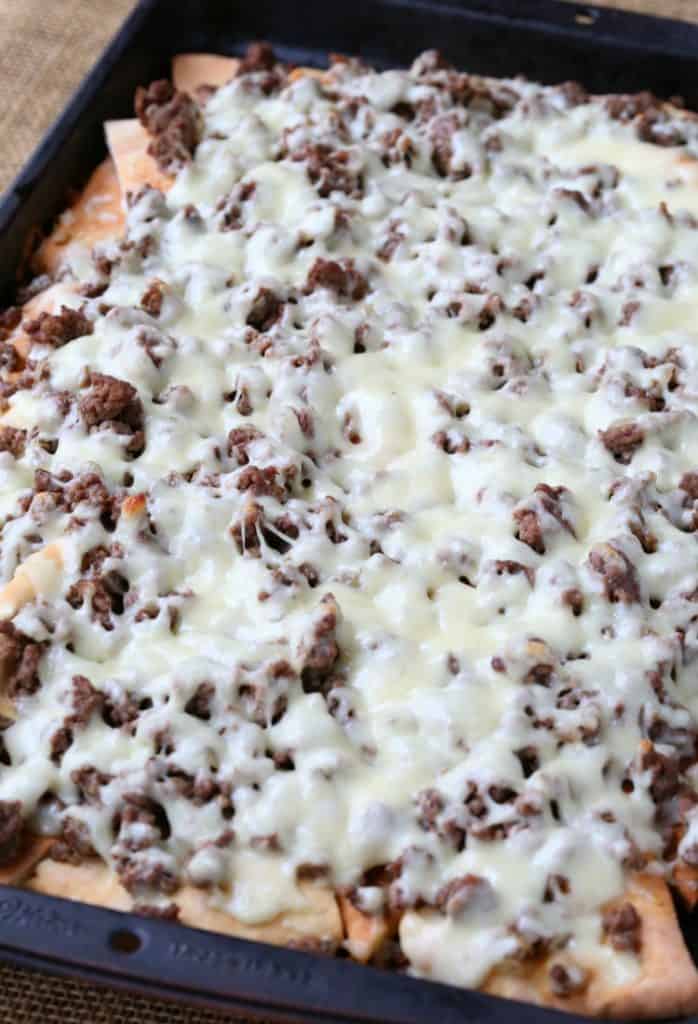 See Also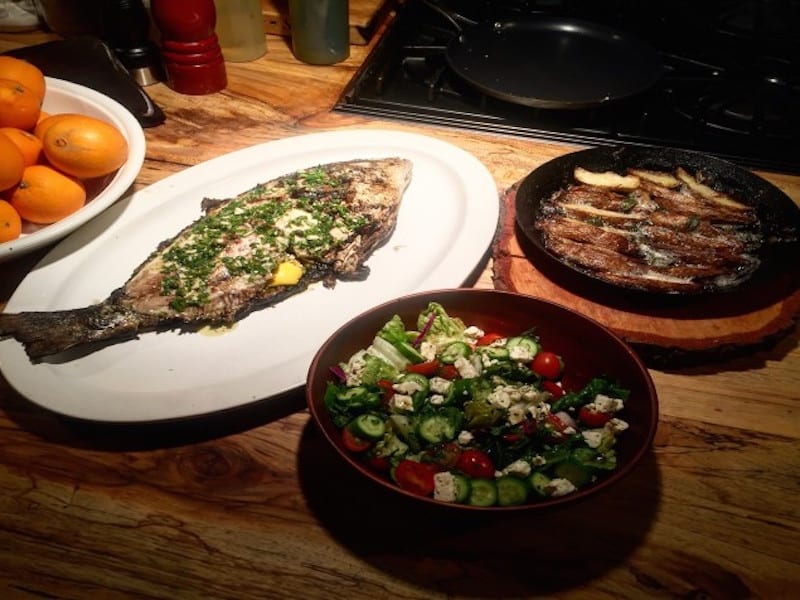 Get a layer on the pita chips and then cover it with cheese. Lots of cheese…
In the oven the pita chips will crisp up and the cheese will melt all over the beef.
Then when it comes out of the oven – it's time for the cold toppings.
We used cucumbers, tomatoes and olives, but you can get even more crazy with your toppings. Try feta cheese, fresh dill and chopped garlic.
Now it's time to sit back, relax and dig in.
Simple food, exceptional wine and hopefully even better company.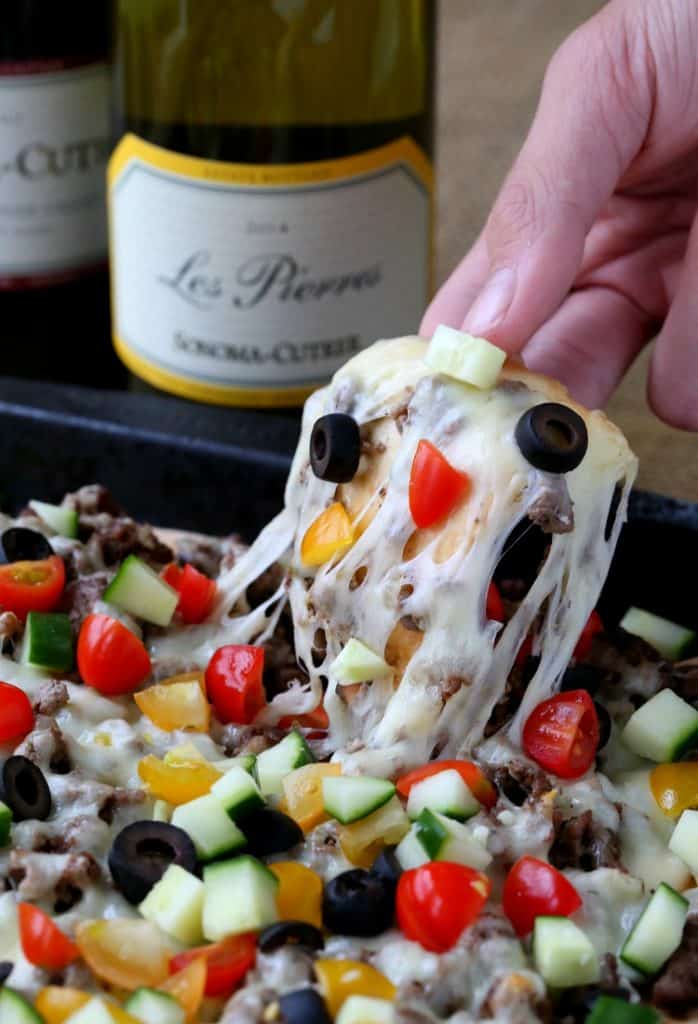 Print

Perfect Happy Hour: Greek Nachos and Wine
---
Author:

Dan George

Yield:

6

appetizer servings

1

x
Description
These sheet pan Greek nachos are a perfect bite for your next party or at home happy hour. Plus, they pair well with a Sonoma-Cutrer red or white wine.
---
---
Instructions
Preheat the oven to 400 degrees.
Heat oil in a large skillet over medium heat.
Add the onion and cook for 5 minutes until softened.
Stir in the garlic and cook for a minute more, then add the beef to the pan.
Cook the beef while breaking up with a spoon until browned, about 10 minutes.
Turn off the heat and let cool slightly.
Pour in the tzatziki sauce and stir to combine.
Place the pita bread on a sheet pan and toast in the oven until slightly browned and crisp, about 5 minutes.
Remove from the oven and let cool on the sheet pan.
Add the beef topping to the pita chips then cover with the mozzarella cheese.
Bake for 15 minutes until the cheese is melted and remove from the oven.
Top with the tomatoes, cucumber and olives.
Serve while warm.
Dan George
Born and raised in New Jersey, Dan started the web site Mantitlement as a way to learn how to cook for the first time from his wife, Christie. Christie has always been the primary cook in the household and Dan got used to having her three-course, restaurant quality meals for dinner every night. Well, it was time he learned how to do some cooking on his own, and that's how Mantitlement got started. Dan believes that everyone is entitled to having great food and drinks at home...and he can show you how to make them with his collection of recipes!