SPONSORED POST: From Dijon Originale mustard to Cornichons, Maille has a rich heritage starting in 1747 that honors tradition. Check out these easy recipes that pack great flavor, thanks to Maille.
Classic, well-made deviled eggs are the perfect bite to bring to any party this season.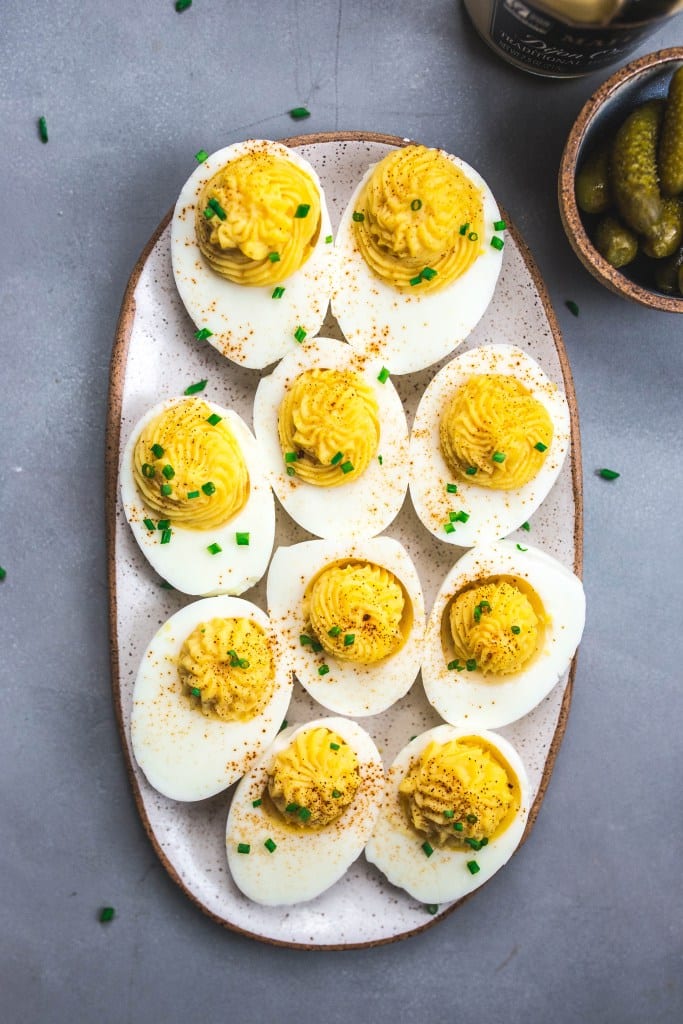 Growing up, deviled eggs were always on my holiday table. My dad used to lead the effort on this front and of course, waking up early to get the eggs boiled and cooled before my mom started up in the kitchen for the day. He'd make the classic, mayo + mustard version but he'd also play with the toppings and mixtures each time for fun! I'm sharing a classic deviled eggs recipe to spark your own creativity and master this simple but delicious favorite featuring a favorite ingredient, Maille Dijon Originale.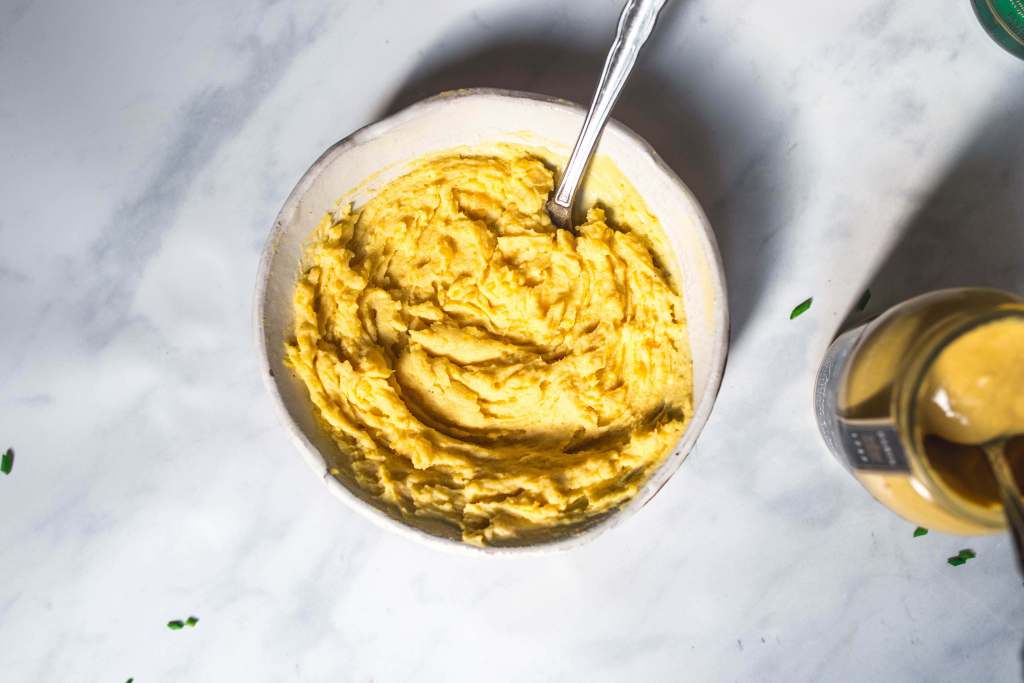 I love the kick from the dijon mustard and the additional sprinkle of red wine vinegar for something a little extra. A simple dash of paprika and chives is a perfect topping or you can get extra fancy and put your own twist on it like adding bacon or pickled onions! My Dad never really piped these with a bag as I do here, he'd spoon in the yolk mixture with two spoons… ala rustic style! But I had to advance things when I started taking them into my own hands. It is MUCH easier and less of a mess! Serve these alone or as part of a larger spread, but no doubt they'll be a crowd pleaser.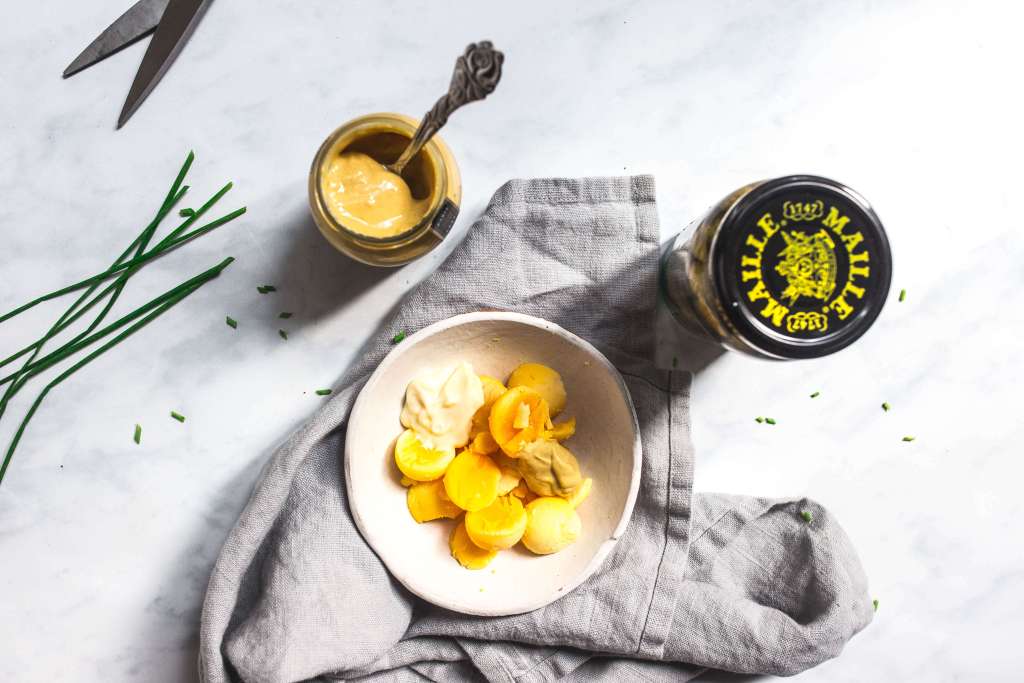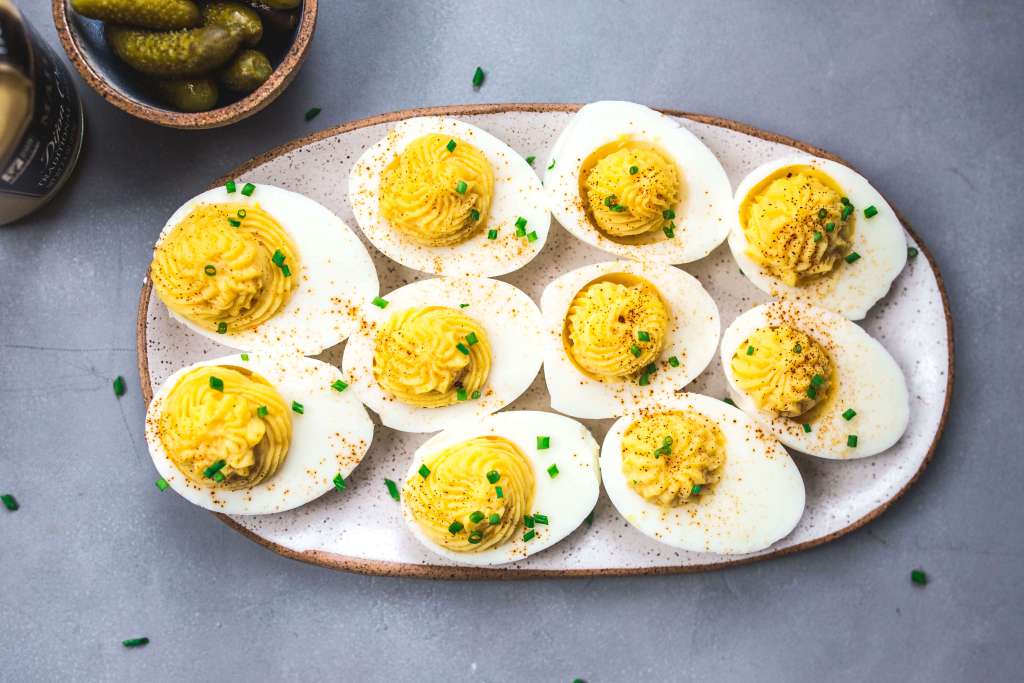 I've always found appetizers to be the icebreakers when guests arrive, everyone's a little disoriented from traveling, probably a bit hungry and bracing themselves to mingle! If everyone is huddled over a delicious tray of deviled eggs… it's going to be a much easier transition in my experience!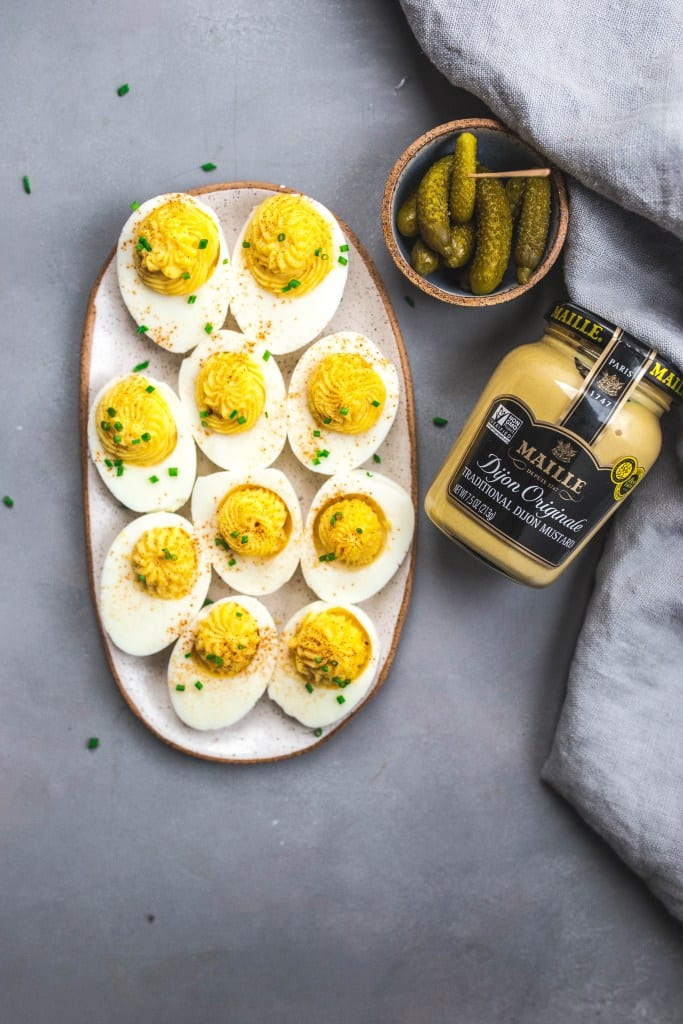 Loving Maille's beautiful packaging… it's easy to leave these bottles on the table and the taste and quality are bar none! I'd recommend no other dijon, it has the best taste.
Happy Holidays from my kitchen to yours!!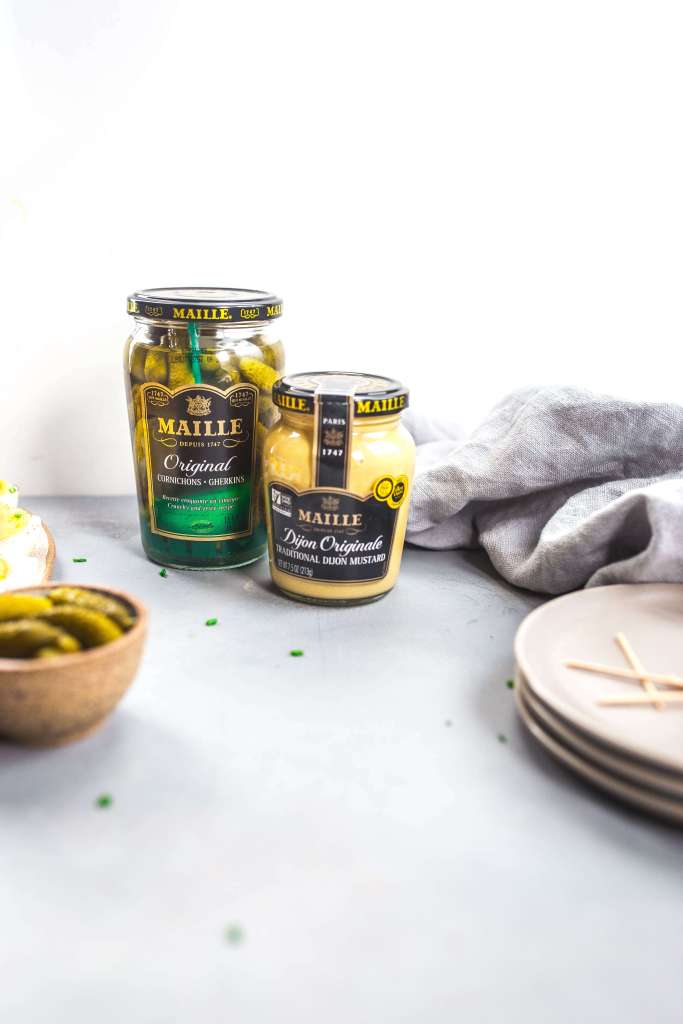 The Perfect Appetizer: Classic Deviled Eggs
Ingredients
6 large fresh pasture-raised eggs
2 tsp Maille Dijon Originale Mustard
Sea salt to taste
1 tsp red wine vinegar
3 Tbsp mayonnaise
Paprika and chives to garnish
Instructions
In a saucepan, cover eggs with water and bring to a boil. Once boiling, cover your pot and turn the stovetop off. Set your time for 5 minutes.
Prep a medium sized mixing bowl with ice and cold water. Once 5 minutes has passed, remove lid and remove the eggs with a slotted spoon and place carefully into the ice bath.
Allow the eggs to cool and check in on them to make sure water stays cold (you can replace water with cold water as needed)
After 10-15 or so minutes, the eggs should be cool enough to handle.
Begin peeling the eggs carefully (or store them in the fridge until you're ready to start).
Cut eggs in half lengthwise, and pop out or scoop the yolk into a bowl, set egg whites aside on a serving dish.
Mix the yolk with mayo, mustard, red wine vinegar, and sea salt with a spoon or fork, ensuring it's all well combined and smooth.
Using a piping bag or plastic bag with a snipped tip, add the mixture to it and pipe it back into the egg whites.
Garnish with paprika and chives.