Penticton, British Columbia – Deep in the Wine Valley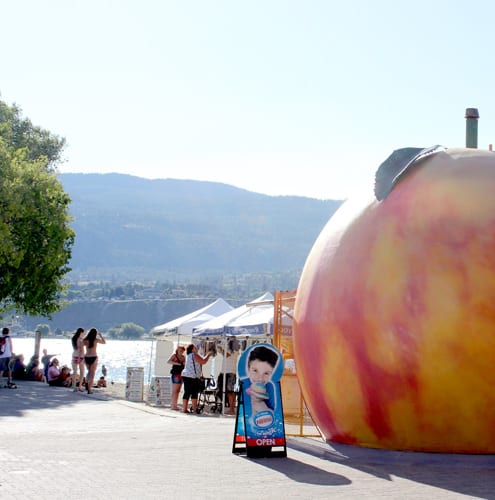 Bowen Close visited Penticton, at the southern end of British Columbia's Okanagan Valley, and witnessed the incredible agricultural and viticultural bounty of the area.
By Bowen Close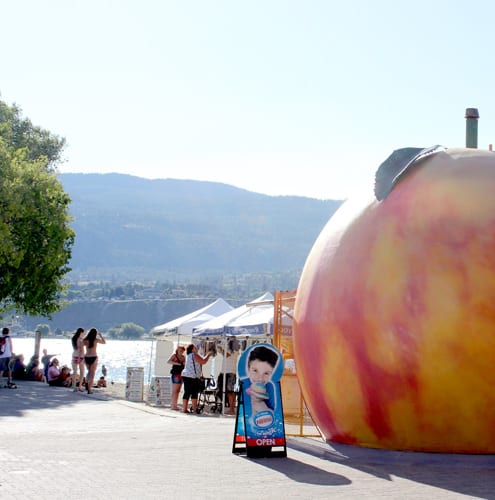 My husband and I recently spent two days and two nights in Penticton, at the southern end of British Columbia's Okanagan Valley, and witnessed the incredible agricultural and viticultural bounty of the area.  Our visit was quick, but it was easy to see the impact of food and wine on this small valley town.
Vancouver had been somewhat cool and rainy, but as we drove east into the Okanagan the thermometer in our car climbed quickly toward 90F and above. Like California's Central Valley, the Okanagan is hot and dry but with soils perfectly suited to agriculture (once irrigated, of course).  Produce stands lined the highways both in and out of town, luring in passersby with large signs advertising fresh summer fruits and vegetables, usually along with an assortment of handmade jams, pies, ice creams, and other ways of making good use of the summer's harvests.
Penticton itself seemed to be a sleepy but picturesque little town, a bit down on its luck in the face of an economic downturn but still energized by tourists and a lively community scene. We happened to be there during the city's annual Peach Festival, five days full of free entertainment, live music, carnival-style rides and food carts, and the crowning of Miss Peach Festival, and we loved seeing the small town in the throws of its biggest annual event. Tourism is a huge draw for the area, from the almost 200 (and growing) wineries within an hour of town to the array of hiking, rock climbing, ziplining, and other outdoor recreation options available. The canal connecting the two lakes that flank the town is a well-known spot for tubing, and we saw many people enjoying a lazy float down the canal (usually with beer in hand, as tubers are wont to do).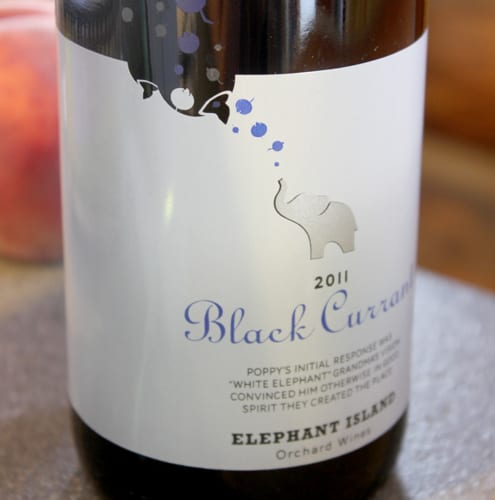 Our first night in town we ate at Burger 55, a local favorite. This quirky burger shack offers up an almost infinite number of burger combinations, leaving it up to the customer to choose the fillings, toppings, sauces, bun, and variety of other options available for their burger. From the conventional – beef and turkey patties, cheddar cheese, barbecue sauce, etc. – to the unique – pork patties, grilled peach slices, Chinese barbecue sauce, and a variety of others – Burger 55 offers more than you could expect, from their tiny storefront and kitchen. Inside the door you're presented with a wall of order sheets, each of which take up an entire 8 1/2×11″ sheet of paper, and it's up to you to create your masterpiece (or check a special box and give the kitchen staff full reign to come up with whatever they like). They offer a variety of sides and beverages as well, and we tried two types of local Okanagan Spring beers with our burgers. It was a great meal – I had a salmon "burger" (a filet) with grilled peaches, and Brett had a classic cheeseburger with Chinese barbecue sauce – but we were shocked at the $30 tab for two burgers and two beers. The beers were fairly pricey, sure, but the cost of the toppings add up quickly. (Important to note, though, is that we've been shocked at prices for almost everything in Canada. So this may be more reasonably priced than we thought, considering the area.)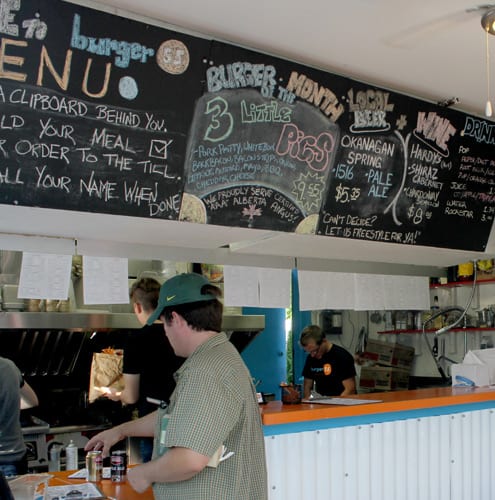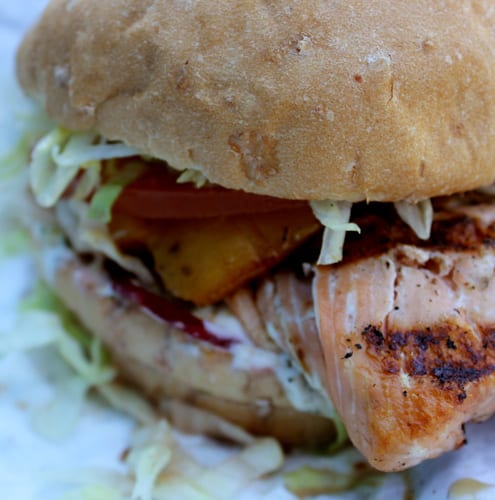 The next day we headed north to the Naramata Bench area to try out some of the Okanagan's famous wineries – but before we did we stopped at Il Vecchio, a small Italian deli downtown that we picked out from its great reviews online. Its exterior was unassuming, but inside it was packed with specialty European pantry items and a featured a deli counter well-stocked with meats and cheeses. Three sandwich options are offered – 2 meats/1 cheese, 4 meats/1 cheese, and 3 cheese – and each has the option of hot or sweet mustard, mayonnaise, marinated artichoke hearts, storemade pickles, sun dried tomatoes, and lettuce and tomato. The three options range from about $4-7, and the sandwiches we got to take with us wine tasting were so delicious that we went back the next day for a lunch to take on the road.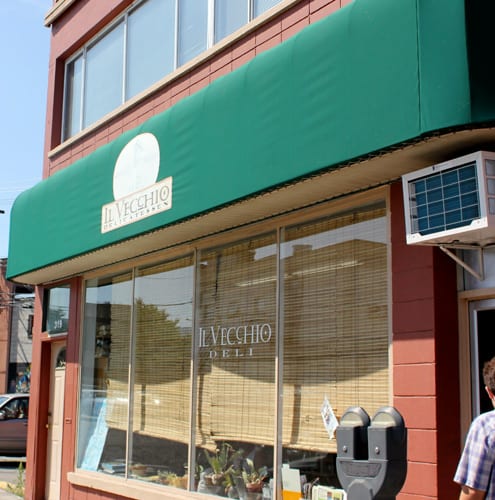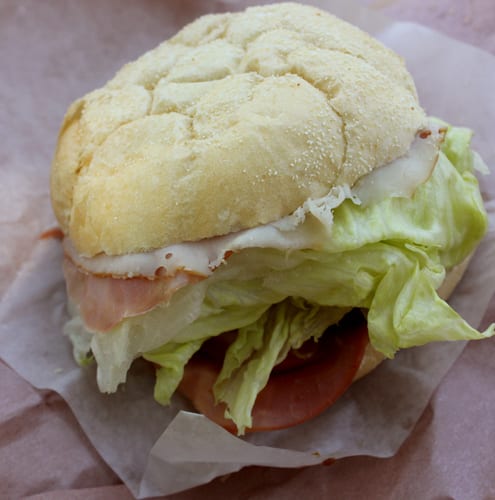 We tasted at four spots in Naramata – La Frenz, Ruby Blues, Poplar Grove, and Elephant Island. The first two offered traditional whites and reds and a few fortified dessert wines, and Elephant Island offered a huge variety of unique non-grape wines, including blackberry, black currant, raspberry, crab apple, and others. La Frenz was the only tasting we had to pay for and included only four wines, but that's reasonable considering their wines were featured at the official dinner the last time Queen Elizabeth was in Vancouver. We particularly liked their rose and decided to leave with a bottle. Ruby Blues was a quirky site with a great riesling and tasty blends, and the winemaker herself served us tastes and talked about the wine. Poplar Grove is actually a cheesemaker, but provided tastes from another local winery along with their cheese offerings. Through a large window in the tasting area we witnessed the cheesemaking process in action, and I could vaguely recognize what they were doing from the times I've made cheese at home. At Elephant Island we enjoyed their beautiful outdoor tasting patio, set deep within their cherry orchard, while they served us a huge variety of their fruit wines, including a sparkling white flavored with a bit of their black currant wine (like a delicious kir royale in a bottle), a selection of dinner wines, and a selection of dessert wines. We liked Elephant Island the best of all, and it was a struggle to pick just one bottle to bring home with us (we ended up with a bottle of the blackberry dinner wine).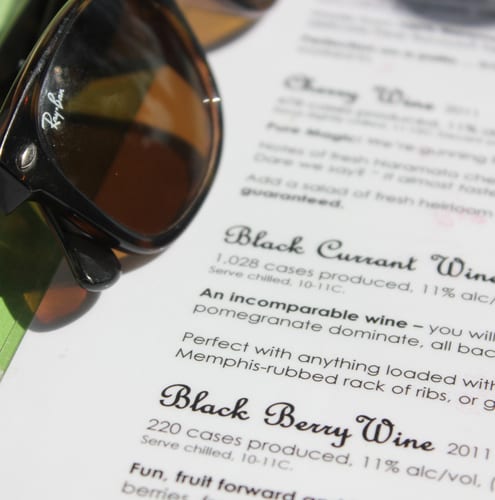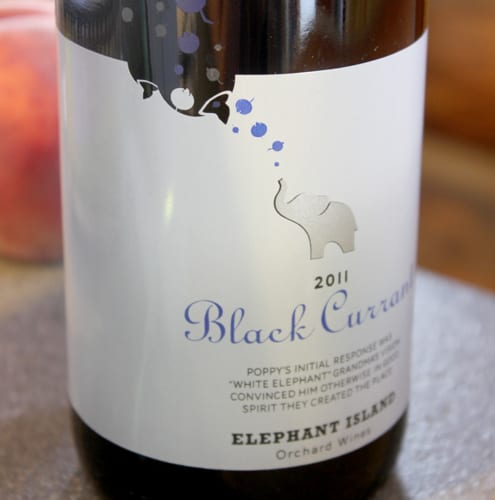 We balanced the eating and drinking we enjoyed with a strenuous hike up into the Skaha Bluffs (a well-known rock climbing area), two short trips to the beaches in town, and two evenings enjoying the free music and entertainment at Peach Festival, which meant for two fully-packed days on our way to a week of camping in the rockies.  Unfortunately we didn't have time to explore many more of the restaurants and wineries in the area, but we easily could have spent an entire week enjoying the bounty of the valley.  This is definitely on the list for a repeat visit.
Bowen Close
Bowen Close believes that food should make people happy and healthy, and loves bringing together people with creative, delicious food made from the heart. She loves making farm-inspired, flavorful dishes with sustainable ingredients - whether that's a big plate of roasted veggies, a towering chocolate layer cake, or a cocktail utilizing backyard ingredients - and collects recipes and other food-related stories on her website, Bowen Appétit. She is a chef, cooking instructor, and food writer living in Southern California with her husband and fully stocked pantry.