Penne with Zucchini, Pancetta and Ricotta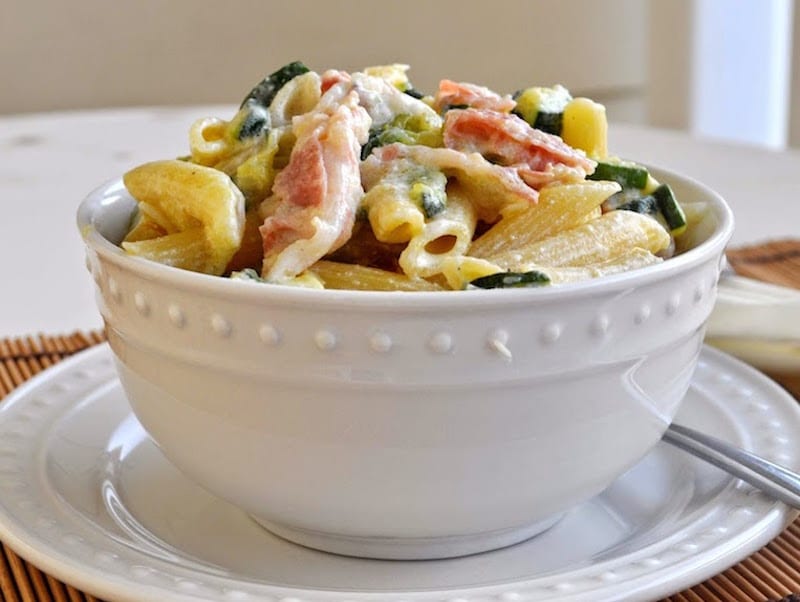 Combining fresh vegetables, creamy cheese and crisp pancetta, Penne with Zucchini, Pancetta and Ricotta is a quick, simple and flavorful dish.
Here is another recipe great for a family dinner on a busy weeknight. It's the perfect one-dish dinner, ready in less than 30 minutes. Creamy and rich penne pasta with wholesome zucchini, flavorful pancetta and delicate ricotta cheese.
This pasta is super easy to prepare. It won't take you more than 30 minutes from start to finish. And it makes a healthy, complete and balanced one-dish meal. It has a full serving of vegetables, carbs from the pasta, proteins from the ricotta and Parmesan cheese and … oh well, the pancetta. Not as healthy as the rest, but it's sinfully delicious taste makes this dish incredibly flavorful.
Buon appetito!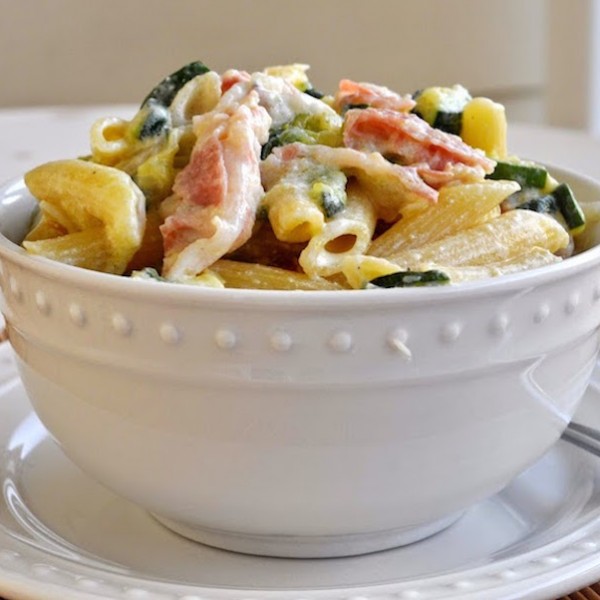 Manuela Mazzocco
Ingredients
half onion

4

medium zucchini

8

oz

225 gr whole milk ricotta

3

tablespoons

of Parmesan cheese

3

oz

85 gr of pancetta (or thin sliced bacon)

12

oz

225 gr of penne pasta (or other shape)

extra virgin olive oil

salt and pepper
Instructions
Bring a large pot of salted water to a boil, and cook the penne pasta when boiling following the directions on the box.

In a large skillet, saute' the chopped onion in a few tablespoons of olive oil, over medium heat.

Add the zucchini cut in small pieces. Saute' over medium-high flame for 7-10 minutes. Season with salt.

Add the pancetta cut in strips and saute' for a couple of more minutes.

In a bowl prepare the ricotta by mixing it with a pinch of salt, a sprinkle of pepper, the Parmesan cheese and about a 1/4 cup of hot water from the pot where the pasta is cooking. Mix and make it creamy.

Drain the pasta and toss it in the skillet with the zucchini and the ricotta. Serve immediately.
Manuela Mazzocco
Born and raised in Venice, Italy, Manuela now lives with her husband and two children in Los Angeles, California. In her blog, Cooking with Manuela, she strives to share her passion for Italian food. As a mom of two young boys, most of her dinner preparations are done while checking homework, quizzing for science tests, and looking for Lego pieces. Her step-by-step recipes help readers create delicious food while on a busy schedule. There is nothing as special as ending your day with your family or friends sharing a good conversation and a tasty homemade meal.