New Family Favorite: Pasta with Asian Bolognese Sauce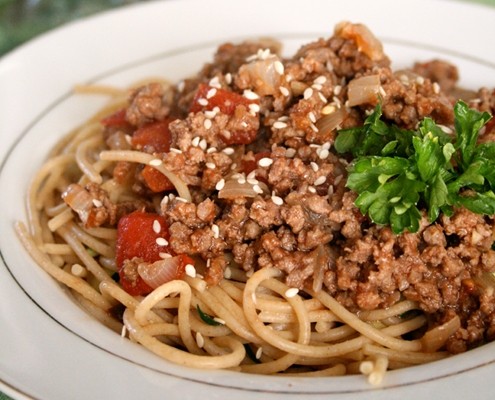 This pasta sauce with a slight Eastern twist has quickly become a favorite in the Evans family.
By Brady Evans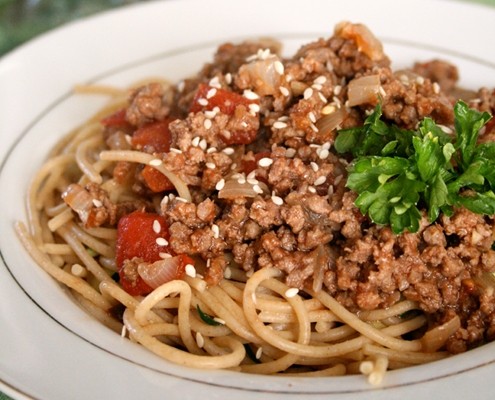 I really did not expect this meal to be as delicious as it actually was.  The blog from which I plucked the recipe had zero credit with me – meaning I'd never read it before nor did I know anyone who ever read it.
And in addition to the blog have little more credit beyond its ability to make it onto FoodGawker or TasteSpotting or whichever site led me there, the recipe itself sounded a little oddball. Asian Bolognese.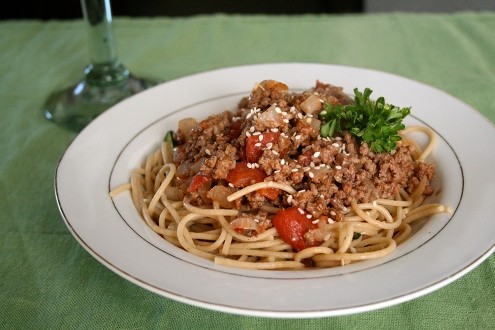 I am not sure the Asian feel is very prominent, but it certainly isn't an Italian dish either.  But, even if there are no adjectives to describe the ethnic origin of this pasta, one thing is certain: it is a family favorite!
Pasta with Asian Bolognese Sauce
A meat sauce for pasta with an Eastern twist
Author:
adapted from Food o Del Mundo
Ingredients
1 pound (450 gm) ground turkey (extra lean)
4 cloves garlic, minced
1 onion, diced
1 Tbsp Minced Ginger
2 tsp Sesame Oil
3 Tbsp Soy Sauce
2 Tbsp rice wine vinegar
1¼ cup (300 mL) crushed tomatoes
1 T Sriracha sauce
sesame seeds for garnish
Instructions
Combine ground turkey, onion, minced garlic, ginger, sesame oil, soy sauce, and rice vinegar in a large bowl. Mix thoroughly with your hands.
Preheat a large skillet stovetop and spray with nonstick cooking spray.
Add ground meat mixture and cook, crumbling large pieces of meat with your spatula as the meat cooks.
Add crushed tomatoes and hot sauce and simmer 10 minutes.
Serve as desired, garnishing with sesame seeds and scallions, if desired.
Brady Evans
Brady Evans is a cook who specializes in stretching cooking boundaries towards a more healthy lifestyle. She loves making recipes with unexpected ingredients and share her passion for cooking through her very successful and mostly-vegetarian blog, Branny Boils Over.