Pasta and Zucchini Noodles with Squash Blossoms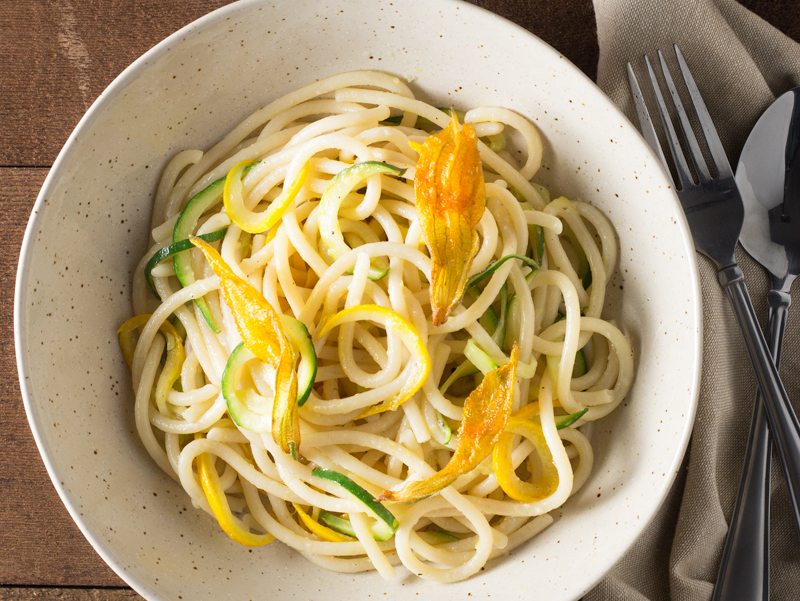 Grab your squash blossoms and make a stunning bowl of this pasta loaded with noodles and zucchini noodles topped with crispy blossoms.
I couldn't pass up on that summer zucchini or beautiful squash blossoms, so I made some pasta. Pasta and zucchini noodles.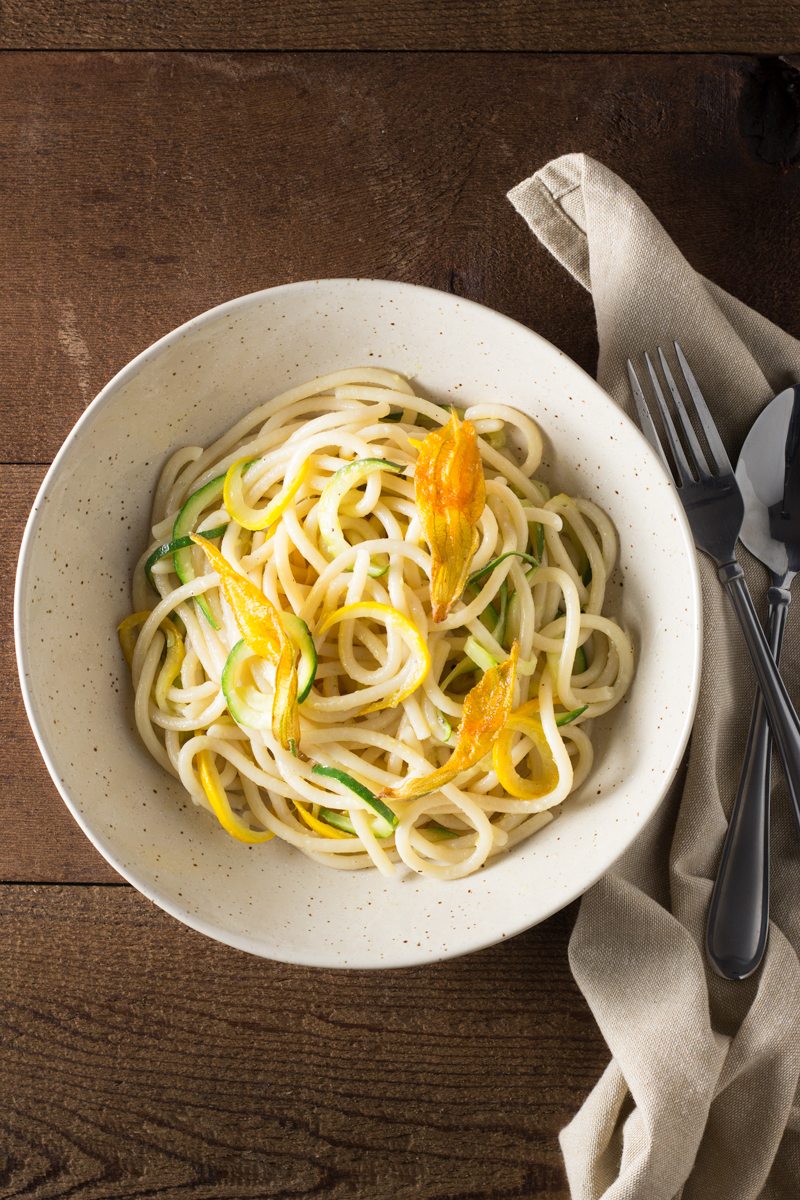 I'll be honest, I don't love the idea of eating zucchini noodles instead of pasta. I do, however, love each of them both separately or combined, as they are in this dish. I found the perfect pasta to match my favorite zucchini noodle shape. It's called pici. It's like extra thick, chewy spaghetti and I love it. It might be a little tough to find though, so of course feel free to substitute it with regular or thick spaghetti.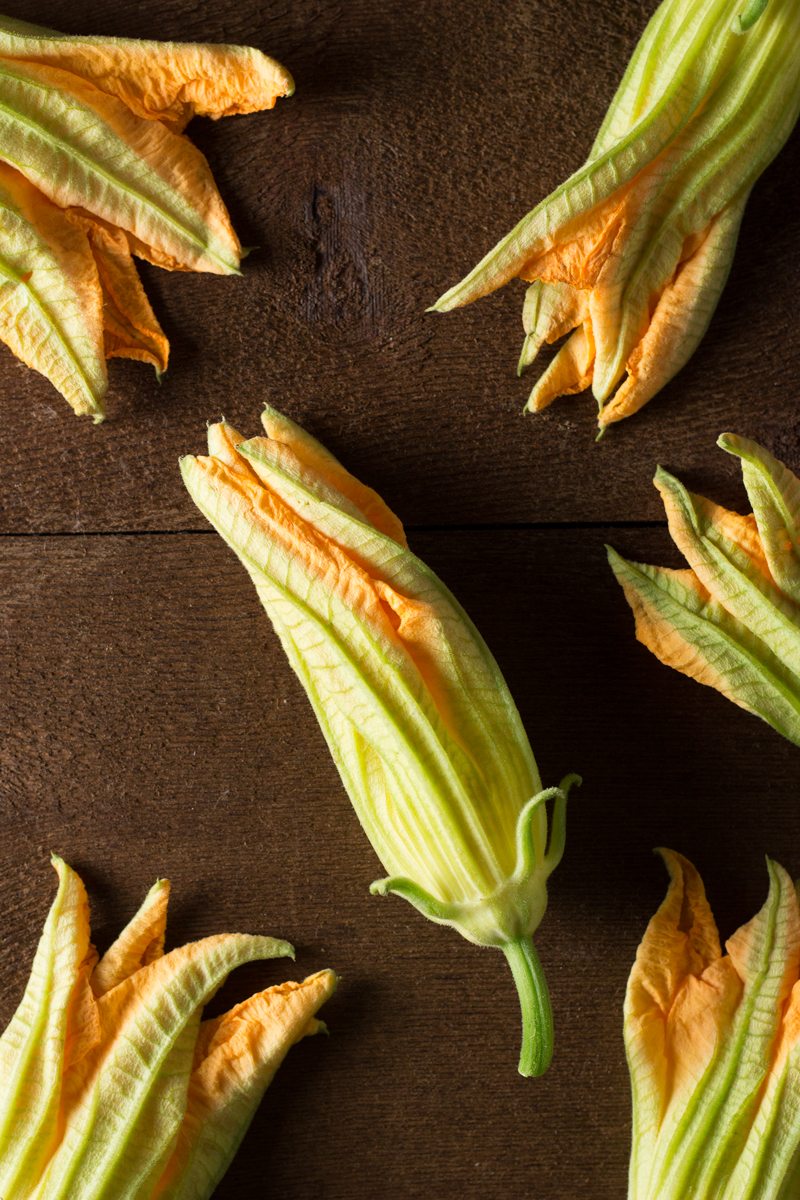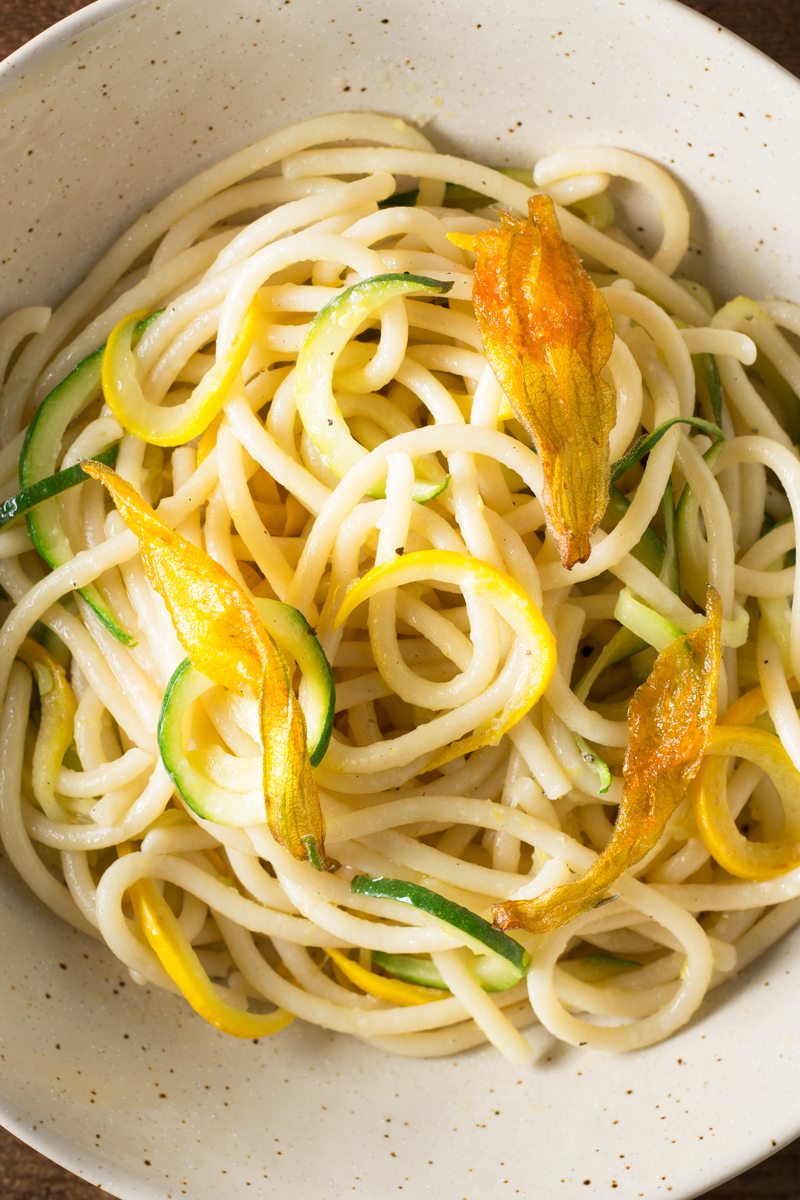 See Also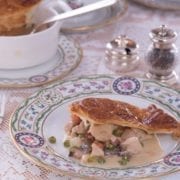 Now lets talk about those squash blossoms. Typically I see them stuffed with ricotta, battered and fried, which is amazing, but I decided to do something different with these beauties. I sliced them into individual petals and deep fried them, no batter or anything. What could be wrong with that? The squash blossoms take on this beautiful curvy shape and add a salty, crisp bite to the top of the pasta. They are so good, you'll want to make a few extra to snack on.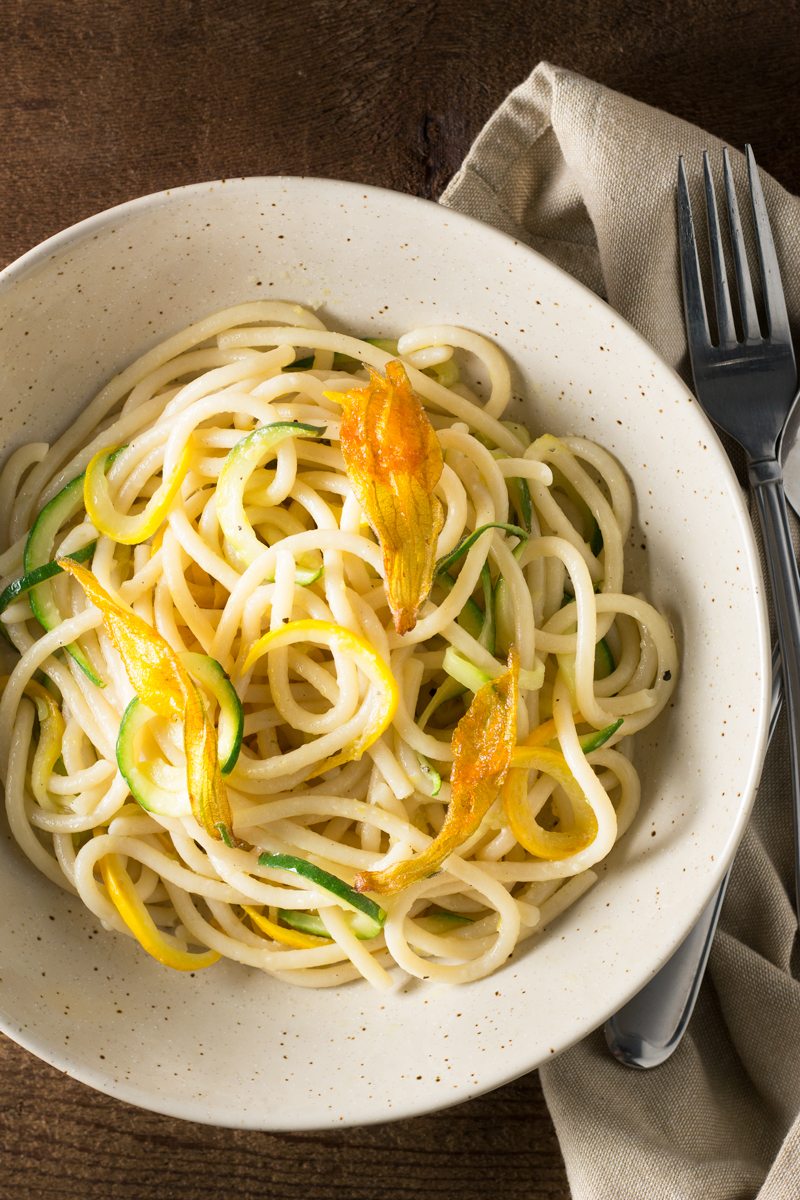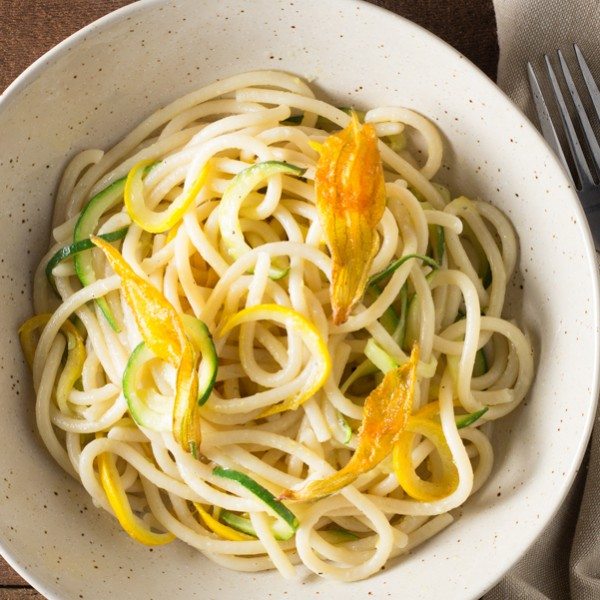 Pasta & Zucchini Noodles with Fried Squash Blossom Petals
Ingredients
4

squash blossoms

2 is sufficient for the pasta, but you'll want extra for snacking

4

oz

pici pasta or thick spaghetti

½

medium zucchini

spiralized the size of the pasta

½

medium golden zucchini

spiralized the size of the pasta

3

tbsp

extra virgin olive oil

2

tbsp

freshly grated parmigiano reggiano cheese

omit if vegan

Zest of half a lemon

2

tsp

lemon juice

Kosher salt and fresh cracked black pepper
Instructions
Bring a large pot of water to a boil. Season generously with salt. It should taste like the sea.

As water is warming, heat 1-2 inches of light olive oil or vegetable oil in a small sauce pot to approximately 350°F. Line a large plate with paper towels.

Make a slit down the side of the squash blossoms to open them up. Remove the center (stima/style/ovary area) and discard. Remove and discard the stem. Cut into individual (5-6) petals.

Add a few petals to the hot oil and fry for about 1 minute total, flipping occasionally. When crisp, transfer to paper towel-lined plate and season with salt. Fry in batches.

Add pasta to boiling salted water. Cook, stirring occasionally, until al dente. Drain.

After the pasta starts cooking, warm a large, nonstick pan over medium heat. Add oil, followed by the zucchini. Cook, tossing occasionally, until tender with a slight bite, about 2-3 minutes. Add a couple tablespoons of pasta cooking water as the zucchini cooks to help them steam. Season with salt and pepper.

Add the drained pasta to the zucchini. Toss to combine. Stir in parmigiano, lemon zest and lemon juice. Taste for seasoning.

Serve pasta topped with the fried squash blossoms. Enjoy.
Sabrina Russo
My Three Seasons represents the 3 key factors that are most important to me in cooking. #1 Seasonal ingredients #2 Proper Seasoning (don't skimp on that salt!) #3 Cooking like a Seasoned chef (technique is everything). My name's Sabrina. I live in NYC. I'm a registered dietitian with professional cooking and food styling experience. Come cook with me.