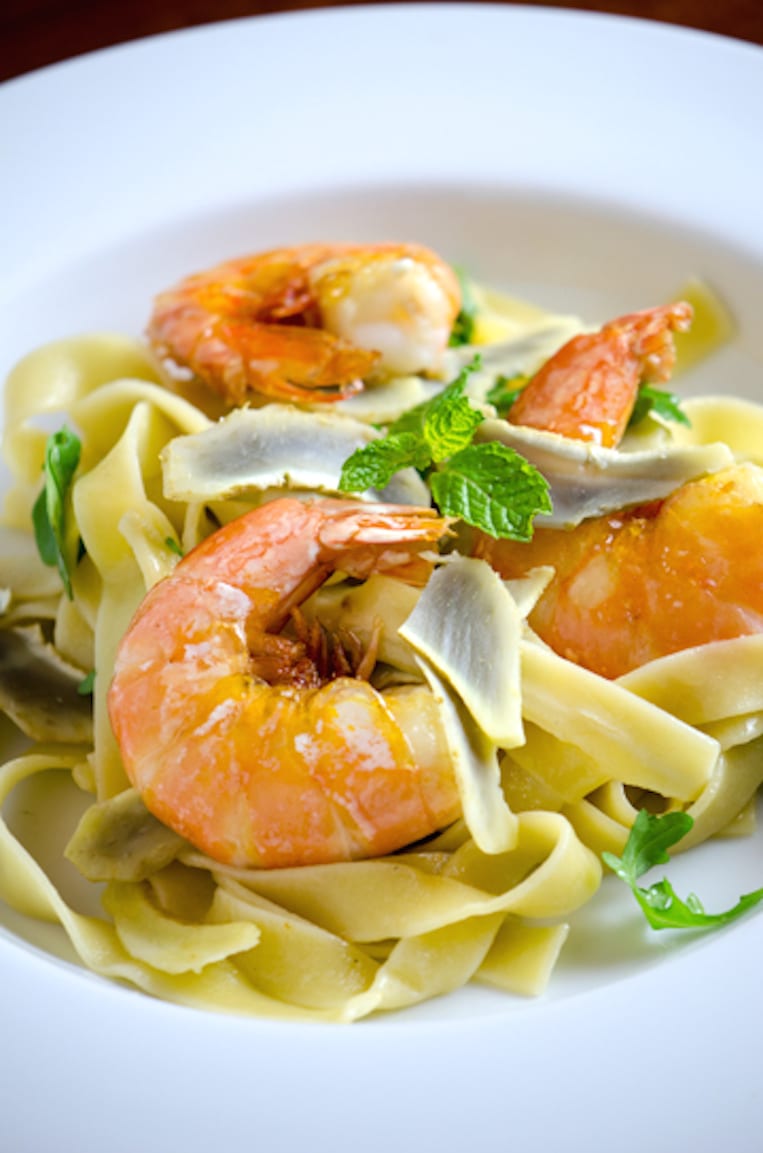 Sant'Erasmo is the northernmost area producing artichokes in Italy. Farmers in southern regions like Lazio and Sicily harvest artichokes twice a year, but the intrepid Venetians produce artichokes year round after the initial harvest, protecting the plants from winter weather with mounds of earth. In a single season, a plant can produce up to 25 artichokes.
Sant'Erasmo has only 850 or so inhabitants, 60 of whom are farmers, and supplies the Rialto market with many fresh vegetables, including eggplant, zucchini and tomatoes. But the island is most recognized for artichokes, particularly the carciofi violetti, or violet artichokes. These are a local delicacy. The first buds to appear in the spring are the most prized of all. This first bud, called the castraure (from castrare, to castrate or cut), is carefully removed with a special knife, to allow the buds beneath it to grow into larger carciofi violettii.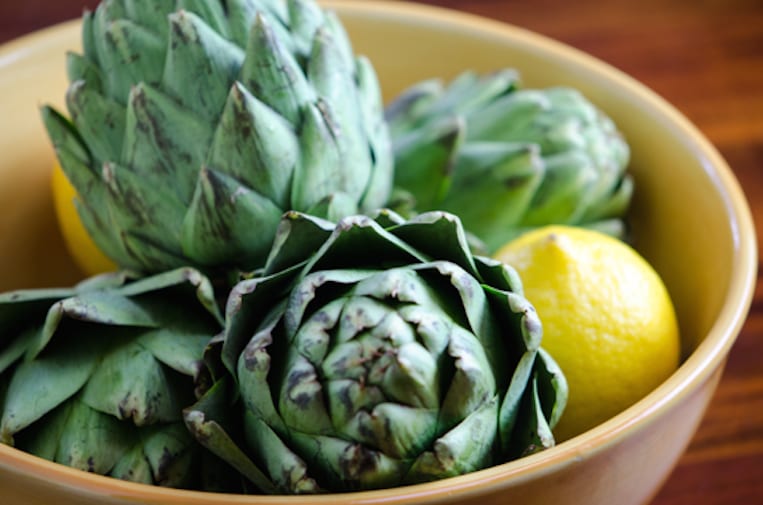 It is a springtime ritual in Venice to prepare the castraure, and many local restaurants feature them on their menu. Their delicate nature means they are best enjoyed raw, sliced or cut into eighths and enjoyed with olive oil and shaved grana cheese.
Here in the US, I cannot find artichokes that even resemble the wonderful castraure, but I've adapted a recipe from the now-defunct La Cucina Italiana magazine from an article on this delicacy. I've used globe artichokes that must be cooked to replace the young carciofini. A wonderful dinner, but I'm looking forward to creating this in Venice with the real thing!
Print

---
Author:

Kathy Bechtel

Yield:

4

servings

1

x
4

trimmed (raw artichoke hearts, soaking in 1 1/2 cups acidulated water)

3/4 cup

white wine

2

cloves garlic (smashed)
Sprig of mint

1

pound pappardelle pasta

1 tablespoon

extra virgin olive oil (plus more for drizzling)

12

–

16

large shrimp (preferable head-on)

2

large handfuls fresh baby arugula
kosher salt and freshly ground pepper
---
Instructions
Place the 4 raw artichoke hearts and the acidulated water into a large saute pan. Add the white wine, garlic cloves, and mint. Bring to a boil, then reduce the heat and simmer until the hearts are tender enough to be pierced with a skewer, about 20-25 minutes. If your hearts are quite different in size, they may not all be done at the same time. As they finish cooking, remove the hearts and set aside. When all have been removed, use a slotted spoon to extract the garlic cloves and herbs from the cooking liquid. Increase the heat, and reduce the liquid to a glaze, 1 to 2 tablespoons.
Thinly slice the artichoke hearts.
Bring a large pot of water for the pasta to boil over high heat.
Place the tablespoon of olive oil in a large saute pan and heat over medium high heat. Add the shrimp and cook until just cooked through – the time will depend upon the size of the shrimp, but be careful not to overcook.
Add the reserved artichoke cooking liquid, the arugula, and the sliced artichokes. Cook until the arugula has wilted and the sauce is warm. Season with salt and pepper and drizzle in some more olive oil, and keep just warm while the pasta cooks.
When the pasta water is boiling, add salt, return to a boil, and then add the pasta. Cook until al dente. Remove and drain, reserving 1 cup of pasta cooking water. Add the drained pasta to the sauce in the saute pan, stirring to combine. If the sauce seems a bit thick, you can use a little of the reserved pasta cooking water to loosen it up a bit, but this may not be necessary.
Serve in four bowls, distributing the shrimp on top of each.
Kathy Bechtel
Kathy Bechtel's obsession with food and cooking began as a teenager. After years following a traditional career path as a telecommunications engineer, she left to attend culinary school and wine training, and is now combining her passions for food and wine, the outdoors, and travel as owner and Culinary Tour Director of Italiaoutdoors. In this role, Kathy leads small bicycle, skiing and walking tours that explore the authentic regional cuisines, local products and undiscovered wines of Northeastern Italy.