Three Brazilian cities will host Outstanding in the Field events in March.
By Suzie Castello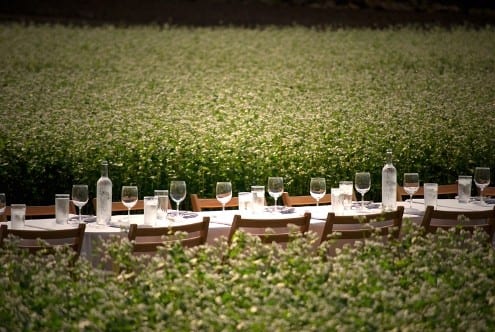 Three Brazilian cities will host Outstanding in the Field events in March.  Artist Jim Denevan and his group will bring the open-air dining events to unique locations in São Paulo, Florianopolis and Porto Alegre.
Outstanding in the Field is a roving culinary adventure – literally a restaurant without walls.  Since 1999, Denevan and his group have held events in such unusual places as farms, urban gardens, mountain tops and deserted islands.  Their mission is to re-connect diners to the land and the origins of their food, and to honor the local farmers and food artisans who cultivate it.
In São Paulo, the event will be hosted by Pedro Paulo Diniz of the Pão de Açucar Group at the organic farm Fazenda da Toca in Itirapina and feature chef Helena Rizzo of Restaurante Mani.  The event then moves to the historic Fortaleza de St. Cruz de Anhatomirim in Florianopolis, and will feature Chef Vitor Gomes.  Finally the event moves to the Miolo Vineyards in Vale dos Vinhedos, just outside Porto Alegre, and will feature chef Carlos Kristensen do Hashi Art Cuisine.
For more information about Outstanding in the Field tour of Brazil visit their website outstandinginthefield.com and oitf.com.br.

Suzie Castello
Suzie Castello is an American writer living and raising a family in a small town in the mountains just outside Rio de Janeiro. She writes about finding ways to cook, with the regional ingredients, dishes that tell her life story, from childhood in the States to travels abroad, and anything new discovered along the way. She is also the Editor of Da Minha Cozinha, a Portuguese-language blog about honest home-cooking.