Sponsored Post: We're celebrating Vinho Verde wines this season. These Portuguese bottles are vibrant and affordable. It's the perfect wine for all your gatherings.
Start Turkey Day festivities with an eclectic Thanksgiving Cheese Board. This seasonally-driven cheese board pairs beautifully with Vinho Verde wines, especially the white wine, Alvarinho Deu La Deu. Light and bright Alvarinho Deu La Deu is the perfect wine to open to begin a holiday gathering. Serve with a homemade Orange Cranberry Compote.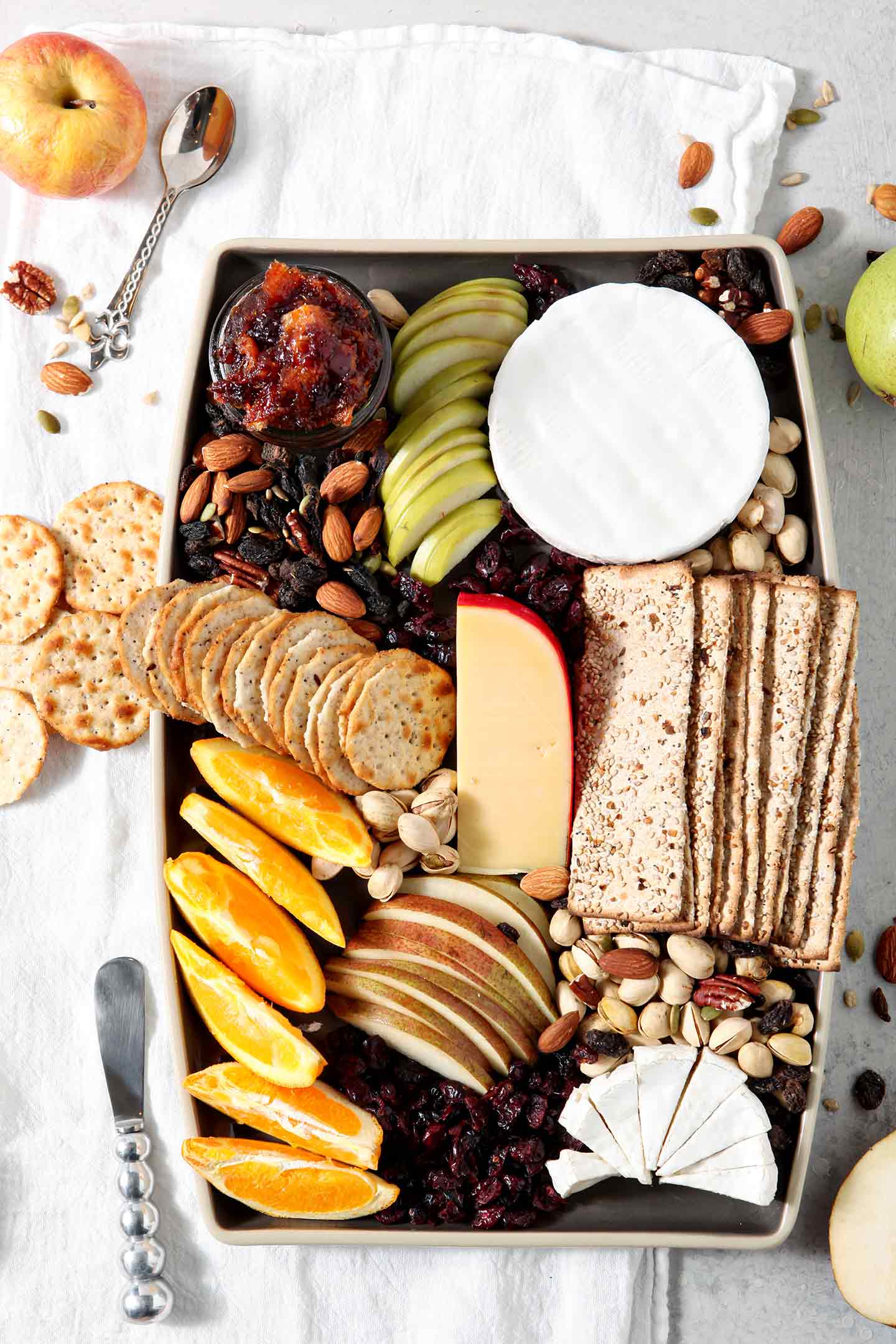 I have a confession for y'all this morning: I'd never made a cheese board until a few months ago.
Honestly, it's not because I couldn't do it.
No, this was out of pure laziness and lack of inspiration to actually make it happen.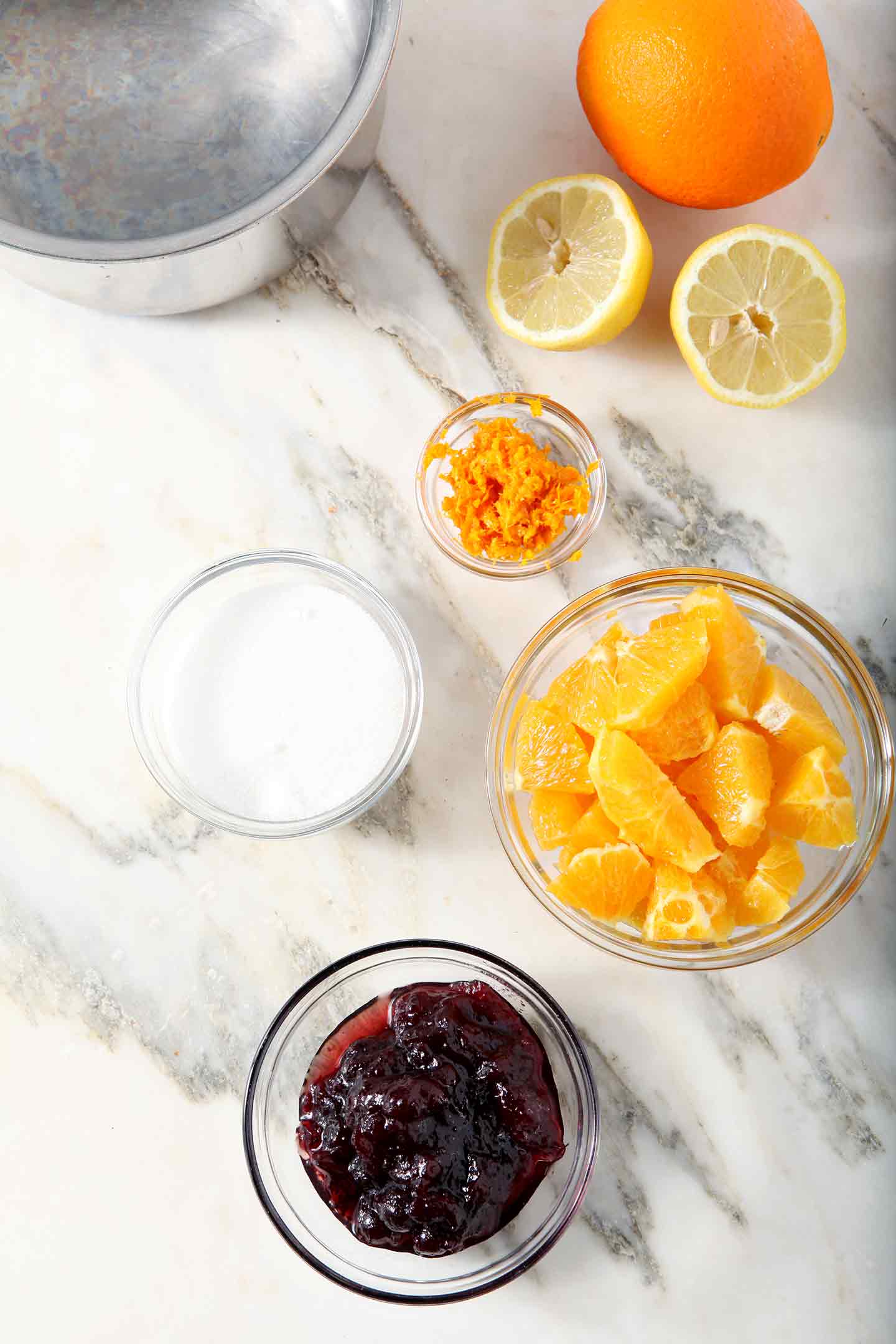 Well, my inspiration fired up when I learned I was going to collaborate with the folks from Vinho Verde this month! They wanted me to create a Thanksgiving-centric recipe to pair with one of their wines.
Challenge accepted.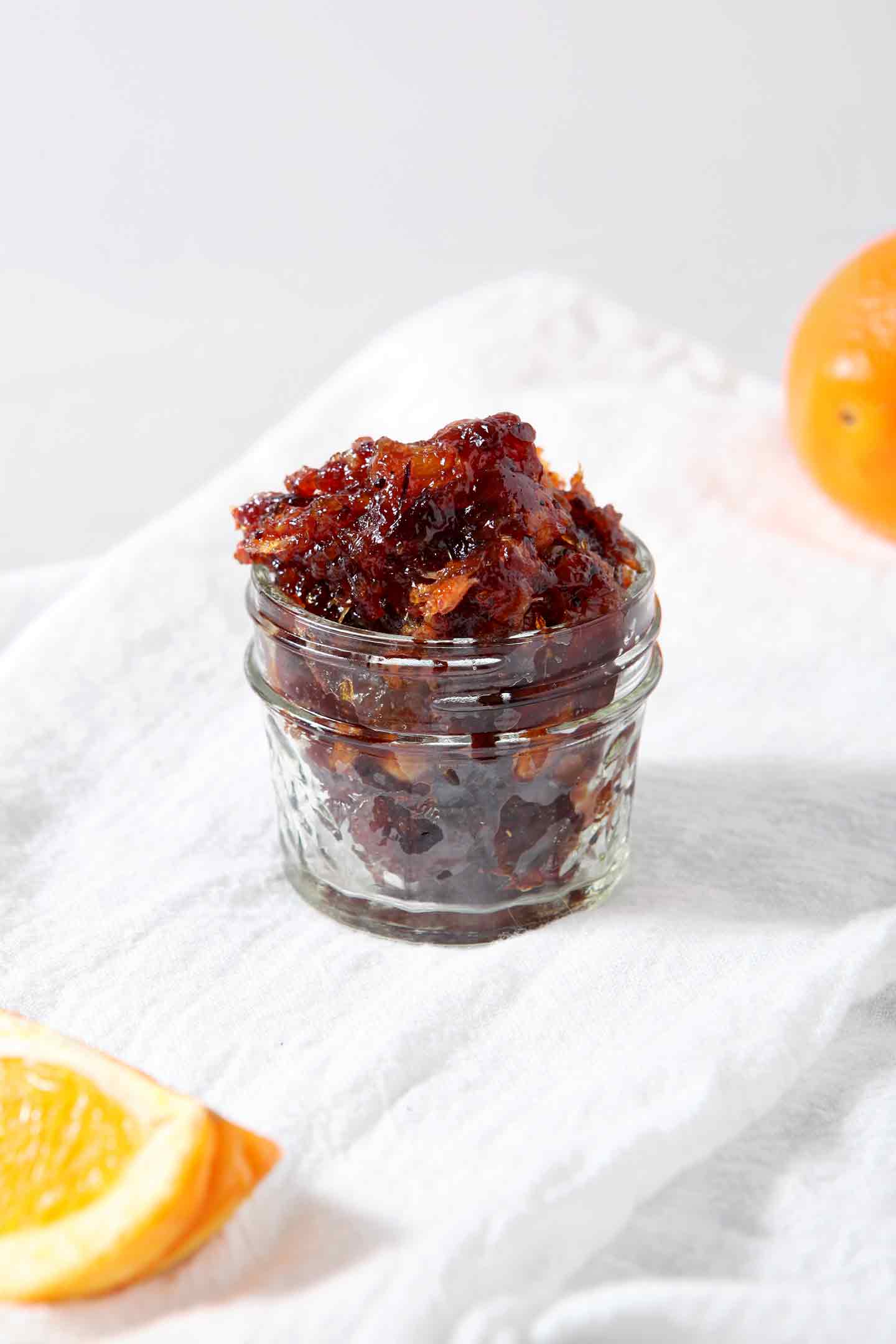 So I decided to make a Thanksgiving cheese board, complete with Orange Cranberry Compote. It works nicely on the cheeses and crackers, as well as pairs superbly with Vinho Verde white wine.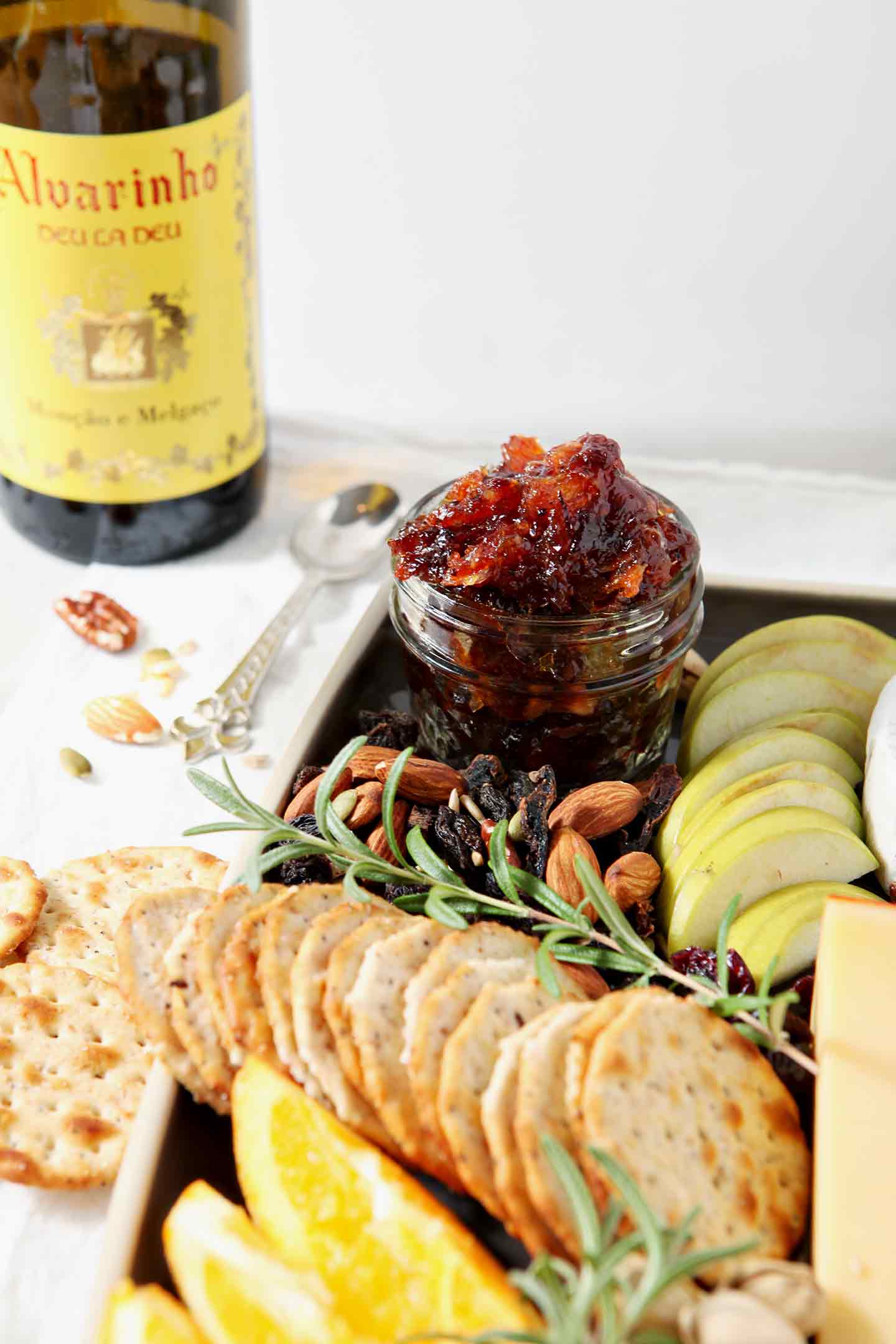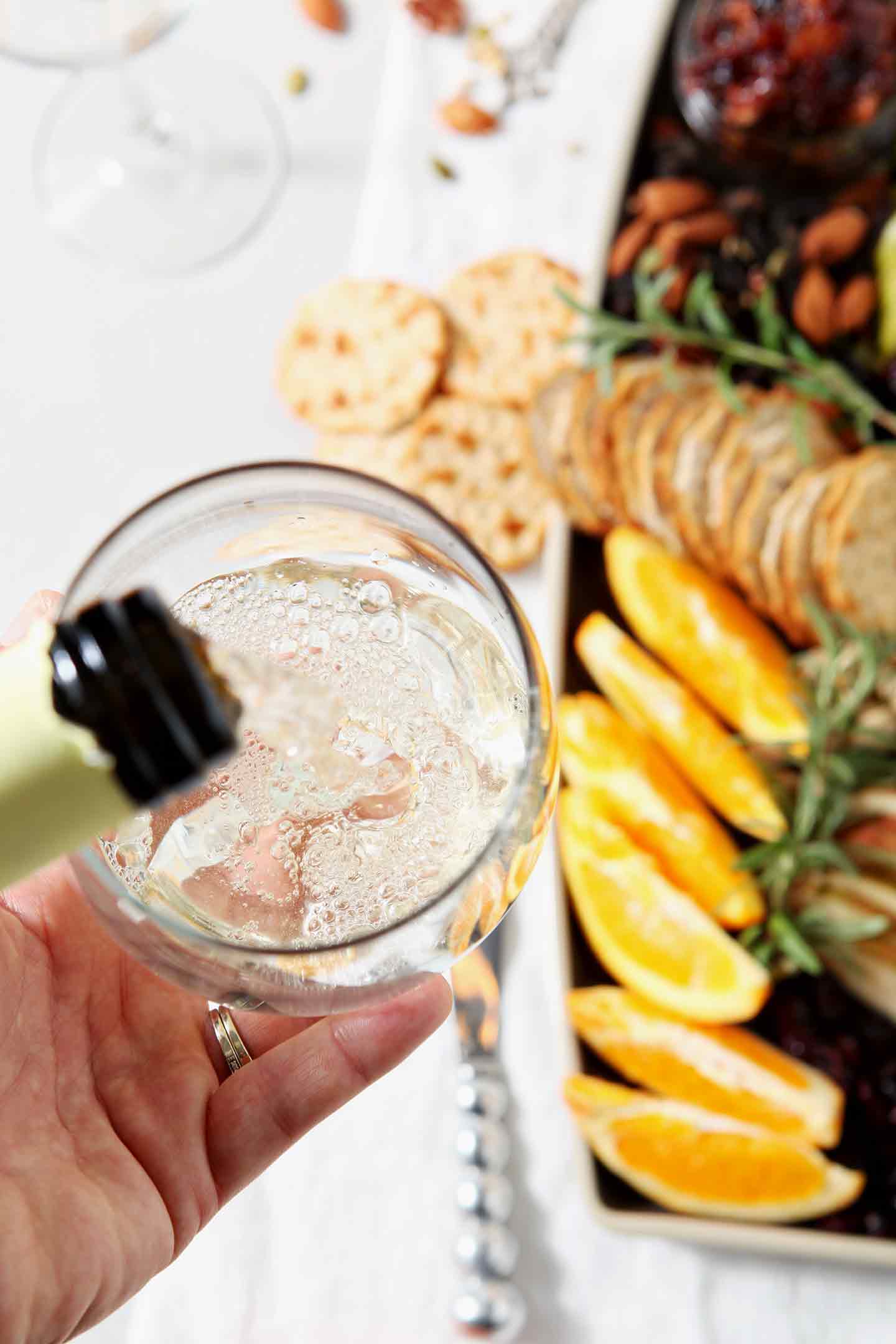 Did you know that Vinho Verde is the largest wine region in Portugal? I did not. The climate is similar to that of the Pacific Northwest… and obviously, the grapes love it.
I also didn't know the following fun facts, which I think you should know, too:
19,000 grape growers farm more than 51,000 acres of vineyard.
Every year, bottlers in the region produce 93 million liters of wine.
86% of the wine is white, but the region also produces red, rosé and sparkling wines, too.
A combination of local varietals can be classified as Vinho Verde wines, which include 47 different grapes. The wine they sent me to pair with this cheese board is a single varietal, Alvarinho.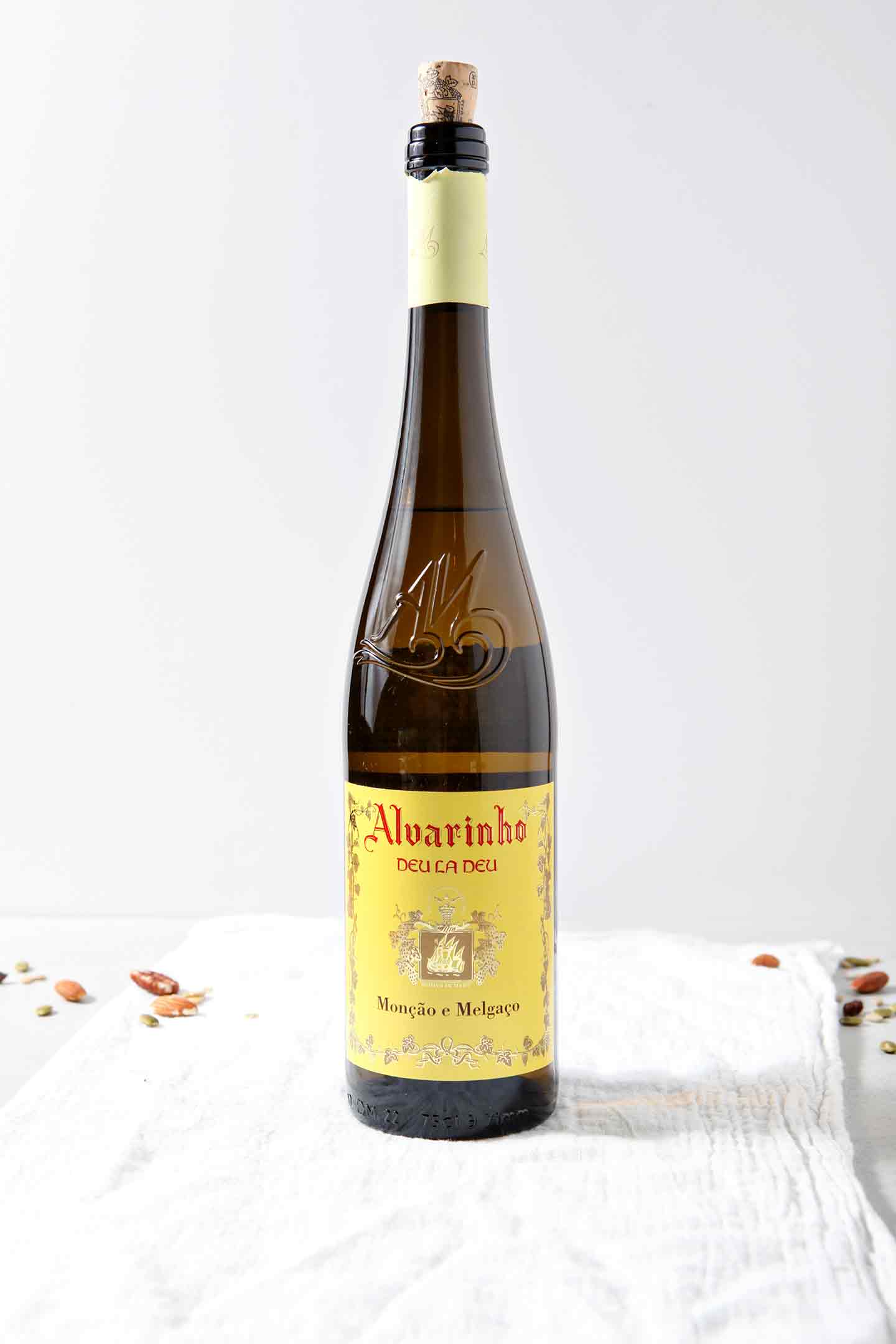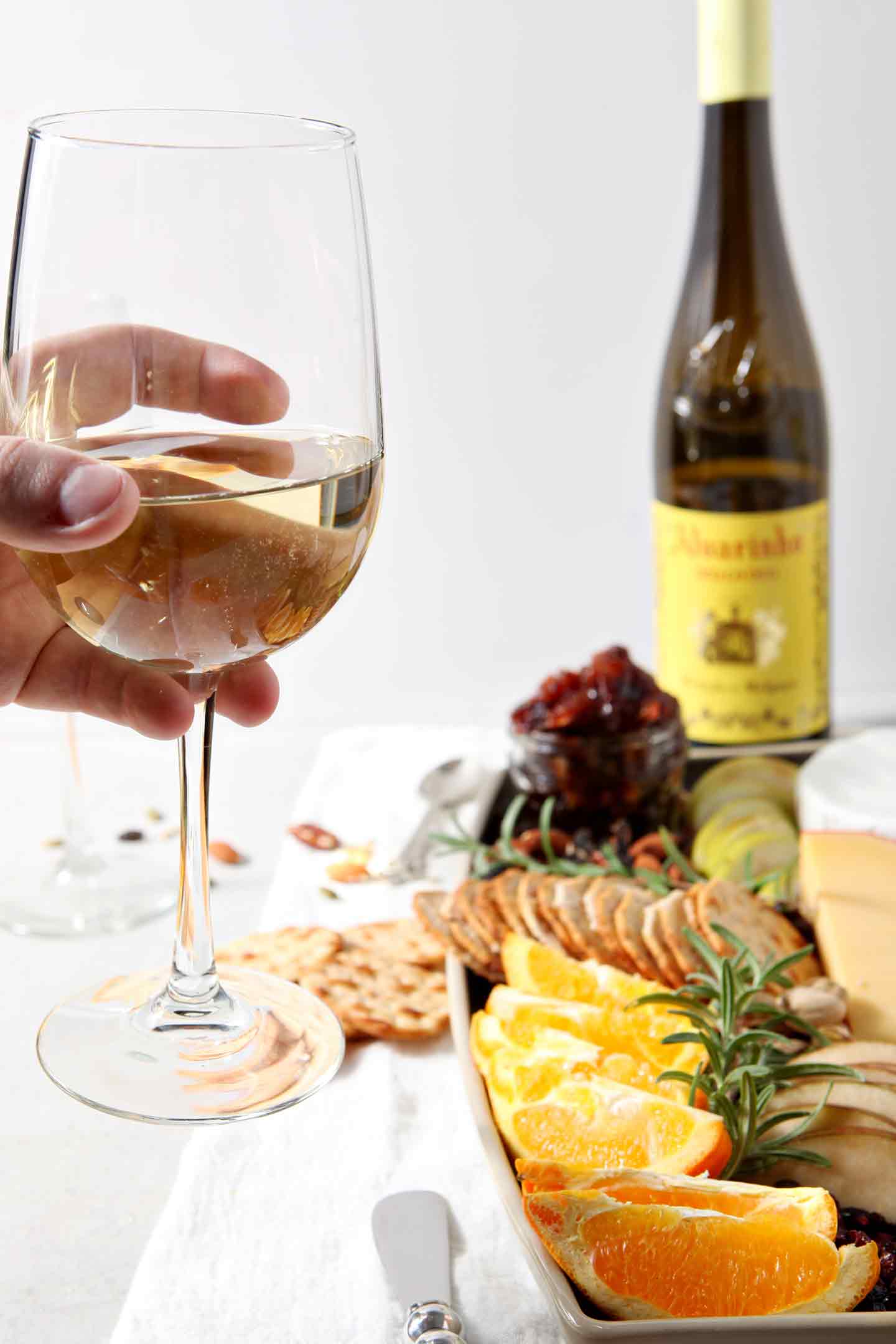 Vinho Verde wines are usually young. They are released 3-6 months after the grape's harvest. This makes them different than a lot of wines, which require more time in the bottle.
Oh, they're also DELICIOUS, affordable and perfect for pairing, whether it's the summer, fall or wintertime!
Nice, huh?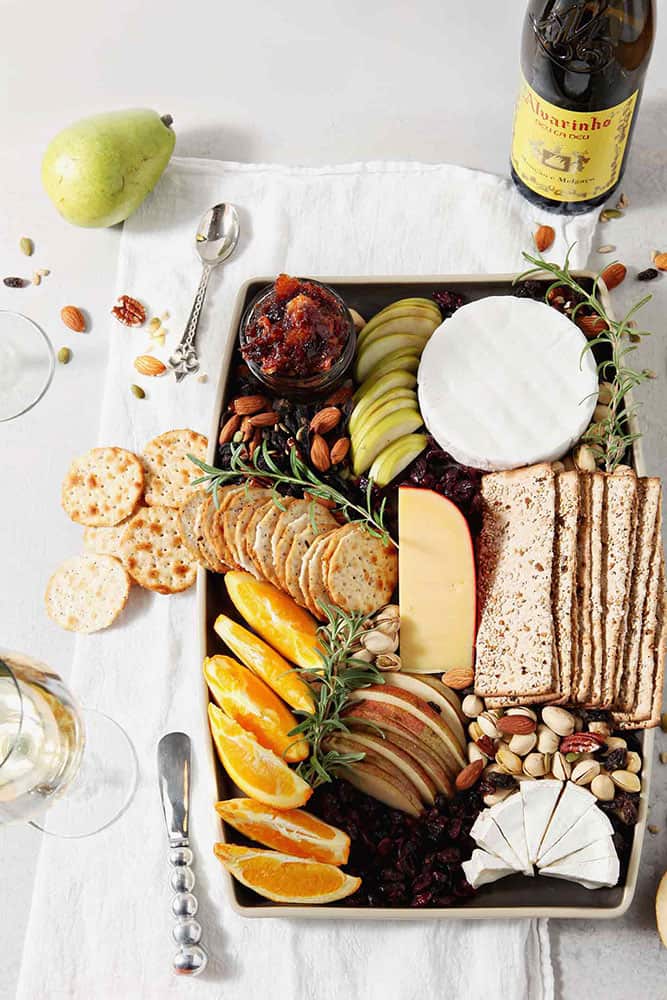 In case you missed it, I gave birth to a baby girl in September. During my pregnancy, I abstained from alcohol.
However, I saved a bottle of this goodness to sip after she arrived.
Y'all. I am so glad I did! This wine is light, bright and dry—exactly what I enjoy in a white wine.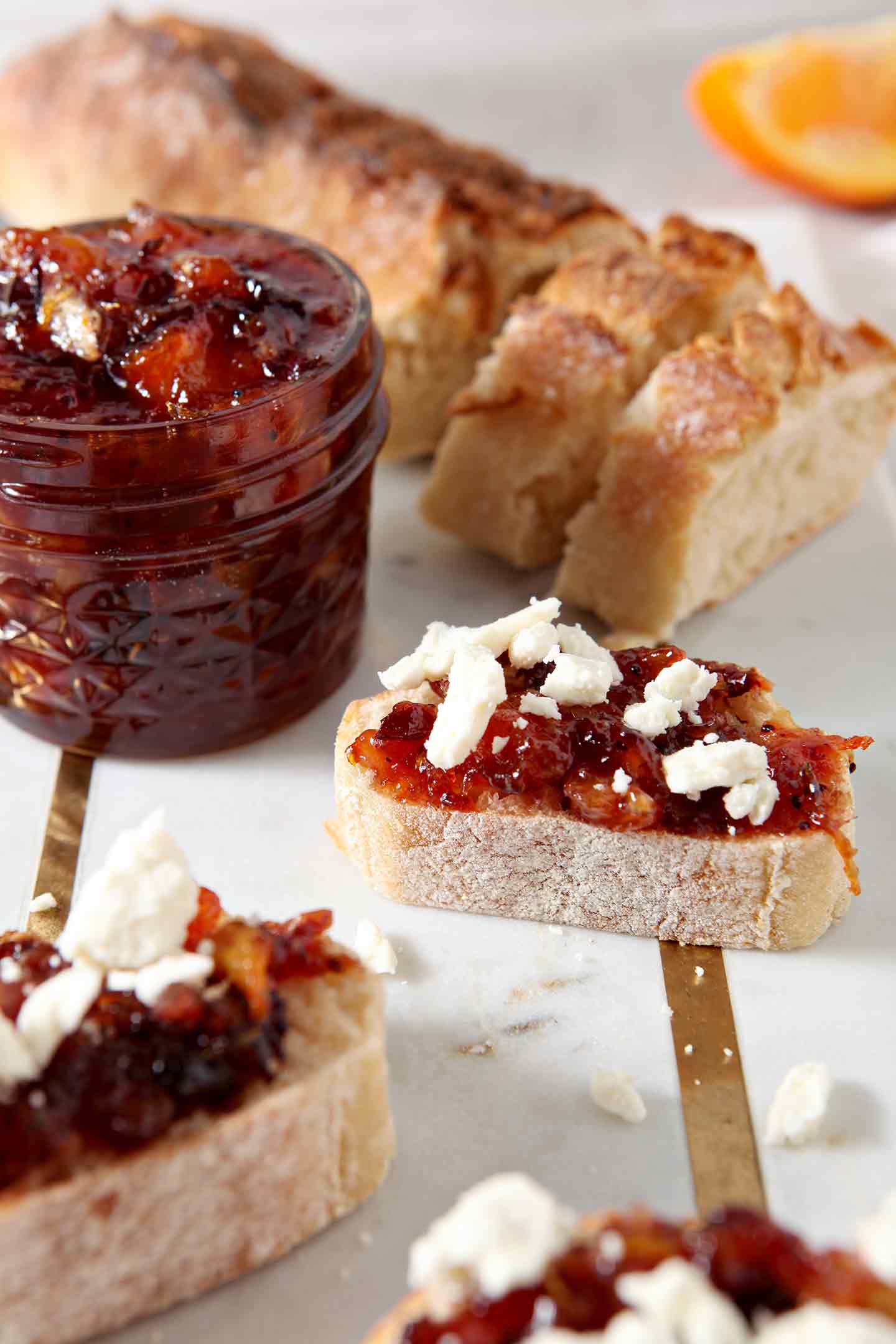 How do you choose a wine to pair with a cheese board?
Think about the cheeses that you're putting on the board, as well as the other elements and flavors.
My Thanksgiving Cheese Board includes brie, goat cheese and gouda, along with an Orange Cranberry Compote. (You'll find the recipe below.) Two types of crackers are served on the board, as well as dried fruits, nuts, apple, orange and pear slices.
When you're pairing wine and cheese, you want to achieve balance. Vinho Verde wines are the perfect compliment to this cheese board because they're versatile, flavorful and not sweet.
Lightly acidic, dry white wines compliment the fatty cheese and nuts perfectly. The sweet-tartness of the seasonal fruit adds a bit more sweetness to the board without overwhelming it, too.
Can I use different cheeses on my cheese board? Sure! Use whatever cheeses make you happy.
Blue cheese? Knock yourself out.
Goat cheese? Go ahead!
Cheddar? Absolutely!
I will make one request, though: Keep the brie. Whether you serve it at room temperature or heat it up, it's made even more decadent by the Orange Cranberry Compote.
Is there anything else I can do with that chutney?
YES. Serve toasted bread along with your cheese board, and let guests slather the warm bread with the chutney to make a Thanksgiving-y bruschetta.
When I made mine, I sprinkled it with a little bit of feta cheese. The sweet-salty-savory combination is one of my favorites, so I hope y'all like this, too!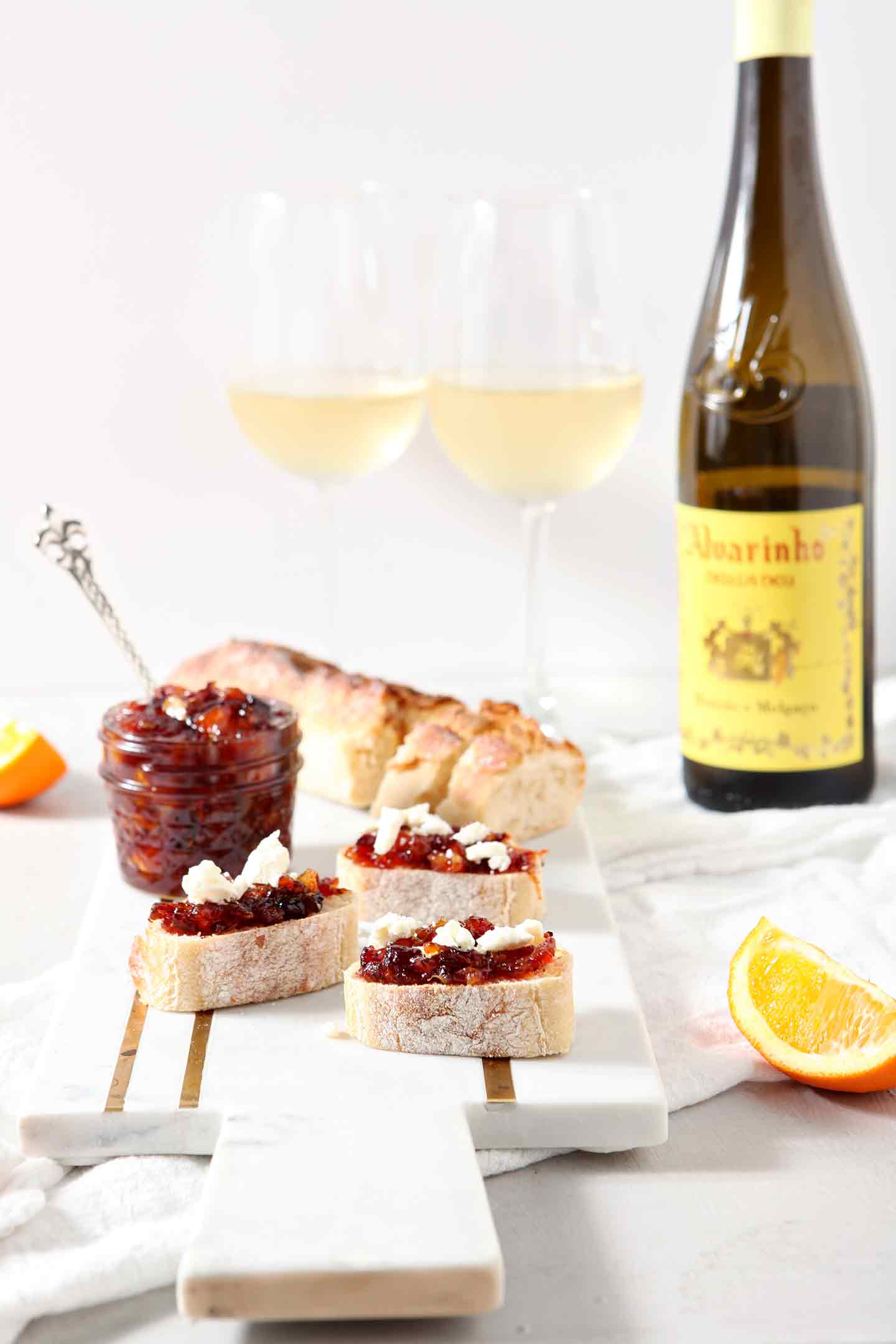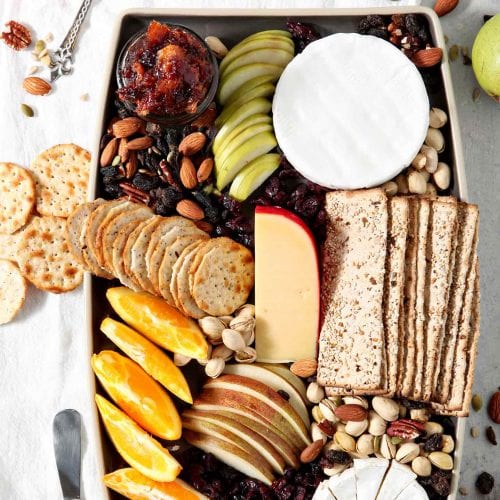 Orange Cranberry Compote: The Perfect Spread with Cheese and Vinho Verde Wine
Servings
6
ounces of compote
Ingredients
Orange Cranberry Compote
1

cup

navel orange segments

about 2-3, peeled and quartered

5

tablespoons

granulated sugar

1/4

cup

cranberry sauce

1

tablespoon

orange zest

2

tablespoons

orange juice

freshly squeezed

1/2

lemon

juiced
Cheeseboard
Brie

Goat Cheese

Gouda

Flatbread crackers

Water crackers

Baguette

optional

Apple slices

Pear slices

Orange slices

Dried cranberries

Pistachios

Nut Mix

Fresh rosemary

for garnish
Bruschetta
1

baguette

toasted and sliced

Orange Cranberry Compote

recipe above

Feta cheese

for sprinkling
Instructions
Make the Orange Cranberry Compote
In a saucepan over medium-high heat, add the orange segments, sugar, cranberry sauce, orange zest, orange juice and lemon juice.

Bring to a boil, allowing to bubble for 10-20 minutes.

Taste the compote as it thickens and add additional sugar, if necessary. (Do this to your taste, obviously. If you like a sweeter compote, add a bit more sugar in this process. Like it more tart? Start off with 3 tablespoons of sugar, and add more if necessary.)

Let bubble until the orange breaks down completely, about 20 minutes.

Transfer to a mason jar, and let cool to room temperature.

Store in the refrigerator until time to serve.
Put together the Thanksgiving Cheese Board
First and foremost, choose a platter that everything can fit on. (I borrowed a platter from a neighbor, so you can do that if you don't think you have anything that works!)

Set out the cheeses first, spacing out evenly across the board.

Next, add the Orange Cranberry Compote. (I highly suggest placing it next to the brie because it's exceptional when served with that!)

After the cheese and compote are on the platter, add the crackers and/or bread.

Fill in the empty spaces with sliced seasonal fruit, nuts and dried cranberries.

Add sprigs of fresh rosemary for additional color, and serve!
Make the Bruschetta
If you're going the bruschetta route (or serving it alongside your cheese board), toast and slice the baguette.

Serve the warm bread alongside the chutney with a spoon and a small bowl of crumbled feta cheese.

Allow guests to prepare their bruschetta to their liking, and enjoy!
Notes
If you, your family or your guests are nut free, you can easily leave the nuts out of the cheeseboard. Be sure to check your crackers, too, to ensure they weren't made in a facility that also processes nuts.
Erin Parker
Erin is a professional photographer who has a penchant for baking and cooking. She discovered her love of all things in the kitchen during her collegiate years. On her blog, The Speckled Palate, she shares tried and true seasonal recipes from her kitchen with a side of Southern flair.