After a day of ice skating on the canals of Holland, Simone Van Den Berg serves up a warming quiche.
By Simone Van Den Berg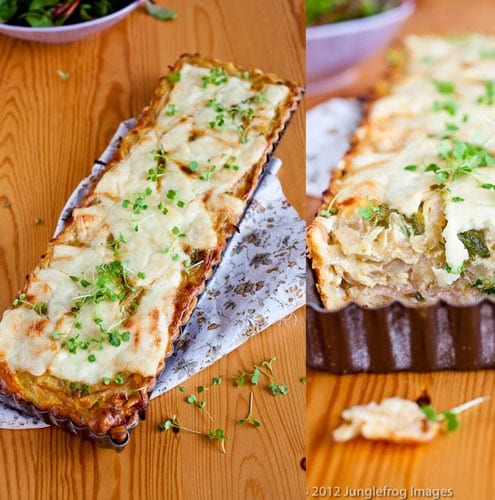 You might not have noticed but a large part of Europe is all of a sudden dropped into an extreme winter weather. We live in the middle of the Netherlands which is the coldest area of our tiny country with temperatures ranging up too – 20 C (which is roughly -4F if I'm not mistaken) And that's a temperature we do not often see! As part of that cold weather half the nation has gone skating crazy. I'm not a big skating fan. Ever since I fell flat on my face at the age of 8 yrs old, it sort of lost it's appeal (broke two front tooth on that particular occasion) but especially in the northern part of Holland the excitement is reaching peak levels. Peak levels, because the chances are big that we will have an Elfstedentocht. The last time that happened was in 1997 so you can imagine the excitement. Bigger than the Superbowl I would say… The race is the longest speed skating race in the world on natural ice and goes on for 200 kilometers.
The ice needs to have a certain thickness in order to keep the masses afloat when half the country is going to be standing on the ice, but it's looking good. Now in this cold, what you need to sustain yourself is something nice and warm. This delicious quiche is super simple to make and while delicious on the first day. It's possibly even better the second day. You could even eat it while watching sports on tv.
Delicious Onion Quiche Recipe
Author:
Delicious magazine
Ingredients
2 tablespoons extra virgin olive oil
750g onions (in half rings)
100ml dark beer
1 can croissant dough (Here you can buy these in tins which have enough dough for 6 croissants. not sure how that would be in other countries)
100g ham
4 eggs
150ml double cream
3 tablespoons flat leaf parsley (plus a little extra for garnish if you want)
200g abbey cheese (for instance port salut or any other good cheese you want, rind removed)
Instructions
Heat the olive oil in a frying pan. Add the onion rings and bake for about 8-10 minutes until they are nice and soft. Don't let them get too brown though! Pour the beer in and keep cooking until there is no moisture left in the pan. Preheat the oven to 200 C.
Roll the dough out and line a 10 x 30 cm tin with it or a round tin with a diameter of 24 cm. Make sure there are no holes in the dough. Line the bottom with the ham. Whisk the eggs, mix with cream, parsley and add pepper and salt to taste.
Add the onions into the tin. Pour the egg-cream mixture over it and put the cheese on top in slices.
Bake the quiche in the oven for about 30-35 minutes until golden brown and cooked. Sprinkle with a little extra parsley.
Note
While the recipe states that the qty's are for a tin of the size I have you I found there were far too many onions, so I actually made two out of the qty given. One of 10 x 30 cm and one round one. Which is fine but just thought I mention it!
Simone Van Den Berg
Simone van den Berg is a Netherlands based freelance food photographer and food blogger. She has a passion for cooking, food and travel, which she shares on her blog Simone's Kitchen and of course right here on Honest Cooking.