SPONSORED POST: From Dijon Originale mustard to Cornichons, Maille has a rich heritage starting in 1747 that honors tradition. Check out these easy one-pan brunch recipes that pack great flavor, thanks to Maille. PLUS, be sure to enter for a chance to win their epic brunch makeover giveaway.
One-Pan Skillet Steak with Spring Vegetables and Mint-Mustard Sauce is an elegant dinner that's easy enough for weekday entertaining. Steak, peas and asparagus cook up together so easily and with so much flavor.
Maille Brunch Makeover Giveaway!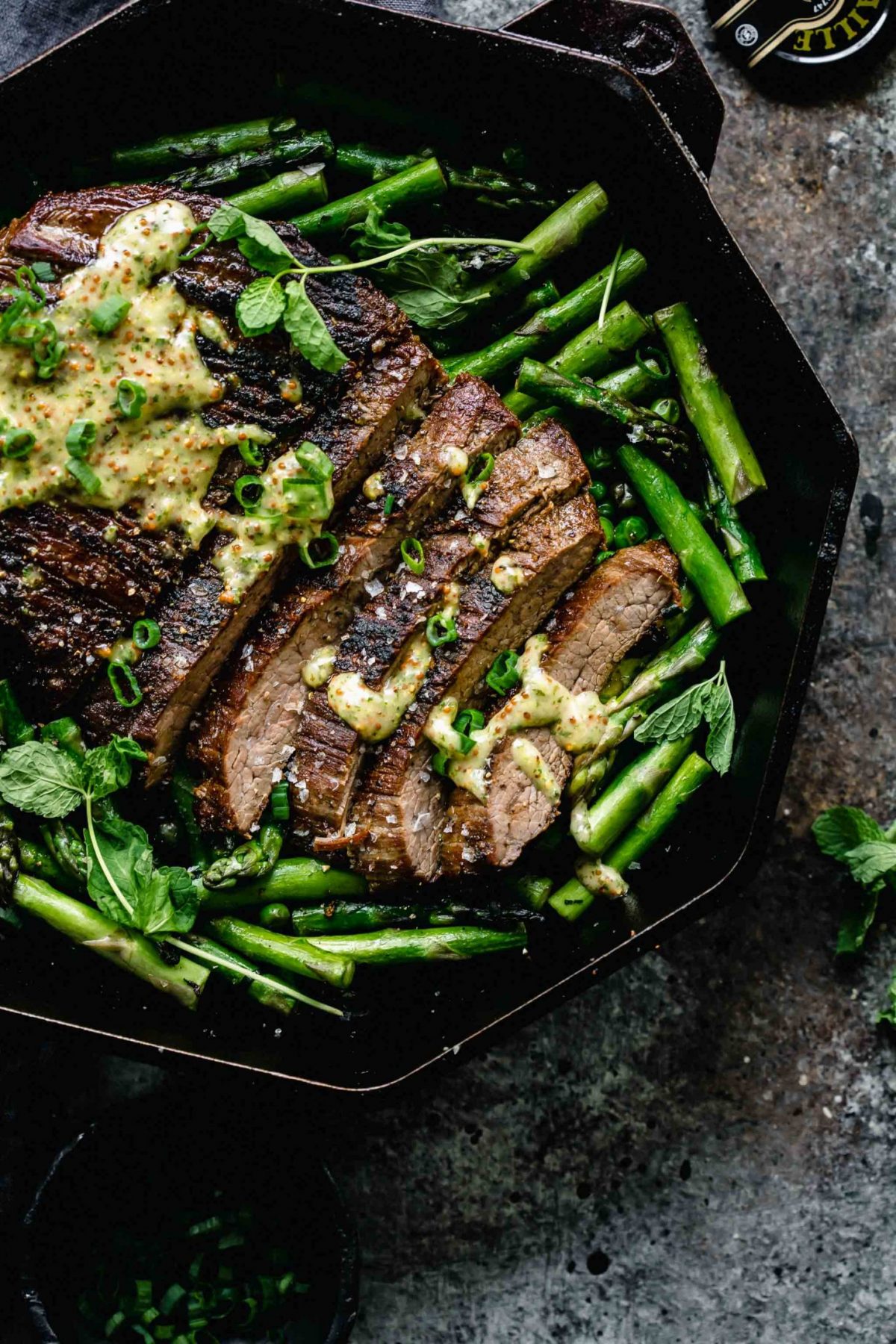 For years now, these Lamb Chops with Mint Mustard Sauce have been a favorite of mine. Juicy, tender petite little lamb chops just seem like such a decadent dinner. But, the star of the show is the mint mustard sauce. It's got all the flavor profiles going on – It's a bit sweet from the honey, it's a bit spicy from the Maille Old Style Mustard, vinegar gives it a good tang, and the mint rounds it all out with a herbal quality that's perfect on red meat.
So, as I was flipping through the pages of my Bon Appetit magazine, and I came across this recipe for a one-skillet steak with peas and asparagus, I immediately thought that this was the perfect recipe to play around with and dress up with my mint-mustard sauce.
I made a few tweaks to that original recipe – using flank steak instead of New York strip steak, browning up some bacon and letting that mingle along with those veggies, and, of course, adding in my mint-mustard sauce.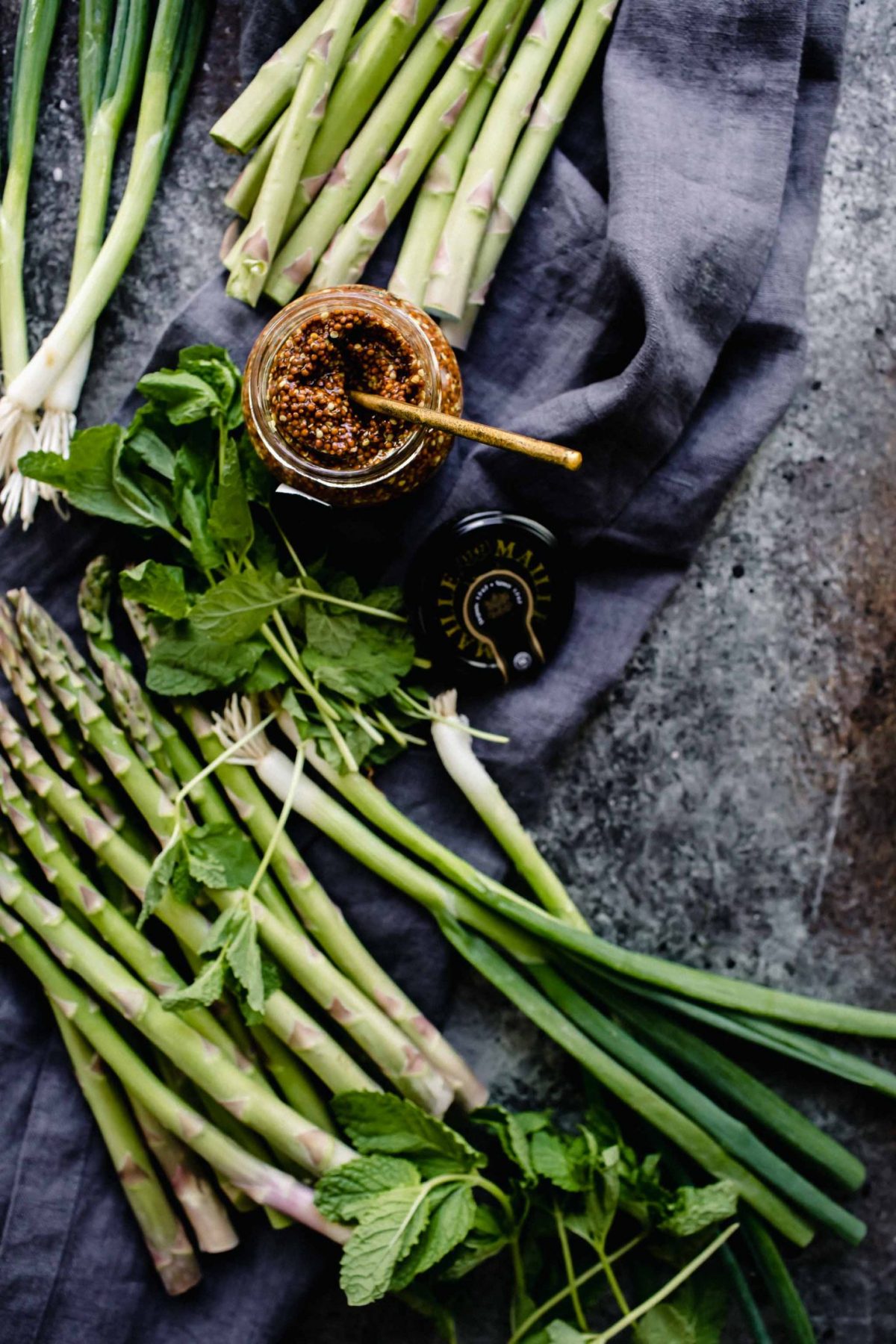 Making the mint-mustard sauce is super easy. Basically, you just throw everything into a food processor or blender and give it a quick whirl.
Mint Mustard Sauce Ingredients
Olive Oil
Maille Old Style Mustard
Garlic
Mint
Red Wine Vinegar
Honey
I like to use a hearty, whole grain mustard in this sauce. It gives it a great texture and body. Maille Old Style Mustard has been my go-to for years. It has such and amazing flavor and those whole grains of mustard pop on your tongue.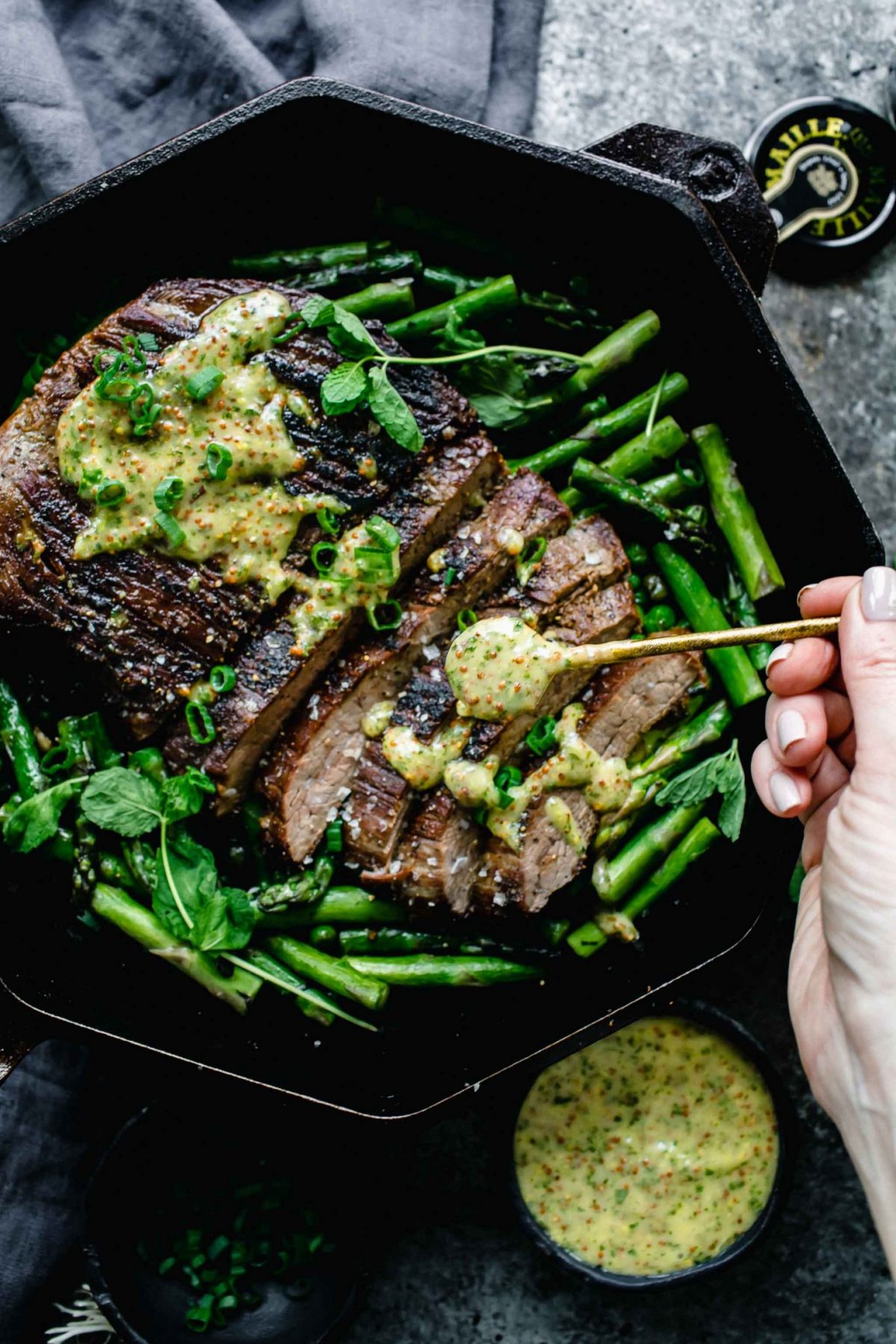 For the skillet steak with spring vegetables be sure to pull your steak out of the fridge at least a half hour before you'll be cooking it. This helps to be sure that the chill is off of it and ensures that the steak will cook evenly. Use that half hour to work on chopping your asparagus and to get that mint-mustard sauce going.
Start by browning up the bacon. Remove it with a slotted spoon and let it drain for a bit on paper towels and pour off all but about 1 tablespoon of the bacon fat from the skillet.
Next, in goes the steak. It will cook up fast, and shouldn't take more than about 10 minutes or so. Once it's done to your liking, set it aside to let the juices redistribute (don't slice it yet) and start those veggies.
Fresh asparagus, peas and a bunch of fresh scallions are what I'm working with in this recipe. All those green colors are just so pretty, and their flavors match really nicely with the mint mustard sauce.
To serve, I like to present everything right out of the skillet. Once the steak has rested for a bit, I slice it up and arrange it over the vegetables with a drizzle of sauce over the top. I serve the remaining sauce on the side for everyone to spoon on for themselves.
I think this Skillet Steak with Spring Vegetables & Mint-Mustard Sauce is the perfect dish to serve on a night when you've had a crazy, hectic day at work. It's a decadent dish that only looks complicated but, unlike your day, it's not… It's a way to treat yourself and give yourself a bit less work at the end of things since you're only using one skillet.
Less dishes = More time to enjoy the rest of that bottle of red wine that you opened up to enjoy with dinner. I'd highly suggest a Cabernet or Petite Sirah to go with this skillet steak.

One-Pan Skillet Steak with Spring Vegetables and Mint-Mustard Sauce
Ingredients
FOR THE STEAK, BACON, AND VEGETABLES:
1 pound flank steak
3 slices bacon chopped
3 cloves garlic thinly sliced
1 bunch asparagus trimmed, cut into 1-inch pieces
1 10-ounce bag frozen peas
1 bunch scallions thinly sliced, divided
Kosher salt and pepper to taste
MINT MUSTARD SAUCE:
½ cup extra-virgin olive oil
3 cloves garlic smashed
3 Tablespoons Maille Old Style Mustard
2 Tablespoons red wine vinegar
1 Tablespoon honey
⅓ cup mint leaves
Kosher salt and pepper to taste
Instructions
Remove steak from refrigerator and set aside for 30 minutes to allow it to come to room temperature.
While the steak comes to room temperature you can assemble the mint mustard sauce.
Place smashed garlic cloves and olive oil in a small saucepan over medium heat. Allow to heat for 5 minutes, until oil is fragrant. Brush both sides of the steak with some of the garlic oil and season with salt and pepper, reserve the remaining oil for the mint mustard sauce.
To make the mint mustard sauce, add mustard, vinegar and honey to a food processor or blender. Turn it on and stream in the remaining oil and the garlic cloves. To this mixture, add your mint and process until finely chopped. Season with salt and pepper, to taste.
Next, preheat a cast iron skillet to medium-high heat. Add the chopped bacon and cook for about five minutes until crispy. Remove the bacon with a slotted spoon and set aside on a paper towel. Drain all but 1 tablespoon bacon fat from the skillet.
In the same skillet as the bacon, add the steak. Cook turning every 2 minutes or so, until medium rare, about 10 minutes. Remove the steak from the skillet and place on a cutting board to rest before slicing.
Next, add the sliced garlic and all but 2 tablespoons of the scallions and cook, until softened, 2-3 minutes. Add peas with a splash of water and cook until the peas are tender, about 3 minutes. Add asparagus and season with salt and pepper. Cook until asparagus is tender, about 5 minutes. Remove skillet from heat.
Slice the steak and place it over the vegetables in the skillet. Drizzle with mint mustard sauce and sprinkle with remaining scallions. Enjoy!