Sandwich your favorite ice cream between soft, chewy, spiced oatmeal cookies to make a sublime frozen treat.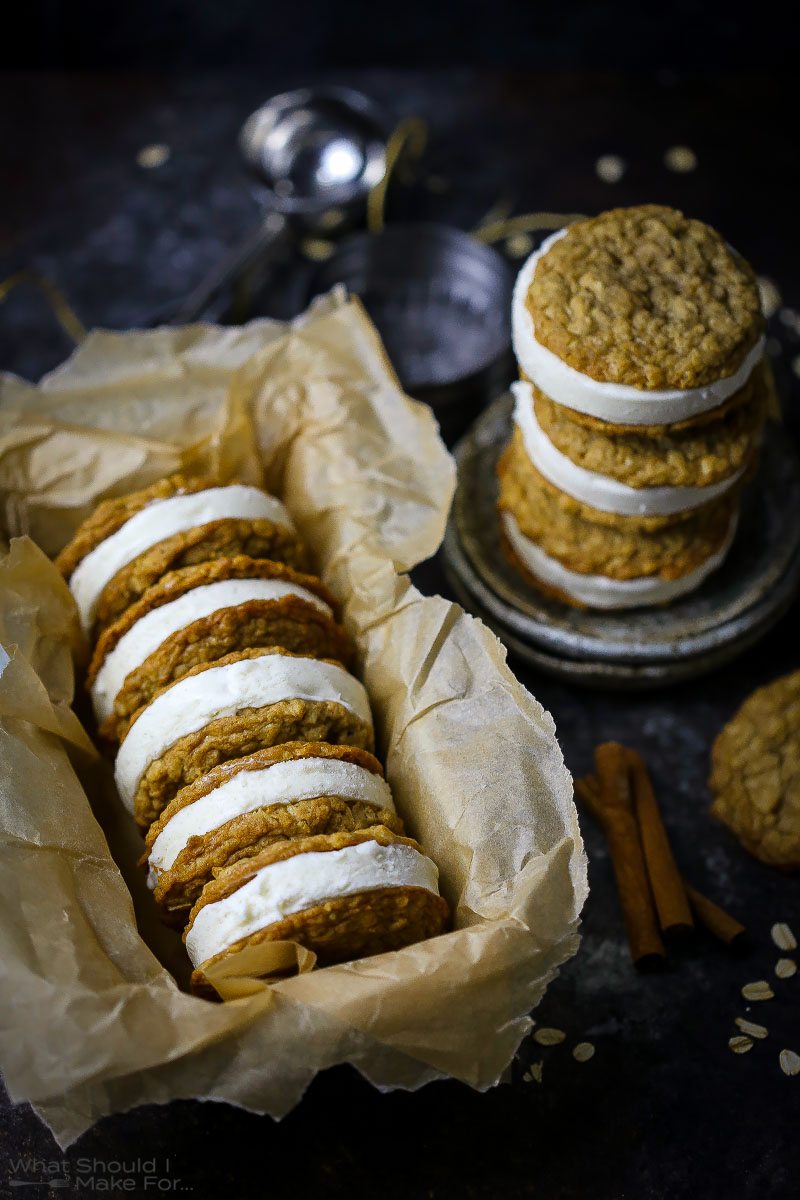 In the spirit of summer hosting, planning ahead and wowing your guests I have a two-fer recipe for you today. My favorite oatmeal cookies (which are perfectly delicious on their own) can also be made into kid (and adult) friendly ice cream sandwiches. They are packed full of spice (including a hint of black pepper), and they are soft and chewy. They also bake off nice and flat which makes them ice cream sandwich ready. My favorite trick in ice cream sandwich prep is to soften the ice cream until it's spreadable (not melting) and smooth it into an even layer in a baking pan. Then, refreeze the ice cream and use a cookie cutter (that matches up to the size of your cookies) to cut out rounds that can be easily pressed between two cookies.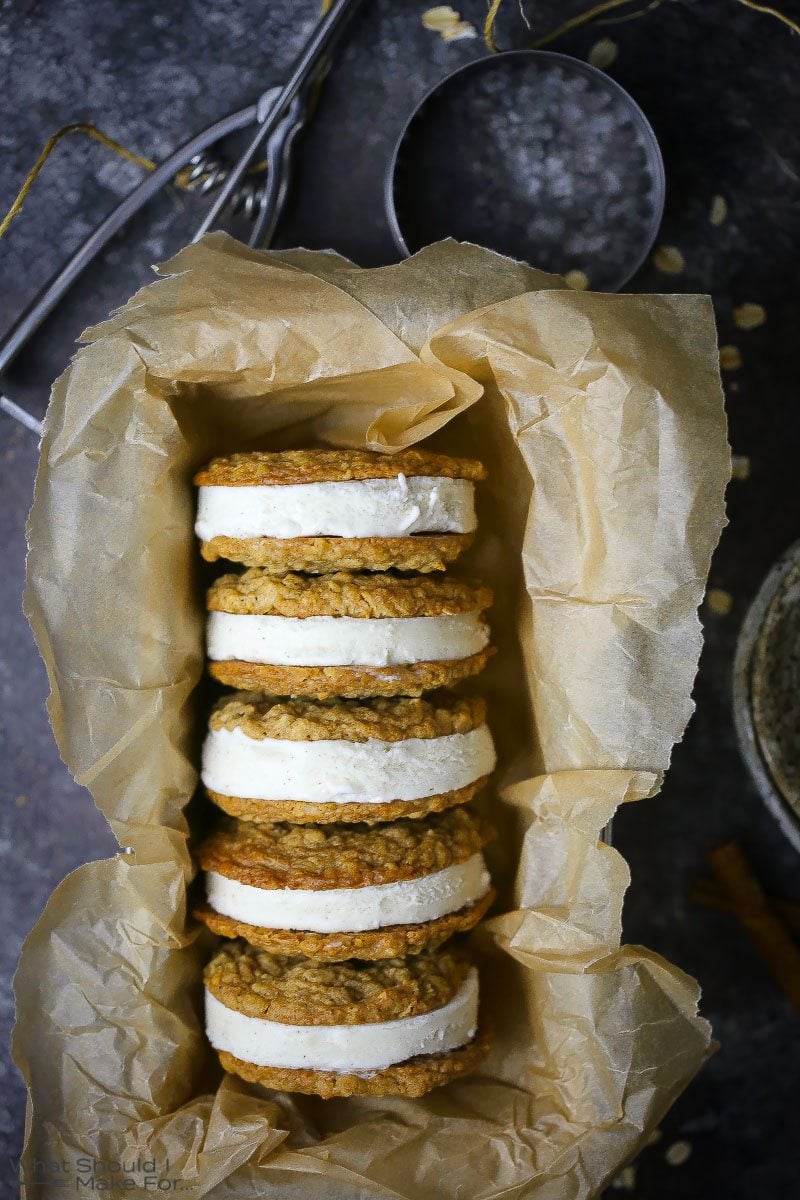 Know what else? These cookies and the ice cream sandwiches can be made well ahead of any guests knocking at your door. Yep, the cookies keep well in an air tight container and the ice cream sandwiches store beautifully well-wrapped in the freezer. They are an ideal warm weather dessert for both kids and adults. You know I'm going to have a stack of them ready for our next backyard barbecue. What else should you serve? My Sangria Slushie recipe that screams summer weekend.
Want to get fancy? Make your own no-churn ice cream to fill your cookie sandwiches.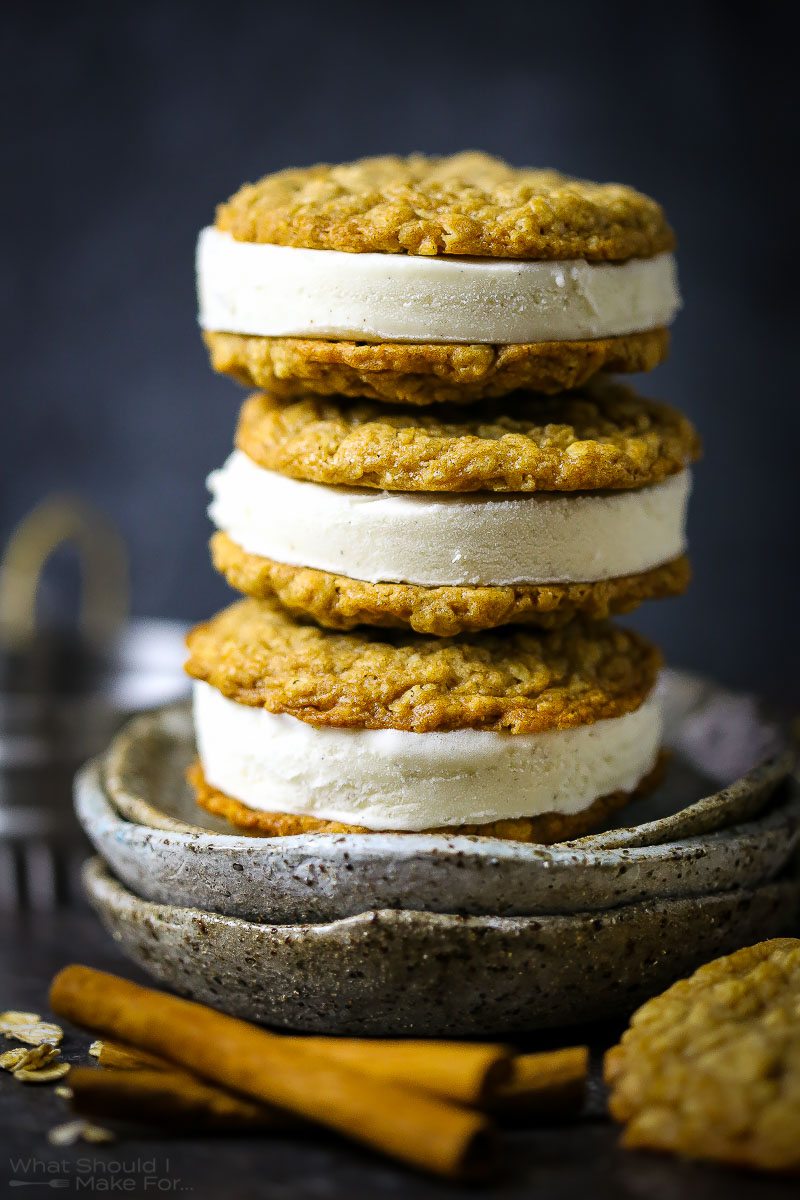 Oatmeal Cookie Ice Cream Sandwich
Sandwich your favorite ice cream between soft, chewy, spiced oatmeal cookies to make a sublime frozen treat.
Ingredients
1¼ cups all-purpose flour
½ tsp baking powder
½ tsp baking soda
1 tsp ground cinnamon
1 tsp ground ginger
¼ tsp ground cardamom
¼ tsp freshly ground black pepper
pinch of cloves
½ tsp kosher salt
8 oz (2 sticks) unsalted butter, softened
1¾ cup light brown sugar, packed
1 egg
1 tsp vanilla extract
2½ cups old fashioned rolled oats
*1½ Tbsp size cookie scoop
2 qts vanilla ice cream, slightly softened
*3 inch round cookie cutter
Instructions
Prep Ice Cream:
Line 1 - 9x13 inch pan and 1 - 8x8 inch pan with plastic wrap. Spread ice cream into a 1 inch layer in the pans, cover with plastic wrap and place the pans in the freezer to refreeze.
Cookies:
Preheat oven to 350 degrees and line two baking sheets with parchment paper
Sift together the flour, baking powder, baking soda, cinnamon, ginger, cardamom, black pepper, cloves and salt. Set aside.
Beat the butter with an electric mixer for 1 min and then add the brown sugar. Continue to beat until light and fluffy, 2-3 mins.
Add the egg and beat until well blended.
Add the in the flour mixture and mix on med/low speed until just combined.
Mix in the vanilla and rolled oats until just combined.
Using a 1½ Tbsp ice cream scoop, measure out 36 scoops of dough. Place 12 scoops on each cookie sheet and bake for 10 mins, turning midway through baking.
Bake off the remaining dough on the same sheets once the other cookies are baked and removed to a wire rack (let baked cookies set for about 5 mins on the sheet before removing them to the rack.)
Ice Cream Sandwiches:
Match up cookie bottoms and tops in pairs so they fit with little overlap. You will have 18 pairs.
Remove the ice cream from the freezer and use a 3 inch round cookie cutter to quickly cut out ice cream rounds. You will likely get 16 rounds, but you can pull together the scraps and reform them to reach 18.
Place one round on top of each bottom and top with the matching cookie. Pop the ice cream sandwiches back in the freezer until you're ready to serve.
* Cookies can be stored in an airtight container for up to 4 days and ice cream sandwiches can be covered tightly in plastic wrap and stored in the freezer for up to one week.