NYC: The Fat Radish Is More Than Just Hip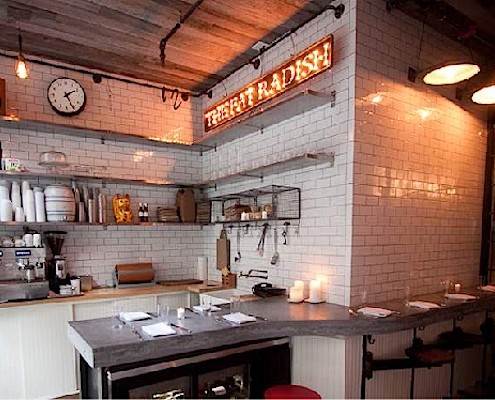 Mitch Weinstein checks out the talked about The Fat Radish, and finds a place that is about more than just surface and crowd.
By Mitch Weinstein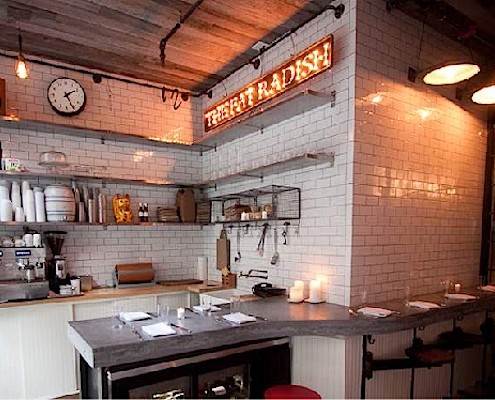 It was time. Time, that is, to finally check out The Fat Radish, which we did on a recent Saturday night. I say finally, simply because I'm scared of places that generate as much buzz as The Fat Radish has. Much of that buzz, interestingly, was not for the food but for the crowd, of which I'm decidedly not a member. You know that crowd; young and beautiful and hip and…well, you get the picture.  Be that as it may, The Fat Radish has also gotten its share of nice press and prose for the food, and it's right around the corner, and…it was time.
Who walks into a small, allegedly hot NYC restaurant on a Saturday night at 8 P.M. without a reservation? Well, that's early in Fat Radish's neck of the woods I think, because with a little schmoozing of the darling hostess (and some no-show 8 o'clock reservations), Significant Eater and I found ourselves at a nice little table in the back. Her seat along the wall was way more comfortable than mine (a stool which makes dining at Momofuku Noodle Bar seem like dining at the Casbah, btw), but who's complaining?
Anyway, the food. We only ate 4 dishes, so that's the caveat, but I'll be returning soon. Especially if the English peas are on the menu. Paired surprisingly with razor clams and light-as-air ricotta dumplings and not so surprisingly with ramps, this dish veered between a salad and a light braise; whatever – it was delicious. The peas were barely cooked and the razors had that familiar briny chew, and we fought over every last bit of it. Less successful was the asparagus appetizer, but only because the peas were so good.
For our mains on this first visit, Sig Eater had one of the specials:  mussel, ham and leek pot pie, which was the first time I'd seen those 2 proteins together – at least in a pot pie. It's a nice combo and it was well done. Actually, it was delish.
My hamburger was too – medium-rare, exactly how I ordered it, and it was a handful. A decadent one at that, oozing with cheese and smoky from bacon, not usually the way I order a burger, but when in Rome. Crusty and juicy. Bun didn't fall apart until halfway through. A good burger exists below Delancey Street! With big, delicious duck fat fries, too.  A second trip, for just the burger (ok, the peas were on the menu so I ordered them too) simply confirmed the fact. It's a damn good burger.
We didn't try dessert; maybe next time. By the time we left at 9:30, the place was packed. Like they say in all those blogs and articles, the crowd was young, beautiful and hip. I'd return for the food alone.
The Fat Radish
17 Orchard Street,  New York, NY 10002
Phone (212) 300-4053
http://thefatradishnyc.com
Mitch Weinstein
Mitch Weinstein is an avid seeker of good food, culinary school grad and writer of the blog Tasty Travails. When not cooking at home, he is on the hunt for that next delicious restaurant meal, great market or maybe even a cocktail. He regularly contributes to the food and drink forums on mouthfulsfood.com, eGullet.org, Chowhound.com and others.