The Fork and Spoon duo has yet to go to a Jean-George Vongerichten restaurant they haven't fallen hopelessly in love with.
By Andrea Iannuzzi-Lynnaugh
Nougatine is just another piece of our heart
that belongs to Jean-Georges. It is amazing that those dining in Jean-Georges walk so close to Nougatine and most never think to stop and dine there. Nougatine is the slightly more casual,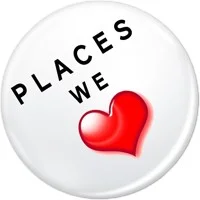 slightly less expensive, but absolutely just as enticing little brother of Jean-Georges. Uncluttered, ultra-modern, bright, light woods,stark even, and yet it is warm and comfortable, beckoning and welcoming. The acoustics are wonderful.
Nothing is quick. Nothing is rushed. The staff smiles, is friendly, knowledgeable and answer any questions you may have.
Fork and Spoon met here for dinner before seeing a screening of Toast. If you have not read Nigel Slater's book Toast, please do. If you can see the film, please do. But, back to Nougatine.
While we were looking through the menu, we ordered iced tea. The tea is fresh, cold, nice sized glasses, and they give you one refill. We didn't ask for a third to just see what would happen. But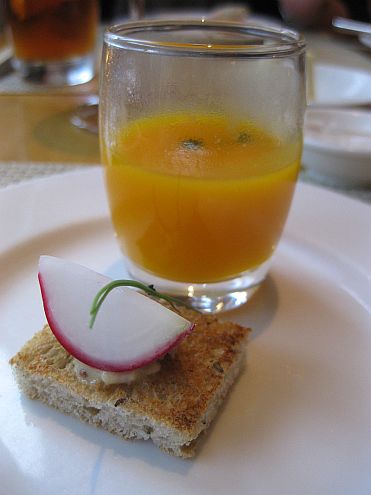 while refilling the tea, they remove your glass from the table, place it on a tray, pour and put the glass back. Same with the water, which is constantly refilled.
We ordered. Three appetizers and one main dish. We wanted to experience as many dishes as possible.
While we were waiting for our fist appetizer, our waiter appeared with an Amuse Bouche. A shot glass with a warm carrot and ginger soup, accompanied by a perfect rectangle of rye toast with a tiny dollop of mustard butter, a wedge of radish, and chive. Perfectly assembled. Beautiful to look at. Fork is not a soup fan, but this was warm and creamy, slightly sweet from the carrot and a wonderful smack of ginger was stunning. The perfect amount to win you over. The rye toast was crisp, a wonderful tang coming from the mustard butter with a spicy crunch from the radish. Oh, this was so a sign of what was yet to come.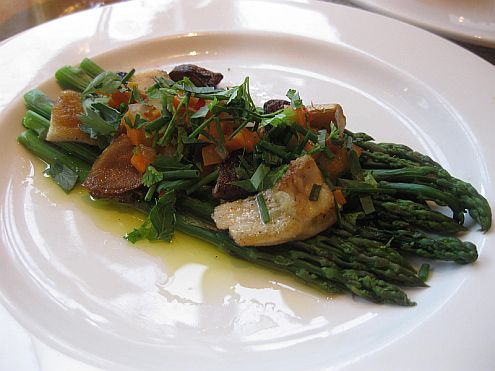 One of our starters was Asparagus Vinaigrette with Sauteed Mushrooms. Crisp, slim, ultra-fresh asparagus all lined up. Perfectly cooked and seasoned, sitting in a pool of a light vinaigrette. On top of these beauties were sauteed mushrooms. Not sauteed so much that they lost their shape or taste. A variety of different mushrooms. So many tastes in one bite.
Now this second starter could not be passed by. Foie Gras Brulee with Strawberry. The top was really and truly brulee'd (is that even a word?). It was almost as much fun to look at as it was to eat. I love that tapping and cracking sound from a brulee. Soft and rich foie gras wrapped around a strawberry – yes, a fresh strawberry. Fork and Spoon had there doubts about the strawberry with the foie gras, but the combination was delectable.
Our third, and last starter was a Field Mache Salad. You wouldn't think we could or would get so excited over a salad, but you must look at it. It's lovely!  Tender field greens, crispy lardons of bacon, a light dressing, sunny side up egg and snippets of chives. The crisp bacon gives a little extra texture and a smokiness against the peppery greens. And the egg, oh, the egg, once you cut into the yolk and it swims through the salad and mixes with the dressing, you suddenly have a wonderful richness that would not have been there otherwise. Perfect.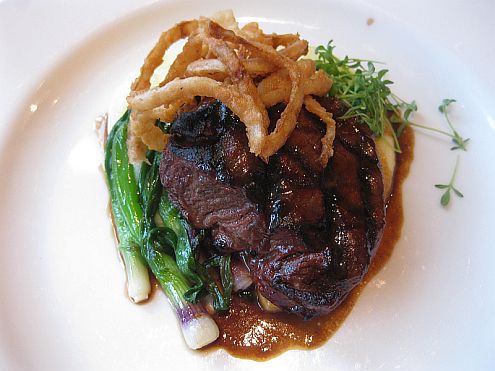 For our main course, Spoon and I decided we would share the Filet.  The filet was served over grilled scallions and mashed potatoes. On top of the filet were crispy, fried onions. I am sure some of you are thinking, a filet, so what. I can tell you so what – the filet was glazed with mirin, soy and sesame oil. When I tell you the flavor combination on this tender steak was over the moon good, I ain't kidding. The flavors of the glaze with the grilled scallions was great. The little pool of the glaze under and around the garlic-y mashed potatoes made them even better. These were silky, smooth mashed potatoes. Almost more of a puree than a mash. This filet was inhaled at a record pace. We had to resist the urge to pick up the plate and lick it!
We ordered 2 desserts. You know we had to.
First up was a Hazelnut Dacquoise. On top of the dacquoise was a deep, decadent chocolate mousse. So far so good. the mousse was actually in a cone shape. The inside if the cone was filled with a licorice ice, which was startling, overpowering and terrible. It was so in contrast to the delicate, sensual flavors on the plate that it was almost like skipping down the street and running face first into a wall. Scooped that stuff out and put it on a side plate. There was a lovely berry compote to go along with this. Surprisingly light and delicate, this dessert really aims to please – without the licorice ice, of course!
Our second dessert was a lovely little Rhubarb Tart. Sweet and tart rhubarb sitting inside a crisp, flaky pastry. Perfect. Sitting atop the tart was a small creme brulee. The creaminess was perfect with the rhubarb. Strewn around the tart were tapioca pearls, slivers of strawberry and palm seeds. Beautiful for both the eyes and the palate.
One of the wonderful thing about Jean-Georges restaurants is their pleasant fulfillment of all your senses. Nougatine did not disappoint!