Bill Walsh finds a great coffee experience at Rustica Bakery in his travels in the Twin Cities.
By Bill Walsh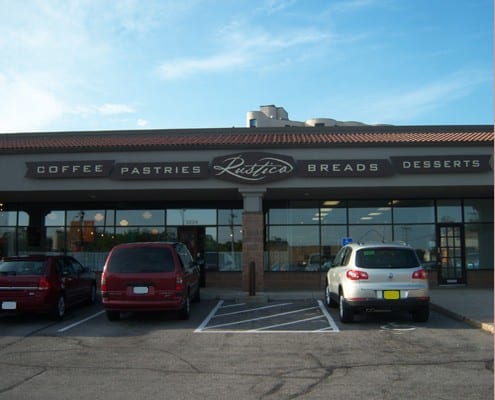 Subject: Rustica Bakery
Location: Minneapolis, MN
Free WiFi ? : yes
Rating: 6+ [see key]
Like many a small boy, my mom liked to take me shopping and one of our infrequent stops was at a little bakery close to home. An old Italian-style bakery brimming with jelly-filled cookies and old-fashioned pastel cakes, I distinctly remember not liking their treats at all. Why would I want an apricot jam sugar cookie when I could have a Tastykake butterscotch krimpet or a Hershey bar.
Thankfully, a little wiser with age, my narrow view of sweets has faded and I've grown to appreciate the many varieties of baked goods and baking styles. Also with age, I've also come to recognize that any troglodyte can bake a cake, but it takes a master baker to make great pastries. Couple that skill with a quality coffee operation and you have a rare gem found ever sparingly.
While I was in Minneapolis I happened upon one such gem called Rustica Bakery, an artisan confectionery in Calhoun Village. I had heard their baking praises sung like sweet yodels in the Alps with a possible complimenting harmony that they also slung local Dogwood Coffee with skill of a fine accordion player.
Making my way over with little challenge in finding parking (twas a busy day), I walked into their spacious cafe. The interior radiated an old world feel coupled with a modern layout, with plenty of sturdy, chic furniture of wood, as well as pleasing lighting and bountiful shelves of delicious creations.
Looking to their coffee, I ordered an espresso of Dogwood Espresso and a Clover brew of Brazil Serra Negra. The espresso, pulled short with even brown crema, held notes of vanilla, pepper, lime, merlot, poppy seed and sea salt; a flavorful and intriguing infusion that left me chipper. The clover brew of the Brazil delivered flavors of roasted lamb, cashew, green apple candy and seltzer amidst a light body, which easily spelled a hearty yet slightly tart brew.
My coffee experience coupled with a few baked items tucked away for later (all of which proved wondrous) made for a bakery experience that will sit high in my register. Give Rustica a visit if you're in Minneapolis.