Sarah Lambersky is surprised to find a contemporary cupcakery in the middle of the capital of the New Nordic Cuisine.
By Sarah Lambersky
I recently returned from a weekend in Copenhagen where I intended to gain some first hand experience in what is characterised as "New Nordic" cuisine.
I unintentionally found, "New Nordic" cupcakes in the city.  If you are visiting Copenhagen and suddenly find yourself with a nagging craving for a  cupcake, meet Agnes Cupcakes, Copenhagen's answer to the North American cupcake craze.  Agnes Cupcakes was started in 2010 in Copenhagen by founder, Kristian Vangsgaard.  Agnes runs on a calendar system of flavours so everyday, there will be a combination of staple flavours such as Red Velvet, Carrot and Dark Chocolate and specialty flavours such as Liquorice, Caramel, Sicilian Lemon, and Quince-tea.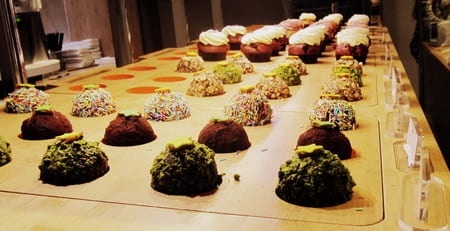 The interior of Agnes Cupcakes is a combination of glass, marble and wood; a reflection of Scandinavian-minimalism-meets-the-cupcake.  I actually thought, their interior was reminiscent of Karas Cupcakes in San Francisco with its glass, and wood- but perhaps I've visited too many cupcake shops in my lifetime and they are all starting to blur together into one big modern cupcake interior.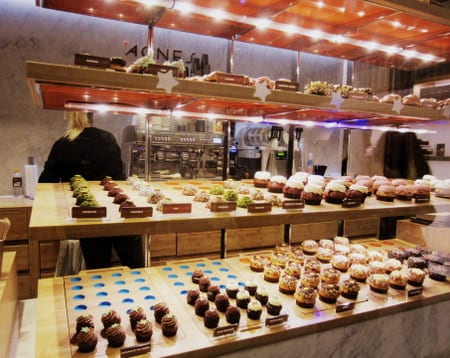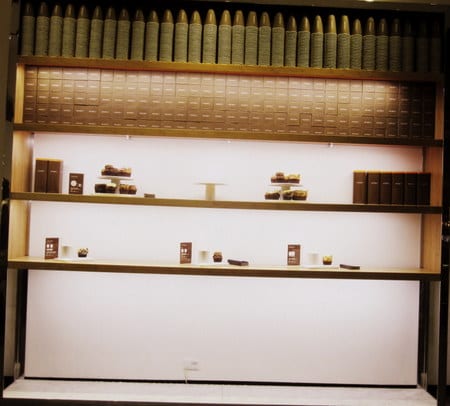 Agnes Cupcakes are quite textured and playful in their frosting and decor, which visually looked attractive on display.  Some of their cupcakes were simple such as the one I tasted with a swirl of icing and a fondant cutout on top (think Sprinkles), while others were rolled in chocolate curls, toasted coconut, sprinkles or other fun items to bite into.
Take-away cupcakes are packaged in beautiful, brown, branded boxes that were prominently displayed on their shelves and in a big silver bowl on the centre of a communal table.  Dine-in cupcakes were served on a ceramic platter that had a groove to hold the cupcake and a groove to hold a beverage.  Or I guess you could say there were two grooves for two cupcakes.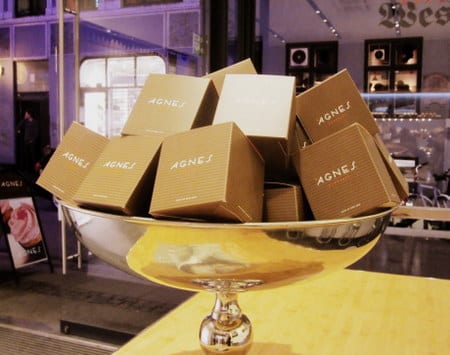 I arrived at Agnes at around 7pm for a pre-dinner cupcake.  There was some promotion going on where you could buy a cupcake and a beverage for a reduced price, so I opted for a tea and a carrot cake cupcake with a cream cheese frosting.  The carrot cake base was spongy and moist and the cream cheese frosting had the tang I was looking for.  It was not the stiffest or densest cream cheese frosting that I've tasted, but its gooier consistency complement the carrot cake nicely.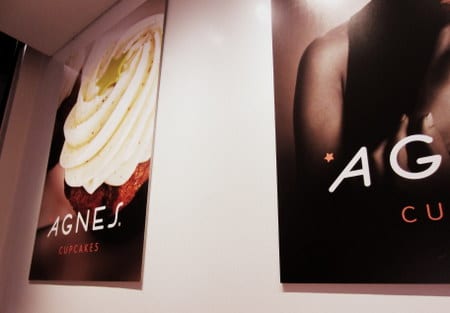 I am a firm believer that you can't judge a book by its cover, which is why I returned to Agnes Cupcakes on my last day in Copenhagen and sampled two (more) of their mini cupcake- just to make sure!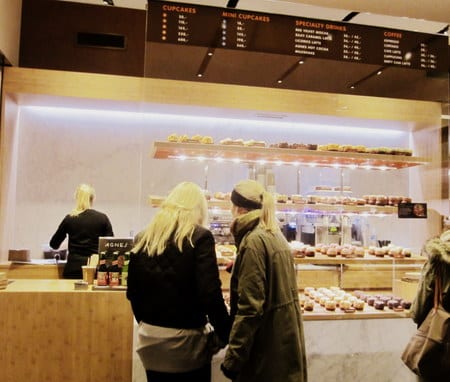 I also tested a dark chocolate cupcake that had a superb, rich, (bitter) dark chocolate frosting that was like biting into a truffle and their toasted coconut cupcake which was fun to eat thanks to all the little coconut shavings.
I know cupcakes are not what you may equate with "New Nordic" cuisine.  I was using the term jokingly and playing on all the media and hype about cuisine coming out of Copenhagen lately. But I will say, Agnes Cupcakes has done an excellent job interpreting the cupcake, Danish style.
Sarah Lambersky
Sarah Lambersky was born in Toronto, Canada and caught the travel bug early on in life. She has had the opportunity to live in Hong Kong, Shanghai, Beijing, New York, Prague and currently resides in Copenhagen, Denmark. Sarah is the co-founder and editor of Countlan, a quarterly digital magazine dedicated to exploring how people all over the world entertain at home and lectures undergraduate marketing strategy courses.